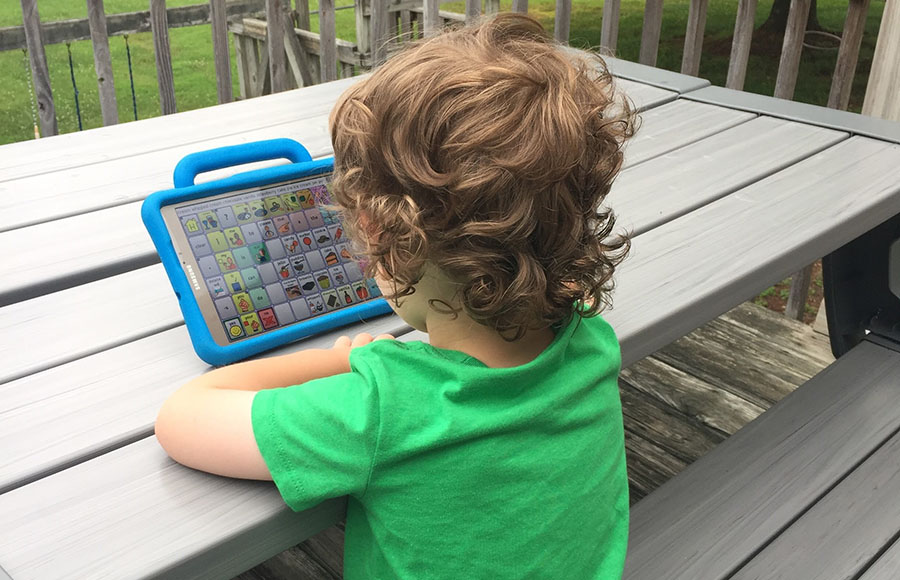 Posted July 17, 2020 at 4:23 p.m.
BOONE, N.C. — "How do you thank someone for giving your child his voice?" This question comes from the mother of a 3-year-old who is currently receiving speech therapy through Appalachian State University's Thomas O. Eller Preschool Language Classroom (PLC) — a program of the Charles E. and Geneva S. Scott Scottish Rite Communication Disorders Clinic housed in the Beaver College of Health Sciences (BCHS).
The mother, whose name has been withheld by request, said she was encouraged by a family friend to contact Appalachian's Communication Disorders Clinic after her son was diagnosed with severe childhood apraxia of speech (CAS).
CAS is defined by the Mayo Clinic as an uncommon speech disorder in which a child has difficulty making accurate movements when speaking. In CAS, the speech muscles aren't weak; rather, the brain has difficulty directing or coordinating the movements.
PLC Director Sherry Street-Tobin, a speech-language pathologist who has worked with the child since January, said, "Until very recently, he didn't have a word to call his mom. When he did learn to use a word to call her, it was 'gaga.' After much therapy and home practice with mom, he learned to say 'mama,' which brought his mother such joy during this time of stress, and the child now says it so well."
A voice's journey
Before attending PLC, the child had worked with several speech therapists but wasn't making progress. He had a few approximations but no words that could be understood. Autism was also ruled out as a cause for his inability to speak.
"His receptive language — the ability to understand what was said to him — was advanced, but his expressive language — the language he speaks to express himself — was delayed," Street-Tobin said.
Through PLC, the child works with Street-Tobin and PLC Clinical Educator Karalee Cole to receive intensive speech therapy, which comprises group therapy and individual therapy sessions delivered over a two-day period. The individual sessions focus on facilitating his spoken language and improving his intelligibility. These services were administered in the PLC classroom before the state's March shelter-in-place order but have since been administered via Appalachian's telehealth services.
Cole works with him three times per week to continue the apraxia therapy focusing on facilitating his spoken language, and Street-Tobin works with him once a week to support his use of a high-tech augmentative and alternative communication (AAC) device.
According to Street-Tobin, AAC refers to communication methods that are used to supplement spoken communication for people with speech or language impairments. "An AAC device can be any low-tech or high-tech means that helps deliver the communicative message. These can range from pictures to electronic devices in which the individual creates a message for the device to 'speak,'" she explained.
With the use of his AAC device, the child can now make statements to his mother. "He refers to his device as his 'talker' and now he can tell me his wants and needs," the mother said. "As a mom, that has meant the world to me!"
A gift from Thomas "Tommy" Eller, of Salisbury, for whom Appalachian's Preschool Language Classroom is named, will allow BCHS to extend the services of the university's Charles E. and Geneva S. Scott Scottish Rite Communication Disorders Clinic. Eller became connected with the clinic through his friends for whom the clinic is named.
"We are grateful for the generosity of Mr. Eller. The power of giving our clients a literal voice cannot be overstated, and this gift will allow us to provide the use of AAC equipment to additional clients," BCHS Dean Marie Huff said.
Support Appalachian's Communication Disorders Clinic and its clients.
What do you think?
Share your feedback on this story.
About Appalachian's Communication Disorders Clinic
The Charles E. and Geneva S. Scott Scottish Rite Communication Disorders Clinic at Appalachian State University, established in 1968, operates as a nonprofit unit housed within the Beaver College of Health Sciences' Department of Communication Sciences and Disorders. The clinic serves as a training facility for graduate students in Appalachian's speech-language pathology degree program, providing hands-on clinical learning experiences. It also offers prevention, assessment and treatment services in the areas of speech, language, swallowing and hearing disorders for children, adolescents and adults with communication disorders in the region. Learn more at https://cdclinic.appstate.edu.
About the Beaver College of Health Sciences
Appalachian State University's Beaver College of Health Sciences (BCHS), opened in 2010, is transforming the health and quality of life for the communities it serves through interprofessional collaboration and innovation in teaching, scholarship, service and clinical outreach. BCHS offers nine undergraduate degree programs and seven graduate degree programs, which are organized into six departments: Nursing, Nutrition and Health Care Management, Public Health and Exercise Science, Recreation Management and Physical Education, Rehabilitation Sciences, and Social Work. The college's academic programs are located in the Holmes Convocation Center on App State's main campus and the Leon Levine Hall of Health Sciences, a state-of-the-art, 203,000-square-foot facility that is the cornerstone of the Wellness District. In addition, the college supports the Blue Cross NC Institute for Health and Human Services and has collaborative partnerships with the Wake Forest School of Medicine's Physician Assistant Program, the Appalachian Regional Health System and numerous other health agencies. Learn more at https://healthsciences.appstate.edu.
About Appalachian State University
As the premier public undergraduate institution in the Southeast, Appalachian State University prepares students to lead purposeful lives. App State is one of 17 campuses in the University of North Carolina System, with a national reputation for innovative teaching and opening access to a high-quality, affordable education for all. The university enrolls more than 21,000 students, has a low student-to-faculty ratio and offers more than 150 undergraduate and 80 graduate majors at its Boone and Hickory campuses and through App State Online. Learn more at https://www.appstate.edu.