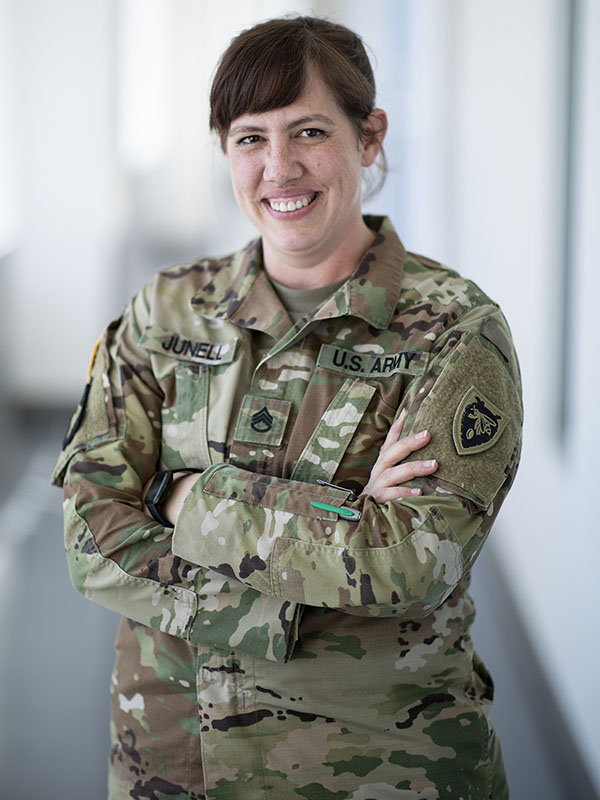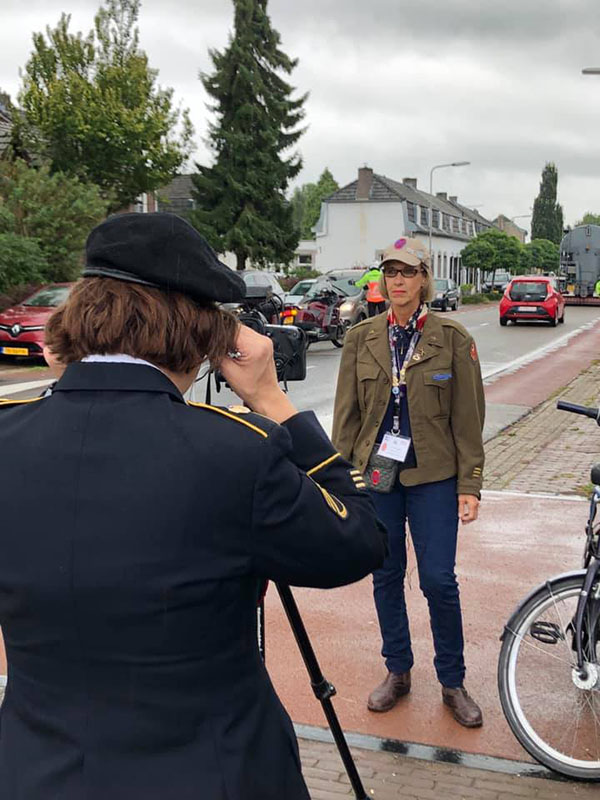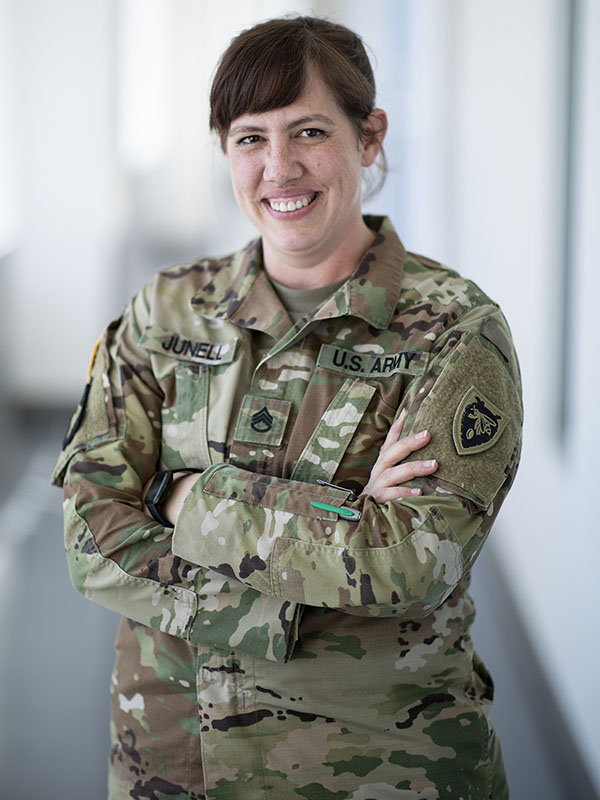 Posted Aug. 11, 2020 at 3:01 p.m.
BOONE, N.C. — Appalachian State University senior and U.S. Army Staff Sgt. Mary Junell wrote in her second grade journal she wanted to be a writer when she grew up.
Prophecy fulfilled: Junell has been named the 2019 Paul D. Savanuck Writer of the Year as part of the Army's Maj. Gen. Keith L. Ware Communications Awards Competition. The award, established in 1975, provides a positive incentive for increased excellence in the Army Command Information Program by recognizing outstanding military journalists.
She is also on target to graduate from Appalachian in spring 2021 with a bachelor's degree in communication, advertising through App State Online and the Department of Communication, finishing an undergraduate journey that has been marked with U-turns, war zone deployments and sheer grit.
'My version of a Pulitzer Prize'
Receiving the Writer of the Year Award marks a career milestone even greater than what she could have imagined, Junell said. "It's my version of a Pulitzer prize," she added. "I never thought it would happen, but this is a testament to all the instructors and editors who helped me get better along the way."
In one of her award-winning stories, Junell describes her own experience as a female soldier in Iraq. "I wrote about the PTSD (post-traumatic stress disorder) stuff, the things you don't ever let go of. It was cathartic because I was able to share things I hadn't talked about with anyone. It was really raw, writing that story," she said.
In the article, Junell, who worked as both a truck driver and a photographer while deployed in the Middle East during Operation Iraqi Freedom, talks about the fear of driving over IEDs (improvised explosive devices); the perception that a female soldier didn't experience combat; and finding her way back to her "family" — the men and women she served with overseas.
Junell said what she loves most about her job is being able to tell the stories of soldiers and airmen and airwomen. "I realized when I was first overseas that only part of the story was being told. I wanted people to see the whole picture — including the people like the truck drivers and the cooks — who are behind the scenes making everything work," she said.
An inspiration through perseverance
Persevering to finish her degree has become even more important as Junell looks to advance her career in the Guard and inspire her sons, Sterling, 3, and Atticus, 2. "I want to be able to tell them to go and get their degree," she said.
Junell, who grew up in neighboring Avery County, joined the U.S. National Guard as a senior in high school. She signed up to train as a truck driver — one of the only career options available at the armory in Boone.
In 2002, she began taking classes to earn a bachelor's degree in technical photography at Appalachian as a first-generation college student. However, her classes were interrupted by a deployment to Iraq and Kuwait in 2004.
"Online classes weren't an option in 2004, with limited access to Wi-Fi overseas," said Junell, who took a break from her degree amid several additional Middle Eastern deployments. It was during her second deployment in 2009 that she began working as a photographer in the Guard's Public Affairs Unit, after an officer in the unit had learned about her photography studies at Appalachian.
"Sometimes my degree feels like the hardest thing I've ever done. I tried another online school and didn't have a great experience, plus I really wanted to finish my degree at Appalachian, where I had started. I couldn't imagine finishing anywhere else."
Read Junell's Army news stories.
What do you think?
Share your feedback on this story.
About the Department of Communication
One of seven departments housed in the College of Fine and Applied Arts, the Department of Communication at Appalachian State University focuses on preparing students to succeed in the varied fields within the communication industry. The department offers five majors – advertising, communication studies, electronic media/broadcasting, journalism and public relations – and a minor in communication studies. Graduates work in a wide range of positions in media, corporate, agency, government and nonprofit organizations. Learn more at https://communication.appstate.edu.
About the College of Fine and Applied Arts
Appalachian State University's College of Fine and Applied Arts is a dynamic and innovative group of seven academic departments, bringing together a variety of perspectives, experiences and real-world education to provide unique opportunities for student success. The college has more than 3,000 undergraduate and graduate majors. Its departments are Applied Design, Art, Communication, Military Science and Leadership, Sustainable Development, Sustainable Technology and the Built Environment, and Theatre and Dance. Learn more at https://faa.appstate.edu.
About Appalachian State University
As the premier public undergraduate institution in the Southeast, Appalachian State University prepares students to lead purposeful lives as global citizens who understand and engage their responsibilities in creating a sustainable future for all. The Appalachian Experience promotes a spirit of inclusion that brings people together in inspiring ways to acquire and create knowledge, to grow holistically, to act with passion and determination, and to embrace diversity and difference. Located in the Blue Ridge Mountains, Appalachian is one of 17 campuses in the University of North Carolina System. Appalachian enrolls nearly 21,000 students, has a low student-to-faculty ratio and offers more than 150 undergraduate and graduate majors.