Posted Aug. 14, 2020 at 9:52 a.m.
BOONE, N.C. — With the majority of Appalachian State University's students, faculty and staff off-site in summer 2020 due to COVID-19, the university's Landscape Services team took the largely empty campus as an opportunity to cultivate more durable turf in a high-profile area.
After nearly three months of significant restoration — which included enriching the area with organic compost from Campus Dining and other areas of the university — the large grassy areas on Sanford Mall can now better withstand sustained amounts of high foot traffic and recreational use by the Appalachian Community. Prior to the restoration, the area had been significantly compacted from heavy use and, in many spots, the turf had deteriorated into patches of dirt and weeds.
Max Alff, compost operations coordinator for Landscape Services, who is currently pursuing a master's degree in horticultural science at North Carolina State University, led the project with the help of an eight-person team from Landscape Services, a unit of Appalachian's Facilities Operations.
He said the team reviewed similar projects from across the country and assessed data from the National Turfgrass Evaluation Program, which shares information about the testing and adaptation of major turfgrass species.
"We used the data to decide what was going to be best for our part of the state and the conditions we're dealing with specifically on Sanford Mall," Alff said.
Because of year-round wear and tear, many areas of campus present distinct challenges for maintaining landscaping, Alff said. He said one of the greatest challenges is compaction, caused by the weight of continuous foot traffic. Alff used the Sanford Mall project to compare two different approaches to turf restoration and develop a case study for his department on best practices for future projects.
Since Sanford Mall is divided by a central sidewalk, Alff fenced off a heavily deteriorated area on its right side — adjacent to Lillie Shull Dougherty Hall and Sanford Hall — to receive more intensive work without foot traffic, and kept the left side — adjacent to Anne Belk Hall and Plemmons Student Union — open to foot traffic to assess the results of a more hands-off application.
Alff said both sides performed as expected and both methods are viable options for future turf management projects.
"A more intensive approach will nearly always work better," Alff said, "but the less intensive approach works well for areas that cannot be drastically altered."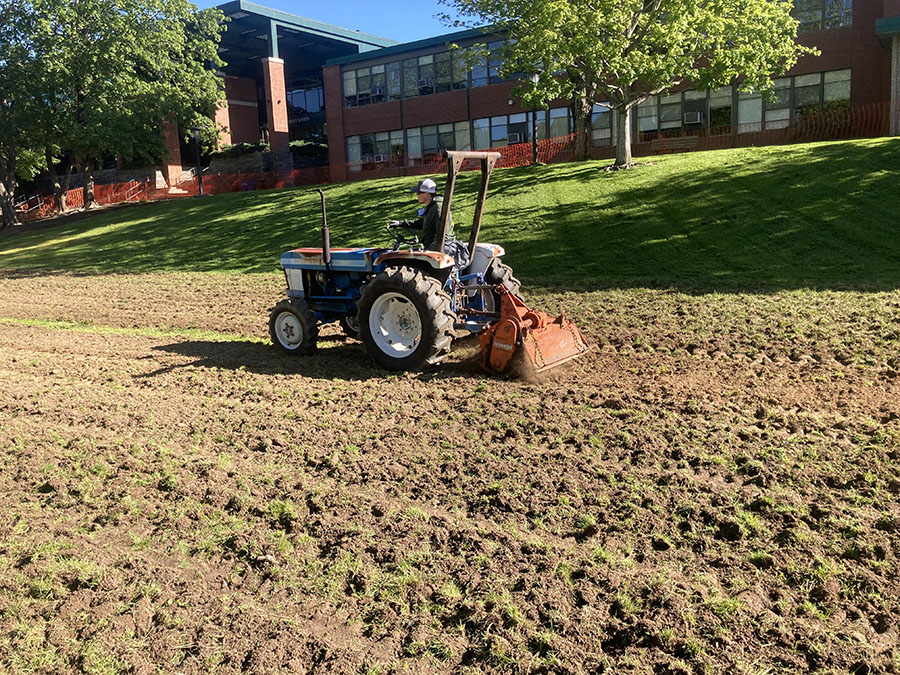 Mending the turf
The idea for the Sanford Mall restoration arose from a conversation between Alff and his colleagues about a course Alff was taking focused on soil fertility. From there, they began discussing ways to apply both practices on a space in need, such as Sanford Mall.
Before the project began, Alff had the soil tested to determine what steps needed to be taken to improve the health of the turf and ensure any changes would be long-lasting. He also spent a significant amount of time researching varieties of grass to use on Sanford Mall and, ultimately, he selected a mix of seeds akin to those used on the National Mall in Washington, D.C.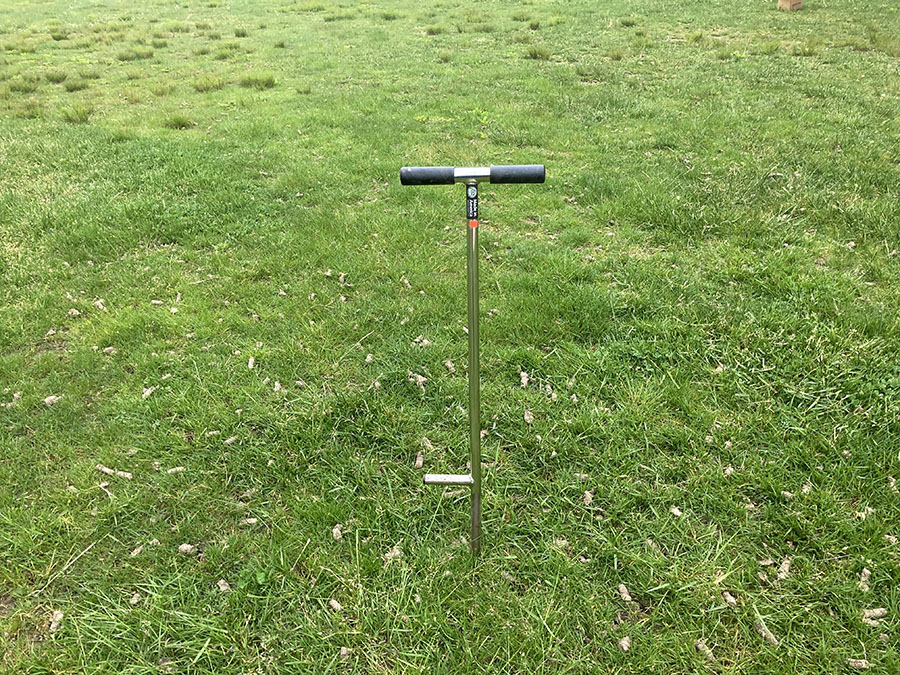 Landscape Services' Sanford Mall turf restoration team
Using multiple varieties of seeds helps mitigate potential issues, Alff said. The chosen seeds — a mix of Kentucky bluegrass and tall fescue — provide a wide spectrum of cross-disease prevention because they are each resistant to the primary diseases the other is susceptible to contracting.
"The greater diversity you can have in your grass seed, the better," Alff said.
In September, when temperatures begin to cool, the Landscape Services team will continue their work by aerating and overseeding again to ensure the turf remains in optimal condition.
"Through proper species and variety selection, responsible and judicious use of fertilizers and pesticides, and modern, science-based horticultural practices, we can maintain a healthy, beautiful and sustainable campus landscape," Alff said.
What do you think?
Share your feedback on this story.
Landscape Services' Sanford Mall turf restoration team
Office of Sustainability
May 10, 2019
About Appalachian's Facilities Operations
Facilities Operations at Appalachian State University manages operations of campus buildings, systems and utilities, as well as water treatment and steam plants that serve the campus. Services provided by Facilities Operations include housekeeping, landscaping, moving furniture and other items, and managing motor pool fleet rentals. The campus unit employees over 275 skilled technicians — including engineers, locksmiths, electricians, painters, plumbers, carpenters, roofers, welders, controls programmers, housekeepers, landscapers, mechanics and HVAC technicians. Learn more at https://facilitiesoperations.appstate.edu.
About Sustainability at Appalachian
Appalachian State University's leadership in sustainability is known nationally. The university's holistic, three-branched approach considers sustainability economically, environmentally and equitably in relationship to the planet's co-inhabitants. The university is an active steward of the state's interconnected financial, cultural and natural resources and challenges students and others think critically and creatively about sustainability and what it means from the smallest individual action to the most broad-based applications. The university offers both undergraduate and graduate academic degree programs that focus on sustainability. In addition, 100 percent of Appalachian's academic departments offer at least one sustainability course or course that includes sustainability, and all students graduate from programs that have adopted at least one sustainability learning outcome. Learn more at https://appstate.edu/sustainability.
About Appalachian State University
As the premier public undergraduate institution in the Southeast, Appalachian State University prepares students to lead purposeful lives as global citizens who understand and engage their responsibilities in creating a sustainable future for all. The Appalachian Experience promotes a spirit of inclusion that brings people together in inspiring ways to acquire and create knowledge, to grow holistically, to act with passion and determination, and to embrace diversity and difference. Located in the Blue Ridge Mountains, Appalachian is one of 17 campuses in the University of North Carolina System. Appalachian enrolls nearly 21,000 students, has a low student-to-faculty ratio and offers more than 150 undergraduate and graduate majors.