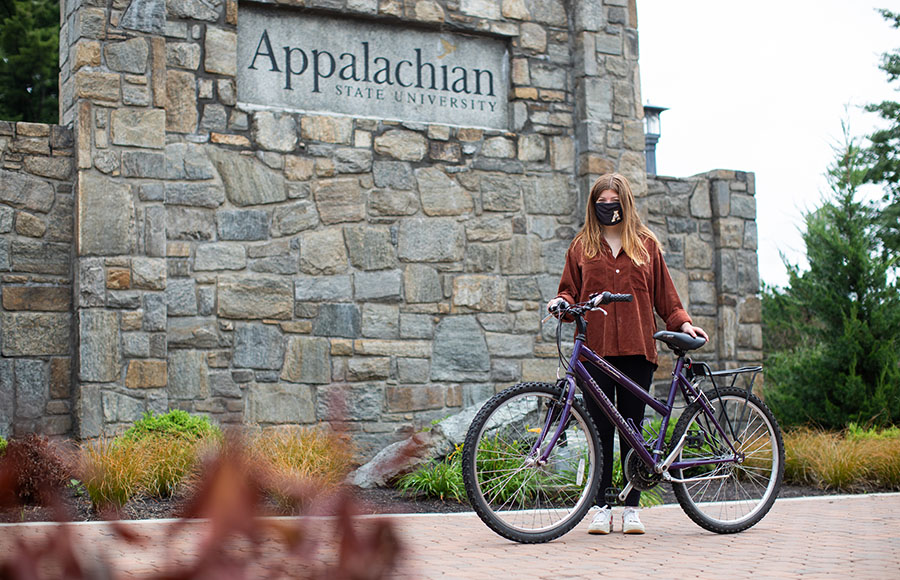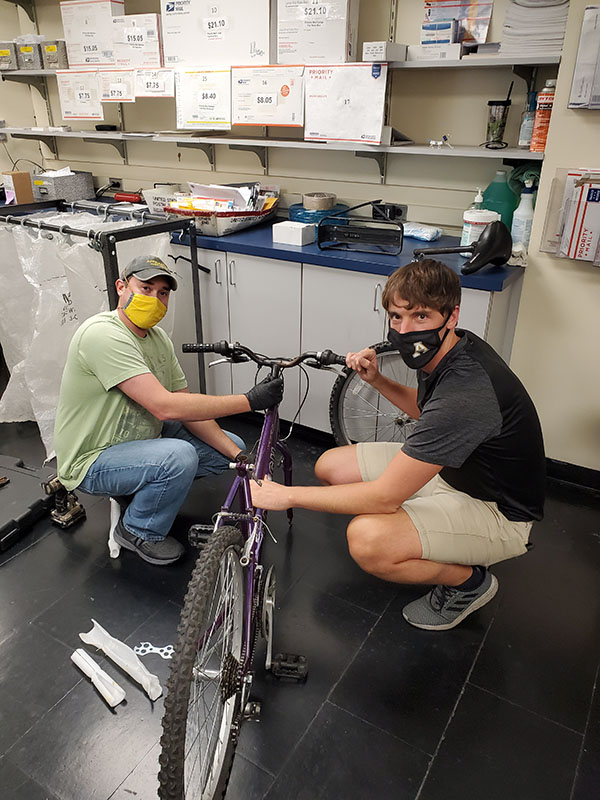 Posted Aug. 26, 2020 at 1:23 p.m.
BOONE, N.C. — When Madeline Ryan, a first-year sustainable development major from Chicago, shipped a bicycle to Appalachian State University's post office, she didn't anticipate three of its staff members would go above and beyond to help her by assembling the bike.
Ryan said she bought the bike "on a whim," and when it arrived unassembled, she knew she was "going to struggle putting it together."
"I ended up leaving it at the post office so I could figure out a plan," Ryan said. "I was so stressed because I had just moved in and really needed the bike for transportation."
Little did Ryan know, Tim Norris, Matt Story and Daniel Greer — administration support specialists in the University Post Office — were ready to solve her dilemma.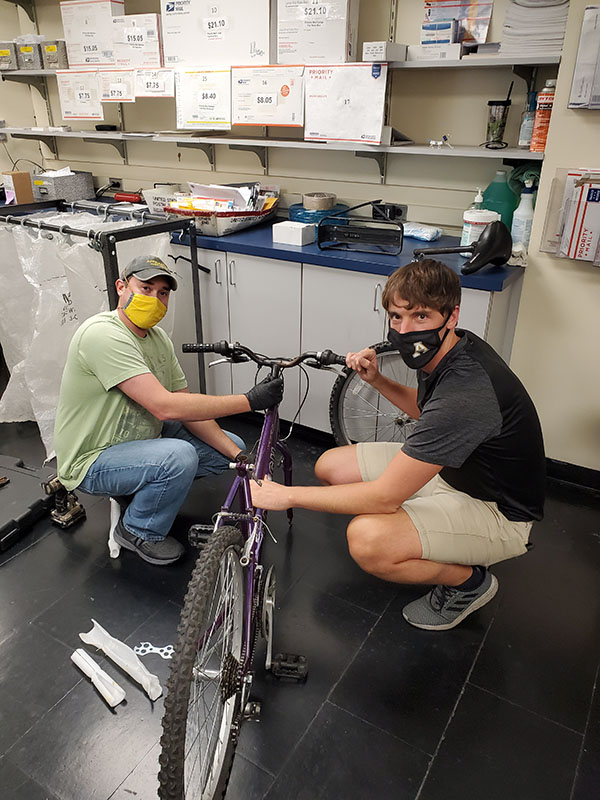 Story said Ryan was by herself when she came to pick up the package and it was "obviously way too big for one person to carry." After she left, the staff members saw the package contained a bicycle.
"We called and asked her if she wanted us to put the bike together," Story said. "That way she wouldn't have to carry that huge box, and it would save her some time by not having to put it together. Plus, we had all the tools here, including the air compressor to pump up the tires."
Ryan said she was "so grateful and appreciative" when she received the call.
"As I reflect, I realize it was a much larger and loving sentiment as to why I chose App State and why I'm falling in love with it here," Ryan said. "I know it sounds cheesy, but it was such an important act of kindness to me during a pretty difficult transition. It truly meant a lot to me."
"We try to go above and beyond to help out students as much as we can," Story said, "whether that is letting them borrow a hand truck, or helping them with bigger packages, or just trying to get them a better deal on shipping rates. We also recycle and reuse packaging as often as possible."
University Post Office Director Greg Foster said, "We have a very talented crew, and they often go beyond the call of duty to help out."
What do you think?
Share your feedback on this story.
About the Division of Business Affairs
The Division of Business Affairs at Appalachian State University works to provide the most effective and efficient accounting and budgeting of the university's financial resources, while also providing exemplary services that maintain the support necessary for the infrastructure, safety and physical operation of the campus. This administrative division oversees 13 units: Parking and Transportation; Conference and Event Services; University Post Office; University Bookstore; Campus Dining; Controller's Office; Budget Office; Business Systems; Materials Management; Facilities Operations; Planning, Design and Construction; New River Light and Power; and the Appalachian Loft facility in New York City. Learn more at https://businessaffairs.appstate.edu.
About Appalachian State University
As the premier public undergraduate institution in the Southeast, Appalachian State University prepares students to lead purposeful lives as global citizens who understand and engage their responsibilities in creating a sustainable future for all. The Appalachian Experience promotes a spirit of inclusion that brings people together in inspiring ways to acquire and create knowledge, to grow holistically, to act with passion and determination, and to embrace diversity and difference. Located in the Blue Ridge Mountains, Appalachian is one of 17 campuses in the University of North Carolina System. Appalachian enrolls nearly 21,000 students, has a low student-to-faculty ratio and offers more than 150 undergraduate and graduate majors.