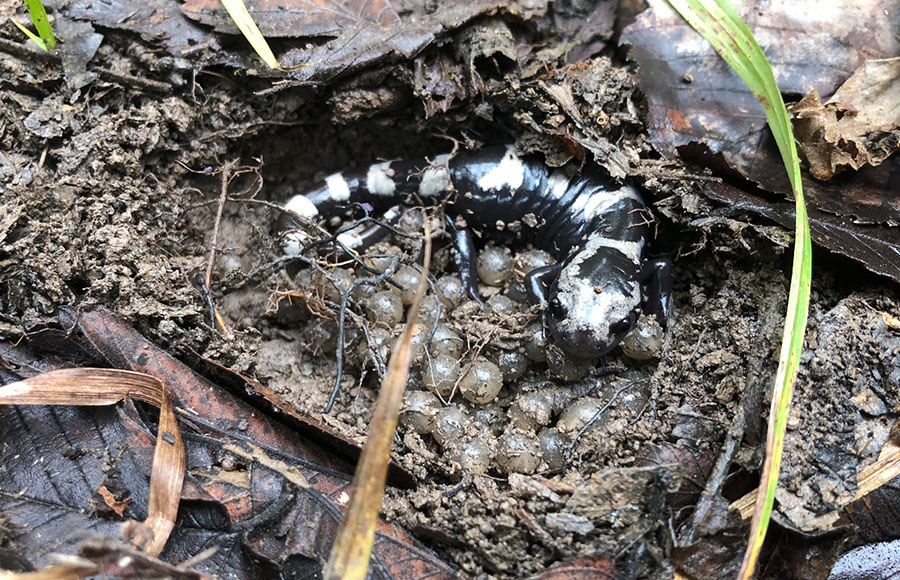 Posted Aug. 27, 2020 at 9:18 a.m.
BOONE, N.C. — From the hellbender to the eastern tiger, salamander species are under threat due to detrimental changes in climate — including increased temperatures and changing precipitation.
With support from the United States Geological Survey (USGS), Appalachian State University's Dr. Jon Davenport is undertaking a four-year project that will provide a clear understanding of how such potential climate changes could affect salamander populations of Missouri's Ozark Mountains — particularly those of management concern on and near U.S. Department of Defense (DoD) lands.
Davenport, an assistant professor of biology in the College of Arts and Sciences' Department of Biology, has been awarded $392,439 in USGS grant funding for the first three years of the project — academic years 2018–19 to 2020–21.
Davenport said the grant-funded study will expand on documented changes in amphibian breeding patterns and test how breeding stage-specific responses to seasonal/climatic changes affect local amphibian populations and wetland communities. The study will also result in models that can be used to guide DoD's land management decisions, he added.
By examining such changes, or phenological shifts, scientists can better understand, respond to and prepare for the Earth's changing climate. Phenology is the timing of organisms' biological events — such as flowering time, reproductive events and timing of migration — in relation to seasonal and climatic changes. For example, some amphibian species are responding to warmer springs by breeding earlier in the spring, Davenport said. He explained that this shift in breeding could affect predator–prey interactions and habitat suitability.
According to Davenport, many studies exist that document changes in phenological shifts of plants and animals, but empirical tests of such shifts — those relying on observational evidence and scientific data — are rare, "despite their known critical importance in population and community ecology," he said. "Specifically, biologists rarely know of how variation in phenological shifts will impact both demographic rates and species interactions."
"This approach, which combines data from multiple life stages for different species, will allow this work to be a model for both basic ecology and conservation efforts, as we will incorporate experimental results into demographic simulation models, which are often not coincidentally performed," Davenport said.
App State student researchers involved with the project
Field work for the project has been conducted at Fort Leonard Wood (FLW) in Missouri, and this work will continue once the freeze on university-sponsored, in-state travel mandated by the University of North Carolina System is lifted.
For the project, Davenport is collaborating with the following individuals:
Dr. Jake Burkhart, a biologist for the U.S. Fish and Wildlife Service. Burkhart recently completed his postdoctoral research in Davenport's laboratory at Appalachian.
Kenzi Stemp, who manages Davenport's lab.
Dr. Thomas Anderson, assistant professor in the Department of Biology at Southern Illinois University-Edwardsville (SIUE). Before joining SIUE, Anderson completed his postdoctoral research with Davenport at Appalachian.
Their work is a component of a larger project known as the Strategic Environmental Research and Development Program (SERDP), in collaboration with USGS and Virginia Polytechnic Institute and State University.
App State student researchers involved with the project
What do you think?
Share your feedback on this story.
About the Department of Biology
The Department of Biology is a community of teacher-scholars, with faculty representing the full breadth of biological specializations — from molecular genetics to landscape/ecosystem ecology. The department seeks to produce graduates with sound scientific knowledge, the skills to create new knowledge, and the excitement and appreciation of scientific discovery. Learn more at https://biology.appstate.edu.
About the College of Arts and Sciences
The College of Arts and Sciences (CAS) at Appalachian State University is home to 17 academic departments, two centers and one residential college. These units span the humanities and the social, mathematical and natural sciences. CAS aims to develop a distinctive identity built upon our university's strengths, traditions and unique location. The college's values lie not only in service to the university and local community, but through inspiring, training, educating and sustaining the development of its students as global citizens. More than 6,400 student majors are enrolled in the college. As the college is also largely responsible for implementing App State's general education curriculum, it is heavily involved in the education of all students at the university, including those pursuing majors in other colleges. Learn more at https://cas.appstate.edu.
About Appalachian State University
As the premier public undergraduate institution in the Southeast, Appalachian State University prepares students to lead purposeful lives. App State is one of 17 campuses in the University of North Carolina System, with a national reputation for innovative teaching and opening access to a high-quality, affordable education for all. The university enrolls more than 21,000 students, has a low student-to-faculty ratio and offers more than 150 undergraduate and 80 graduate majors at its Boone and Hickory campuses and through App State Online. Learn more at https://www.appstate.edu.