Timeline for App State's mobile TV studio
Posted Aug. 28, 2020 at 1:51 p.m.
BOONE, N.C. — Appalachian State University's new mobile TV studio, which got its start as a Hollywood movie prop, will serve as a learning lab on wheels for Mountaineer students covering High Country news and events. Over the next three years, the production truck will be retrofitted, in part, through a $50,000 gift from local telecommunications cooperative SkyLine/SkyBest.
Rob Gelber, general manager of AppTV — the university's student-run television station, said the vehicle purchase allows AppTV to create a strong commitment to local news and offer students invaluable, on-the-ground training, which will eventually include covering local events and festivals. The truck's first stop? Appalachian's 2020 Founders Day celebration.
"Without SkyLine/SkyBest's financial support, we would have been waiting at least a year or more to be able to begin using the truck," Gelber said. "Their financial partnership allows us to start designing the truck based on how we will use it, and once we're up and running, we will have a collegial partnership to work with their staff to cover events together and even broadcast some AppTV shows on their channel."
The learning lab has already begun rolling for one student. Olivia Williams, a junior communication, electronic media/broadcasting major from Charlotte, is working with Gelber and Emily Mason '16, AppTV chief engineer and production manager, on the truck's proposed design and equipment recommendations.
Williams said she is excited to begin working toward her career goal of being a broadcast engineer — a person who is responsible for repairing existing equipment, selecting new equipment and assisting with training and questions.
"Having a production truck opens up a lot of opportunities," said Williams, who began working at AppTV as a first-year student. "AppTV has so many creative people and so many creative things we want to do. This gives me a rare opportunity to learn about broadcast engineering that I wouldn't have had otherwise."
From the movies to the mountains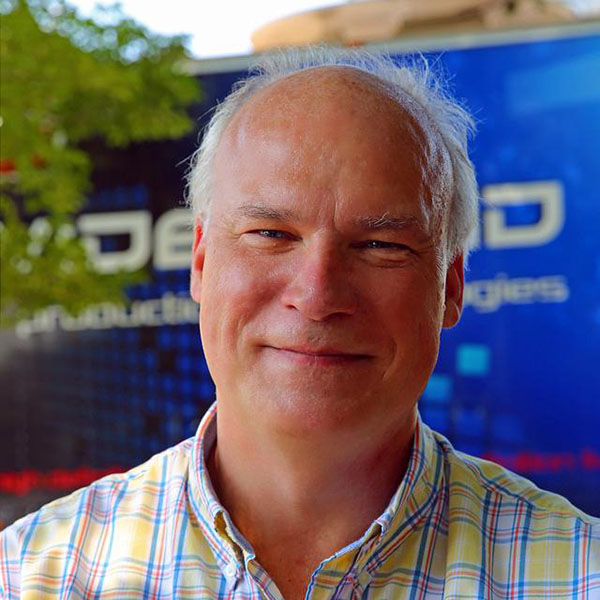 The truck's first big break was landing a role in "Bruce Almighty" — it is visible in several scenes of the 2003 blockbuster starring Jim Carrey, Steve Carrell, Jennifer Aniston and Morgan Freeman.
From its Hollywood roots, the truck was promoted from a mere movie prop to a working mobile TV studio after leaving the Universal Studios lot and being driven across the country by Mountaineer Glenn Holterhaus, a former student of Appalachian's Department of Communication and president of DanBeth Communications Inc. He is also a special projects producer for local, cable and network television.
Holterhaus purchased the vehicle for his former television station WSKY-TV, which serves northeastern North Carolina and southeastern Virginia. He held onto the truck for 17 years, first using it to cover live, local news from the station's base in Norfolk, Virginia.
When he left the station to start his own production company, the truck he affectionately named "BABS" came with him, traveling around the country to cover sporting events such as NCAA college basketball games and festivals such as New York City's annual Brazilian Day celebration.
Holterhaus said he is confident that the learning experience of broadcasting on location will have a lasting impact on Appalachian students.
"Remote television production is real TV. People think there's a glamourous life of television, but when you're out in the cold and mud setting up at 2:30 in the morning, you quickly realize that it's hard work," he said.
"Nothing in your environment is controlled like it is in the studio. You've got rain, you've got wind, you've got snow and you constantly have to think on your feet," he added.
Timeline for App State's mobile TV studio
Thank you, SkyLine/SkyBest!
In this video, App State's Rob Gelber, general manager of AppTV, and Department of Communication students and alumni offer their thanks to local telecommunications cooperative SkyLine/SkyBest for its $50,000 gift to help outfit the university's new mobile TV studio.
What do you think?
Share your feedback on this story.
About the Department of Communication
One of seven departments housed in the College of Fine and Applied Arts, the Department of Communication at Appalachian State University focuses on preparing students to succeed in the varied fields within the communication industry. The department offers five majors – advertising, communication studies, electronic media/broadcasting, journalism and public relations – and a minor in communication studies. Graduates work in a wide range of positions in media, corporate, agency, government and nonprofit organizations. Learn more at https://communication.appstate.edu.
About the College of Fine and Applied Arts
Appalachian State University's College of Fine and Applied Arts is a dynamic and innovative group of seven academic departments, bringing together a variety of perspectives, experiences and real-world education to provide unique opportunities for student success. The college has more than 3,000 undergraduate and graduate majors. Its departments are Applied Design, Art, Communication, Military Science and Leadership, Sustainable Development, Sustainable Technology and the Built Environment, and Theatre and Dance. Learn more at https://faa.appstate.edu.
About Appalachian State University
As the premier public undergraduate institution in the Southeast, Appalachian State University prepares students to lead purposeful lives as global citizens who understand and engage their responsibilities in creating a sustainable future for all. The Appalachian Experience promotes a spirit of inclusion that brings people together in inspiring ways to acquire and create knowledge, to grow holistically, to act with passion and determination, and to embrace diversity and difference. Located in the Blue Ridge Mountains, Appalachian is one of 17 campuses in the University of North Carolina System. Appalachian enrolls nearly 21,000 students, has a low student-to-faculty ratio and offers more than 150 undergraduate and graduate majors.