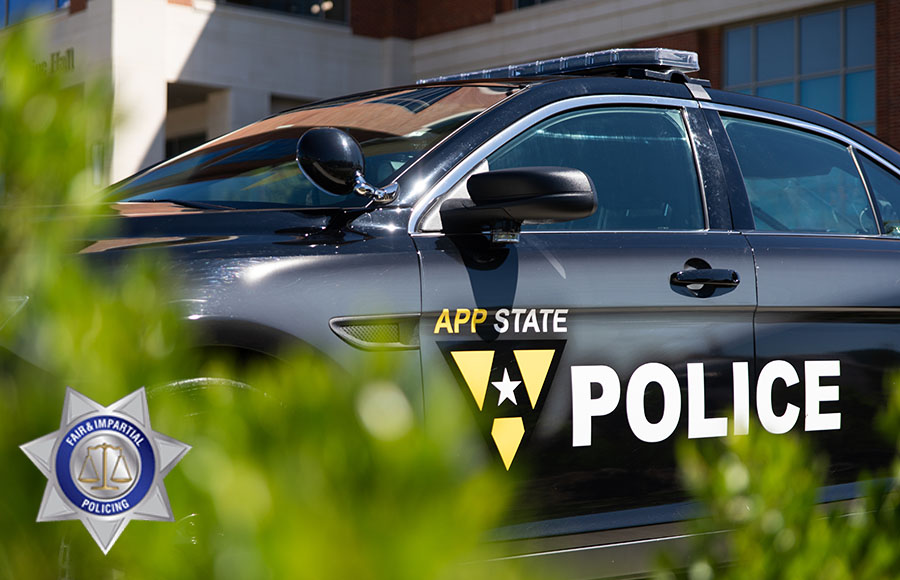 Posted Sep. 23, 2020 at 9:54 a.m.
BOONE, N.C. — The Appalachian Police Department (APD) — Appalachian State University's official policing agency — is hosting and sponsoring implicit bias training for local and regional law enforcement agencies. This training will be provided by Fair and Impartial Policing (FIP) LLC, a company that provides implicit bias training nationwide to law enforcement agencies at the local, state and federal levels.
Fifteen officers from APD, the Watauga County Sheriff's Office, the Blowing Rock Police Department and the Boone Police Department will participate in FIP's Train-the-Trainer (TOT) program Sept. 23 and 24. The class will also include officers from elsewhere in the Western North Carolina region, with up to 30 officers in attendance at each session. APD is sponsoring the attendance of all 15 Watauga County officers.
"In providing these important professional development opportunities related to diversity and inclusion, App State's Police Department is exemplifying the university's dedication to ensuring a safe and inclusive Appalachian Experience," said App State Chancellor Sheri Everts. "This commitment extends beyond the borders of our campus to our community and our region."
Through FIP's TOT program, officers will become certified trainers who are capable of providing the implicit bias training to other officers in North Carolina's High Country — including those within their own agencies.
Andy Stephenson, App State's director of public safety and chief of police, said, "Having these trainers within our local communities will support area law enforcement's continued efforts to serve the public with compassion and respect."
"Implicit bias works outside of our conscious awareness and manifests even in people who consciously hold nonprejudiced attitudes," the FIP website states. According to FIP, this type of bias affects all human perceptions on an unconscious level, but its effects on decisions can be reduced through awareness and education.
This FIP curricula have been integrated into the Leadership of Police Organizations and Women's Leadership Institute training programs, both offered by the International Association of Chiefs of Police. The same curricula are also presented each year at the FBI National Academy and the Police Executive Research Forum's Senior Management Institute for Police.
What do you think?
Share your feedback on this story.
About the Appalachian Police Department
Appalachian State University's official policing agency — the Appalachian Police Department — supports the university's academic mission by working in partnership with the campus community to prevent crime, solve problems and improve the quality of life on campus. The department's philosophy is one of proactive community engagement, collaboration and customer service, holding the safety and health of App State's community members as its top priorities. State-certified police officers, security officers and civilian employees compose the department, and this team of professionals helps to create and maintain an inclusive sense of belonging for all members of the Appalachian Community — students, faculty, staff and visitors. Additionally, through its efforts, the department aims to be a leader in innovative public safety ideas and strategies. Learn more at https://police.appstate.edu.
About Appalachian State University
As the premier public undergraduate institution in the Southeast, Appalachian State University prepares students to lead purposeful lives as global citizens who understand and engage their responsibilities in creating a sustainable future for all. The Appalachian Experience promotes a spirit of inclusion that brings people together in inspiring ways to acquire and create knowledge, to grow holistically, to act with passion and determination, and to embrace diversity and difference. Located in the Blue Ridge Mountains, Appalachian is one of 17 campuses in the University of North Carolina System. Appalachian enrolls nearly 21,000 students, has a low student-to-faculty ratio and offers more than 150 undergraduate and graduate majors.