Posted Nov. 4, 2020 at 1:40 p.m.
BOONE, N.C. — Appalachian State University alumnus Dylan Russell '14 nurtured his passion for civic engagement during his time as president of App State's Student Government Association (SGA), as a White House intern and in the classroom as a teacher. Today, he is the executive director of Lead for North Carolina (LFNC) — a fellowship program that helps service-oriented college graduates put their talents to use in communities throughout the state.
"Local governments are at the vanguard of problem-solving and young people are determined to be change agents," said Russell, who earned a bachelor's degree in elementary education from App State and a master of public administration from the University of North Carolina at Chapel Hill.
According to Russell, LFNC — which he co-founded — is a "perfect marriage between what our institutions need and what young people want: careers in which they can make a difference."
Russell, a first-generation college student from Watauga County, said the environment at App State encouraged him to be an engaged and active citizen, and he gave frequent updates to the Boone Town Council and the Watauga County Commissioners during his time as SGA president.
"These experiences with elected officials instilled within me the determination to seek change on behalf of the student body and to work more closely with policymakers at the local, state and federal level," said Russell, who was awarded App State's W.H. Plemmons Leadership Medallion by Chancellor Sheri Everts for his work in student advocacy.
Prior to co-founding LFNC, Russell held a variety of positions, including serving as a White House intern, a policy analyst at the North Carolina Department of Public Instruction and a fifth grade public school teacher in Chapel Hill–Carrboro City Schools. He also held several positions in the Development Office of UNC-Chapel Hill's School of Government.
Empowering graduates to make a difference
LFNC pairs recent college graduates with cities and towns in need of assistance, where the fellows work on projects ranging from affordable housing and emergency management, to communications and finance.
According to Russell, after the program's inaugural year:
94% of local governments surveyed reported that hosting an LFNC fellow helped to expand their capacity to achieve their goals.
88% said the fellows helped complete work they had previously been unable to prioritize.
LFNC managers estimated more than $1.8 million in cost savings to the jurisdictions because of the fellows' work.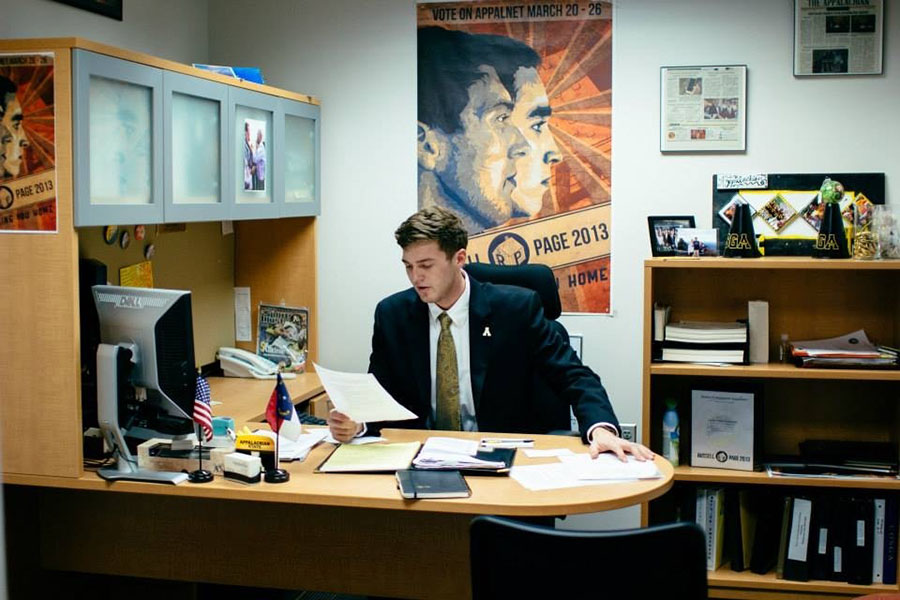 Now in its second year, LFNC currently has 28 fellows serving across the state — predominantly in economically distressed communities. The fellows have secured more than $10.3 million in grants to assist their jurisdictions.
To turn LFNC from a dream into a reality, Russell leaned on connections he had made throughout his life and career as he pitched his idea to "anyone who would listen." Specifically, he said many of his App State mentors — including assistant professor of public administration Dr. Patricia Mitchell — helped influence the direction of the LFNC program and encouraged funders from across the state to meet with him.
"Dylan has done an exceptional job in program creation and implementation to make this a highly successful endeavor," Mitchell said. "He met every challenge with professionalism and overcame each one to produce a program that is making a difference in North Carolina."
What do you think?
Share your feedback on this story.
About the Reich College of Education
Appalachian State University offers one of the largest undergraduate teacher preparation programs in North Carolina, graduating about 500 teachers a year. The Reich College of Education enrolls more than 2,000 students in its bachelor's, master's, education specialist and doctoral degree programs. With so many teacher education graduates working in the state, there is at least one RCOE graduate teaching in every county in North Carolina. Learn more at https://rcoe.appstate.edu.
About Appalachian State University
As the premier public undergraduate institution in the Southeast, Appalachian State University prepares students to lead purposeful lives. App State is one of 17 campuses in the University of North Carolina System, with a national reputation for innovative teaching and opening access to a high-quality, affordable education for all. The university enrolls more than 21,000 students, has a low student-to-faculty ratio and offers more than 150 undergraduate and 80 graduate majors at its Boone and Hickory campuses and through App State Online. Learn more at https://www.appstate.edu.