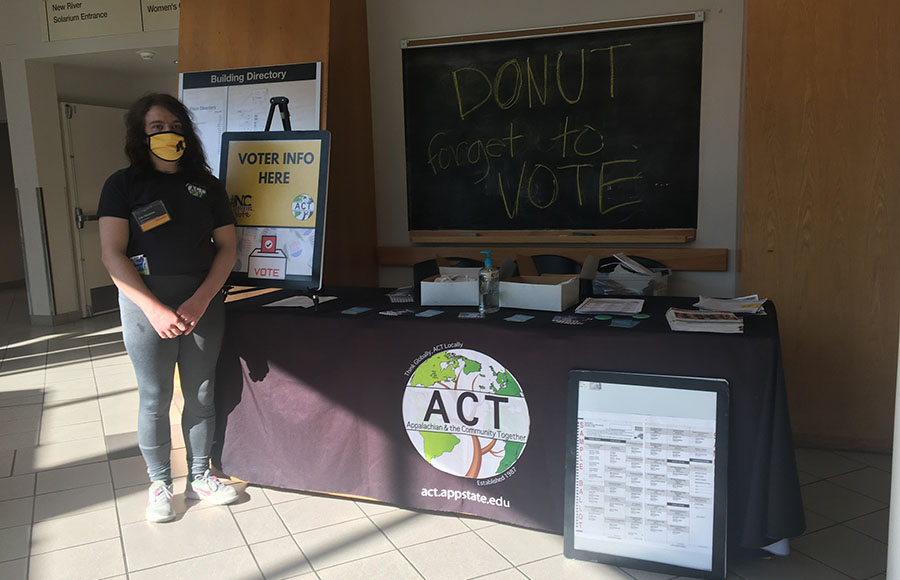 Posted Nov. 4, 2020 at 1:37 p.m.
BOONE, N.C. — Nearly 750 Appalachian State University students were treated to a sweet reminder to vote in the general election — along with information on how to vote, where to vote and when to vote — as part of "Doughnut Forget to Vote," a nonpartisan voter education and mobilization event held Oct. 22 in App State's Plemmons Student Union.
The event — held a few days ahead and in celebration of Vote Early Day — was funded by a $1,000 grant from Students Learn Students Vote (SLSV) Coalition, which was awarded to Macki Snyder, assistant director of leadership and outreach for Appalachian and the Community Together (ACT).
Snyder worked with App State juniors and Honors College students Tori Joy, of Hendersonville, and Grace Powers, of Davidson, to organize the event, during which App State students handed out free doughnuts, along with nonpartisan voter information packets, Watauga County sample ballots and other voter resources in an effort to reduce barriers to students' ability and motivation to vote. Doughnuts for the event were purchased from Boone's Local Lion.
"Any effort to educate voters and encourage them to use their voice is valuable in creating a more civically engaged campus. The goal with all of our projects thus far is to create institutional change that motivates people to participate in our democracy," said Powers, a communication, electronic media/broadcasting major and a member of Appalachian Social Justice Educators and the Appalachian Popular Programming Society (APPS).
Joy, a public health major who serves as vice president of community relations for App State's Panhellenic Council, said, "Oftentimes, voters can be pushed information from a specific political party rather than simply gaining the necessary knowledge in a nonpartisan form, so I am really glad to have been able to spread voter knowledge in a way that is beneficial to all.
"Students were excited to get this info, plus a doughnut — especially since times have been so stressful! I think students definitely walked away with more knowledge on voting processes than they had before."
Joy and Powers are among 26 North Carolina college students serving as Campus Election Engagement Project (CEEP) Fellows during the fall 2020 semester.
According to CEEP, fellows participate in about 100 hours of nonpartisan engagement activities over the course of a semester, including the following:
Helping their student peers register to vote.
Distributing nonpartisan candidate guides and other educational materials.
Organizing and executing Get Out The Vote events.
Additional funding for the event was provided by the North Carolina Campus Compact (NCCC) — a collaborative network of colleges and universities committed to educating students for civic and social responsibility, partnering with communities for positive change and strengthening democracy, the NCCC website states.
Snyder is one of four faculty and staff at North Carolina higher education institutions serving as 2020 NCCC Election Engagement Sustainability Fellows. The EESF program, according to NCCC, engages faculty or staff who are passionate about election engagement and who want to ensure the long-term sustainability of democratic participation on their campus. Through the program, Snyder will form a coalition at App State and develop a three-year election engagement plan for campus.
What do you think?
Share your feedback on this story.
About the Division of Student Affairs
The Division of Student Affairs at Appalachian State University is committed to the development of lifelong learners and leaders by engaging and challenging students within a culture of care and inclusion. The division consists of 16 units that offer activities and services to help students develop more fully by becoming global learners, fostering healthy relationships, appreciating diversity and different perspectives, understanding community responsibility, enhancing self-awareness, developing autonomy and living ethically. These units include the Career Development Center, Campus Activities, Office of Community-Engaged Leadership, Wellness and Prevention Services, Counseling and Psychological Services, Student Health Service, Parent and Family Services, University Housing, Student Conduct, University Recreation, Intercultural Student Affairs, Student Legal Clinic and Off-Campus Student Services, Electronic Student Services, Child Development Center, and Staff Development and Strategic Initiatives. Learn more at https://studentaffairs.appstate.edu.
About Appalachian State University
As the premier public undergraduate institution in the state of North Carolina, Appalachian State University prepares students to lead purposeful lives as global citizens who understand and engage their responsibilities in creating a sustainable future for all. The Appalachian Experience promotes a spirit of inclusion that brings people together in inspiring ways to acquire and create knowledge, to grow holistically, to act with passion and determination, and to embrace diversity and difference. Located in the Blue Ridge Mountains, Appalachian is one of 17 campuses in the University of North Carolina System. Appalachian enrolls more than 20,000 students, has a low student-to-faculty ratio and offers more than 150 undergraduate and graduate majors.