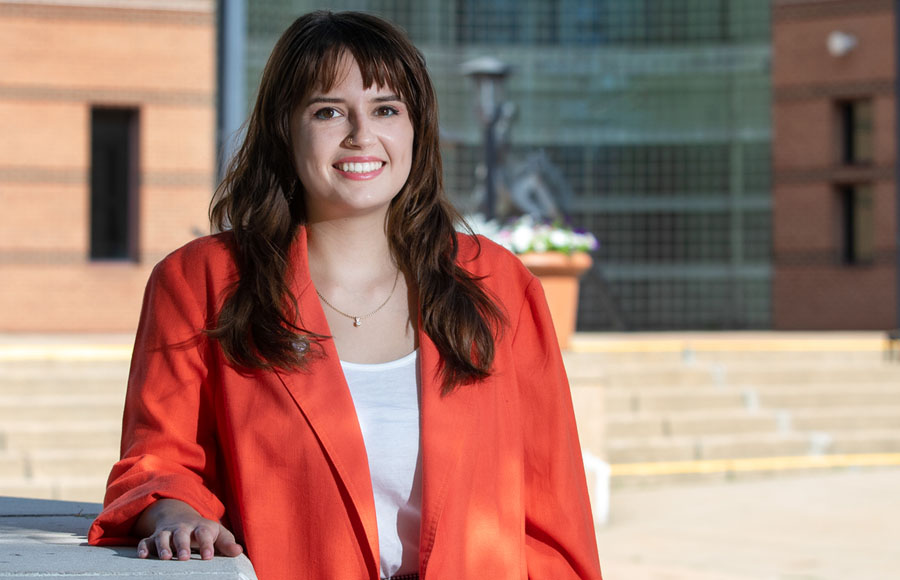 Posted Nov. 11, 2020 at 4:11 p.m.
BOONE, N.C. — Zoe Huffines, an Appalachian State University senior from Holly Springs, credits her academic success to the help of mentors — a high school teacher, university faculty and staff, and scholarship donors — who have supported and guided her during her time as a Mountaineer.
But her eagerness to get involved — in undergraduate research, in sustainable business and in the arts — while holding two campus jobs was also a factor in her transformative experience.
"The invaluable experiences I had at Appalachian are not unique to me," she said. "They are at everyone's fingertips. The value of an education is not in the fleeting success of an A or a degree but in the experiences that shape us into who we are."
Huffines, who recently shared her story at the annual Walker College of Business (WCOB) scholarship reception, has encountered challenges and tragedy in her personal life. While in high school, she became an emancipated minor after her family faced years of foreclosures and evictions due to medical expenses. Shortly thereafter, her mother died. Then, during her sophomore year at App State, Huffines' father was killed in a home invasion.
App State alumni Jayna Huffines and James Huffines, both 2000 graduates, provided the high schooler a home and legally adopted her after her father's death. Jayna Huffines — also Zoe Huffines' art teacher in high school — encouraged her and helped her with scholarship applications.
Zoe Huffines said she has gained new perspectives during her college years. "Appalachian changed my worldviews. Being persistent wasn't always rewarded when I was younger, but I feel like my hard work and perseverance have been recognized at App State and have made me stronger."
She continued, "It doesn't matter what happens to me or how many struggles I'm given. All that matters is how I respond. Here at Appalachian, I have learned resilience and the value of community."
Huffines, who describes herself as an artist/poet/businesswoman, is majoring in management and minoring in both sustainable business and experiential, integrative learning. After she graduates in May 2021, she plans to pursue a Master of Arts in higher education at App State, with the goal of working in admissions or career services — areas in which she can help empower others to reach their full potential, she said.
In fall 2018, Huffines was named the first recipient of the Lewis Scholarship in Business — established by retired Bank of America CEO Ken Lewis — which covered her full tuition, plus room and board. As an App State student, she also participated in the university's Appalachian Commitment to a College Education for Student Success (ACCESS) Program, which provides students with academic and personal support that includes orientation and academic advising, mentorship and professional development opportunities.
"I will cherish every inspiring conversation I had with Mr. Lewis over the past two years," Huffines said. "My time at Appalachian would not have been possible without his support."
Since her first year at App State, Huffines has been involved with the Women of Walker (WOW), a program designed to prepare female students with essential skills needed for success in business careers.
The coaching and mentorship from Amy Odom, associate director of WCOB's Business Career Services and adviser for WOW, along with networking opportunities with corporate women during WOW outings, was helpful to Huffines, she said.
"I love experiential learning. With WOW, we were able to go to Charlotte and visit companies like Electrolux and Bank of America and connect with young female professionals. When you get out of the classroom and apply skills within the real world, you learn so much more," Huffines said.
Huffines gained more practical experience as a student worker in the office of WCOB's acting dean, Dr. Sandra Vannoy, and as the employer relations and marketing assistant in Business Career Services. There, she supported students, administration and faculty; helped with event planning; and served as a student speaker during the fall 2019 WCOB Advisory Council session.
Linda Meznar, business manager and executive assistant to Vannoy, said Huffines is a positive presence in the office. "Zoe goes above and beyond to find answers for our faculty, staff and students, and her optimistic attitude is uplifting to us all," Meznar said.
Odom, who was Huffines' supervisor in Business Career Services, said, "Despite the cards Zoe has been dealt, she continues to amaze me with her tenacity, bravery and sheer drive to overcome every single obstacle that has ever stood in her way. These experiences do not define her — however, they have shaped her. She has gracefully chosen to use these experiences to drive her to greatness."
Odom continued, "The transformation I have personally witnessed within Zoe Huffines over the last four years embodies the very meaning and essence of this university's mission. Zoe is an inspiration to everyone she touches and will serve as a change-maker for those without a voice but a desire to re-build."
With an interest in the arts and humanities, Huffines chose one of her two minors as experiential, integrative learning, which is offered by the Watauga Residential College (WRC) — a unit of the College of Arts and Sciences. She was inspired to enroll in WRC to gain a community that fostered creativity and learning.
There, she said she embraced her love of poetry and was inspired by Joseph Bathanti, App State's McFarlane Family Distinguished Professor in Interdisciplinary Education and a former North Carolina poet laureate.
Huffines has been involved in two undergraduate research projects and served as a teaching assistant for WRC Director Dr. Clark Maddux, professor of interdisciplinary studies. Huffines was able to travel with Maddux to the 2018 Residential College Symposium in Oklahoma and presented research with Bathanti at the 2018 ReVIEWING Black Mountain College 10 conference.
What do you think?
Share your feedback on this story.
About the Department of Management
The Department of Management offers undergraduate and graduate degree programs to prepare students for managerial responsibilities in today's dynamic environment. Learn more at https://management.appstate.edu.
About the Walker College of Business
The Walker College of Business at Appalachian State University delivers transformational educational experiences that prepare and inspire students to be ethical, innovative and engaged business leaders who positively impact our community, both locally and globally. The college places emphasis on international experiences, sustainable business practices, entrepreneurial programs and real-world applications with industry. Enrolling approximately 3,000 undergraduates in 10 majors and more than 180 graduate students in three master's programs, Walker College has the highest enrollment of full-time undergraduate students in the University of North Carolina System. Walker College is accredited by AACSB International — the premier global accrediting body for business schools. Learn more at https://business.appstate.edu.
About the Watauga Residential College at Appalachian
The Watauga Residential College is a specialized academic program where classes are discussion-based seminars that allow students to pursue topics of interest to them within the context of the class. This program provides an unusual opportunity for students to become engaged in learning at a deep level through class discussions and research projects. Watauga classes are interdisciplinary and this approach to learning requires students to integrate knowledge from a variety of disciplines to gain a complete perspective on a topic. Learn more at https://watauga.appstate.edu.
About the College of Arts and Sciences
The College of Arts and Sciences (CAS) at Appalachian State University is home to 17 academic departments, two centers and one residential college. These units span the humanities and the social, mathematical and natural sciences. CAS aims to develop a distinctive identity built upon our university's strengths, traditions and unique location. The college's values lie not only in service to the university and local community, but through inspiring, training, educating and sustaining the development of its students as global citizens. More than 6,400 student majors are enrolled in the college. As the college is also largely responsible for implementing App State's general education curriculum, it is heavily involved in the education of all students at the university, including those pursuing majors in other colleges. Learn more at https://cas.appstate.edu.
About the Goodnight Family Department of Sustainable Development
One of seven departments housed in the College of Fine and Applied Arts, the Goodnight Family Department of Sustainable Development at Appalachian State University prepares students to thoughtfully analyze human development while focusing on the applied practice of pursuing transformative, community-driven development and social change. It offers a Bachelor of Science degree in sustainable development with concentrations in agroecology and sustainable agriculture; community, regional and global development; and environmental studies; as well as a Bachelor of Arts and minor in sustainable development. Learn more at https://sd.appstate.edu.
About the College of Fine and Applied Arts
Appalachian State University's College of Fine and Applied Arts is a dynamic and innovative group of seven academic departments, bringing together a variety of perspectives, experiences and real-world education to provide unique opportunities for student success. The college has more than 3,000 undergraduate and graduate majors. Its departments are Applied Design, Art, Communication, Military Science and Leadership, Sustainable Development, Sustainable Technology and the Built Environment, and Theatre and Dance. Learn more at https://faa.appstate.edu.
About Appalachian State University
As the premier public undergraduate institution in the Southeast, Appalachian State University prepares students to lead purposeful lives. App State is one of 17 campuses in the University of North Carolina System, with a national reputation for innovative teaching and opening access to a high-quality, affordable education for all. The university enrolls more than 21,000 students, has a low student-to-faculty ratio and offers more than 150 undergraduate and 80 graduate majors at its Boone and Hickory campuses and through App State Online. Learn more at https://www.appstate.edu.