The benefits of a pandemic pod
Posted Nov. 13, 2020 at 4:27 p.m.
BOONE, N.C. — Do you know the power of a pandemic pod? It could relieve stress and isolation for some Appalachian State University students and employees feeling the effects of COVID-19 while protecting the larger community.
Pods, also called bubbles, consist of four to five individuals who all agree to strictly adhere to safety precautions around others so they can be more relaxed together as a group. They are also a form of watchfulness and accountability for one another's safety.
If they are implemented well, pandemic pods help minimize the risk of exposure to the virus, allow for some social connectedness and can protect the larger community, explained Dr. Alex F. Howard, interim assistant vice chancellor in the Division of Student Affairs and director of Wellness and Prevention Services.
"Pods take planning and require being thoughtful and disciplined," Howard said.
Tips for forming a pandemic pod
Here are five quick tips on how to form a pod, both for winter break and the spring 2021 semester:
Choose people you are going to want to spend a lot of time with. You may be behaviorally compatible but not socially compatible. Consider people you have known for a while, so you are experienced in interacting with them.
Set ground rules together. This will require some intentional discussions you'll need to be comfortable having with your podmates. See Howard's conversation starters below.
Keep your pod small. Overlapping groups increase risk. You should be able to name everyone in your pod and they should know you are in theirs as well.
No shaming. If someone in your pod doesn't adhere to the rules, they should not feel like they have to hide it. Likewise, no one should feel shamed for taking additional caution. Life happens, so have a plan for how to protect yourselves.
Help your podmates. Be kind and get creative so you can find ways to support one another while sticking to your agreed-upon rules.
Questions to ask when forming a pod
When forming a pod, said Howard, "you should have intentional conversations about who the bubble will consist of and disclose behaviors and preexisting conditions, so everyone can make an informed decision."
The conversation "likely will be awkward and that's OK. Lean into that awkward feeling. It's important to talk about how you'd like things to proceed in the coming months," Howard said.
He suggested the following questions as a way to start conversations about behaviors and attitudes to help determine compatibility:
What are your thoughts on social distancing and how you have tried to be safe this fall?
Do you feel you are susceptible to COVID-19?
What are your health risks?
What are your plans for winter break — where will you go and who will you be with?
How do you intend to protect yourself and others this winter?
For those who may not feel comfortable starting these conversations, Howard recommends practicing first with a trusted friend or family member who can coach you through any difficult spots.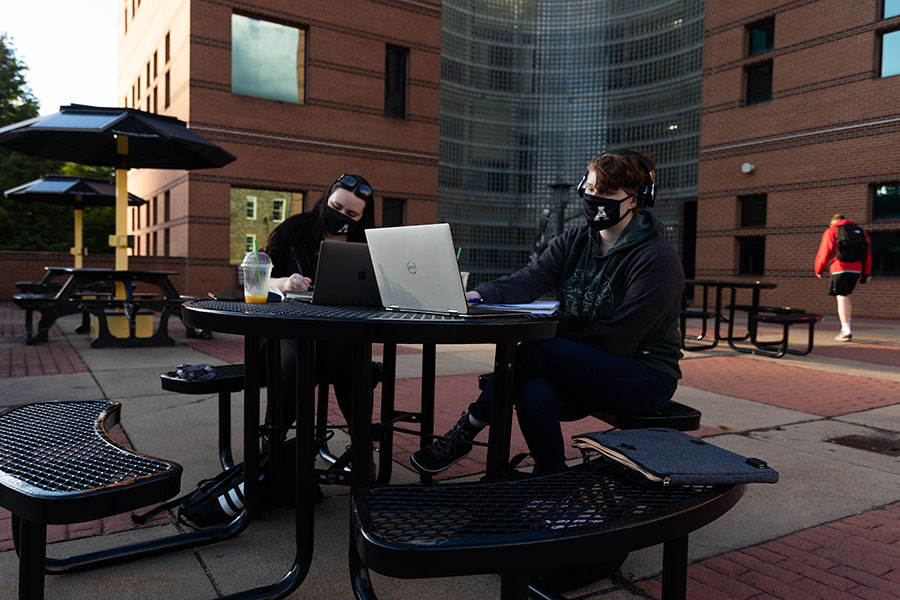 Compatibility within a pod
Compatibility is critical and it may shift over time, Howard said. "Find people similar to you in terms of their commitment and ability to limit exposure to the coronavirus."
If you've been in a pandemic pod already this fall, it's important to have that intentional conversation again, he advised. Students should check into what people's plans are for break, what their class schedule will be next semester and what athletics, clubs and organizations might require in-person meetings that others in the pod should be aware of.
Take into account living conditions as well as social circles: If you have roommates, Howard says to consider whether they are similar to you in terms of lifestyle or behavior choices, as well as what changes might need to be made if they aren't similar. "By talking through personal values, behaviors and lifestyles, you can glean who is a good match," he said.
Pod safety and effectiveness
Howard warned that pods are only as effective as people's adherence to them. Multiple pods — one for work and for social/academic networking, for example, may increase the risk of transmission. "A much larger social web, as a result of multiple individuals having overlapping pods, can increase risk and disease susceptibility," Howard said.
Small, focused pods, however, can offer a greater level of connection and the ability to ease restrictions when pod members are together without compromising overall COVID safety practices. Key, according to Howard, are trust and discipline.
"Adhere to the pod," Howard said. "At the end of the day, you want to minimize everyone's exposure to the coronavirus."
The benefits of a pandemic pod
What do you think?
Share your feedback on this story.
About the Division of Student Affairs
The Division of Student Affairs at Appalachian State University is committed to the development of lifelong learners and leaders by engaging and challenging students within a culture of care and inclusion. The division consists of 16 units that offer activities and services to help students develop more fully by becoming global learners, fostering healthy relationships, appreciating diversity and different perspectives, understanding community responsibility, enhancing self-awareness, developing autonomy and living ethically. These units include the Career Development Center, Campus Activities, Office of Community-Engaged Leadership, Wellness and Prevention Services, Counseling and Psychological Services, Student Health Service, Parent and Family Services, University Housing, Student Conduct, University Recreation, Intercultural Student Affairs, Student Legal Clinic and Off-Campus Student Services, Electronic Student Services, Child Development Center, and Staff Development and Strategic Initiatives. Learn more at https://studentaffairs.appstate.edu.
About Appalachian State University
As the premier public undergraduate institution in the Southeast, Appalachian State University prepares students to lead purposeful lives. App State is one of 17 campuses in the University of North Carolina System, with a national reputation for innovative teaching and opening access to a high-quality, affordable education for all. The university enrolls more than 21,000 students, has a low student-to-faculty ratio and offers more than 150 undergraduate and 80 graduate majors at its Boone and Hickory campuses and through App State Online. Learn more at https://www.appstate.edu.