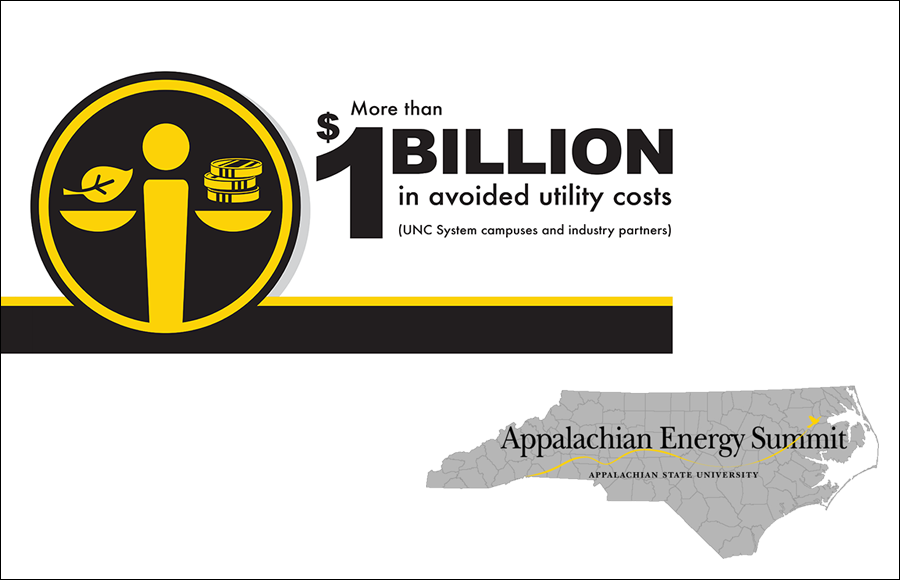 Posted Jan. 8, 2021 at 5:10 p.m.
Editor's Note: Two sets of figures are reported in this story. From 2002–03 to 2018–19 UNC System institutions, together with industry partners, have avoided more than $1 billion in utility costs — a goal set in 2012 by the Appalachian Energy Summit. The reported savings to date — from 2002–03 to 2019–20 — show the System is well on its way to reaching the 2025 goal of $2 billion.
BOONE, N.C. — At its ninth annual fall 2020 conference, this year held virtually due to the COVID-19 pandemic, the Appalachian Energy Summit (AES) reported that University of North Carolina System institutions, together with industry partners, have saved North Carolina more than $1 billion in avoided energy costs between 2002–19. Appalachian State University's proportion of these savings was $30,376,000. The expectation is the System will realize $2 billion in avoided costs by 2025.
"Over the years, the Appalachian Energy Summits have sustained momentum for this bold undertaking. The vision of our leadership in convening these summits, coupled with the efforts of the working groups from across the UNC System, has paid off in real financial gains for our institutions, our state and, ultimately, North Carolina taxpayers," said App State Chancellor Sheri Everts. "This is important progress and crucial to our efforts toward improving energy efficiency statewide."
"The summit has built solid, lasting and collaborative relationships with energy-minded experts across the state and beyond that will continue to positively impact our world," said Dr. Lee Ball, App State's chief sustainability officer. "Tangible, financial gains like these embolden energy action and generate innovative thinking and improvements in our institutions and with our industry partners."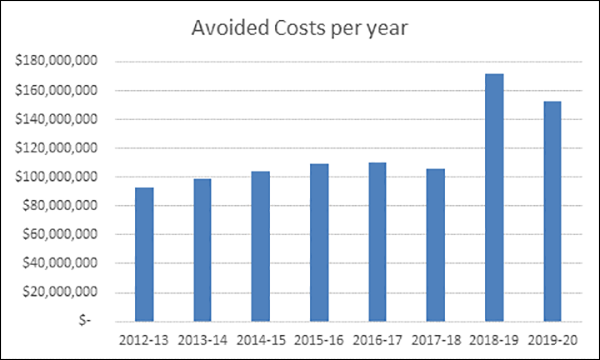 App State alumni and brothers Kenan Smith '84 and Hayes Smith '82 — both of whom have been active on a number of App State boards and leadership committees — were among the original visionaries of the summit. Echoing the chancellor's sentiments, Kenan Smith said, "The North Carolina tax payer should be very pleased by this wildly successful undertaking by our university system."
Since 2012, AES — a three-day, annual event envisioned and hosted by App State — has gathered faculty, staff and students from colleges and universities, energy managers and visionaries, and government and industry leaders to share ideas and put into action ecological, financial and social processes designed to improve energy efficiency across the UNC System, the state and beyond. Support from sponsors and private donors, including Fred and Alice Stanback — local environmentalists and early advocates for the Summit — has allowed participants to attend free of charge.
Throughout the year, working groups sponsored and supported by the summit continue to advance energy saving initiatives.
This year the on-site summit was presented as a series of free webinars scheduled to run through the academic year.
In his presentation in the first webinar on Sept. 17, Reid Conway, senior energy specialist for the state of North Carolina's Energy Office, reported the total energy avoided as of 2018–19 at $1,030,282,949.
In reporting the 2002–03 to 2018–19 figures, Conway commended the working groups from the universities and institutions who have contributed to the initiative since its beginning.
"In 2011, there was a group of folks who believed we could reach $1 billion by 2020. Each one of you is part of this goal — working together, sharing information, helping each other, lifting each other up. Today you are making history," he said.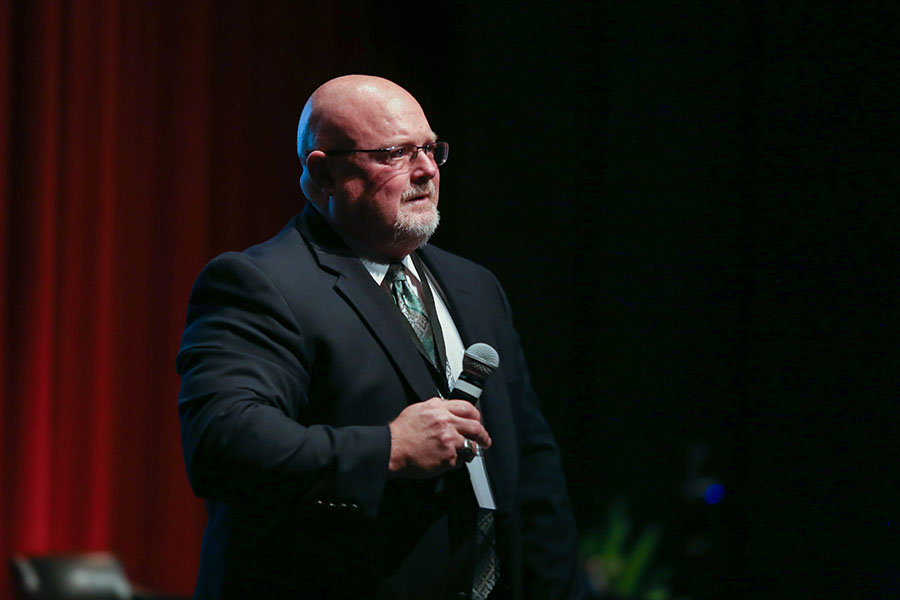 This achievement is especially significant in light of North Carolina Gov. Roy Cooper's 2018 executive order that stipulates a 40% reduction in Btu per square foot by 2025, Conway said. As of 2019–20, Reid reported the UNC System reached a 40% reduction in Btu per square foot, with App State among five UNC System institutions reporting a 40% reduction.
According to Conway, the System's universities are critical to meeting the order's 2025 benchmark.
Impact of COVID-19
App State Energy Manager Jonathan Pierson said the university's 2019–20 fiscal year utility costs were $1.2 million lower than the previous year. While reduced operations resulting from the pandemic certainly reduced campus energy use, Pierson said as compared to the same time period during the previous year, utilities were already $646,000 lower through February — pre-COVID. He attributes those savings to the following:
A reduction in electric rates (per kilowatt-hour) that began in March 2019.
The university's continued focus on energy efficiency projects and practices, such as updates to the university's building automation system and efficient lighting improvements.
Reduced campus operations from mid-March through June due to COVID saved the university an additional $555,000, with $64,000 saved during July.
According to Conway, there was an actual savings Systemwide of almost $9 million from 2018–19 to 2019–20, down from $220 million in spending to $211 million. "That $9 million is likely COVID-related," he said.
The AES story — how and why the summit works
In fall 2011, the Smith brothers, along with a team of App State leadership representing faculty, administration and staff, roughed out the concept and structure for the first AES.
Following an introduction by Fred Stanback and Alice Stanback, both avid supporters of the university, the leadership group traveled to Rocky Mountain Institute (RMI) and forged a lasting relationship with RMI co-founder and Chief Scientist Amory Lovins.
There, the concept for the summit was solidified and Lovins signed on as keynote speaker for the first gathering. The energy visionary has participated in every summit since and provides ongoing leadership and direction.
The goal for the summit, as defined that fall, was to jump-start a national transformative effort across higher education. Embraced by the UNC System Office (formerly UNC General Administration) as a Systemwide initiative, the summit's objectives include:
Educating students to be leaders of tomorrow.
Reducing and stabilizing the UNC System's average annual energy expenditures.
Transforming and stimulating the North Carolina economy.
Positioning colleagues in the UNC System and private universities as national leaders.
Creating a culture of environmental and economic sustainability.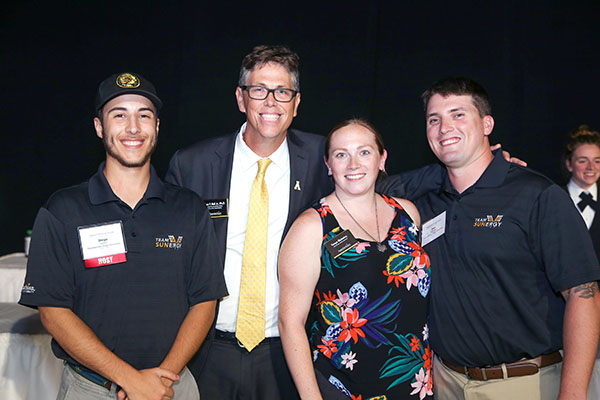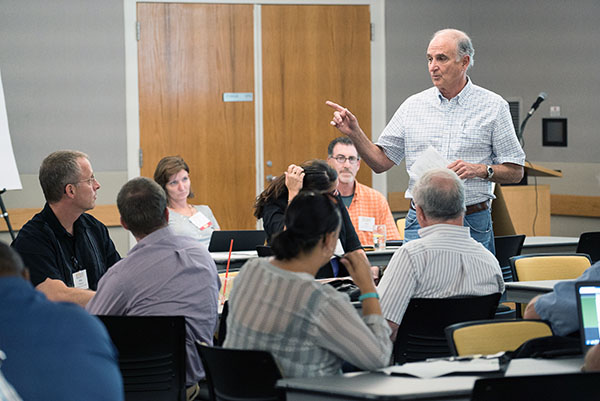 Months before the first summit, chancellors across the UNC System signed a Leadership Challenge — a commitment to reducing and stabilizing the universities' average annual energy expenditures, positioning the UNC System institutions as national leaders in sustainability education and stimulating the North Carolina economy through the support of green energy business infrastructure. Before the inaugural summit's end, all chancellor signatories had endorsed the challenge.
The last on-campus summit drew close to 500 participants for the free event, including representatives from throughout the UNC System, community colleges and educational institutions from Florida to Maryland, as well as industry partners.
At the core of each AES are the working group sessions, held biannually, in which strategies and tactics are fine-tuned and ultimately executed at the respective campuses. For example, the 2019 working groups included the following:
Campus-Based Energy Efficiency.
High-Performance Campus Design.
Academic Integration.
Transportation-Oriented Opportunities.
Finance, Regulatory and Energy Generation.
Zero Waste/Waste Reduction.
One of the biggest advantages of the summit, Ball said, is the ongoing work and collaboration of these highly invested energy professionals. The groups communicate regularly, sharing ideas and suggestions which is, according to Ball, a major contributor to the success and impact of the summit.
An active group email used for regular communications has morphed into an open forum taking place countrywide, Conway said. "Universities, community colleges, local governments and K–12 schools are involved. This has important national outcomes."
A Student Summit is held each year in conjunction with AES, in which undergraduate and graduate students have the opportunity to network with industry professionals and learn more about energy and sustainability in both the region and nation. The students also engage in working groups on campus sustainability initiatives and careers in renewable energy. App State provides food, lodging and entertainment for all participants.
Ball said the decision to make the summit free was an important driver for its early success — not charging for transportation and lodging enabled attendance that drove collaboration. He also said the summit would not be possible, year after year, without the support of its sponsors.
"I would like to especially thank Fred and Alice Stanback," he said. "The UNC System and the people of North Carolina have benefited greatly because of the Stanbacks' early introduction to Amory Lovins and their ongoing generous financial support of the summit."
What do you think?
Share your feedback on this story.
Watch that drip! Water usage counts.
Listen to notable AES speakers
About Sustainability at Appalachian
Appalachian State University's leadership in sustainability is known nationally. The university's holistic, three-branched approach considers sustainability economically, environmentally and equitably in relationship to the planet's co-inhabitants. The university is an active steward of the state's interconnected financial, cultural and natural resources and challenges students and others think critically and creatively about sustainability and what it means from the smallest individual action to the most broad-based applications. The university offers both undergraduate and graduate academic degree programs that focus on sustainability. In addition, 100 percent of Appalachian's academic departments offer at least one sustainability course or course that includes sustainability, and all students graduate from programs that have adopted at least one sustainability learning outcome. Learn more at https://appstate.edu/sustainability.
About Appalachian State University
As the premier public undergraduate institution in the Southeast, Appalachian State University prepares students to lead purposeful lives. App State is one of 17 campuses in the University of North Carolina System, with a national reputation for innovative teaching and opening access to a high-quality, affordable education for all. The university enrolls more than 21,000 students, has a low student-to-faculty ratio and offers more than 150 undergraduate and 80 graduate majors at its Boone and Hickory campuses and through App State Online. Learn more at https://www.appstate.edu.