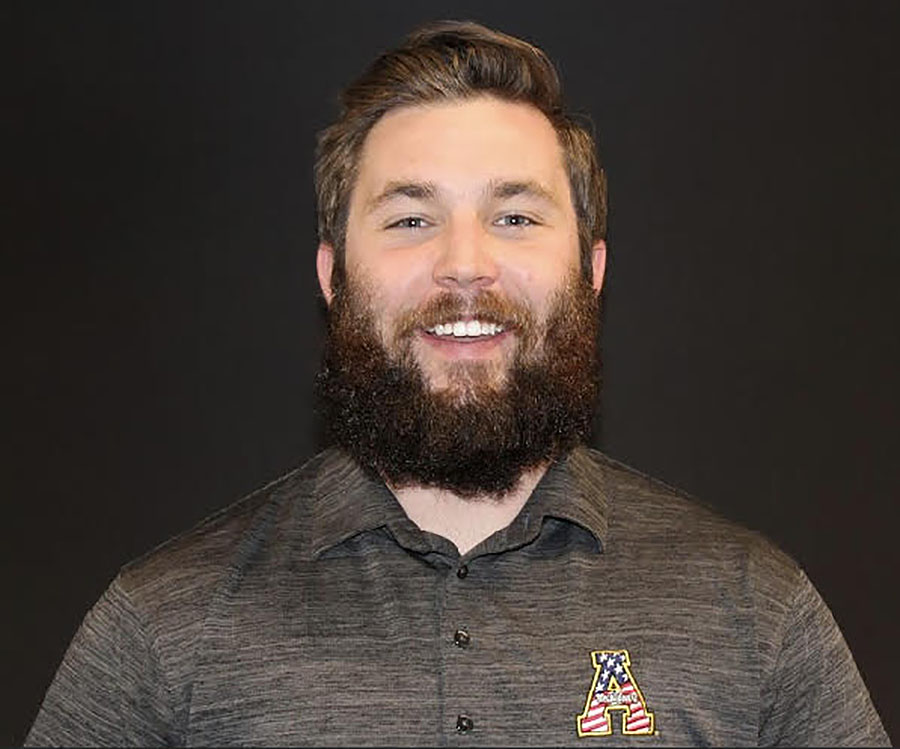 Posted Jan. 8, 2021 at 9:01 a.m.
BOONE, N.C. — Four years of military service has given Steven Klingler a new perspective as a student at Appalachian State University. "I treat my college classes as a job. I view my VA (Veterans Affairs) education benefits — which cover tuition and a housing allowance — as a paycheck," he said.
Klingler, a senior from Byron, Georgia, enrolled at App State in fall 2017 with a few credits from Cochise College that were earned as part of his military training. He is majoring in physics, with a concentration in applied physics and an emphasis in engineering electronics, and minoring in mathematics.
He said he has always been interested in the concepts of physics after being inspired by reading scientific books written for the layperson, including "A Brief History of Time" by Stephen Hawking and "Cosmos" by Carl Sagan.
Still, Klingler said he hesitated before choosing physics as his major because he wasn't a strong student in high school — but reflecting on his military experience bolstered his confidence.
In the Army, Klingler served as a signals intelligence analyst with the National Security Agency. He was responsible for analyzing foreign communications and relaying strategic information to his superiors.
"I developed the discipline to just sit down and do the work. I don't miss a class unless I have a good reason, and I make it a point to do my homework," he said.
Dr. Anthony Calamai, the Cain Distinguished Professor in Science Education in App State's Department of Physics and Astronomy, affirmed Klingler "is a conscientious contributor to my classroom environment, with a no-nonsense approach to his coursework."
Klingler's adviser and instructor, Dr. Brooke Hester, associate professor and undergraduate program director in the Department of Physics and Astronomy, said, "Steven is top-notch; an excellent student who has given to others through his military service and deserves credit for his hard work and intelligence."
After he graduates, Klingler hopes to find a job with a NASCAR team, working with what he described as "some of the most highly engineered cars in the world" — vehicles requiring technicians with a firm understanding of the laws of physics.
"They spend hundreds of hours testing aerodynamics for the cars and every system of the car has electronic sensors with computers," said Klingler, a fan of NASCAR racing since he was a child.
As a transfer student, Klingler said the university's Major General Edward M. Reeder Jr. Student Veteran Resource Center (SVRC) helped him assimilate into campus life.
"Some veterans feel a little out of place, being older and having more life experience than most incoming students. Joining the Student Veteran Association and hanging out at the SVRC gave me a community," Klingler said.
Since the end of his sophomore year, Klingler has served as the student veteran services assistant in SVRC, helping App State student veterans apply for VA education benefits and performing other administrative duties.
What do you think?
Share your feedback on this story.
About Appalachian's Student Veteran Services
Student Veteran Services at Appalachian State University is dedicated to helping the university's military-affiliated students thrive on campus and in the Boone community. The unit does so by connecting student veterans and military-affiliated students with services and resources that are commensurate with their needs, capabilities and contributions. These resources and services include the Major General Edward M. Reeder Jr. Student Veteran Resource Center, priority registration, scholarship opportunities, a Student Veteran Association and others. Learn more at https://militarystudents.appstate.edu.
About the Department of Physics and Astronomy
The Department of Physics and Astronomy's curriculum has an applied nature that includes a core of fundamental physics courses and laboratory experiences. The department prepares graduates for a variety of scientific, teaching or engineering professions, as well as future educational endeavors. Learn more at https://physics.appstate.edu.
About the College of Arts and Sciences
The College of Arts and Sciences (CAS) at Appalachian State University is home to 17 academic departments, two centers and one residential college. These units span the humanities and the social, mathematical and natural sciences. CAS aims to develop a distinctive identity built upon our university's strengths, traditions and unique location. The college's values lie not only in service to the university and local community, but through inspiring, training, educating and sustaining the development of its students as global citizens. More than 6,400 student majors are enrolled in the college. As the college is also largely responsible for implementing App State's general education curriculum, it is heavily involved in the education of all students at the university, including those pursuing majors in other colleges. Learn more at https://cas.appstate.edu.
About Transfer Admissions and Engagement
Transfer Admissions and Engagement at Appalachian State University supports students through all stages of their transfer journey, including admission counseling and pretransfer advising, credit evaluation, transitional assistance as they begin at App State and through involvement and retention efforts during their App State education. The office serves undergraduate transfer students studying on the main campus in Boone as well as App State Online students who complete their classes fully online or at an off-site location. The services and resources provided by Transfer Admissions and Engagement ensure the university's transfer student population finds academic and social success at App State. Learn more at https://transfer.appstate.edu.
About Appalachian State University
As the premier public undergraduate institution in the Southeast, Appalachian State University prepares students to lead purposeful lives. App State is one of 17 campuses in the University of North Carolina System, with a national reputation for innovative teaching and opening access to a high-quality, affordable education for all. The university enrolls more than 21,000 students, has a low student-to-faculty ratio and offers more than 150 undergraduate and 80 graduate majors at its Boone and Hickory campuses and through App State Online. Learn more at https://www.appstate.edu.