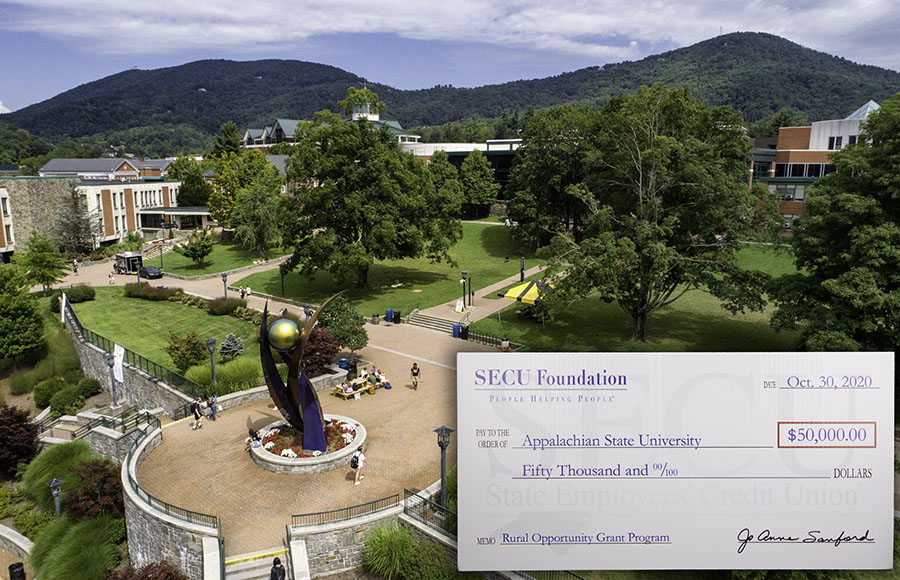 Posted Feb. 8, 2021 at 11:34 a.m.
BOONE, N.C. — Appalachian State University is one of three University of North Carolina System institutions selected to administer the Rural Opportunity Grant program — a pilot initiative of the North Carolina State Employees' Credit Union (SECU) Foundation designed to support public nonprofits in the state's Northwest, Northeast and Sandhills regions.
App State will serve as the program's anchor site for the Northwest North Carolina region and is tasked with providing oversight and assessment of the program, as well as coaching to help build the strengths and sustainability of the selected nonprofit(s).
The program is supported by $50,000 in SECU Foundation grant funding, awarded to Dr. Kathryn Webb Farley and Dr. Patricia Mitchell, both faculty members in App State's Department of Government and Justice Studies (GJS). Farley, an associate professor of public administration, is director of the Master of Public Administration (MPA) degree program, and Mitchell is an assistant professor of public administration.
Farley and Mitchell — with the help of the NC Rural Center — will first build a Regional Advisory Council (RAC) in Northwest North Carolina, recruiting a diverse group from the region, which includes Alexander, Ashe, Avery, Burke, Caldwell, Catawba, McDowell, Mitchell, Watauga, Wilkes and Yancey counties.
Next steps for the council:
Gather data on a regional health issue.
Choose a single or a group of nonprofits with which to collaborate.
Develop a solution with regional application to help address this issue.
Farley and Mitchell, along with other App State faculty and community partners, will also provide training and support specific to the needs of the selected nonprofit(s). Farley said the goal is that the organization(s) will develop a proposal to submit to SECU's Rural Opportunity Grant program for a potentially much larger grant.
"This new Rural Opportunity Grant program will help us identify economic and social needs issues specific to these regions. With the help of Foundation and university leaders, identified nonprofits will have the chance to strengthen resources and enhance the tools needed to take their mission to the next level," said Jo Anne Sanford, chair of the SECU Foundation Board.
Working in a team environment like the RAC "assures a broader and deeper investigation into successfully building capacity in the health care nonprofit setting," Mitchell said.
Prior to joining App State, Mitchell and Farley both served their respective communities by working in and studying the public and nonprofit sectors. Farley said combining their professional experience with scholarly expertise would allow them "to help strengthen the capacity of at least one Northwest North Carolina community organization to serve residents of Appalachia. Giving back in this way is really exciting to consider."
East Carolina University and UNC Pembroke will serve as anchor sites for the Northeast and Sandhills regions, respectively.
About SECU and the SECU Foundation
A not-for-profit financial cooperative owned by its members, SECU has been providing employees of the state of North Carolina and their families with consumer financial services for almost 78 years. The SECU Foundation, a nonprofit charitable organization funded solely by the contributions of SECU members, promotes local community development in North Carolina primarily through high-impact projects in the areas of housing, education, health care and human services.
Since 2004, the Foundation has made a collective financial commitment of more than $200 million for initiatives to benefit North Carolinians statewide. The foundation first introduced capacity-building grants in 2017 as an intermediary program to help the state's nonprofits strengthen their organization, expand services and position themselves for long-term sustainability.
What do you think?
Share your feedback on this story.
About the Department of Government and Justice Studies
Appalachian State University's Department of Government and Justice Studies offers undergraduate programs in political science and criminal justice, and graduate programs in political science and public administration. Housed in the College of Arts and Sciences, the department has over 600 undergraduate majors and more than 70 graduate students. Learn more at https://gjs.appstate.edu.
About the College of Arts and Sciences
The College of Arts and Sciences (CAS) at Appalachian State University is home to 17 academic departments, two centers and one residential college. These units span the humanities and the social, mathematical and natural sciences. CAS aims to develop a distinctive identity built upon our university's strengths, traditions and unique location. The college's values lie not only in service to the university and local community, but through inspiring, training, educating and sustaining the development of its students as global citizens. More than 6,400 student majors are enrolled in the college. As the college is also largely responsible for implementing App State's general education curriculum, it is heavily involved in the education of all students at the university, including those pursuing majors in other colleges. Learn more at https://cas.appstate.edu.
About Appalachian State University
As the premier public undergraduate institution in the Southeast, Appalachian State University prepares students to lead purposeful lives. App State is one of 17 campuses in the University of North Carolina System, with a national reputation for innovative teaching and opening access to a high-quality, affordable education for all. The university enrolls more than 21,000 students, has a low student-to-faculty ratio and offers more than 150 undergraduate and 80 graduate majors at its Boone and Hickory campuses and through App State Online. Learn more at https://www.appstate.edu.