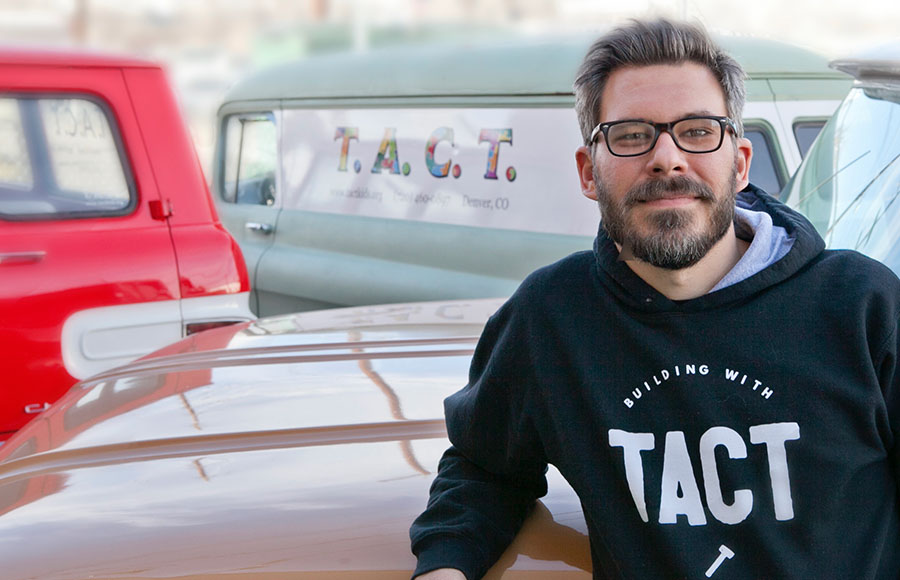 Posted Feb. 10, 2021 at 2:17 p.m.
BOONE, N.C. — Grammy winner Danny Combs '03 had a successful music career as a songwriter, performer, guitar instructor and educational author — and then changed his tune entirely. This Appalachian State University alumnus is now CEO of Teaching the Autism Community Trades (TACT) — a Denver, Colorado-based nonprofit organization that provides trade and technical skills to children and young adults on the autism spectrum.
Inspired by his own son, Dylan — who was diagnosed with autism at age 2 in 2010, Combs founded TACT in 2016. The first and only trade program in the U.S. developed for individuals with autism, TACT trains young adults in the fields of auto mechanics, carpentry, electrical, welding and computer science.
The center also holds camps and workshops for children age 5 and over who are on the autism spectrum, providing introductory instruction in a variety of trades, including fiber arts, instrument building, photography and electronics.
"Skilled trades work really well in the autism community," Combs said. "People with autism tend to be detail oriented, focused and have high retention rates. Trade professionals are in high demand, earn good wages and can be gainfully employed in a field that becomes a career."
To date, TACT has trained more than 500 students and helped them find employment — which, according to Combs, is quite an accomplishment. The autism community has a 90% unemployment rate, one of the highest of any group in the country, he said.
One of the most rewarding parts of his job is seeing students believe in themselves for the first time, Combs shared. "Most autism therapy programs out there are deficit-based — identifying what is lacking or wrong with a person and trying to fix those things. At TACT, we try to find areas where the student excels and showcase what they are capable of. Parents often tell us this is the first time anyone has told them their child is good at something," he said.
Shifting priorities
When Dylan was born in 2008, Combs — who earned his bachelor's degree in music industry studies at App State — was at the height of his musical career as a composer and performer. Living in Nashville, he toured and played guitar with multiple music artists, including Taylor Swift and Faith Hill, and had just released his own debut album, "Guitar Out Front."
The Asheville native developed a love for music at an early age, and when it was time, chose to study with Dr. Douglas James, a classical guitar performer and professor of guitar in App State's Hayes School of Music (HSOM).
"I had always heard great things about the music program at Appalachian, and Dr. James was someone I had admired. I was impressed by his talent and teaching methodology," Combs said.
Combs said several App State faculty members — including James; Roger Cope, a former guitar instructor; and Dr. Jay Jackson, now the associate dean of HSOM — instilled within him the attitude, overall demeanor and professionalism that helped him succeed as a professional musician.
After performing for a few years, Combs earned a master's degree in music education from Lipscomb University and began teaching music at a high school in downtown Nashville. In 2011, he won a Grammy Enterprise Award for a teaching program he designed and became a published educational author in addition to a music arranger and songwriter.
Yet taking care of his son demanded more of Combs' time and attention as he and his wife sought treatment for Dylan's autism. "Despite having worked hard to build a career in the music industry, it made more sense to me to pursue a different path — one that could directly impact my son and others on the autism spectrum," Combs said.
"All of the treatments were helpful to a point, but no one acknowledged what Dylan could do, what his strengths were," Combs said. "Even before Dylan could talk, he could build and make things from cardboard and was good at it. I think it was in his DNA, because the Combs family tree is filled with four generations of tradespeople."
Combs moved his family to Denver, where he said there were more resources for those on the autism spectrum. There, he decided to pair his knowledge of the trades with his education background and develop a solution that could improve the outcome for Dylan and others in the autism community.
Combs said the success of TACT has attracted attention nationwide, and he is exploring opportunities to franchise and expand the program to other cities.
What do you think?
Share your feedback on this story.
About the Hayes School of Music
The Hayes School of Music prepares young musicians for professional lives as performers, composers, music educators, music therapists, conductors and music industry professionals, ensuring the next generation of musical leadership for the state, region and nation. Noted for quality instruction by national and internationally recognized faculty musicians, the school offers four undergraduate degree programs and three graduate-level programs. Learn more at https://music.appstate.edu.
About Appalachian State University
As the premier public undergraduate institution in the Southeast, Appalachian State University prepares students to lead purposeful lives. App State is one of 17 campuses in the University of North Carolina System, with a national reputation for innovative teaching and opening access to a high-quality, affordable education for all. The university enrolls more than 21,000 students, has a low student-to-faculty ratio and offers more than 150 undergraduate and 80 graduate majors at its Boone and Hickory campuses and through App State Online. Learn more at https://www.appstate.edu.