Posted Feb. 23, 2021 at 3:42 p.m.
BOONE, N.C. — Residents at a retirement and assisted living community in Boone are observing the artistic skills of one Appalachian State University student in real time — from the vantage of their own windows.
As part of her internship at the facility, App State senior Mary Carver Deal, of Charlotte, is the primary painter of a colorful mural on a wall outside Appalachian Brian Estates. Her idea for the mural originated as a way to engage Appalachian Brian Estates' residents in a cognitively stimulating project, as many haven't left the facility's grounds since March 2020 due to COVID-19.
Deal, who is double majoring in psychology and art and visual culture with a concentration in studio art, aspires to be an art therapist after graduating from App State, working with older adults to slow the progression of dementia and other ailments they may experience.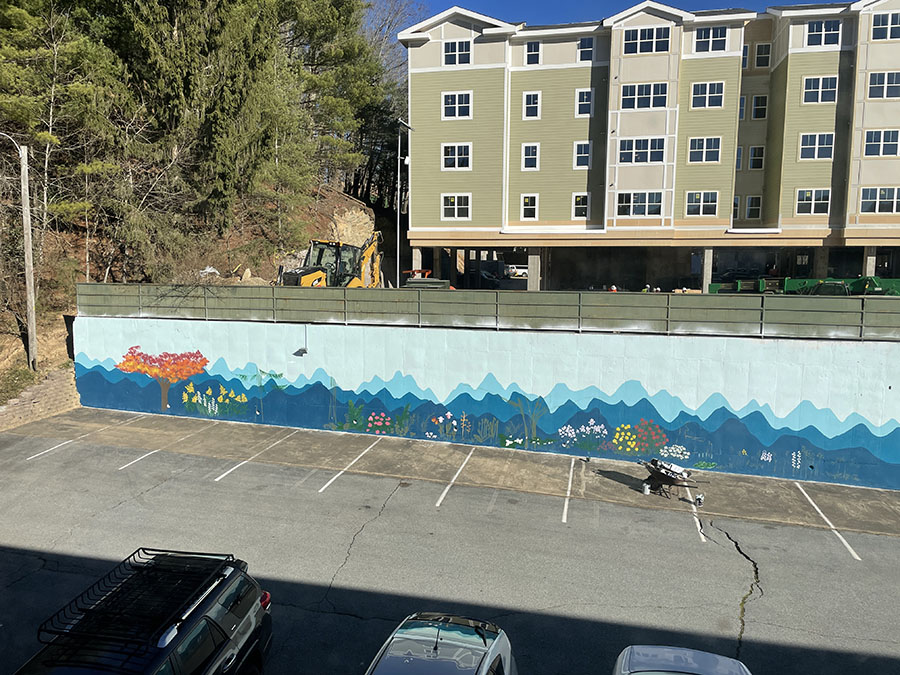 As part of her mural project, Deal created a questionnaire asking residents what local flora and fauna they would like to see incorporated into the mural. While numerous residents have been actively involved in the mural planning for months, Deal wanted to be sure less vocal residents also had a chance to contribute.
"The unusual challenges presented by doing this project during a pandemic have enabled Mary Carver to devise ways to overcome the hurdles of limited access. There are numerous ways in which access to art can be limited, so problem-solving in this situation has expanded Mary Carver's ability to consider ways to overcome barriers as she moves forward," said Deal's site supervisor, Jennifer Van Gilder, a speech-language pathologist and clinical educator in App State's Department of Communication Sciences and Disorders.
Deal coordinated two teams of volunteers to prime and help paint the wall, including some of her student peers in App State's on-campus Dementia Awareness Club.
Van Gilder, who also serves as Deal's Dementia Awareness Club sponsor, said club members conducted several projects at the facility pre-pandemic.
"The respect that Mary Carver, student volunteers and Dementia Awareness Club members showed regarding the need for safety protocols was priceless in promoting a positive view of Appalachian students in the community," Van Gilder said.
To pay for the paint, Deal held a fundraiser for her birthday and raised enough to cover approximately half of the project. She is brainstorming how to fund the balance.
Appalachian Brian Estates is keeping one apartment facing the wall empty so residents can view the painting process if they aren't able to see the project from their own room. The facility's staff is also exploring how to livestream the painting to residents in their apartments.
Deal plans to add additional details and plants to the mural during the spring semester, ideally completing the project before summer.
What do you think?
Share your feedback on this story.
About the Department of Art
One of seven departments housed in the College of Fine and Applied Arts, the Department of Art at Appalachian State University prepares students to explore art, identity, expression and creative problem-solving while challenging them to go beyond their previous limits by discovering new connections to culture. The department offers degrees in art and visual culture, art education, graphic design, studio art, commercial photography and graphic communications management, with minors in art history, studio art, commercial photography and graphic arts and imaging technology. Learn more at http://www.art.appstate.edu.
About the College of Fine and Applied Arts
Appalachian State University's College of Fine and Applied Arts is a dynamic and innovative group of seven academic departments, bringing together a variety of perspectives, experiences and real-world education to provide unique opportunities for student success. The college has more than 3,000 undergraduate and graduate majors. Its departments are Applied Design, Art, Communication, Military Science and Leadership, Sustainable Development, Sustainable Technology and the Built Environment, and Theatre and Dance. Learn more at https://faa.appstate.edu.
About the Dr. Wiley F. Smith Department of Psychology
Appalachian's Dr. Wiley F. Smith Department of Psychology serves more than 1,000 undergraduate majors seeking the Bachelor of Arts or Bachelor of Science degree in psychology, as well as 80 graduate students in three master's programs (experimental psychology, school psychology, and industrial-organizational psychology and human resource management) and the clinical psychology (Psy.D.) doctoral program. Learn more at https://psych.appstate.edu.
About the College of Arts and Sciences
The College of Arts and Sciences (CAS) at Appalachian State University is home to 17 academic departments, two centers and one residential college. These units span the humanities and the social, mathematical and natural sciences. CAS aims to develop a distinctive identity built upon our university's strengths, traditions and unique location. The college's values lie not only in service to the university and local community, but through inspiring, training, educating and sustaining the development of its students as global citizens. More than 6,400 student majors are enrolled in the college. As the college is also largely responsible for implementing App State's general education curriculum, it is heavily involved in the education of all students at the university, including those pursuing majors in other colleges. Learn more at https://cas.appstate.edu.
About the Beaver College of Health Sciences
Appalachian State University's Beaver College of Health Sciences (BCHS), opened in 2010, is transforming the health and quality of life for the communities it serves through interprofessional collaboration and innovation in teaching, scholarship, service and clinical outreach. BCHS offers nine undergraduate degree programs and seven graduate degree programs, which are organized into six departments: Nursing, Nutrition and Health Care Management, Public Health and Exercise Science, Recreation Management and Physical Education, Rehabilitation Sciences, and Social Work. The college's academic programs are located in the Holmes Convocation Center on App State's main campus and the Leon Levine Hall of Health Sciences, a state-of-the-art, 203,000-square-foot facility that is the cornerstone of the Wellness District. In addition, the college supports the Blue Cross NC Institute for Health and Human Services and has collaborative partnerships with the Wake Forest School of Medicine's Physician Assistant Program, the Appalachian Regional Health System and numerous other health agencies. Learn more at https://healthsciences.appstate.edu.
About Appalachian State University
As the premier public undergraduate institution in the Southeast, Appalachian State University prepares students to lead purposeful lives as global citizens who understand and engage their responsibilities in creating a sustainable future for all. The Appalachian Experience promotes a spirit of inclusion that brings people together in inspiring ways to acquire and create knowledge, to grow holistically, to act with passion and determination, and to embrace diversity and difference. Located in the Blue Ridge Mountains, Appalachian is one of 17 campuses in the University of North Carolina System. Appalachian enrolls nearly 21,000 students, has a low student-to-faculty ratio and offers more than 150 undergraduate and graduate majors.