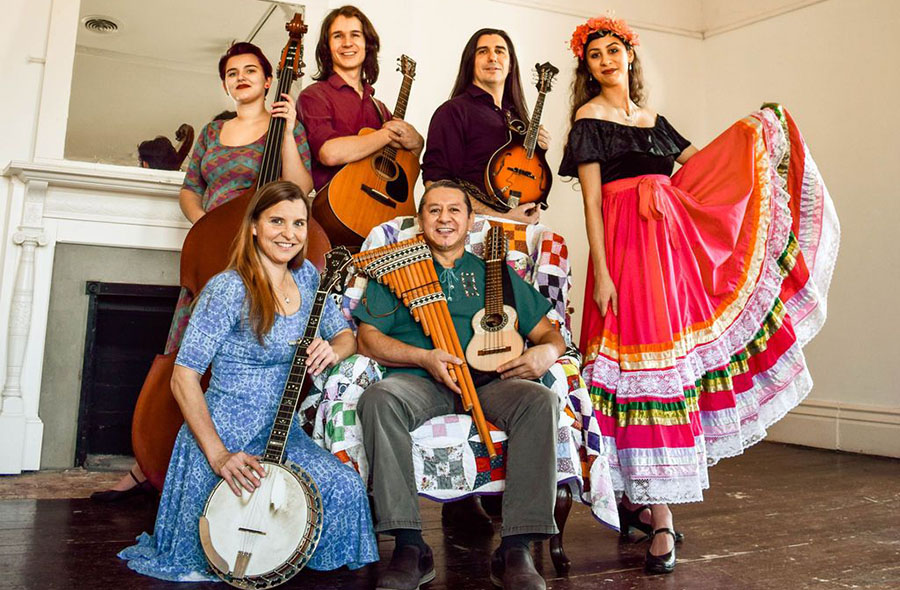 Posted April 19, 2021 at 8:55 a.m.
BOONE, N.C. — Appalachian State University is bringing a cultural blend of Appalachian and Latino music, dance and theater to campus and the local community through a three-day, virtual Cornbread and Tortillas residency, April 20–22.
Hailing from Appalachia, the Andes, Guatemala, Mexico and Nicaragua, the artists of the Cornbread and Tortillas collective aim to build community by sharing their art, music, dance and cultural heritage through outreach events, educational shows, workshops and performances.
The residency is supported by a $5,000 South Arts Inc. grant awarded to Dr. Julie Shepherd-Powell, assistant professor in App State's Center for Appalachian Studies and director of the Master of Arts in Appalachian studies program. App State has provided $2,500 in matching funds for the project.
"The Center for Appalachian Studies is excited to host Cornbread and Tortillas in this virtual residency as we seek to bring attention to the diversity of people in Appalachia and connect with cultural traditions from mountain regions around the world," Shepherd-Powell said.
She continued, "Cornbread and Tortillas offers an opportunity for our students and local community to learn about cultural traditions from Appalachia and Latin America. With a large Spanish-speaking population in the High Country, and across the region, it's important for our local Latinx communities to feel included and see their lives reflected in the the music and dance of the region."
During the residency, the artists will give two performances:
A concert titled "An Evening with Cornbread and Tortillas."
A bilingual (English/Spanish) theatrical presentation titled "Cornbread and Tortillas Folk Opera," featuring Appalachian, Mexican and Andean music, stories and dance.
A live question-and-answer session will follow each performance, to be facilitated by Shepherd-Powell.
Cornbread and Tortillas will also hold three workshops exploring the following topics:
Andean instruments.
Songs from Appalachia and Latin America.
Flatfooting and Mexican folklórico dance.
All residency events are free and open to the public. Registration is required for event Zoom links, and the performances will also be made available via YouTube Live. For those unable to participate in the workshops in real time, recordings will be available for viewing online afterward.
This residency is sponsored by South Arts, the National Endowment for the Arts and the Center for Appalachian Studies.
For more information about Cornbread and Tortillas and to register for the residency events, visit the Center for Appalachian Studies website.
What do you think?
Share your feedback on this story.
About the Center for Appalachian Studies
The Center for Appalachian Studies promotes public programs, community collaboration, civic engagement and scholarship on the Appalachian region. The center is committed to building healthy communities and deepening knowledge of Appalachia's past, present and future through community-based research and engagement. Learn more at https://appcenter.appstate.edu.
About the College of Arts and Sciences
The College of Arts and Sciences (CAS) at Appalachian State University is home to 17 academic departments, two centers and one residential college. These units span the humanities and the social, mathematical and natural sciences. CAS aims to develop a distinctive identity built upon our university's strengths, traditions and unique location. The college's values lie not only in service to the university and local community, but through inspiring, training, educating and sustaining the development of its students as global citizens. More than 6,400 student majors are enrolled in the college. As the college is also largely responsible for implementing App State's general education curriculum, it is heavily involved in the education of all students at the university, including those pursuing majors in other colleges. Learn more at https://cas.appstate.edu.
About Appalachian State University
As the premier public undergraduate institution in the Southeast, Appalachian State University prepares students to lead purposeful lives as global citizens who understand and engage their responsibilities in creating a sustainable future for all. The Appalachian Experience promotes a spirit of inclusion that brings people together in inspiring ways to acquire and create knowledge, to grow holistically, to act with passion and determination, and to embrace diversity and difference. Located in the Blue Ridge Mountains, Appalachian is one of 17 campuses in the University of North Carolina System. Appalachian enrolls nearly 21,000 students, has a low student-to-faculty ratio and offers more than 150 undergraduate and graduate majors.