Documentary studies minor
Posted April 20, 2021 at 1:33 p.m.
BOONE, N.C. — World traveler, writer, photographer, volunteer and passionate environmentalist — at 28, Jesse Barber is just getting started.
A native of Sawmills, located in the foothills of North Carolina, Barber is a senior at Appalachian State University pursuing a self-designed Bachelor of Arts in interdisciplinary studies with a concentration in documentary studies in Appalachia and a minor in sustainable development.
Before finding his way to App State, Barber:
These experiences shaped him and began to pave the way for him to share stories through his writing and photography, Barber said. Now he is penning his own path, combining his passion for photography, the environment, people and culture, and storytelling.
'A dinky little camera' opens a new perspective
He first became interested in photography during high school, when he went on a trip out West with friends, Barber said. His mother encouraged him to keep a travel journal about his experiences and loaned him what he called "a dinky little camera," which he said he used to take thousands of photos.
His appetite whetted, Barber enrolled in a photography class at CCC&TI to learn the basics. "My instructor was a photojournalist from the '80s, had an older kind of style, and I loved it," Barber said.
When he went to Patagonia in 2018, Barber said he looked forward to seeing the landscape of the Andes Mountains, traveling by foot and sleeping under the stars. "But it was the people that really made the experience," he said.
As Barber's interest grew in developing compelling stories with his camera — and his pen — he said he realized his career would benefit from further education. He enrolled at App State in fall 2019, and as a first-generation college student, he said the university's TRIO Student Support Services played an important role in helping him acclimate to campus, secure financial aid and navigate his academic requirements.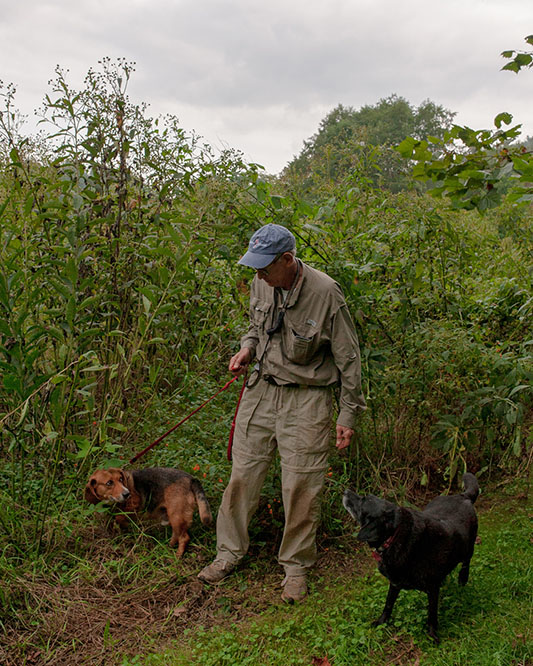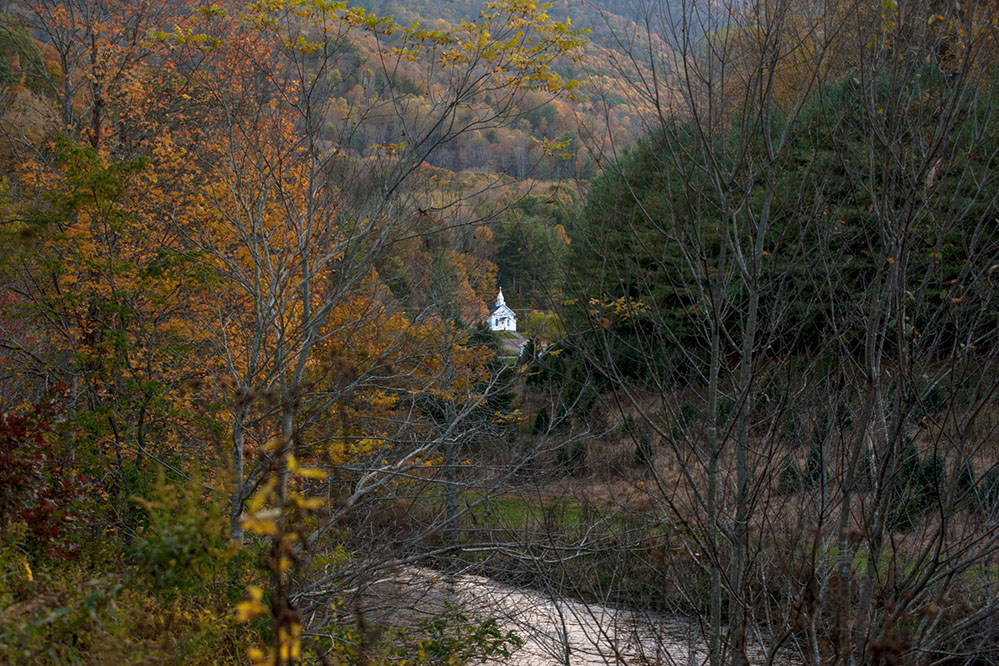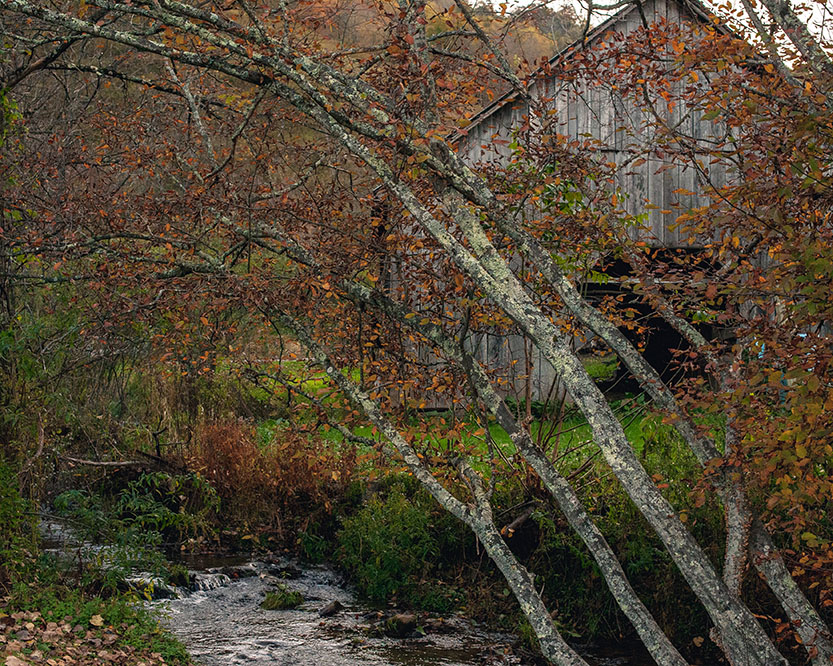 Barber worked for a year and a half in App State's University Documentary Film Services, under the supervision of Dr. Beth Davison, co-director of the program and professor in the Department of Interdisciplinary Studies (IDS).
Davison said, "Jesse is passionate about using the art of documentary to bridge gaps, awaken new perspectives and expand understanding of Appalachian communities. He easily connects with people from all walks of life and treats their stories with respect."
Documenting the ways of a river and its people
As an assignment in his Advanced Documentary Projects class, taught by IDS assistant professor Ann Kaplan, Barber produced and published a photo book titled "Confluence," which features images of local sections of the New River and the people who interact with the waterway.
Originally, Barber said he intended to focus his book on images of natural environments and the human footprint in those spaces. He said he was influenced by the research of IDS professor Dr. Kristan Cockerill, who has studied public perception on how clean water in a stream is, in comparison to the waterway's actual environmental health.
But as he interacted with people along the river's banks during his photography sessions, Barber said he was drawn more to the human-centered aspects of the ancient river.
"People and the natural environment make up an ecosystem, a cohesion of sorts, for better or worse," he said. "There's tension, a give and pull in how humans interact with the sometimes fragile elements of the environment. Encroaching development creates a need for others to restore balance through restoration projects."
About Barber's project, Kaplan said, "It was a pleasure to witness and take part in Jesse's development of 'Confluence' in the workshop atmosphere of stretching boundaries that Advanced Documentary Projects offers. As is so often the case in creative work, his process in many ways embodied the book's subject matter, leading Jesse through twists and turns to an end point that wasn't visible at the beginning of the semester. The end result is all the better for it."
Kaplan served as Barber's IDS adviser and helped him build his program in documentary studies. The university will soon offer a minor in documentary studies due to interest from students such as Jesse, Kaplan said.
Barber, who plans to graduate in spring 2022, is building more career experience currently with South Arts Inc., a nonprofit regional arts organization headquartered in Atlanta, where he is documenting Appalachian folk traditions — capturing the importance of values, relationships, labor and religion within the culture of rural communities.
What do you think?
Share your feedback on this story.
Documentary studies minor
College of Arts and Sciences
April 21, 2020
About the Department of Interdisciplinary Studies
The Department of Interdisciplinary Studies offers graduate and undergraduate degrees in four program areas: Appalachian studies; gender, women's and sexuality studies; global studies; and interdisciplinary studies. The department is also home to Watauga Residential College, an interdisciplinary, alternative general education program. The department promotes creative and imaginative engagement through a cross-disciplinary investigation of complex systems and problems. Learn more at https://interdisciplinary.appstate.edu.
About the College of Arts and Sciences
The College of Arts and Sciences (CAS) at Appalachian State University is home to 17 academic departments, two centers and one residential college. These units span the humanities and the social, mathematical and natural sciences. CAS aims to develop a distinctive identity built upon our university's strengths, traditions and unique location. The college's values lie not only in service to the university and local community, but through inspiring, training, educating and sustaining the development of its students as global citizens. More than 6,400 student majors are enrolled in the college. As the college is also largely responsible for implementing App State's general education curriculum, it is heavily involved in the education of all students at the university, including those pursuing majors in other colleges. Learn more at https://cas.appstate.edu.
About Appalachian State University
As the premier public undergraduate institution in the Southeast, Appalachian State University prepares students to lead purposeful lives. App State is one of 17 campuses in the University of North Carolina System, with a national reputation for innovative teaching and opening access to a high-quality, affordable education for all. The university enrolls more than 21,000 students, has a low student-to-faculty ratio and offers more than 150 undergraduate and 80 graduate majors at its Boone and Hickory campuses and through App State Online. Learn more at https://www.appstate.edu.