Posted May 28, 2021 at 3:38 p.m.
BOONE, N.C. — Five Appalachian State University business majors made history this year with a trifecta win in the 2021 Chartered Financial Analysts Institute Research Challenge. The Walker College of Business Broyhill Fellows team took home state and regional titles and, in a first for App State, was named Americas Regional Champion, defeating teams from North and South America. The team also advanced to compete as one of the top five teams in the challenge's Global Final.
During the challenge, students work in teams to research, analyze and report on a publicly traded company as if they are practicing analysts. Each student is individually tested on their analytical, valuation, report writing and presentation skills.
The fellows, all of whom graduated from App State in May and earned Bachelor of Science in business administration (BSBA) degrees through the Walker College:
Sam Crouse '21, of Spruce Pine.
Olivia Guillebeau '21, of Charlotte.
Sean James '21, of Charlotte.
Obadja "Obi" Ludwig '21, of Winston-Salem.
Zachary "Zach" Stowell '21, of Conover.
During the challenge events, held virtually in March and April due to the pandemic, the fellows competed against nearly 1,000 participating universities, many of which included Master of Business Administration students.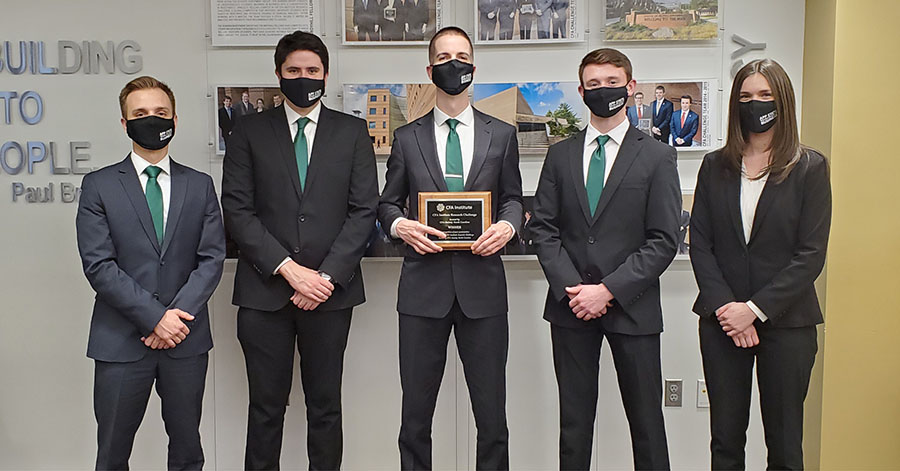 App State's Dr. Brandy Hadley '09 '11, the group's faculty adviser and an assistant professor of finance in WCOB, said, "This is a tremendous accomplishment, and I am incredibly proud of these students. The team has worked hard and are excellent representatives of Appalachian."
Hadley also said the continued support of CFA mentor Chris Pavese and Dr. Delbert Goff was instrumental in the team's success. Pavese serves as president and chief investment officer of Broyhill Asset Management, and Goff, a retired professor in the Department of Finance, Banking and Insurance, is one of the founders of the Broyhill Fellows and a longtime faculty adviser for the group.
According to Hadley, App State's Broyhill Fellows program has a long history of success in the CFA challenge, having won the state competition 10 of the past 13 years to advance to the Americas Regional round — in which they compete against the top teams from North and South America.
This year the fellows also competed in and won a new level of the CFA competition — the Southeastern Subregional.
Broyhill Fellows are members of App State's Elbert V. Bowden Investment Group (BIG), which was established in 2000 to provide students with hands-on, real-world experience in managing investments — namely those in the Elbert V. Bowden Student Managed Investment Fund.
Each year, five BIG members are selected to compete in the CFA Institute Research Challenge as Broyhill Fellows and are mentored by employees of investment firm Broyhill Asset Management throughout the competition. The Broyhill family, generations of whom have attended, supported and served App State, helped develop the university's Broyhill Fellows program.
What do you think?
Share your feedback on this story.
More on App State's 2021 Broyhill Fellows
About the Department of Finance, Banking and Insurance
The Department of Finance, Banking and Insurance develops leaders for business, government and education by offering a Bachelor of Science in business administration in two specializations: finance and banking, and risk management and insurance. Learn more at https://finance.appstate.edu.
About the Walker College of Business
The Walker College of Business at Appalachian State University delivers transformational educational experiences that prepare and inspire students to be ethical, innovative and engaged business leaders who positively impact our community, both locally and globally. The college places emphasis on international experiences, sustainable business practices, entrepreneurial programs and real-world applications with industry. Enrolling approximately 3,000 undergraduates in 10 majors and more than 180 graduate students in three master's programs, Walker College has the highest enrollment of full-time undergraduate students in the University of North Carolina System. Walker College is accredited by AACSB International — the premier global accrediting body for business schools. Learn more at https://business.appstate.edu.
About Appalachian State University
As the premier public undergraduate institution in the Southeast, Appalachian State University prepares students to lead purposeful lives. App State is one of 17 campuses in the University of North Carolina System, with a national reputation for innovative teaching and opening access to a high-quality, affordable education for all. The university enrolls more than 21,000 students, has a low student-to-faculty ratio and offers more than 150 undergraduate and 80 graduate majors at its Boone and Hickory campuses and through App State Online. Learn more at https://www.appstate.edu.