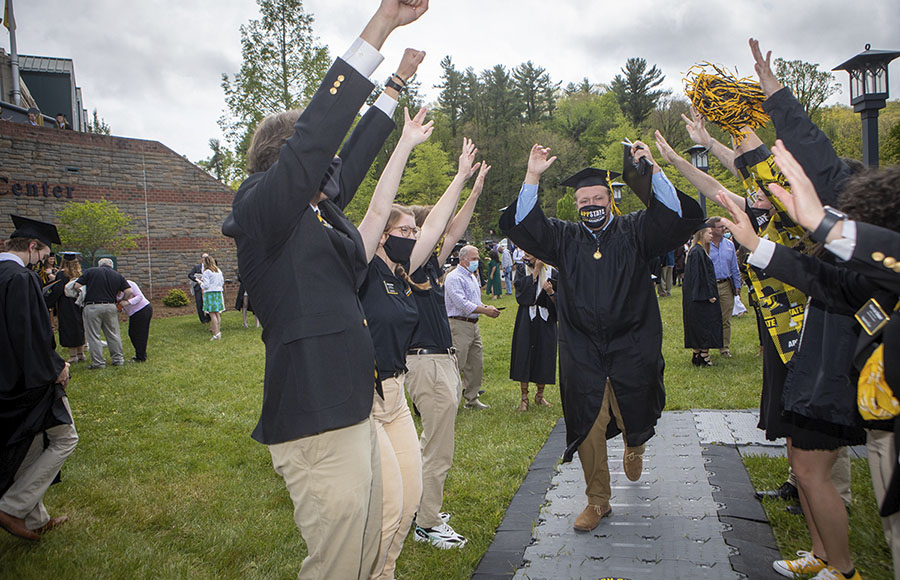 Posted June 17, 2021 at 9:17 a.m.
BOONE, N.C. — College hiring is on the rebound, according to the National Association of Colleges and Employers (NACE), and staff in Appalachian State University's Career Development Center agree.
Employers project hiring 7.2% more new college graduates from the Class of 2021 than they hired from the Class of 2020 during the coronavirus pandemic, according to NACE's latest job market report.
Dr. Susan McCracken, App State's director of career development and economic engagement, said the university's Career Development Center staff have noticed this trend.
"The sectors that are hiring are hot: health care, IT, sales and anything to do with home improvement, including construction. Our state is actually weathering this pandemic recession far better than most," she said.
NACE said the rebound in hiring suggests "optimism on the part of employers, fueled by expectations around the reopening of shuttered businesses, COVID-19 vaccine distribution and the addition of jobs to the economy. While not at the pre-pandemic hiring levels seen in 2019, the overall increase does signal strong movement in a positive direction."
North Carolina's seasonally adjusted unemployment rate for April was 5%, compared to the national unemployment rate of 6.1%, according to a North Carolina Department of Commerce report released May 21. The department also reported the number of unemployed North Carolinians decreased by 8,109 in April.
According to the Department of Commerce, the state's major industries having the most growth since April 2020 were in the following categories:
Leisure and hospitality services reported the largest jobs increase over the year (154,500 total jobs; 53.8% growth), followed by —

trade, transportation and utilities (84,100 total jobs; 10.8% growth);
professional and business services (60,600 total jobs; 10.1% growth);
manufacturing (36,900 total jobs; 8.7% growth);
education and health services (34,100 total jobs; 6.0% growth);
other services (31,900 total jobs; 25.5% growth);
construction (12,800 total jobs; 5.7% growth);
financial activities (6,400 total jobs; 2.5% growth); and
information (4,800 total jobs; 6.6% growth).
Helping students find career success
Career services play an integral role in preparing students to transition from college to employment or enrollment in an advanced degree, McCracken said.
App State's Career Development Center provides students with programming and counseling that:
help them identify their core values, beliefs and skills and use them to articulate relatable career goals;
acquire transferable skills and relevant experiences for future professional endeavors; and
cultivate professional networks.
App State tracks its graduates' first destinations — whether they are immediate employment or an advanced degree after graduation. According to the latest data, 95% of 2018–19 undergraduate and graduate alumni are employed and/or enrolled in continuing higher education programs within one year of graduation.*
*Tracking rate on all 2018–19 graduates: 70.4%.
What do you think?
Share your feedback on this story.
Appalachian tracks where its graduates go, notes high success rate
About the Career Development Center
The Career Development Center at Appalachian State University supports the mission of the university and its Division of Student Affairs in developing lifelong learners and leaders by engaging and challenging students within a culture of care and inclusion. Students who participate in the center's services are able to identify core values, beliefs and skills and use them to articulate relatable career goals; acquire transferable skills and relevant experiences for future professional endeavors; and utilize resources that are available to gain experiential learning opportunities and cultivate professional networks. Learn more at https://careers.appstate.edu.
About the Division of Student Affairs
The Division of Student Affairs at Appalachian State University is committed to the development of lifelong learners and leaders by engaging and challenging students within a culture of care and inclusion. The division consists of 16 units that offer activities and services to help students develop more fully by becoming global learners, fostering healthy relationships, appreciating diversity and different perspectives, understanding community responsibility, enhancing self-awareness, developing autonomy and living ethically. These units include the Career Development Center, Campus Activities, Office of Community-Engaged Leadership, Wellness and Prevention Services, Counseling and Psychological Services, Student Health Service, Parent and Family Services, University Housing, Student Conduct, University Recreation, Intercultural Student Affairs, Student Legal Clinic and Off-Campus Student Services, Electronic Student Services, Child Development Center, and Staff Development and Strategic Initiatives. Learn more at https://studentaffairs.appstate.edu.
About Appalachian State University
As the premier public undergraduate institution in the state of North Carolina, Appalachian State University prepares students to lead purposeful lives as global citizens who understand and engage their responsibilities in creating a sustainable future for all. The Appalachian Experience promotes a spirit of inclusion that brings people together in inspiring ways to acquire and create knowledge, to grow holistically, to act with passion and determination, and to embrace diversity and difference. Located in the Blue Ridge Mountains, Appalachian is one of 17 campuses in the University of North Carolina System. Appalachian enrolls more than 20,000 students, has a low student-to-faculty ratio and offers more than 150 undergraduate and graduate majors.