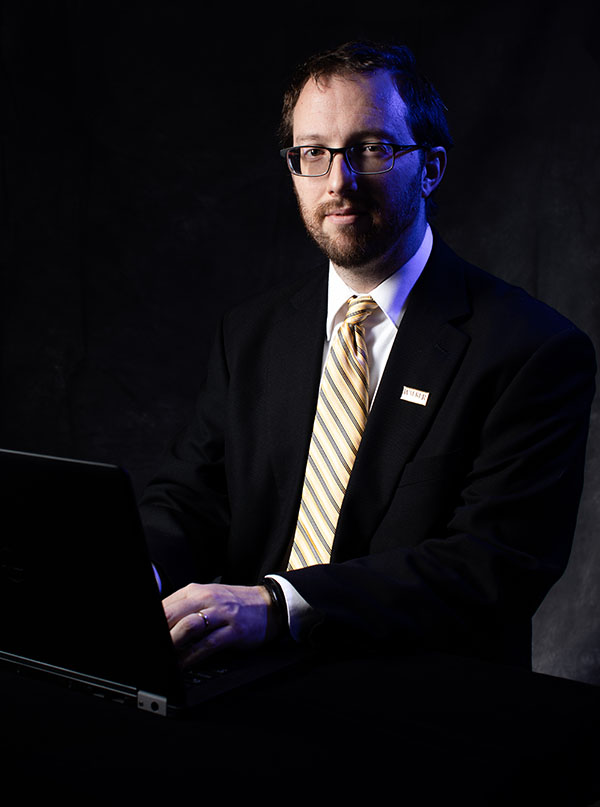 Posted June 21, 2021 at 9:32 a.m.
BOONE, N.C. — Chris Taylor '09 '11 is a computer hacker, and he teaches his students the tricks of the trade — with the best of intentions. Taylor, a professional security specialist and senior lecturer in Appalachian State University's Department of Computer Information Systems (CIS), is spearheading the department's new cybersecurity concentration that begins in fall 2021.
Taylor holds a few professional certifications, including the Certified Ethical Hacker credential, which he describes as "a bit of an oxymoron."
"Ethical means to choose the right path, while the term hacking is associated with breaking and destroying. So, the ethical hacker certification means I can legally — with specific permissions — break into systems in order to show companies their vulnerabilities and how the problems can be fixed," he explained.
Serious breaches into corporate and institutional computer systems have made headlines lately, Taylor said, and managing cybersecurity is a growing field. According to the U.S. Bureau of Labor Statistics, the job outlook for information security analysts is expected to increase by 31% over the next decade.
Dr. Scott Hunsinger, chair of and professor in App State's CIS department, said, "Our cybersecurity concentration with the CIS degree will allow students to learn the skills necessary to protect companies from malicious hackers and ransomware attacks. I am thrilled Chris Taylor is serving as our cybersecurity program coordinator."
Taylor has developed and taught multiple CIS courses, including Managing Security, Audit Analytics, and Ethical Hacking and Countermeasures.
Picking locks and breaking codes
When Taylor began as an instructor at App State in 2011, he was working full time for a cybersecurity firm. He has since transitioned to a full-time faculty member but retains a consultant position in the firm to keep his knowledge of real-world security threats up to date.
In his classes, Taylor teaches hands-on skills, from physical lock-picking to digital security applications.
"Some organizations spend a lot of time and money on their technology but have a cheap door lock to protect their secure areas," Taylor explained. "It is our job to expose all vulnerabilities, including physical access. We use lock-picking tools in the classroom so students can see how they work firsthand and understand the importance of overall security within an organization."
Taylor uses "eye-opening experiences" to make impressions on students, he said. For example, he might install a keystroke recording device — called a keylogger — into his classroom computers.
"The students come in, sit down and use the computers like they normally would. I then have them input a certain key sequence, and then they see on their screen everything they've typed in since logging on. It drives home the point of security risks when using a public computer," Taylor said.
Projects in Taylor's classroom — such as deciphering computer viruses and identifying program vulnerabilities — are based on real-life examples, with company names and other data masked.
Brett Fensom '21, who graduated in May with a Bachelor of Science in computer science and a minor in computer information systems, said the hands-on exercises were his favorite part of Taylor's classes.
"He provided very thorough demonstrations and documentation of how to use tools in a variety of aspects of security. The topics we covered in class were exactly what I needed to pass a certification exam required in a number of jobs I am seeking," Fensom said.
A tinkerer at heart
Taylor came to App State as a nontraditional student, after trying out different fields of study at other schools, then working for a few years for a retail organization.
"I've always been a bit of a tinkerer, and enjoyed playing with electronics since I was little, so computer information systems was a great fit for me when I came to App State," he said.
Taylor said Dr. Joseph Cazier, professor in the CIS department and executive director of App State's Center for Analytics Research and Education (CARE), was an inspiration to him, introducing him to the field of information security. "It appealed to my desire to understand why a program works a certain way — and how to manipulate it to do something different," Taylor said.
Hunsinger also served as a mentor to Taylor and was instrumental in guiding him toward a career, Taylor said. Together, they are co-advisers to students in App State's Association of Information Technology Professionals (AITP).
Jesse Spillars '21, who served as AITP president during his senior year, said Taylor — both as the club's adviser and as an instructor in the classroom — was a mentor to him from the time he joined AITP as a first-year student.
"Learning the fundamentals of cybersecurity while working on projects that covered a wide range of security technologies in Chris Taylor's classes was an invaluable experience and inspired me to seek a career in the field," said Spillars who earned a B.S. in business administration in computer information systems from App State in May.
What do you think?
Share your feedback on this story.
Department of Computer Information Systems
May 19, 2021
About the Department of Computer Information Systems
At Appalachian State University, computer information systems (CIS) students gain valuable professional skills and capabilities that prepare them for careers in a wide variety of technology-related industries. Students learn how to successfully interface between the technical and management aspects within organizations. Part of the Walker College of Business, the Department of Computer Information Systems offers two of 13 undergraduate business majors at App State, all of which promote solid business acumen and technical fundamentals. Learn more at https://cis.appstate.edu.
About the Walker College of Business
The Walker College of Business at Appalachian State University delivers transformational educational experiences that prepare and inspire students to be ethical, innovative and engaged business leaders who positively impact our community, both locally and globally. The college places emphasis on international experiences, sustainable business practices, entrepreneurial programs and real-world applications with industry. Enrolling approximately 3,000 undergraduates in 10 majors and 175 graduate students in three master's programs, the Walker College is accredited by AACSB International – the premier global accrediting body for schools of business. Learn more at https://business.appstate.edu.
About Appalachian State University
As the premier public undergraduate institution in the Southeast, Appalachian State University prepares students to lead purposeful lives as global citizens who understand and engage their responsibilities in creating a sustainable future for all. The Appalachian Experience promotes a spirit of inclusion that brings people together in inspiring ways to acquire and create knowledge, to grow holistically, to act with passion and determination, and to embrace diversity and difference. Located in the Blue Ridge Mountains, Appalachian is one of 17 campuses in the University of North Carolina System. Appalachian enrolls nearly 21,000 students, has a low student-to-faculty ratio and offers more than 150 undergraduate and graduate majors.