Posted June 24, 2021 at 4:59 p.m.
BOONE, N.C. — Spreading avens, a rare plant that thrives in Western North Carolina — at elevations of more than 4,000 feet — is in danger of extinction.
To help preserve and protect this federally endangered plant, whose scientific name is Geum radiatum, Appalachian State University's Dr. Matt Estep has begun a five-year study to examine the genetic diversity and sustainability of populations located at Roan Mountain. The 2020–25 project is funded by the U.S. Fish and Wildlife Service.
Part of the rose family, Geum radiatum is a perennial herb, growing to more than 20 inches and blooming bright yellow flowers from June through September. The plant is native to the Southern Appalachian Mountains and found only on high-elevation mountain peaks in Western North Carolina and Eastern Tennessee.
According to Estep, a plant geneticist and associate professor in App State's Department of Biology, the plant species is vulnerable to extinction due in part to climate change, land development and outdoor recreation.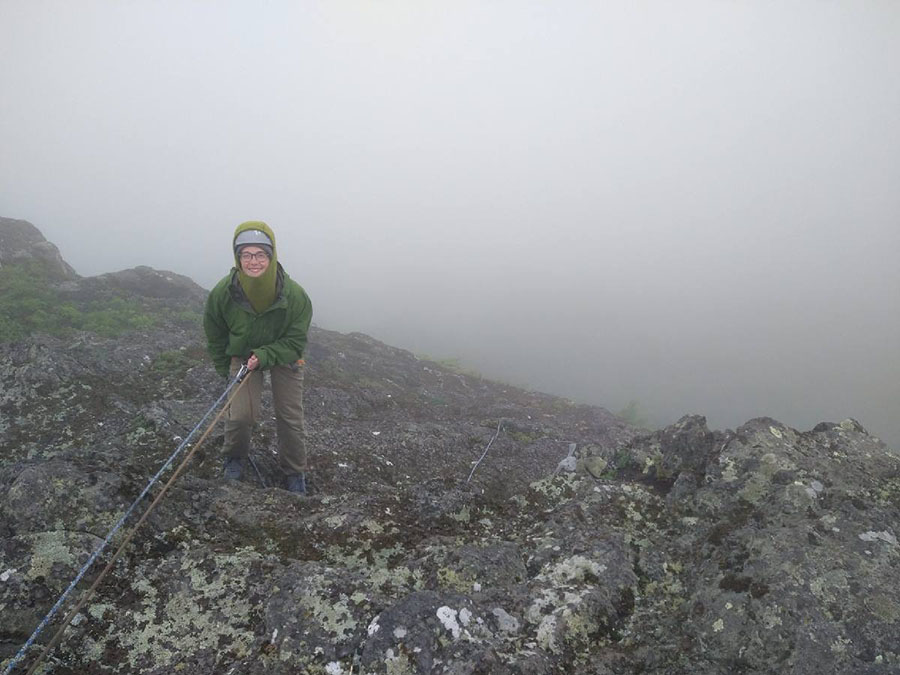 Estep and App State biology students will work with Blue Ridge Parkway plant ecologist and arborist Dr. Chris Ulrey, who monitors the species yearly. They will collect leaf tissue samples to be used in the genetic diversity analyses conducted in Estep's on-campus lab at App State.
The project will provide a greater understanding of the genetic sustainability of spreading avens, Estep said, and help inform conservation strategies for the species, as well as for other long-lived perennials.
A genetic rescue for spreading avens
In the 1990s, a conservation technique known as genetic rescue was applied to help bolster failing subpopulations of spreading avens on Roan Mountain, which spans the North Carolina–Tennessee border. This included bringing in a genetically diverse population of the plant to crossbreed with the mountain's native population.
Estep said the focus of his study is to better understand the effects of that intervention — specifically, whether it positively or negatively affected the genetics of the plants' hybrid offspring.
By connecting the study's genetic data with 20-plus years of demographic data on the plant generated by Ulrey, Estep will be able to evaluate the fitness of those plants native to Roan Mountain, those that were brought in from another location and their hybrid offspring, he said.
In his App State lab, Estep and Morgan Gaglianese-Woody '19, of Charlotte, a graduate student in the university's biology-ecology and evolutionary biology program, will determine if the hybrid offspring are stronger, or healthier, than their parents — or less so.
According to Estep, more spreading avens are preserved in herbaria than exist in the wild. App State's on-campus herbarium, containing approximately 29,000 plant specimens from around the world, includes spreading avens in its collection, which serves as a valuable teaching and research tool for App State students and faculty, Estep said.
Undergraduate biology students at App State will be involved in fieldwork for this project, Estep said, and he will incorporate findings from the study into his undergraduate course on conservation genetics.
Estep said this type of hands-on fieldwork gives students the opportunity to learn more about outdoor careers in biology, as well as performing field observations — experiences that cannot be taught in the classroom, he added.
Fieldwork also allows students to network and interact with state and/or national park professionals — a gateway to available jobs within the land management and conservation disciplines, Estep said.
Estep has served as a thesis adviser to several undergraduate students in the Department of Biology's honors program and the university's Honors College.
What do you think?
Share your feedback on this story.
About the Department of Biology
The Department of Biology is a community of teacher-scholars, with faculty representing the full breadth of biological specializations — from molecular genetics to landscape/ecosystem ecology. The department seeks to produce graduates with sound scientific knowledge, the skills to create new knowledge, and the excitement and appreciation of scientific discovery. Learn more at https://biology.appstate.edu.
About the College of Arts and Sciences
The College of Arts and Sciences (CAS) at Appalachian State University is home to 17 academic departments, two centers and one residential college. These units span the humanities and the social, mathematical and natural sciences. CAS aims to develop a distinctive identity built upon our university's strengths, traditions and unique location. The college's values lie not only in service to the university and local community, but through inspiring, training, educating and sustaining the development of its students as global citizens. More than 6,400 student majors are enrolled in the college. As the college is also largely responsible for implementing App State's general education curriculum, it is heavily involved in the education of all students at the university, including those pursuing majors in other colleges. Learn more at https://cas.appstate.edu.
About Appalachian State University
As the premier public undergraduate institution in the Southeast, Appalachian State University prepares students to lead purposeful lives as global citizens who understand and engage their responsibilities in creating a sustainable future for all. The Appalachian Experience promotes a spirit of inclusion that brings people together in inspiring ways to acquire and create knowledge, to grow holistically, to act with passion and determination, and to embrace diversity and difference. Located in the Blue Ridge Mountains, Appalachian is one of 17 campuses in the University of North Carolina System. Appalachian enrolls nearly 21,000 students, has a low student-to-faculty ratio and offers more than 150 undergraduate and graduate majors.