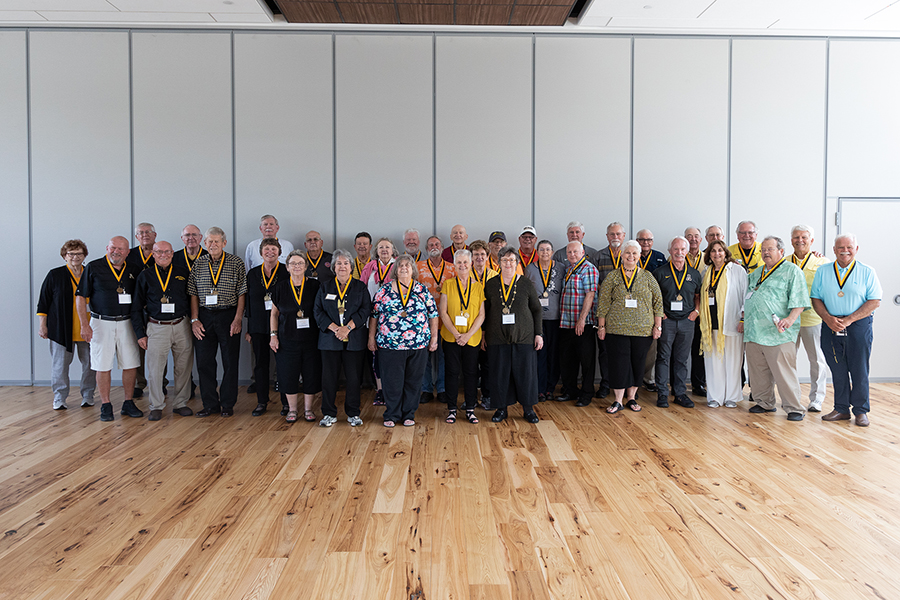 Posted July 15, 2021 at 12 p.m.
BOONE, N.C. — More than 50 alumni from the classes of 1970 and 1971 gathered to celebrate their 50th reunion during the 2021 Black and Gold Reunion Weekend at Appalachian State University.
The weekend featured tours of campus, a luncheon with remarks by Chancellor Sheri Everts and a medallion ceremony during which 41 Mountaineers were inducted into App State's Black and Gold Society. The society, which has more than 400 members, honors alumni who have commemorated 50 years or more since graduation.
In her remarks at the luncheon, Everts acknowledged the multidecade relationship these alumni have fostered with the university.
"Much has changed at App State in 50 years, and yet, so much has stayed the same. Your participation this weekend reminds us that the bond among Mountaineers remains loyal and lifelong. We are all fortunate to be part of this great institution," Everts said.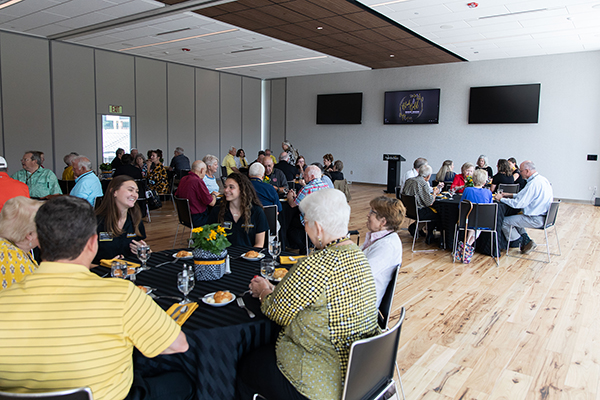 Reflections on App State's growth — and lifelong friendships
Throughout the weekend, attendees commented on the changes to the campus infrastructure and on the increase in enrollment — rising from approximately 7,000 students in 1970–71 to more than 20,000 in 2020–21.
Jack Pepper '71 said he is glad App State has maintained its "small-town mountain charm" as the university has grown and, as an alumnus and a local business owner, he feels it's important to give back to App State and stay engaged.
Pepper earned a Bachelor of Science in management and went on to open Pepper's Restaurant and Bar in Boone just a few years after he graduated. One of his sons, John Pepper, followed in his father's Mountaineer footsteps, graduating from App State in 2009 with a Bachelor of Science in business administration in finance and banking.
Dr. Dianne Little '71 '96 said even with all of the changes, she can still walk down campus sidewalks and be transported back to her days as a student. Jane "Steeby" McCoy '71 joked that when she was at App State, "Yosef was still a person, not a mascot."
Reuniting the 'Watauga Gang'
One particular group of alumnae — the "Watauga Gang" — celebrated several milestones throughout the weekend. The 10 women who compose the group lived in App State's Watauga Dorm in the 1960s and forged lifelong friendships.
Five of the women, including Little, of Taylorsville, and McCoy, of Battle Creek, Michigan, were able to return to their alma mater for the reunion weekend. The other three visiting members:
Ruby Hughes '71, of Shelby.
Ann Wadsworth-Reish '70, of Vienna, Virginia.
Catherine Covington Darrah '71, of King.
They kicked off the weekend by dedicating the Watauga Gang bench in honor of their group and paying homage to two members who have passed away: Donna C. Nance '71, of Asheboro, and Jerri Ann Cox Hiatt '71, of Mount Airy. The bench is located outside of Lillie Shull Dougherty Hall, overlooking Sanford Mall.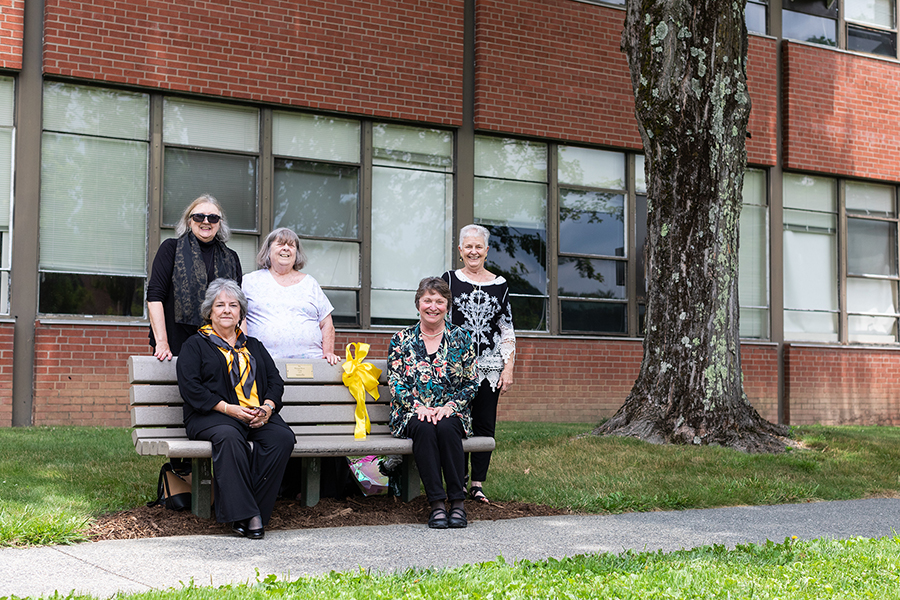 All five women were also inducted into the Black and Gold Society.
During the Black and Gold Luncheon, Hughes, Little, McCoy and Wadsworth-Reish were the class speakers and provided humorous tales of their time at App State as well as insights into their lifelong connection to the university and each other.
In her remarks, Little said the special people she met at App State are her "most treasured memories," especially her professors who gave her a "first-class education" and "marvelous opportunities to learn in connection with the classroom and beyond it."
She also paid homage to the Watauga Gang, whose members have "stayed friends to this very day — always being there for each other," she said.
"Thank you Appalachian State University for the memories because they are indeed some of the best memories of my life," said Little, who was also inducted into the Reich College of Education's Rhododendron Society on July 9.
Hughes, Little, McCoy and Wadsworth-Reish are fundraising for a new Black and Gold Society Endowed Scholarship to benefit an incoming legacy student. Donations for this scholarship have come from members of the classes of 1970 and 1971, and the funds have been matched by an anonymous source, according to the Office of Alumni Affairs.
What do you think?
Share your feedback on this story.
About Alumni Affairs
The Office of Alumni Affairs provides networking opportunities, affinity program discounts, alumni chapter gatherings and special events, merchandise and travel tour options to Appalachian State University alumni.
The Appalachian State University Alumni Association consists of nearly 142,000 living App State alumni. Membership is free and open to all graduates of App State. The association's mission is to help alumni remember their App State Experience and stay connected with current Mountaineers, and to work to ensure that those experiences are available for future App State alumni by raising support for the Alumni Memorial Scholarship and The Appalachian Fund.
About Appalachian State University
As the premier public undergraduate institution in the Southeast, Appalachian State University prepares students to lead purposeful lives as global citizens who understand and engage their responsibilities in creating a sustainable future for all. The Appalachian Experience promotes a spirit of inclusion that brings people together in inspiring ways to acquire and create knowledge, to grow holistically, to act with passion and determination, and to embrace diversity and difference. Located in the Blue Ridge Mountains, Appalachian is one of 17 campuses in the University of North Carolina System. Appalachian enrolls nearly 21,000 students, has a low student-to-faculty ratio and offers more than 150 undergraduate and graduate majors.