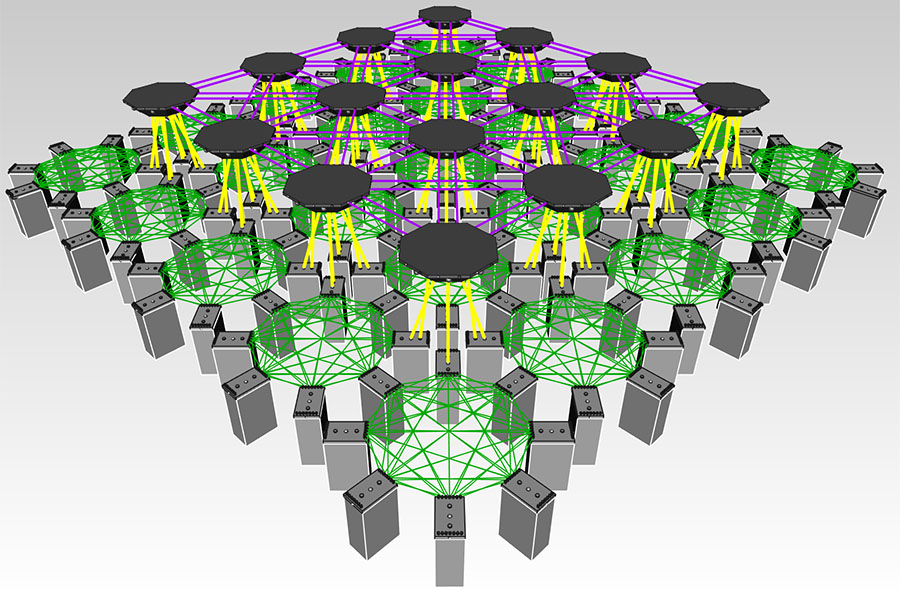 Posted Sep. 2, 2021 at 5:10 p.m.
BOONE, N.C. — Answers to Google searches, information on websites, files stored in the cloud, and music and movies for streaming — all resources at people's fingertips as part of their daily lives — are housed in large data centers all over the world. These warehouse-sized centers, filled with thousands of computer servers, require massive amounts of electricity and effort to operate.
Dr. Abdelbaset Hamza is leading a team at Appalachian State University to study ways to make the transfer of information in data centers more efficient. His goal is to improve and speed up performance, as well as reduce the carbon footprint and impact of data centers on the earth's resources.
Hamza, an assistant professor in App State's Department of Computer Science, received a $174,956 grant from the National Science Foundation's Directorate for Computer and Information Science and Engineering to fund this project — which began in February 2020 and will continue through early 2022.
Traditional data warehouses contain many rows and racks of computer hardware, connected by a complex system of either copper or fiber optic cables that transmit data from one server to another, Hamza explained. The numerous cables are subject to wear and tear and also block airflow — thus requiring more cooling in the building.
"Cables result in high energy consumption and need a lot of management," Hamza said.
Hamza's team designed a simulator to explore different layouts for data center setup, along with different methods to move data around faster and more efficiently. They are experimenting with the use of laser beams — or optical wireless communication — to transmit data without the use of cables.
"Laser beams have the high-capacity feature of fiber optics, with the flexibility of wireless technology," Hamza said.
However, the laser beams require "line of sight" communication, presenting a challenge with the traditional design of servers set up in rows. Hamza's team is experimenting with a cellular design — geometric shapes facing one another in a configuration that resembles a beehive — to allow servers to transfer data from one point to another.
Ultimately, the team's simulation tool will be made available to researchers across the country, Hamza said. "The tool can help us compare the performance of proposed designs, resulting in higher speed, more flexibility and more efficiency," he said.
What do you think?
Share your feedback on this story.
About the Department of Computer Science
Appalachian's Department of Computer Science provides a rigorous, high-quality education that prepares students for the computing industry or graduate education. It offers a Bachelor of Science degree in computer science, which is accredited by the Computing Accreditation Commission of ABET, and a Master of Science degree in computer science. Learn more at https://compsci.appstate.edu.
About the College of Arts and Sciences
The College of Arts and Sciences (CAS) at Appalachian State University is home to 17 academic departments, two centers and one residential college. These units span the humanities and the social, mathematical and natural sciences. CAS aims to develop a distinctive identity built upon our university's strengths, traditions and unique location. The college's values lie not only in service to the university and local community, but through inspiring, training, educating and sustaining the development of its students as global citizens. More than 6,400 student majors are enrolled in the college. As the college is also largely responsible for implementing App State's general education curriculum, it is heavily involved in the education of all students at the university, including those pursuing majors in other colleges. Learn more at https://cas.appstate.edu.
About Appalachian State University
As the premier public undergraduate institution in the Southeast, Appalachian State University prepares students to lead purposeful lives. App State is one of 17 campuses in the University of North Carolina System, with a national reputation for innovative teaching and opening access to a high-quality, affordable education for all. The university enrolls more than 21,000 students, has a low student-to-faculty ratio and offers more than 150 undergraduate and 80 graduate majors at its Boone and Hickory campuses and through App State Online. Learn more at https://www.appstate.edu.