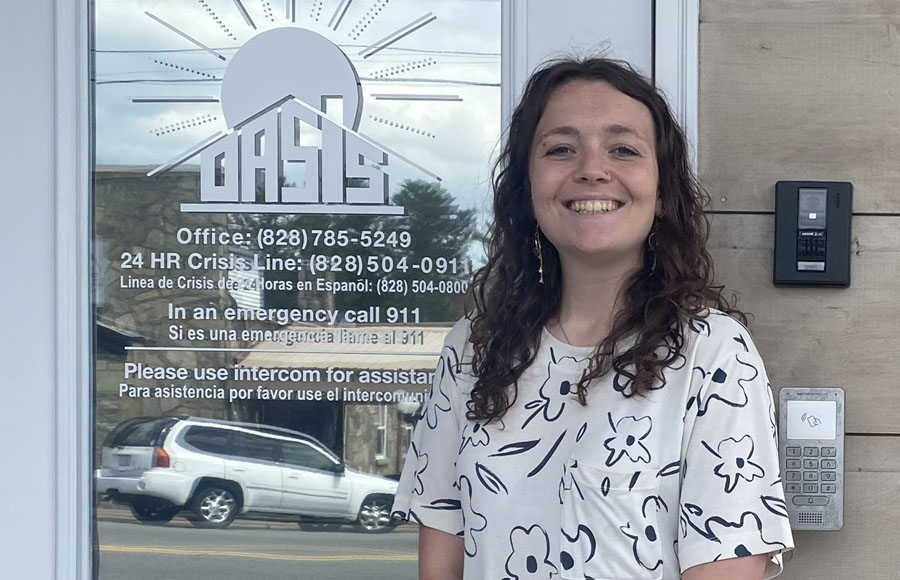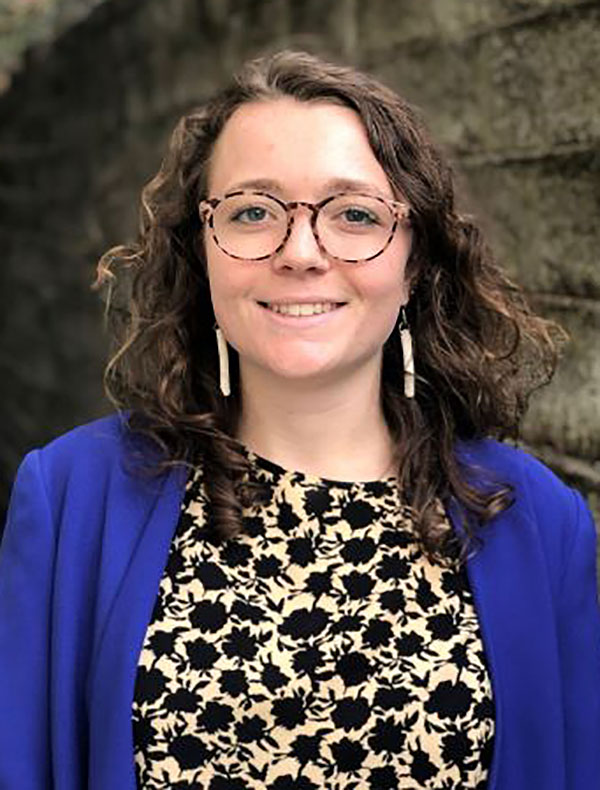 Posted Sep. 13, 2021 at 10:44 a.m.
BOONE, N.C. — As a senior at Appalachian State University, Carter Blue '20 delved into intimate partner violence in her senior thesis. Now, she is a champion for domestic violence survivors as a client services advocate at OASIS (Opposing Abuse with Service, Information and Shelter) — a nonprofit organization serving Watauga and Avery counties.
Blue, who graduated summa cum laude from App State in 2020 with a Bachelor of Science in sociology-social inequities and a minor in Spanish, was hired by OASIS after completing an internship there.
In her job, Blue engages in crisis support services with clients, connects people to other agencies and resources, acts as a medical advocate for sexual assault victims and serves at the OASIS housing shelter.
"Serving at the shelter is an opportunity to make a direct impact, because we're providing safety for people who are in danger for their lives. It is rewarding when we see folks leave our shelter and not return to their abuser, breaking the cycle of violence," Blue said.
She also works with the rape prevention education coordinator at OASIS to teach a class to seventh graders at Hardin Park School in Boone. "We talk to the students about respect in relationships — what's healthy and what's not. It is important to start the discussion early, in middle school," Blue said.
Discovering a passion for righting social injustice
Blue said she'd been interested in social issues while in high school in Chapel Hill, but said she wanted to "test the waters" before declaring a major as a first-year student at App State. A class about families and intimate relationships, taught by senior lecturer Kristin Ivey in the Department of Sociology, resonated with Blue.
"I loved that class," Blue said. "The coursework was interesting and I felt I was learning things that were relevant to me."
Blue said classes she had with Dr. Ellen Lamont, associate professor in App State's Department of Sociology, gave her "a language to describe things I'd experienced and heard about my whole life. She was very influential to me and helped me realize potential I didn't think I had."
Lamont said, "What sets Carter apart is her ability to think both critically and analytically — but also compassionately — about the social issues she wishes to address. As a departmental honors student, Carter developed a timely and ambitious thesis project in which she made recommendations for best practices in reducing dating violence at universities."
Blue supported her research by applying for and receiving two grants: a spring 2019 SAFE (Student and Faculty Excellence) Fund grant from App State's College of Arts and Sciences and an Office of Student Research grant.
In her research, Blue examined how college students understand intimate partner violence, including nonphysical forms.
"We're seeing the definition of violence expand to include things like stalking, harassment, verbal and emotional abuse, and abuse through technology," Blue explained. "There are a lot of controlling behaviors that aren't physically violent, so it can be harder for students to recognize them as such."
Blue received the Appalachian Excellence Scholarship as an incoming first-year student, then the Albert and Maxine Hughes Scholarship in Sociology during her junior year. She was named a spring 2020 outstanding senior in the Department of Sociology.
What do you think?
Share your feedback on this story.
About the Department of Sociology
The Department of Sociology offers a Bachelor of Arts and seven Bachelor of Science concentrations (applied research methods; criminology; families and intimate relationships; health and aging; power and social change; social inequalities; and individually designed, which requires departmental approval). The department also offers minors in sociology and health and aging, plus two online graduate certificates: aging, health and society, and sociology. Learn more at https://soc.appstate.edu.
About the College of Arts and Sciences
The College of Arts and Sciences (CAS) at Appalachian State University is home to 17 academic departments, two centers and one residential college. These units span the humanities and the social, mathematical and natural sciences. CAS aims to develop a distinctive identity built upon our university's strengths, traditions and unique location. The college's values lie not only in service to the university and local community, but through inspiring, training, educating and sustaining the development of its students as global citizens. More than 6,400 student majors are enrolled in the college. As the college is also largely responsible for implementing App State's general education curriculum, it is heavily involved in the education of all students at the university, including those pursuing majors in other colleges. Learn more at https://cas.appstate.edu.
About Appalachian State University
As the premier public undergraduate institution in the Southeast, Appalachian State University prepares students to lead purposeful lives. App State is one of 17 campuses in the University of North Carolina System, with a national reputation for innovative teaching and opening access to a high-quality, affordable education for all. The university enrolls more than 21,000 students, has a low student-to-faculty ratio and offers more than 150 undergraduate and 80 graduate majors at its Boone and Hickory campuses and through App State Online. Learn more at https://www.appstate.edu.