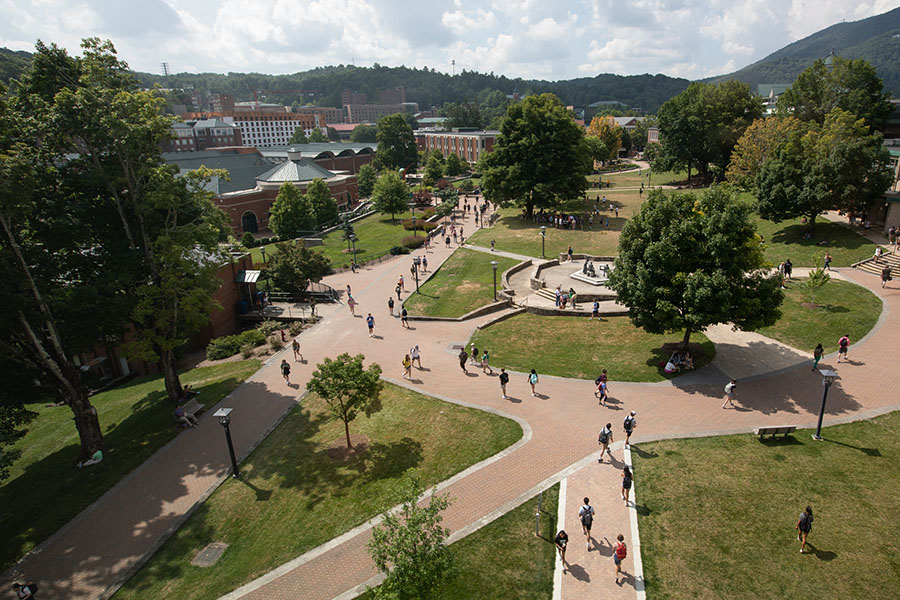 Grant project collaborators
Posted Nov. 2, 2021 at 9:46 a.m.
BOONE, N.C. — For nearly 50 years, the Student Support Services (SSS) program at Appalachian State University has provided comprehensive services that support first-generation and/or low-income students throughout their academic careers. The program, which helps retain and graduate these students, is supported this year by continued grant funding awarded by the U.S. Department of Education (ED).
SSS Director Cathia Silver has received $338,780 in additional funding from ED for the 2021–22 academic year — the second year of the program's current grant cycle (2020–21 to 2024–25). The total expected funding for the five-year cycle is approximately $1.7 million.
According to Silver, the program's funds are used also to provide students with academic and holistic support, specialized instruction and proactive advising, as well as a fully structured first-year experience that includes:
A mentoring program.
SSS First Year Seminar/First Year Writing courses and an SSS College Success course.
Scholarship assistance.
Educational/cultural programming.
Career development and financial literacy support.
This funding also includes $45,000 in scholarship aid for first- and second-year participants who receive the federal Pell Grant, with the average scholarship per student being around $650.
After identifying eligible students, the SSS program determines and works with students with the greatest need — approximately 200 students per year — who are supported from orientation through graduation. Of the students enrolled in the program this fall, 62% are from diverse backgrounds.
The program's latest Annual Federal Performance Report, submitted to ED in December 2020, showed SSS participants had improved graduation and retention rates. Additionally, 97% of SSS students entered the fall 2021 semester in good academic standing.
SSS is one of eight federally funded TRIO outreach and student services programs available at more than 3,000 program sites. The programs are designed to identify and provide services for individuals from disadvantaged backgrounds. At App State, the SSS program is housed in University College.
What do you think?
Share your feedback on this story.
Grant project collaborators
An SSS student gives back
About University College
Formed in 2007, University College consists of the university's general education program, faculty and student support, and co-curricular programming and support – all designed to support the work of students both inside and outside the classroom. All students at Appalachian begin their education in University College and benefit from its programs until they graduate. Learn more at https://universitycollege.appstate.edu.
About Appalachian State University
As the premier public undergraduate institution in the Southeast, Appalachian State University prepares students to lead purposeful lives. App State is one of 17 campuses in the University of North Carolina System, with a national reputation for innovative teaching and opening access to a high-quality, affordable education for all. The university enrolls more than 21,000 students, has a low student-to-faculty ratio and offers more than 150 undergraduate and 80 graduate majors at its Boone and Hickory campuses and through App State Online. Learn more at https://www.appstate.edu.