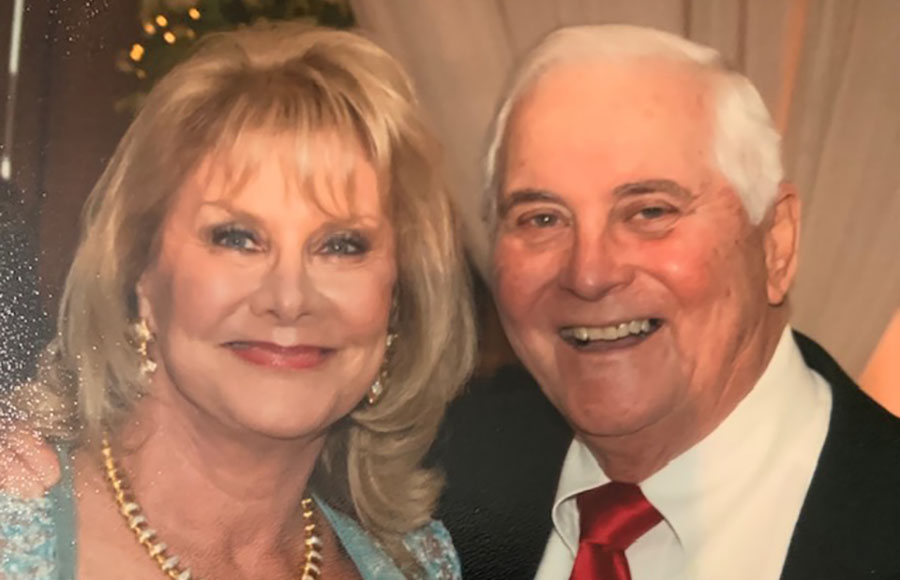 Posted Nov. 17, 2021 at 2:11 p.m.
BOONE, N.C. — Chris Petti is a changemaker, intent on making a difference and encouraging others to do the same. Her philanthropy is generous and far reaching.
In October, Petti stepped forward with a multiyear pledge of $500,000 to be applied toward a $1 million challenge gift from Nancy and Neil Schaffel, in support of the endowment fund for An Appalachian Summer Festival — Appalachian State University's annual celebration of the performing and visual arts.
According to Denise Ringler, director of arts engagement and cultural programs at App State, the challenge specifies that for every gift to the festival endowment between now and 2024, the Schaffels will match it — up to $1 million. If the challenge is successful, the festival will be well on its way to meeting its ultimate endowment goal of $5 million.
"Petti's generous gift is a major step forward in reaching our goal and will inspire others to contribute as well," Ringler said.
The endowment will provide an important source of annual funding for the festival, in perpetuity, Ringler added, "enabling it to maintain the breadth and quality of its programs in music, dance, theater, film and the visual arts. It will also help to fulfill a critical element of the festival's mission: A commitment to affordable access to the arts for all."
Intentional giving
Petti is a Florida native who came with her husband, Dr. Alfonso Petti, in 1979 to the High Country to "get cool and get away from the heat and the hurricanes," she said. Over the past 40 years she has become involved with App State and the High Country communities and, since her husband's death in 2019, she is intentional about making a difference here and beyond.
In 1999, when she was diagnosed with metastatic breast cancer, Petti chose the local Seby B. Jones Regional Cancer Center in Boone for her chemotherapy. She has recently given a $1 million gift to Appalachian Regional Healthcare Foundation in her husband's honor.
And, in Ventura, California, where her daughter and two grandchildren live, she has recently donated $550,000 toward a Ronald McDonald Family Room at Ventura County Medical Center. The respite center for families of children fighting life-threatening diseases is one of few built inside the hospital, she said, within steps of the children's bedsides.
Petti served as the head nurse in the pediatric ward at a regional hospital in Florida. She went on to earn her nurse practitioner's certificate and work alongside her husband, an orthopedic surgeon in Broward County, Florida.
She described those years of nursing as character-building. "Being a nurse has always led me to be caring and helpful, and that is the kind of path I've always taken with everything," she said.
'I like to get things done'
Engagement with the arts in the High Country is not new for Petti. As she settled into the area in the late '70s, she actively sought out cultural opportunities. "I went to the movie theaters in Boone, plays at Lees-McRae College and the productions at the small auditorium at Appalachian that preceded the Schaefer Center (Farthing Auditorium)," she said.
Discovering there weren't many restaurants — and yearning for a good place to eat — she and her husband built what is called the Petti Building, and they encouraged renowned chef Fabian Botta to open Louisiana Purchase Food and Spirits there.
"You could say I like to get things done," Petti admitted.
After her husband's death, Petti said Mary Bickers, an Atlanta-based financial adviser who is actively involved in community engagement in the High Country, encouraged her to become even more involved in the community. "That's when I realized I could do so much more here. I have always considered this my home," Petti said. She and Bickers are both involved with Women's Fund of the Blue Ridge.
Around the same time, she met Sarah Heustess, now retired director of sales and patron relations at App State's Schaefer Center for the Performing Arts. After talking with Heustess, Petti said, "I bought two seats. The next thing I knew, I became a patron. Then, I was a benefactor! I could see Sarah's heart was so in it. Everyone there (at Schaefer) believes in what they are doing."
Petti said she felt if she stepped forward "maybe other people will join in with whatever they can. I'm not assuming people are going to do what I've done, but whatever they can do to help is what makes this area so special."
Petti serves on a number of boards and supports good causes from coast to coast. She is also an avid watercolor artist and cherishes time with her extended family.
She is looking forward to returning to California and walking on the beach with her two granddaughters, she shared. "They are both little ballerinas," she added, "so we'll be doing the Nutcracker ballet soon. I have just underwritten the costumes for the theater."
As Petti said, she likes to get things done.
What do you think?
Share your feedback on this story.
About An Appalachian Summer Festival
Presented by Appalachian State University's Office of Arts and Cultural Programs, An Appalachian Summer Festival is an annual celebration of the performing and visual arts held every July in venues across campus. The festival, which features an eclectic and diverse mix of music, dance, theater, visual arts and film programming, began in 1984 as a chamber music series and retains strong roots in classical music. It attracts 28,000 visitors to the High Country each year and has been named one of the "Top 20 Events in the Southeast" by the Southeast Tourism Society. Learn more at https://appsummer.org.
About Appalachian State University
As the premier public undergraduate institution in the Southeast, Appalachian State University prepares students to lead purposeful lives as global citizens who understand and engage their responsibilities in creating a sustainable future for all. The Appalachian Experience promotes a spirit of inclusion that brings people together in inspiring ways to acquire and create knowledge, to grow holistically, to act with passion and determination, and to embrace diversity and difference. Located in the Blue Ridge Mountains, Appalachian is one of 17 campuses in the University of North Carolina System. Appalachian enrolls nearly 21,000 students, has a low student-to-faculty ratio and offers more than 150 undergraduate and graduate majors.