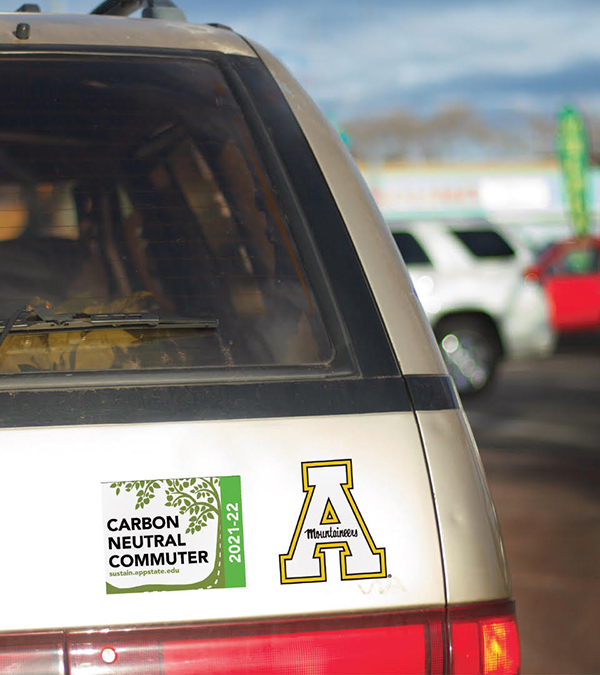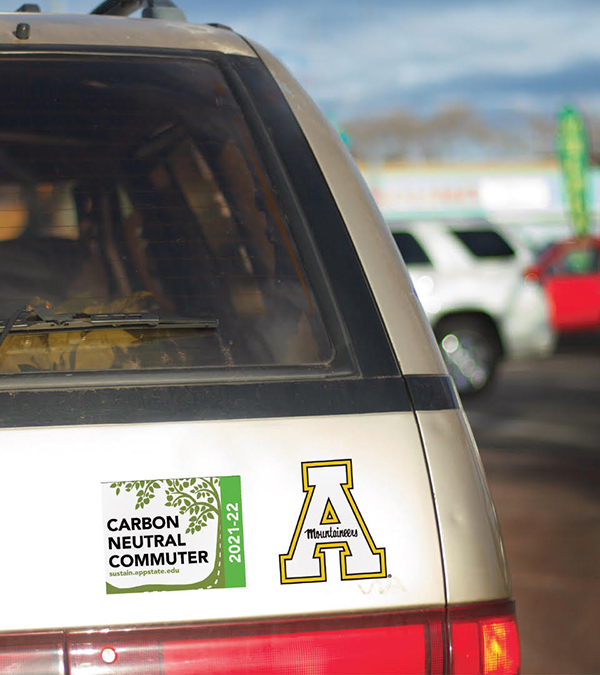 Posted Jan. 13, 2022 at 3:41 p.m.
For the price of a few cups of coffee or a lunch out, members of the Mountaineer community can contribute to Appalachian State University's climate action goals by participating in the Carbon Neutral Commuter program.
Program participants pay an annual fee of $10, used to purchase carbon offsets that fund initiatives reducing greenhouse gases harmful to the environment.
Jim Dees, data and assessment specialist in the Office of Sustainability — which administers the program — explained how App State's Carbon Neutral Commuter program works, how and where the money is used and how to participate.
What is meant by a 'carbon footprint'?
A person's carbon footprint is the total amount of greenhouse gases generated by their actions. Gases like carbon dioxide and methane are a byproduct of our modern society, and transportation is a big contributor.
The accumulation of these gases over time — from the emissions from automobile tailpipes, the electricity we use, the trash we generate and other things in our daily lives — has built up on the atmosphere. It's like putting a thicker blanket on our atmosphere. Solar radiation isn't able to escape as readily as it has in the past, so it stays in our atmosphere and warms things up. Ultimately, this global warming contributes to climate change.
What is the carbon footprint of an App State commuter?
On average, App State commuters — students, faculty and staff — drive about 10 miles each way, back and forth to App State's main campus. That translates to 4,300 miles per year, releasing approximately 2 metric tons of carbon dioxide into the air.
And that's just their commuting miles, not including the other driving or activities in their daily lives.
App State's Carbon Neutral Commuter program addresses the impact of the commute portion. How does it work?
Carbon Neutral Commuter is a carbon offset program, which means participants contribute $10 that we use to pay our third party-certified offset vendor, Sterling Planet. They then fund projects that reduce greenhouse gas pollution.
Our commuters can't eliminate their travel. They have to get to work. But by participating in the program, they're taking ecological responsibility for the damage they're doing by driving their cars. They're contributing to the reduction of greenhouse gases somewhere else.
Paying for offsets is a small step in doing your part to make a difference.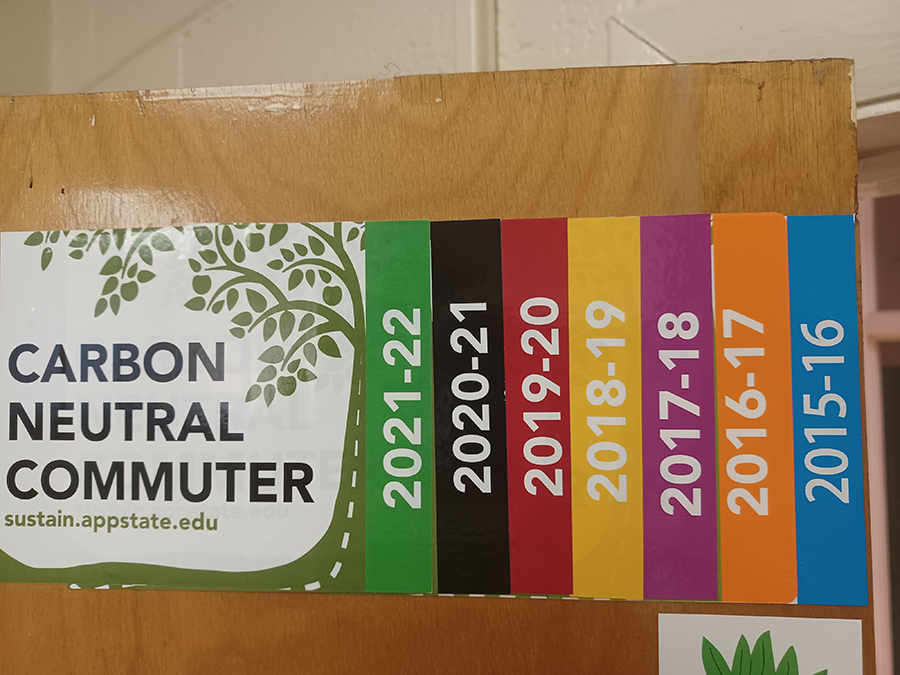 How does Sterling Planet use the money? What are some examples?
The carbon offsets we purchase stay relatively local, with the majority of the money going to local landfills in Western North Carolina. The landfills use the funds to maintain their methane collection equipment.
One of the byproducts of a landfill is methane gas, produced as food scraps and other waste decompose. Nowadays, when landfills are built, they have engineered chimneys in the fill material so much of the methane can be captured and destroyed or repurposed.
How effective has the program been?
The program began in 2014, and over the life of the program we've been able to purchase offsets to eliminate about 15,000 tons of carbon.
How can commuters participate in the program?
Participants can register on our Carbon Neutral Commuter webpage. Users may remember a prompted add-on available from the parking pass order site, but that changed this year when we began using new processing software.
As always, participants will receive a bumper sticker to show others they are proactive and investing in pollution reduction.
Each year, the sticker is a different color — designed so the participant can overlap the stickers to show all the years they've participated. The stickers are very eye-catching and help build awareness of how each person can make a difference in slowing climate change.
What do you think?
Share your feedback on this story.
About Sustainability at Appalachian
Appalachian State University's leadership in sustainability is known nationally. The university's holistic, three-branched approach considers sustainability economically, environmentally and equitably in relationship to the planet's co-inhabitants. The university is an active steward of the state's interconnected financial, cultural and natural resources and challenges students and others think critically and creatively about sustainability and what it means from the smallest individual action to the most broad-based applications. The university offers both undergraduate and graduate academic degree programs that focus on sustainability. In addition, 100 percent of Appalachian's academic departments offer at least one sustainability course or course that includes sustainability, and all students graduate from programs that have adopted at least one sustainability learning outcome. Learn more at https://appstate.edu/sustainability.
About Appalachian State University
As the premier public undergraduate institution in the Southeast, Appalachian State University prepares students to lead purposeful lives. App State is one of 17 campuses in the University of North Carolina System, with a national reputation for innovative teaching and opening access to a high-quality, affordable education for all. The university enrolls more than 21,000 students, has a low student-to-faculty ratio and offers more than 150 undergraduate and 80 graduate majors at its Boone and Hickory campuses and through App State Online. Learn more at https://www.appstate.edu.