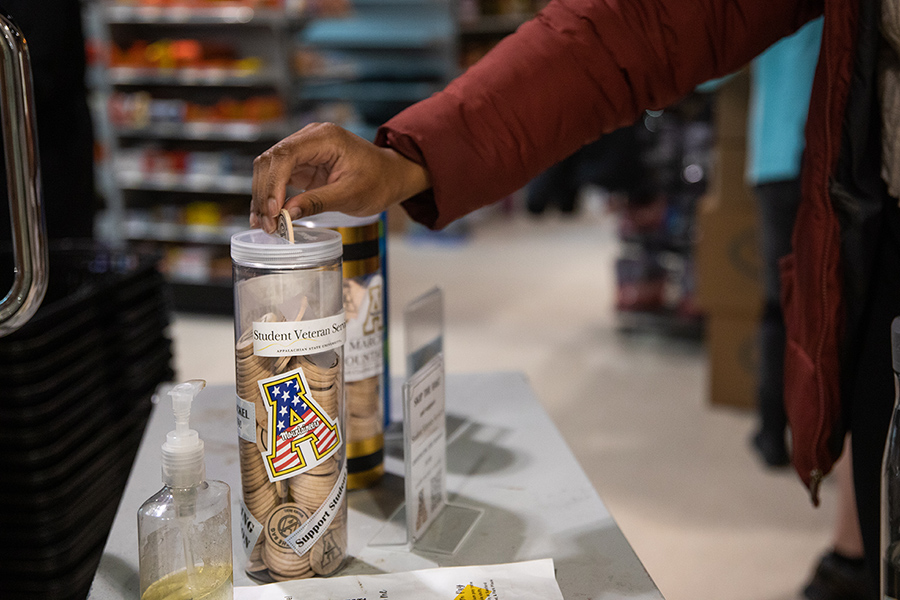 Posted Feb. 4, 2022 at 1:31 p.m.
BOONE, N.C. — Mountaineers kept nearly 68,000 plastic bags out of the local landfill last semester thanks to Skip the Bag, a student-initiated sustainable shopping program introduced in fall 2021.
Appalachian State University's Campus Services encourages patrons to "take a wooden nickel" — instead of a bag for their purchases — when shopping at the University Bookstore or Campus Dining markets. They can then deposit the wooden nickel, which represents the approximate 5-cent cost of each bag, into a canister supporting an App State organization.
At the end of each semester, Campus Services tallies the tokens and converts them to a monetary contribution made to the organizations. At the end of the fall 2021 semester, almost $3,400 was distributed as follows:
Program support will continue for these three organizations through the spring 2022 semester. Three different organizations will be chosen as beneficiaries for the 2022–23 school year.
John Eckman, App State's associate vice chancellor of campus services, said the idea for the program came from an email he received in spring 2021 from Ben Negin, a sophomore and Student Government Association (SGA) senator.
In the email, Negin, who is majoring in political science–pre-professional legal studies and minoring in LGBT studies, expressed his desire to reduce single-use plastics on App State's campus.
Negin, along with another SGA senator, Madison Neisz — a senior from Richmond, Virginia, majoring in sustainable development–environmental studies with a double minor in political science and geography — met with Eckman and Pam Cline, director of campus dining, Dr. Lee Ball, App State's chief sustainability officer, and Jennifer Maxwell, sustainability program director in App State's Office of Sustainability.
As a result of their meeting, the Skip the Bag program was launched in fall 2021 as a positive reinforcement of customers' sustainable choice to opt out of taking a single-use plastic bag — seeking alternatives such as reusable bags and backpacks, or simply carrying purchases by hand, Eckman said.
"The wooden token solution was a great example of a collaboration between students and administrators, bringing on concrete and effective results," Negin said.
Negin said the success of the program "speaks to the power of taking the first step. We have a collective responsibility to care for the world we live in."
What do you think?
Share your feedback on this story.
About the Division of Finance and Operations
Appalachian State University's Division of Finance and Operations (formerly known as the Division of Business Affairs) provides effective and efficient stewardship of the university's financial resources, along with a wide array of services and support for the entire university community, including the maintenance and improvement of App State's physical environment and infrastructure. This administrative division includes the units of Finance and Administration, Campus Services, Facilities Management and Human Resources, and also oversees the App State Loft in New York City. Learn more at https://businessaffairs.appstate.edu.
About Sustainability at Appalachian
Appalachian State University's leadership in sustainability is known nationally. The university's holistic, three-branched approach considers sustainability economically, environmentally and equitably in relationship to the planet's co-inhabitants. The university is an active steward of the state's interconnected financial, cultural and natural resources and challenges students and others think critically and creatively about sustainability and what it means from the smallest individual action to the most broad-based applications. The university offers both undergraduate and graduate academic degree programs that focus on sustainability. In addition, 100 percent of Appalachian's academic departments offer at least one sustainability course or course that includes sustainability, and all students graduate from programs that have adopted at least one sustainability learning outcome. Learn more at https://appstate.edu/sustainability.
About Appalachian State University
As the premier public undergraduate institution in the Southeast, Appalachian State University prepares students to lead purposeful lives as global citizens who understand and engage their responsibilities in creating a sustainable future for all. The Appalachian Experience promotes a spirit of inclusion that brings people together in inspiring ways to acquire and create knowledge, to grow holistically, to act with passion and determination, and to embrace diversity and difference. Located in the Blue Ridge Mountains, Appalachian is one of 17 campuses in the University of North Carolina System. Appalachian enrolls nearly 21,000 students, has a low student-to-faculty ratio and offers more than 150 undergraduate and graduate majors.