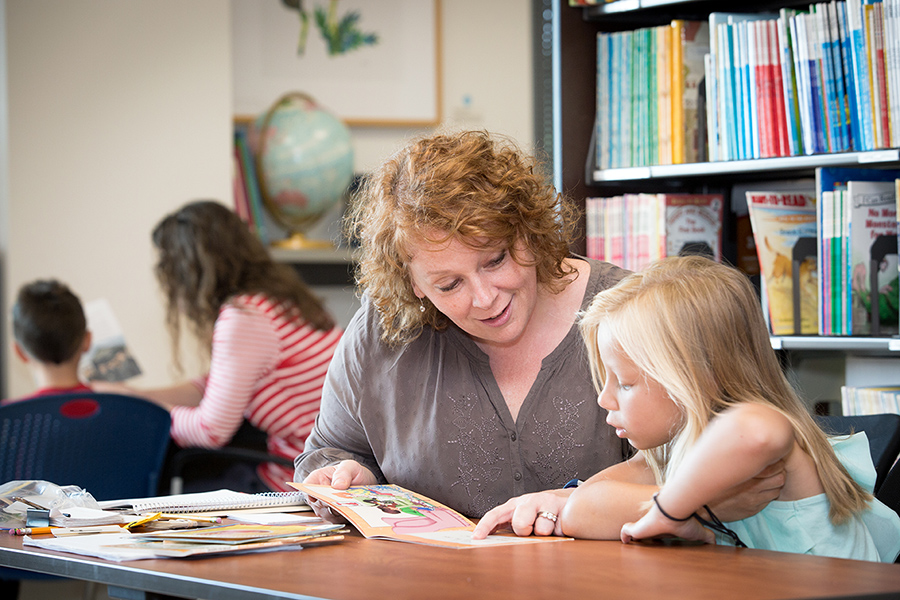 Posted Feb. 16, 2022 at 3:06 p.m.
BOONE, N.C. — A $2 million gift from the C.D. Spangler Foundation has established the Spangler Distinguished Professorship of Early Child Literacy at Appalachian State University, the first named professorship in App State's Reich College of Education.
The new professorship is part of an $8 million donation by the Spangler Foundation, divided equally among four University of North Carolina System institutions, to support the achievement of reading proficiency by North Carolina's children. The professorships are designed to recruit and retain nationally recognized scholars who will support the training of future teachers and in-service teachers while also preparing future literacy faculty.
App State's Board of Trustees approved the creation of the distinguished professorship last month.
"App State has a strong legacy of preparing educators to lead and serve, and we remain steadfast in our commitment to recognize the promise each student possesses," App State Chancellor Sheri Everts said. "This commitment is carried forward by the educators who teach in classrooms across the state and the nation."
Everts thanked the foundation and its director, Anna Spangler Nelson, for their investment in children and in educators.
"North Carolina's reading proficiency levels, already disturbingly low, have declined further over the course of the pandemic," said Nelson, who also serves on the UNC Board of Governors. She continued, "Our investment in this work seeks to elevate the importance of early child literacy across North Carolina, enhance the preparedness of our teachers and acknowledge our shared responsibility for doing better for our children and their futures."
App State's distinguished professor will be assigned to the Reich College of Education's Department of Reading Education and Special Education, and a national search will be conducted to fill the position.
The Spangler Distinguished Professor will:
Develop scalable programs to ensure the preparation of teacher candidates in evidence-based practices in reading instruction.
Prepare future faculty to assume positions in early literacy in colleges of education.
Teach and conduct research in the university's educator preparation programs to advance the field and establish a strong presence for the Reich College of Education in the state and nation as a leader in reading instruction.
Work with school leaders in university–school partnerships to design and deliver high-quality professional development for teachers that will significantly enhance the capacity of schools to employ evidence-based practices in reading instruction.
Engage in and enhance collaboration with other educator preparation programs in North Carolina as a community of literacy champions to share effective, evidence-based literacy practices for teacher candidates and practicing teachers across the state.
Enhance grant and research capacity for evidence-based practices in literacy instruction through independent and network programs and projects.
Reich College of Education Dean Melba Spooner said the Spangler Distinguished Professorship will build on existing efforts to prepare teacher candidates using evidence-based practices in reading instruction, conducting research and collaborating with school partners and others across the state and the UNC System.
"Our faculty are innovators and have demonstrated strong leadership in the area of literacy and teacher education, and this is a testament to that focus on leading and engaging at the state and System levels," Spooner said.
The late President C.D. Spangler Jr., who served the UNC System from 1986 until 1997, believed that literacy was the key to economic and social progress for all North Carolinians.
"It is critically important that the University accept responsibility for eliminating disabling illiteracy in our people," Spangler said during his inaugural address. "It is not only cruel for us to permit illiteracy to exist, it is also unwise. Productivity, no matter how you measure it or for what purpose, is not possible without a literate people. Because these teachers reach across the state and into every home, I cannot imagine a more proper effort for the University to pursue."
Spangler Distinguished Professorships were also established at East Carolina University, North Carolina Agricultural and Technical State University and UNC Charlotte.
What do you think?
Share your feedback on this story.
About the Reich College of Education
Appalachian State University offers one of the largest undergraduate teacher preparation programs in North Carolina, graduating about 500 teachers a year. The Reich College of Education enrolls more than 2,000 students in its bachelor's, master's, education specialist and doctoral degree programs. With so many teacher education graduates working in the state, there is at least one RCOE graduate teaching in every county in North Carolina. Learn more at https://rcoe.appstate.edu.
About Appalachian State University
As the premier public undergraduate institution in the Southeast, Appalachian State University prepares students to lead purposeful lives. App State is one of 17 campuses in the University of North Carolina System, with a national reputation for innovative teaching and opening access to a high-quality, affordable education for all. The university enrolls more than 21,000 students, has a low student-to-faculty ratio and offers more than 150 undergraduate and 80 graduate majors at its Boone and Hickory campuses and through App State Online. Learn more at https://www.appstate.edu.
About the University of North Carolina System
The University of North Carolina System enrolls more than 230,000 students at 17 institutions, including all 16 of the state's public universities, as well as the nation's first public residential high school for academically gifted students, the North Carolina School of Science and Mathematics. The UNC System is among the strongest and most diverse higher education systems in the nation, with over $1.5 billion in research expenditures, a wide array of historically black colleges and universities, liberal art institutions, comprehensive universities and R1 research institutions. Its institutions support two medical schools and a teaching hospital, two law schools, a veterinary school, a school of pharmacy, 11 nursing programs, 15 schools of education, five schools of engineering and a renowned arts conservatory. The North Carolina Arboretum, the UNC Press and the UNC Center for Public Television, with its 12-station broadcast network, are also all UNC System affiliate organizations.