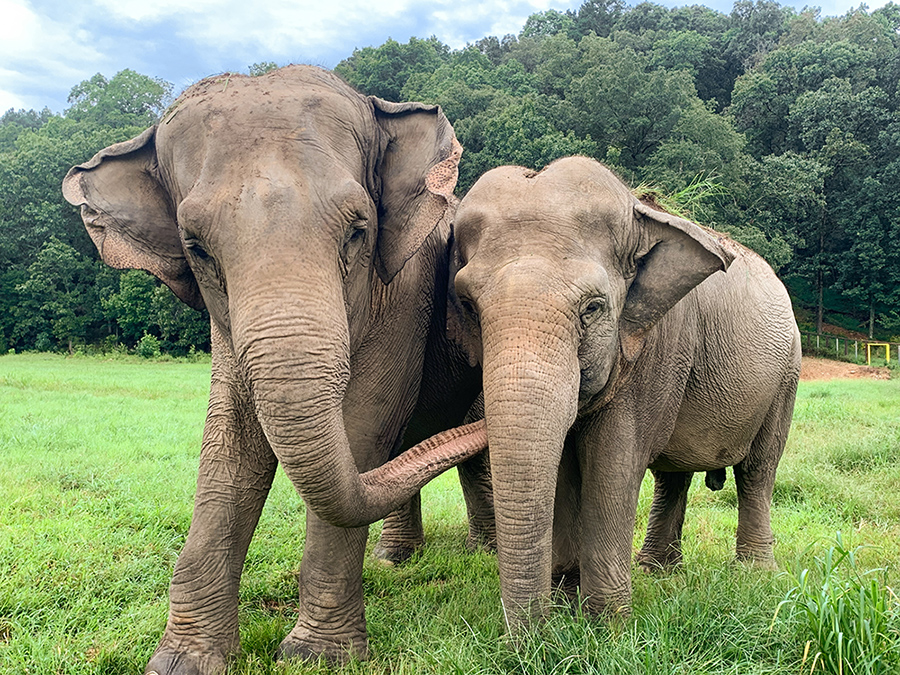 Posted May 5, 2022 at 3:04 p.m.
BOONE, N.C. — Graduating senior Skyler Amsden said she'll never forget one of the highlights of her final spring break while at Appalachian State University — hearing a herd of elephants trumpet while she was working in a grove of bamboo.
Rather than a week of rest and relaxation, Amsden — who is majoring in sustainable development-community, regional and global development, with a minor in sustainable technology — chose to participate in one of App State's Alternative Service Experiences (ASE) through the university's Office of Community-Engaged Leadership.
Amsden and 10 other Mountaineer students and staff volunteered at The Elephant Sanctuary, the nation's largest natural habitat refuge for elephants that are retired from circuses or zoos. While at the sanctuary, located in Hohenwald, Tennessee, the ASE team repaired fences, cleared out brush and pine trees, constructed enrichment toys and harvested bamboo to feed the elephants.
What they didn't do was interact with the pachyderms. "The sanctuary embodies being a safe haven for elephants," Amsden explained. "The public cannot come onto the property, and the animals are allowed to live out their lives undisturbed."
Todd Montgomery, senior manager of external relations at the refuge, expressed appreciation for the longstanding partnership with App State, which has been sending volunteer groups to his organization for more than a decade.
"The volunteers expand our workforce for the week they are here, and we check many items off our to-do list. Our long-term goal is to make these students not only elephant lovers but advocates for wildlife conservation and sustainability," Montgomery said. "Nothing brings us more joy than hearing from former volunteers how their lives have been influenced by their time with us."
Volunteers work side by side with staff at the sanctuary, learning from their experiences along the way, Montgomery said.
Prior to their service week, App State students participating in ASE meet several times to learn about and discuss social issues they will encounter during the experience. ASE programs, based in both domestic and international locations, focus on issues such as hunger and homelessness, the environment, social justice and children.
ASE programs are student-led, and peer leaders such as Amsden coordinate with the service organization partners, plan travel, prepare educational materials for the team and lead the workgroups during the service week. They also facilitate the nightly reflections — time set aside for team members to engage in meaningful conversations about the social issues, revelations and personal growth resulting from their experience.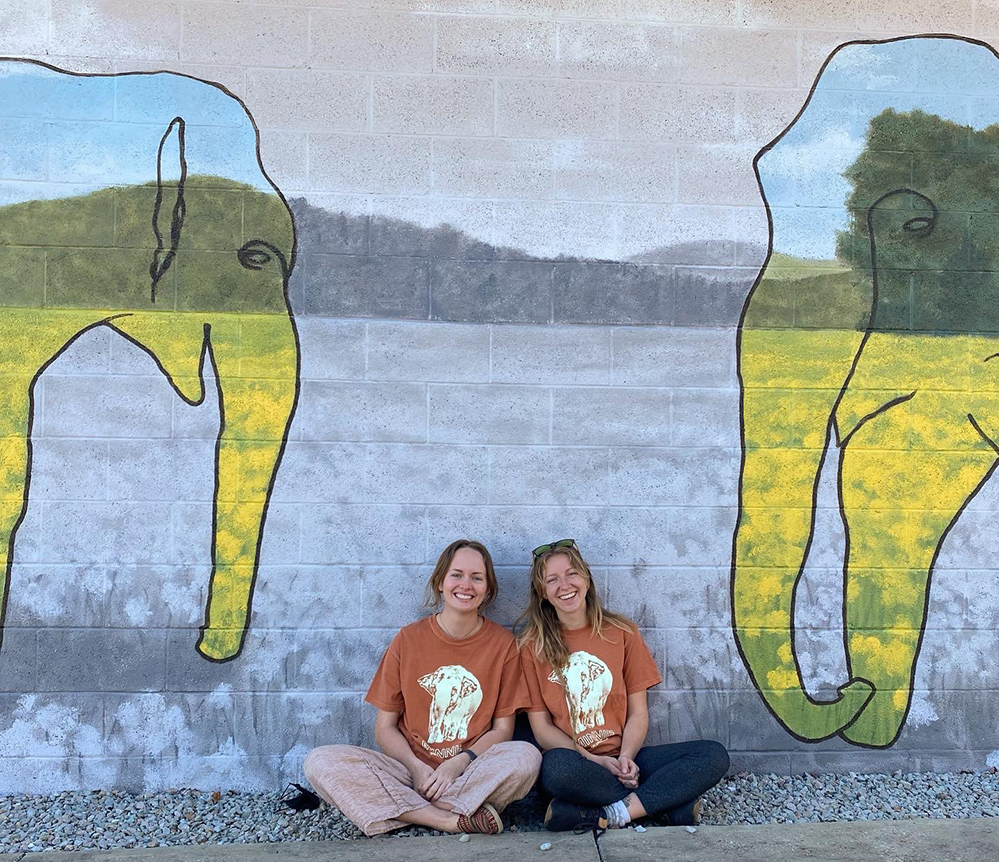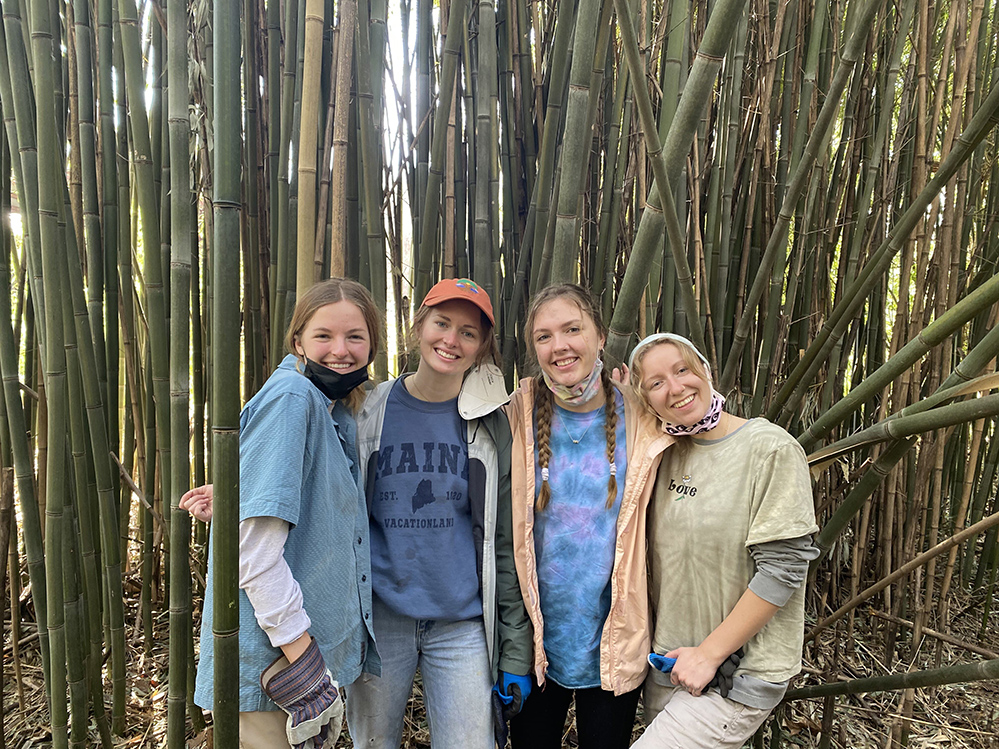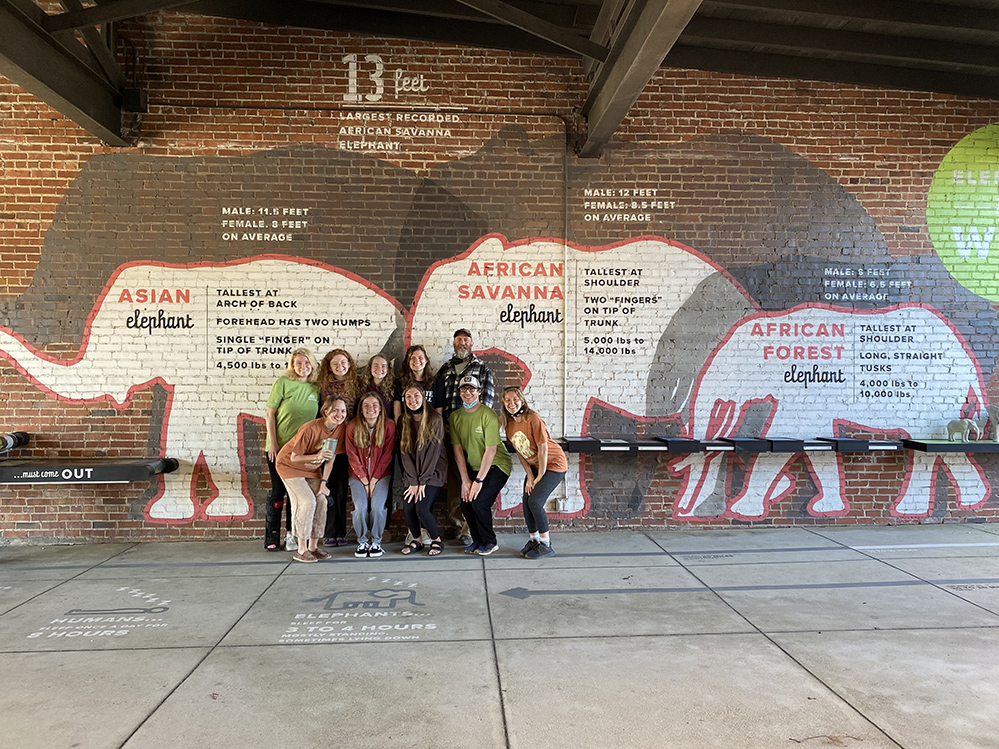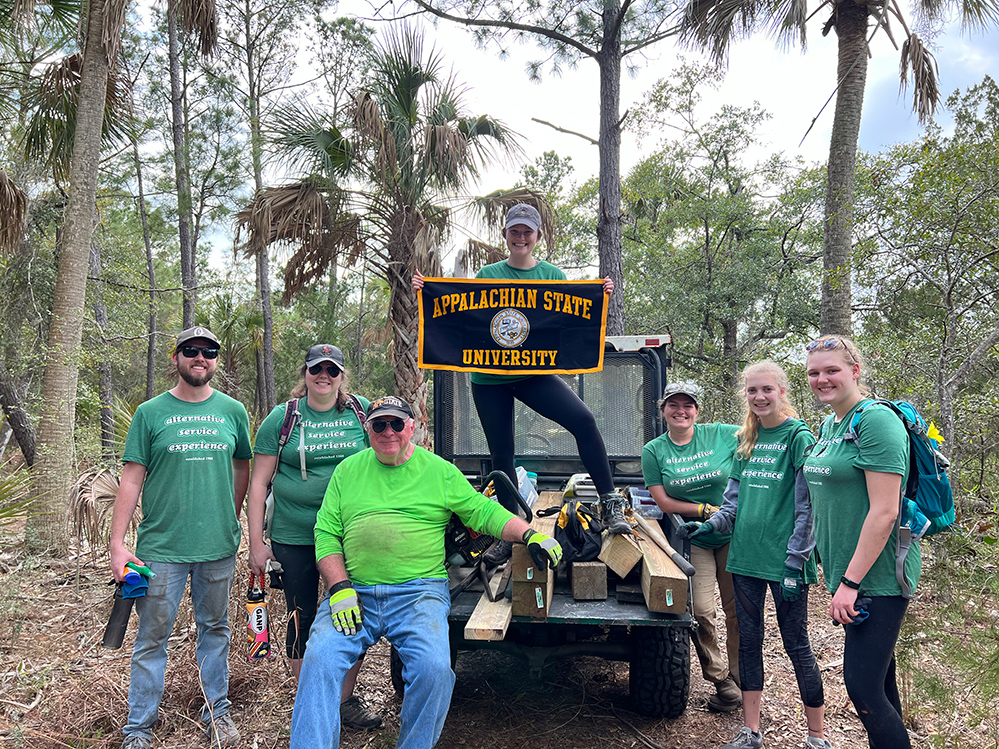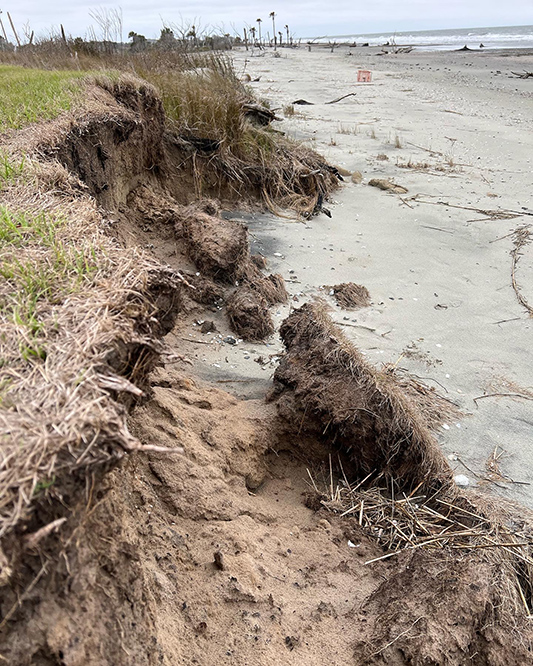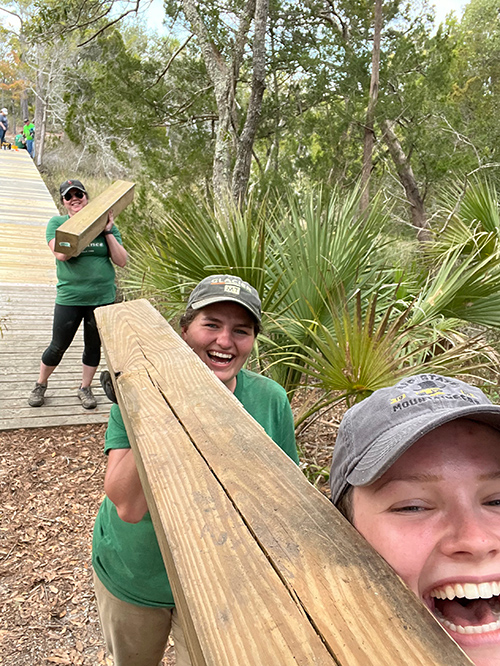 Coastal restoration
Off the coast of lower South Carolina, another ASE group lived on a wildlife refuge on an island during spring break week. There, they participated in the Restoration and Exploration at the Coast program, led by App State graduating seniors Catelyn Sweeney, from Nashville, Tennessee, and Meredith Ingram, from Granite Falls — both sustainable development-environmental studies majors.
"We got a glimpse into the efforts implemented by the U.S. Fish and Wildlife Service in protecting our environment," Sweeney said. "Their barrier island protection efforts at Cape Romain showcase the interconnectedness of environmental health and human well-being."
While on the island, the ASE team repaired and built boardwalks, maintained trails, cleaned facilities and prepared turtle nest markers.
Ingram, who participated in the same program in spring 2020 prior to serving as a peer leader this spring, said her first service experience was integral to securing an internship and then a job; she will serve as a park ranger with the National Park Service after graduating from App State in May.
"I had hands-on learning with a government agency working with the environment, and it helped me determine what I wanted to do as a career," she said.
Challenges and rewards
ASE programs are an alternative to the typical college break because they are focused on serving others. In addition to the physical labor aspect, every ASE program offers additional challenges.
"The teams live simply while on the experience," said Summer Wisdom, assistant director of ASE at App State. "Oftentimes they're sleeping on air mattresses. They have a limited budget and cook their own meals, eating vegetarian because we're cognizant of our carbon footprint."
Students find the program impactful and educational — applying principles learned in the classroom to actual hands-on participation, Wisdom said.
"I learned so much from my programs with ASE," said Sweeney, who also traveled with an ASE group to the Dominican Republic in spring 2020 to help construct water tanks for improved community access to clean drinking water. "It was awesome to apply what I'd been studying in my sustainable development classes."
Sweeney's experience on her first ASE program whetted her appetite for more, and she became a member of the ASE executive board, helping to plan all of the programs for 2021–22.
"I have made so many new friendships and formed new perspectives through ASE opportunities," Sweeney said. "If you are looking to challenge yourself, work with some amazing people, help others and learn about social and environmental justice, ASEs are for you."
For more information about ASE, visit ase.appstate.edu.
What do you think?
Share your feedback on this story.
About the Office of Community-Engaged Leadership
The Office of Community-Engaged Leadership at Appalachian State University engages students in academic, experiential and community-oriented programs that enhance their capacity to serve and lead in socially responsible ways for the benefit of their local and global communities. The office comprises the former Appalachian and the Community Together (ACT) and Leadership Education and Development (LEAD) offices. Learn more at https://cel.appstate.edu.
About Appalachian State University
As the premier public undergraduate institution in the Southeast, Appalachian State University prepares students to lead purposeful lives. App State is one of 17 campuses in the University of North Carolina System, with a national reputation for innovative teaching and opening access to a high-quality, affordable education for all. The university enrolls more than 21,000 students, has a low student-to-faculty ratio and offers more than 150 undergraduate and 80 graduate majors at its Boone and Hickory campuses and through App State Online. Learn more at https://www.appstate.edu.