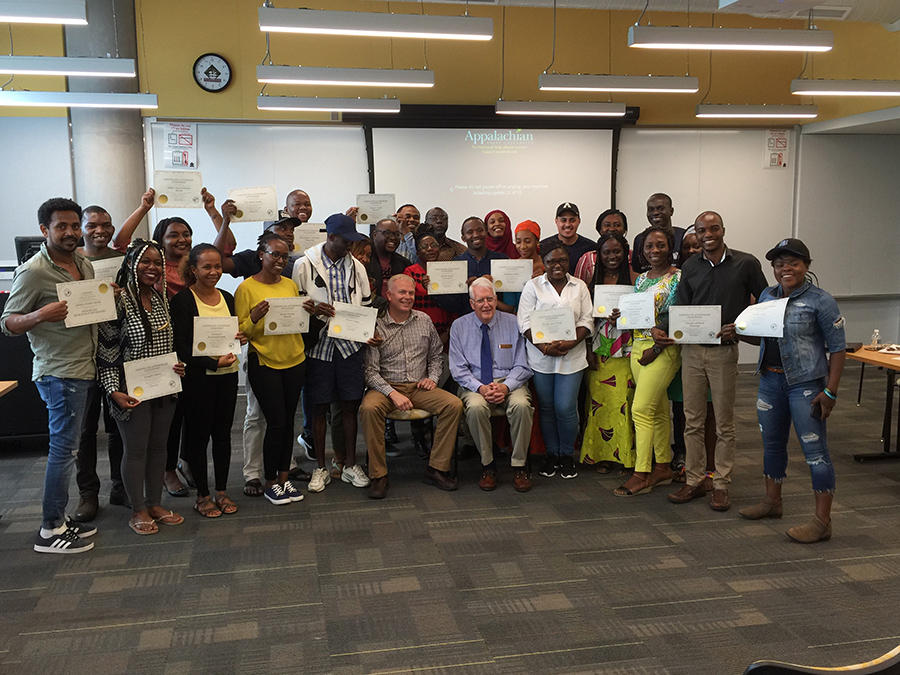 Posted May 10, 2022 at 2:36 p.m.
BOONE, N.C. — Appalachian State University has been selected as an Institute Partner for the 2022 Mandela Washington Fellowship for Young African Leaders. Beginning in mid-June, App State will host 25 of Africa's bright, emerging Civic Engagement leaders for a six-week, on-campus Leadership Institute, sponsored by the U.S. Department of State.
The Mandela Washington Fellowship, the flagship program of the Young African Leaders Initiative (YALI), empowers young African leaders through academic coursework, leadership training, mentoring, networking, professional opportunities and local community engagement. YALI was created in 2010 and supports young Africans as they spur economic growth and prosperity, strengthen democratic governance and enhance peace and security across Africa. Since 2014, the U.S. Department of State has supported nearly 5,100 Mandela Washington Fellows from across Sub-Saharan Africa to develop their leadership skills and foster connections and collaboration with U.S. professionals. The cohort of Fellows hosted by App State will be part of a group of 700 Mandela Washington Fellows hosted at 27 educational institutions across the United States.
After their Leadership Institutes, Fellows will participate in the Mandela Washington Fellowship Summit, where they will take part in networking and panel discussions with each other and with U.S. leaders from the public, private and nonprofit sectors. Following the Summit, up to 100 competitively selected fellows will participate in four weeks of professional development with U.S. nongovernmental organizations, private companies and government agencies.
Funded by the U.S. Department of State's Bureau of Educational and Cultural Affairs and implemented by IREX, Leadership Institutes offer programs that will challenge, motivate and empower young leaders from Africa to tackle the challenges of the 21st century.
"App State's Mandela Washington Fellowship Leadership Institute aims to empower Fellows with broad-based knowledge that prepares them to develop creative solutions to both immediate and long-term challenges," said Dr. Jesse Lutabingwa, associate vice chancellor for international education and development, director of international research and development, and professor of public administration.
He continued, "Fellows will have unique opportunities to delve into other sectors and explore topics they would not otherwise be exposed to in the course of their daily work."
Through App State's Leadership Institute, Fellows will build their technical and leadership capacity in areas such as advocacy, strategic planning, organizational development and the intersection of civil society with business and government.
Some of the highlights of the 2022 Leadership Institute will include:
Academic workshops led by App State faculty.
Leadership training.
Engagement with American Friendship Families.
Volunteering at local organizations.
Cultural and social activities.
Networking opportunities with professional peer collaborators in the Boone/Watauga County area.
App State's institute is supported through a partnership between the Office of International Education and Development and Academic Civic Engagement.
The Mandela Washington Fellowship is a program of the U.S. Department of State with funding provided by the U.S. government and administered by IREX. For more information about the Mandela Washington Fellowship, visit mandelawashingtonfellowship.org and join the conversation at #YALI2022.
What do you think?
Share your feedback on this story.
About the Office of International Education and Development
The OIED is responsible for spearheading the internationalization efforts at Appalachian. The internationalization mission of Appalachian is to develop awareness, knowledge, appreciation and respect of cultural differences in both domestic and international contexts in its students, faculty, staff and the surrounding communities. The university is also dedicated to creating a campus environment that builds the theoretical and practical skills needed to interact effectively in a global society. Learn more at https://international.appstate.edu.
About Appalachian State University
As the premier public undergraduate institution in the Southeast, Appalachian State University prepares students to lead purposeful lives as global citizens who understand and engage their responsibilities in creating a sustainable future for all. The Appalachian Experience promotes a spirit of inclusion that brings people together in inspiring ways to acquire and create knowledge, to grow holistically, to act with passion and determination, and to embrace diversity and difference. Located in the Blue Ridge Mountains, Appalachian is one of 17 campuses in the University of North Carolina System. Appalachian enrolls nearly 21,000 students, has a low student-to-faculty ratio and offers more than 150 undergraduate and graduate majors.