Posted Dec. 19, 2022 at 12:36 p.m.
BOONE, N.C. — Being a Mountaineer doesn't have to come with a mountain of debt. As App State students and alums can attest, you might be surprised by just how many ways there are to pay for college.
According to the App State Office of Student Financial Aid and University Scholarships, approximately two-thirds of App State students receive financial aid to help pay for their time in school, including university scholarships, outside scholarships, grants, loans, work-study programs and tuition assistance.
App State's financial aid team encourages all App State students to apply for financial aid and scholarships, regardless of their financial situation. Some scholarships are awarded based on financial need, some are awarded based on academic merit and some consider a combination of need and merit.
Wes Armstrong, senior director of the Student Financial Aid and University Scholarships Office, said, overall, App State students have an incredibly strong academic background. "This makes our students very competitive with scholarship committees," said Armstrong, adding, "Applying for scholarships at App State and with outside groups is worth every student's time."
Last year, more than 8,000 App State students — nearly half of them first-generation college attendees — received nonathletic scholarships and grants at App State, according to Armstrong. In addition to the $26.89 million in awarded App State institutional scholarships in 2021–22, students also received $4.89 million in support from outside organizations.
'A sigh of relief'
Minimizing student debt starts with a college education that provides great value at an affordable cost.
According to the Student Financial Aid and University Scholarships Office, the university's undergraduate 2022–23 cost of attendance is $23,382 for in-state residents and $40,255 for out-of-state residents. This is well below the 2021–22 national average cost of attendance of $27,330 for in-state students and $44,150 for out-of-state students at public institutions, and $54,800 at private institutions, according to CollegeData. This includes tuition and fees, housing, meal plans, transportation, textbooks and supplies.
While yearly expenses can quickly add up for students, so can any number of grants, scholarships and assistance programs — from the local civic club essay contest to the full-ride academic scholarship, and everything in between. Thanks to financial aid, many students don't end up paying the full "sticker price" posted on college and university websites.
Just ask Maegan Adolph, a senior exercise science major from Jefferson, who secured multiple scholarships and grants to pay for her App State education, including the Diversity Scholarship, Golden LEAF Scholarship, Ashe Community Endowed Scholarship, Wright Diversity Scholarship, Jeremy Elliott Scholarship Fund, Goodwin Meissner Family Fund, Summer Appalachian College Opportunity Grant, a federal Pell Grant and a University of North Carolina System need-based grant.
"College doesn't have to be financially intimidating," said Adolph. "I think a lot of people are scared of going to college not because they are worried it's going to be hard, but because they are worried about their student debt."
Adolph is a former Upward Bound student and a graduate of Ashe County High School. The Upward Bound program at App State is for low-income and first-generation students attending Alleghany, Ashe, Avery, Freedom, McDowell, Watauga and West Wilkes High schools, and provides academic support for students to complete high school, enroll in college and obtain a degree.
"The program helped me so much with applying for scholarships and finding a college that was the right fit for me," she said.
Initially, Adolph didn't think a four-year degree was possible because of her financial situation.
"My parents were trying to encourage me to go to a community college — they believed a four-year degree wasn't something we could afford," she said. "They were trying to encourage me to take a cheaper option so I could live at home and save up money, but then I started finding all of these scholarships through my high school."
Adolph went as far as to apply for a scholarship associated with brick masonry and received the scholarship because she was the only one who applied.
"They tell you to fill out every single application you can get your hands on. I can genuinely say that is what I did," she said.
Adolph then started writing essays for scholarships when applying to App State and soon found out she was receiving the university's signature Diversity Scholars Program Scholarship, a merit-based scholarship that covers full in-state tuition and fees for up to four years and includes leadership workshops, service-learning, international experiences and mentorship opportunities.
"I didn't apply for a full ride, specifically. It was just one of those things where they read my essay and thought I would be a good fit for an interview," said Adolph. "Once I got the letter saying I had a full-ride scholarship, I literally cried with my parents because this was actually happening for us. I'm from small Ashe County, and I don't have to worry about paying for college anymore."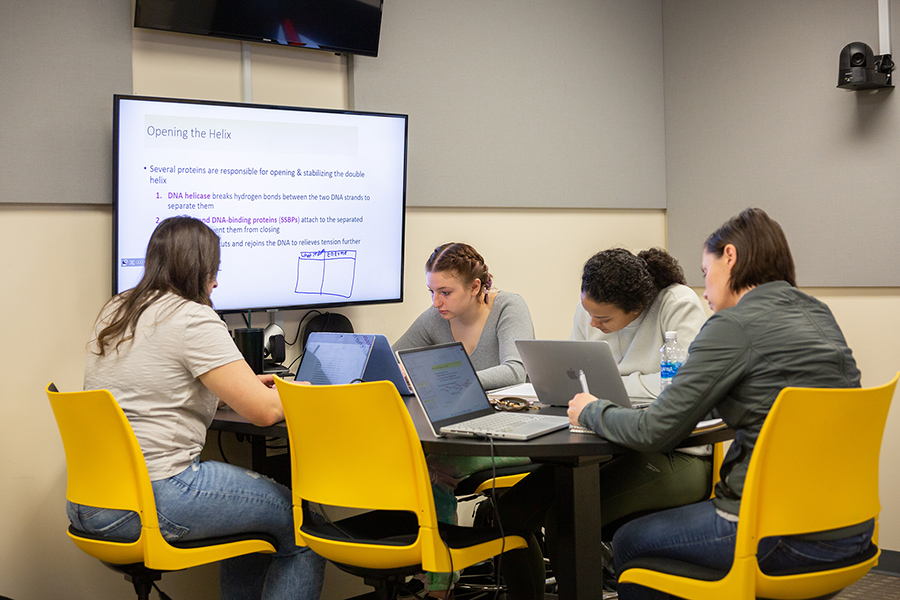 Even with her college costs fully covered, Adolph still strongly encourages all prospective college students to start their financial aid journey by filling out the Free Application for Federal Student Aid, or FAFSA, which provides students with access to grants, loans and work-study funds from the federal government.
"It was one of the first things I did," she said. "It's so important, and sometimes I would get offers for need-based grants just because they could tell I had financial need."
The extra financial assistance also alleviates other types of stress life can throw at you, Adolph said, allowing students to focus on their studies and experiential opportunities such as club involvement, internships or travel.
"I didn't have to work in college," she said. "It was never an obligation because I had money that the school was giving me to go toward my housing, meal plans on campus — that sort of thing. For most people, that is a sigh of relief. I know a lot of people working so hard throughout college trying to make ends meet, and for me, I don't have to worry about where my meals are coming from because I have this money set aside."
Adolph did gain work experience during college, however, thanks to a paid internship made possible by her Golden LEAF Scholarship.
"The more scholarships that you apply to, the more likely you are to get scholarships — and the more scholarships you get, the more realistic getting a four-year degree is," she said.
'The small ones really add up'
App State alumna Alyssa Bouchard '14, originally from Granite Falls, said that, for her, a successful future began with a successful college education supported by scholarships.
Bouchard currently lives in Rock Hill, South Carolina, and is vice president of industry engagement for the Gamma Iota Sigma fraternity's national organization. She was president of the Rho Chapter of Gamma Iota Sigma as a senior at App State and graduated with a bachelor's degree in business administration with a focus on risk management and insurance.
Bouchard graduated debt-free from App State with a combination of financial aid and scholarships, including the Spencer Educational Foundation Scholarship, the Golden LEAF Scholarship and many smaller scholarships from the university and outside organizations.
"I actually received so many scholarships my senior year that I had to turn some down," she said.
As the daughter of a pastor and a teacher in a family with four children — three of whom were in college at the same time — Bouchard said her family's finances were tight.
"I had no idea how I was going to pay for school," she said. "I did not have a college fund, so I was completely dependent on financial aid and scholarships."
Bouchard described graduating debt-free as a "big miracle," but she put plenty of effort into making that happen, including working throughout college for the App State Brantley Risk and Insurance Center and in University Housing, as well as completing six different paid internships during summer and winter breaks.
Like Adolph, she also "applied for everything" and wrote countless essays for scholarships.
"It takes time and energy — writing an essay, putting together an application and tracking and managing all of it," Bouchard said. "I had an Excel spreadsheet with deadlines and dates and links and all of that. Obviously, in my case it paid off, quite literally."
Bouchard learned so much about finding and securing financial support that she then shared this knowledge with her App State student peers. As a senior, she would hold workshops through Gamma Iota Sigma to share tips and tricks on how to write essays, where to look for scholarships, how to gain real-world experience and how to maximize those benefits.
"App State and outside organizations are really generous toward students," she said. "There are so many scholarships out there, and the small ones really add up. While a lot of students apply for those big scholarships and full rides, the smaller scholarships are often overlooked. So the odds are really good that you will get something."
Bouchard noted that her smaller scholarships led to valuable personal connections, and she still maintains contact with a lot of those people and organizations today.
Most importantly, Bouchard said scholarships allowed her to make the most of her time in college and to start off on the right foot within her career.
"Where you come from does not determine where you're going," she said. "I grew up in a small, rural town with very humble beginnings. Because I hustled and worked hard, and thanks to the generosity of scholarship donors, I was able to graduate debt-free."
'Time is money'
Another App State senior and a first-generation college student — Omar Gonzalez from Hendersonville — has also financed his education through multiple scholarships and grants.
Gonzalez is an actuarial science major in App State's Accelerated Master's program, through which he's pursuing a master's degree in applied data analytics. His scholarships and grants include the Spencer-Latin American Association of Insurance Agencies Scholarship, Chartered Property Casualty Underwriter Society Loman Scholarship, Chartered Property Casualty Underwriter Society NextGen Scholarship, International Student Financial Aid, Susanne Wolfe and International Association of Insurance Professionals Scholarship and Brantley Risk and Insurance Center Operating Fund.
Gonzalez, a U.S. Army veteran, also receives funding from the Post-9/11 GI Bill. He served in the Army for six years on active duty and four years on reserve duty as an intelligence analyst and a calvary scout.
"The GI Bill hooks us up," he said. "They pay for tuition. We also get a monthly stipend for housing. All we really have to worry about are food and other utilities and things like that. With the scholarships I get, I essentially save that to alleviate those little burdens."
Gonzalez said he especially encourages those with military backgrounds to consider furthering their education.
"A lot of people are afraid to get out of the military and go to college because it's a weird transition," he said. "A lot of people have to go from being in charge to being a student. Even if they have the GI Bill it's hard to make that transition, but college opens up all kinds of new opportunities."
Gonzalez makes it a point to budget and spend his funds wisely, and he recognizes that time is valuable, too.
"Time is money. It's not renewable," he said. "Instead of working 40 hours a week, you can maybe work 10 hours a week. You're buying yourself time to master the core subjects that you need to have, so you can add value to wherever you want to work in the future."
Gonzalez said that having extra funds has given him the time and freedom to move around, as demonstrated by his internship last summer with United Services Automobile Association Insurance Co. in San Antonio.
"I was able to afford to drive down there, stay at an Airbnb and bring my wife with me for a week or two," he said. "So with my scholarships, I have the ability to uproot for two months to San Antonio and get a ton of valuable experience."
Gonzalez underscored the importance of applying for as many scholarships as possible and to pursue a college education, even if you can't get the assistance you are hoping for.
"Even if you have to take a loss for a semester and need loans and stuff — fine, so be it," he said. "The biggest thing is just to show up. App State is a very helpful environment. Nobody is going to stand there and let you fail. There is money somewhere and you can figure it out. There might be a couple of rough moments, but it's temporary. You'll be much better off in your future with a college education, no matter what the circumstance."
What do you think?
Share your feedback on this story.
5 ways to fund your App State education
6 extra tips to cut college costs
About Scholarships at App State
Appalachian State University offers students the opportunity to receive a world-class education at an affordable rate, with an average of $25 million awarded to incoming, current and transfer students each year based on need, as well as academic and athletic achievement. On average, about $4.9 million in outside aid is awarded to App State students annually. App State's Office of Student Financial Aid and University Scholarships assists students in learning about and applying for these university scholarship opportunities and also shares information about non-App State scholarships. Learn more at https://scholarships.appstate.edu.
About Appalachian State University
As the premier public undergraduate institution in the Southeast, Appalachian State University prepares students to lead purposeful lives. App State is one of 17 campuses in the University of North Carolina System, with a national reputation for innovative teaching and opening access to a high-quality, affordable education for all. The university enrolls more than 21,000 students, has a low student-to-faculty ratio and offers more than 150 undergraduate and 80 graduate majors at its Boone and Hickory campuses and through App State Online. Learn more at https://www.appstate.edu.