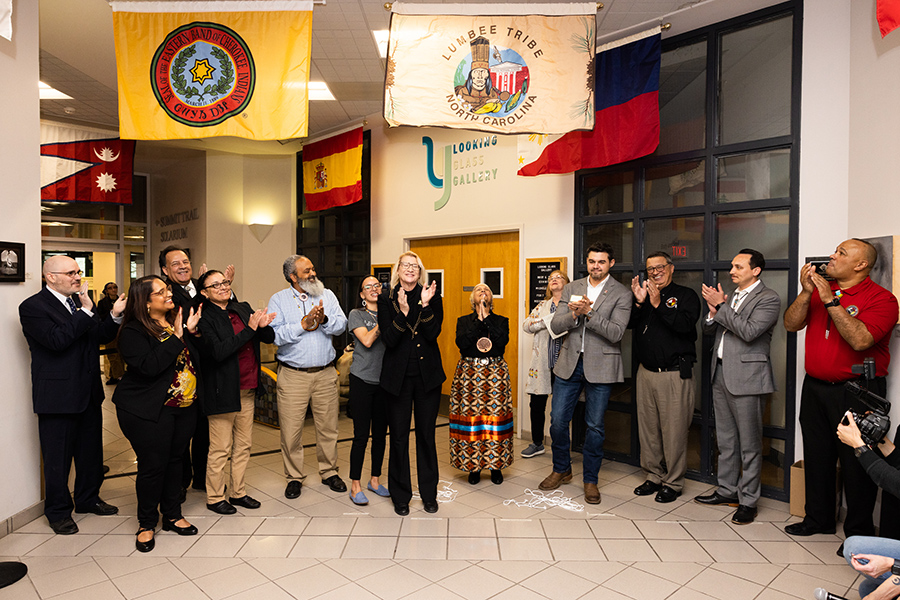 Posted March 3, 2023 at 11:43 a.m.
BOONE, N.C. — Appalachian State University recognized and honored the nearly 60,000 members of the Lumbee Tribe of North Carolina and their history on Feb. 27 with the hanging of the Lumbee tribal flag in Plemmons Student Union.
Approximately 150 people attended the flag ceremony, held in the student union's solarium and International Hallway, in person — including Tribal Administrator Ricky Harris, North Carolina Commission of Indian Affairs Executive Director Greg Richardson and several tribal council members, with more watching via livestream.
The ceremony included remarks from App State Chancellor Sheri Everts; Chief Diversity Officer Jamie Parson; Dr. Allen Bryant, App State faculty director of Indigenous communities; first-year student Cierra Bell, a Lumbee tribal member and the president of App State's Student American Indian Movement; and Dr. Seth Grooms, a Lumbee tribal member and an assistant professor of anthropology at App State. Bell and Grooms officially unfurled the flag during the ceremony.
"With this formal recognition, we will have an explicit acknowledgement of the cultural heritage and presence of the Lumbee people on our campus and a permanent, visual representation of App State's commitment to an important partnership with the Lumbee Tribe," Everts said at the ceremony.
The Lumbee Tribe is primarily based in southeastern North Carolina, with headquarters in the small town of Pembroke. The Lumbee take their name from the Lumber River — also known as the Lumbee River, which is the river's Native American name and means "black water." They are descended from the tribal nations of the Algonquian, Iroquoian and Siouan language families, including the Hatteras, the Tuscarora and the Cheraw.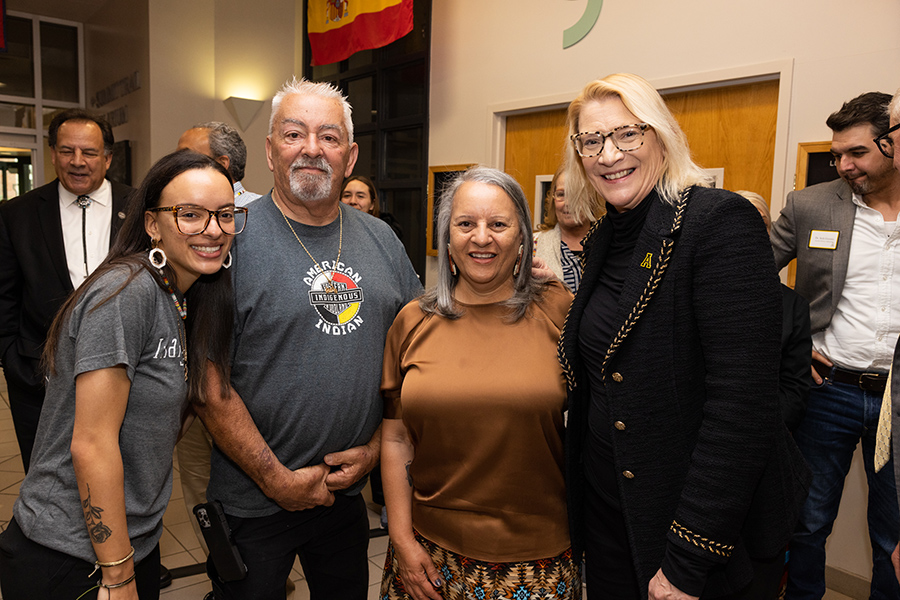 Bell — a languages, literatures and cultures major from Shannon, North Carolina, who was instrumental in organizing the flag unfurling and ceremony — said she was honored to represent the Lumbee Tribe and Native students at App State.
"As a freshman and first-generation college student, I have learned that to be involved, you have to get involved," Bell said. "This flag ceremony means a lot to me because this will be the first time the Lumbee flag has ever been formally displayed at the university — and now it will have a permanent home here."
Grooms shared remarks about what the flag means to the Lumbee Tribe — and to him personally.
"When I see this flag, it reminds me of home, of the Carolina Piedmont and the Lumber River, and the feeling I get when I'm around longleaf pines. That feeling of rootedness and knowing who you are and where you come from," Grooms said. "This flag symbolizes pride in our heritage. It symbolizes self-determination and perseverance. This flag reminds me of our fight for political sovereignty and our fight for our own schools. And the stand that my grandmother's generation made against the KKK at Hayes Pond."
"This flag also means that App State sees us, and when Lumbees see this flag, I hope you're full of pride in who you are, who your ancestors are," he continued. "And while we honor our ancestors, and we remember our past, it's important for people to realize that we're a modern and dynamic community with our eyes on the future."
Bryant underscored the university's commitment to supporting American Indian students and commended the leadership and initiative demonstrated by the members of the Student American Indian Movement at App State.
The Lumbee tribal flag is the second Indigenous flag to be installed in the student union. In 2017, Chancellor Everts hosted a ceremony for the hanging of the Eastern Band of the Cherokee flag.
What do you think?
Share your feedback on this story.
About Diversity and Inclusion at Appalachian
Appalachian State University is committed to developing and allocating resources to the fundamental task of creating a diverse campus culture. We value diversity as the expression of human similarities and differences, as well as the importance of a living and learning environment conducive to knowledge, respect, acceptance, understanding and global awareness. Learn more at http://diversity.appstate.edu.
About Appalachian State University
As the premier public undergraduate institution in the Southeast, Appalachian State University prepares students to lead purposeful lives. App State is one of 17 campuses in the University of North Carolina System, with a national reputation for innovative teaching and opening access to a high-quality, affordable education for all. The university enrolls more than 21,000 students, has a low student-to-faculty ratio and offers more than 150 undergraduate and 80 graduate majors at its Boone and Hickory campuses and through App State Online. Learn more at https://www.appstate.edu.