Posted June 9, 2023 at 2:35 p.m.
BOONE, N.C. — This summer, the first academic building of Appalachian State University's Innovation District — the Conservatory for Biodiversity Education and Research — will begin to take shape, with construction slated to begin in July.
"As the Innovation District develops, it will provide a thriving space where students, faculty and staff work together with industry partners in specialized areas that capitalize on App State's strengths and regional identity. Collaborations across colleges and disciplines will prepare students for career progression in a dynamic work environment," said App State Chancellor Sheri Everts.
She continued, "The district, through its Conservatory for Biodiversity Education and Research and other buildings, will serve as a vital link between the campus and the regional community through education, economic development, research and outreach."
According to App State Associate Vice Chancellor of Facilities Management Nick Katers, the approximately 50,000-square-foot building will be among the nation's first academic research facilities built to the rigorous sustainability standards of the Living Building Challenge (LBC) — meaning the building must generate more energy than it uses and be made of materials that are healthy for the environment, with all water captured and treated on site.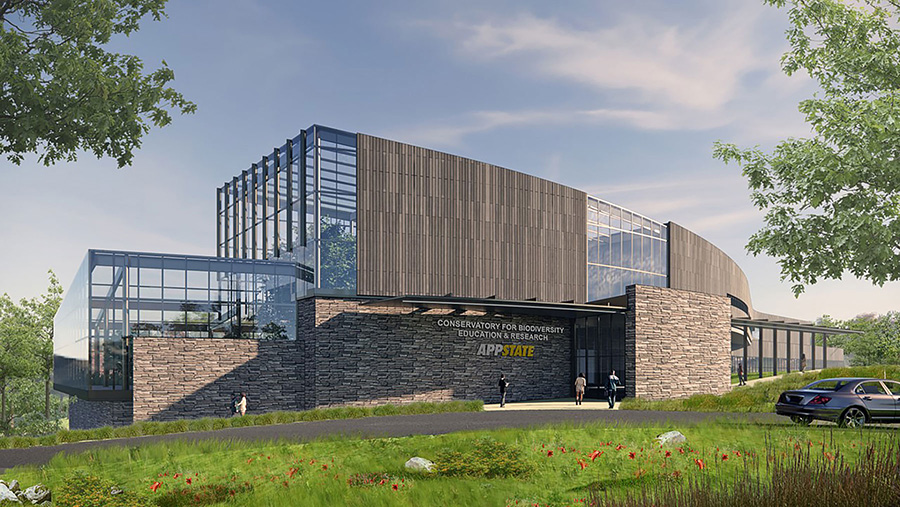 One of three components in the first phase of development for the Innovation District, the conservatory will bring together expertise across disciplines and facilitate collaborations on campus, as well as encourage K–12 partnerships. It will also build on existing opportunities available through the Department of Biology's teaching and research facilities. Housing for App State faculty and staff, along with a zero-carbon energy system to power the district's facilities, is also planned for phase one.
Paired with the adjacent App State Nature Preserve, the conservatory will advance knowledge surrounding the natural and cultural history of the Southern Appalachian region, allowing the App State Community and visitors to:
understand the natural history and economic importance of the region's biodiversity; and
gain a heightened appreciation of the research and creative endeavors being conducted at App State.
As Katers shared during his presentation to the university's Board of Trustees on March 24, the building will have up to four different climate zones in its conservatory portion, as well as a full suite of biology laboratories, classroom space and large event spaces, with adjacent public and research gardens designed to showcase the biodiversity of regional flora.
Katers added that the classrooms will have dividers, allowing for space modifications that meet the needs of both students and faculty, and the event spaces will feature garage-style glass doors that, when opened, will extend those spaces into the nearby gardens — essentially bringing the outside in and connecting attendees with nature.
App State's targeted opening date for the conservatory is 2025, in time for the fall 2025 semester.
This project is one of several major campus construction projects set to begin at App State's Boone campus this summer, including renovations to Edwin Duncan Hall and Wey Hall, and the construction of a new parking deck next to Holmes Convocation Center.
App State ceremoniously broke ground on the first phase of development for the Innovation District — beginning with the Conservatory for Biodiversity Education and Research — on March 25, 2022.
Creating a Living Building
The LBC program — administered by nonprofit International Living Future Institute (ILFI) — strives to create spaces that reconnect occupants with nature. According to ILFI, Living Buildings are those that:
are regenerative, connecting occupants to light, air, food, nature and community;
are self-sufficient and remain within the resource limits of their site; and
create a positive impact on the human and natural systems that interact with them.
The challenge measures seven performance areas, or "petals": Place, Water, Energy, Health and Happiness, Materials, Equity and Beauty.
To earn LBC certification, projects must demonstrate that they're meeting the program's established performance standards for at least 12 consecutive months.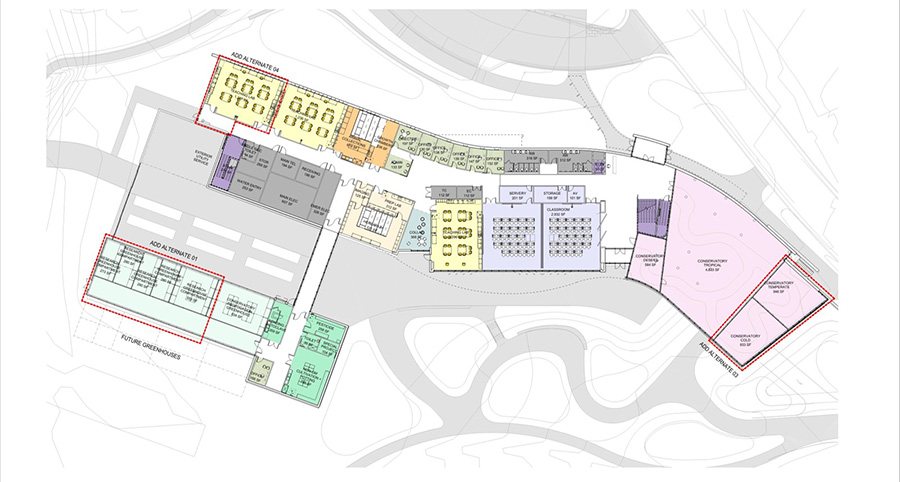 A $61.5 million investment in innovation
App State selected architecture firm Lord Aeck Sargent to serve as the project's designer, and Muter Construction and Greene Construction will serve as joint venture partners for the facility's construction.
The North Carolina General Assembly, as part of the FY 2021–22 biennial budget bill, allocated $54 million in non-recurring funds for App State to begin work on the Innovation District project, beginning with the Conservatory for Biodiversity Education and Research.
At its March 24 meeting, App State's Board of Trustees authorized an additional $7.5 million in funding for the conservatory project, to allow room for any potential inflationary adjustments, Katers said. The additional funding was approved by the University of North Carolina System Board of Governors at the board's April meeting.
Innovating through collaboration
App State's Innovation District, located at the top of Bodenheimer Drive on the university's Boone campus, will bring together expertise across disciplines and facilitate collaborations on campus and with communities throughout the region, extending the university's mission of teaching, research and service — while preparing the workforce of today and building the workforce of tomorrow.
In addition to the Conservatory for Biodiversity Education and Research, the project's first development phase includes:
More than 150 multifamily, multistory residential units, which will help meet App State employees' housing needs amid housing scarcity and cost inflation in the area. Affordable options will be available for the planned units, with layouts consisting of one-, two- and three-bedroom configurations.
A zero-carbon district energy system that will begin to transition the Boone campus away from steam power. This means the buildings in the Innovation District will be highly energy efficient and powered by carbon-free, renewable energy sources, which will not only lower the environmental impact of the buildings but also help make them more financially viable.
The district's faculty and staff housing and zero-carbon energy system — scheduled for completion in 2025 — will be supported through public-private partnerships (P3) that do not rely upon state funds or any capital from the university.
Subsequent development phases for the Innovation District will include additional academic and partnership spaces. Facilities under discussion include:
Spaces for research, teaching, and demonstration.
Workspaces for multidisciplinary projects.
Renewable energy labs.
Conference rooms.
Exhibition and studio spaces.
Housing.
This long-term project has been included in the university's master planning since 2016 — a year after the University of North Carolina System Board of Governors designated this property with millennial campus status, providing greater flexibility for planning and utilization of the property. Numerous faculty and staff have worked to develop a vision for it, with input from students and alumni.
The Innovation District will utilize expertise found in App State's Appalachian Energy Center, Center for Appalachian Studies, Research Institute for Environment, Energy and Economics, Transportation Insight Center for Entrepreneurship, and the Small Business and Technology Development Center.
App State's six-year capital projects plan, submitted to the University of North Carolina System last fall, includes additional academic buildings for the Innovation District.
Visit the App State's Future website to learn more about this project and other major campus construction projects at App State.
What do you think?
Share your feedback on this story.
Phase 1 development includes the Conservatory for Biodiversity Education and Research, as well as faculty/staff housing.
March 25, 2022
About Sustainability at Appalachian
Appalachian State University's leadership in sustainability is known nationally. The university's holistic, three-branched approach considers sustainability economically, environmentally and equitably in relationship to the planet's co-inhabitants. The university is an active steward of the state's interconnected financial, cultural and natural resources and challenges students and others think critically and creatively about sustainability and what it means from the smallest individual action to the most broad-based applications. The university offers both undergraduate and graduate academic degree programs that focus on sustainability. In addition, 100 percent of Appalachian's academic departments offer at least one sustainability course or course that includes sustainability, and all students graduate from programs that have adopted at least one sustainability learning outcome. Learn more at https://appstate.edu/sustainability.
About Appalachian State University
As the premier public undergraduate institution in the Southeast, Appalachian State University prepares students to lead purposeful lives. App State is one of 17 campuses in the University of North Carolina System, with a national reputation for innovative teaching and opening access to a high-quality, affordable education for all. The university enrolls more than 21,000 students, has a low student-to-faculty ratio and offers more than 150 undergraduate and 80 graduate majors at its Boone and Hickory campuses and through App State Online. Learn more at https://www.appstate.edu.