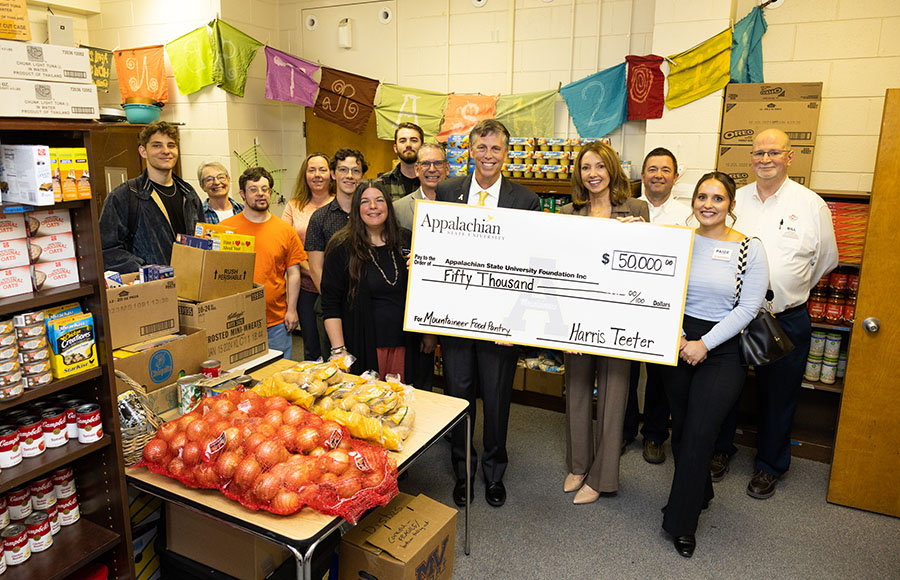 Posted June 20, 2023 at 5:11 p.m.
BOONE, N.C. — Appalachian State University's Mountaineer Food Hub has new resources to address food insecurity within the Boone campus community thanks to a $50,000 donation from Harris Teeter — marking the largest corporate gift in the food hub's history.
The funds — to be distributed by Harris Teeter over the next 10 years — will help provide food and personal care items for the Mountaineer Food Hub, housed in the Office of Sustainability at East Hall, as well as for the 12 additional food hub locations across campus.
"Our food hub network is a critical resource for Mountaineers who are experiencing food insecurity," said App State Chief Sustainability Officer Lee Ball Jr. "Through this generous contribution from Harris Teeter, we can ensure continued and elevated support for the members of our campus community who are in need."
App State's food hubs are available to university students, staff and faculty and offer nonperishable staples, as well as fresh bread and seasonal fruits and vegetables, when available.
During the 2022–23 academic year, the university's food hubs distributed more than 16,000 pounds of food to Mountaineers. Studies show that 1 pound of food typically equals one meal for an adult.
Led by App State alum, Harris Teeter partners to impact food insecurity
In April, Harris Teeter President Tammy DeBoer '91 — who earned a degree in business technology from App State — toured the Mountaineer Food Hub and Free Store with Ball and representatives from Harris Teeter and the Office of Sustainability.
"I'm so proud to partner with Appalachian State University, my alma mater, to provide nutritious food to the on-campus food pantry to help enrich the lives of current and future App State students and the Greater Boone community," said DeBoer.
DeBoer continued, "One of Harris Teeter's main giving priorities is helping feed hungry people and that includes college students. We want our future leaders to focus on their education and not worry about where their next meal is coming from."
This gift continues Harris Teeter's ongoing efforts to reduce food insecurity. The company partners with seven colleges and universities throughout the Southeast to provide funds for their on-campus food pantries, and, on average, it donates more than $20 million in foods and funds to food banks each year across its market areas, according to Harris Teeter.
Opportunities to give
Gifts to the Mountaineer Food Hub can be made online or by contacting Jeff McPherson, director of development for university initiatives, at 828-262-7194 or mcphersonjl@appstate.edu.
What do you think?
Share your feedback on this story.
Mountaineer Food Hub locations
About Sustainability at Appalachian
Appalachian State University's leadership in sustainability is known nationally. The university's holistic, three-branched approach considers sustainability economically, environmentally and equitably in relationship to the planet's co-inhabitants. The university is an active steward of the state's interconnected financial, cultural and natural resources and challenges students and others think critically and creatively about sustainability and what it means from the smallest individual action to the most broad-based applications. The university offers both undergraduate and graduate academic degree programs that focus on sustainability. In addition, 100 percent of Appalachian's academic departments offer at least one sustainability course or course that includes sustainability, and all students graduate from programs that have adopted at least one sustainability learning outcome. Learn more at https://appstate.edu/sustainability.
About University Advancement
Appalachian State University's Division of University Advancement supports and encourages the university's mission by engaging alumni, friends and the greater community. University Advancement staff help connect these constituents with Appalachian through one-on-one contact and special programming, thereby securing the resources necessary to create the best possible learning environment for Appalachian students and to positively impact the community, region and state. The division incorporates the offices of Alumni Affairs, Development and the Appalachian State University Foundation Inc. Learn more at http://give.appstate.edu.
About Appalachian State University
As the premier public undergraduate institution in the Southeast, Appalachian State University prepares students to lead purposeful lives. App State is one of 17 campuses in the University of North Carolina System, with a national reputation for innovative teaching and opening access to a high-quality, affordable education for all. The university enrolls more than 21,000 students, has a low student-to-faculty ratio and offers more than 150 undergraduate and 80 graduate majors at its Boone and Hickory campuses and through App State Online. Learn more at https://www.appstate.edu.