Posted July 10, 2023 at 3:23 p.m.
BOONE, N.C. — Appalachian State University's solar vehicle team, Team Sunergy, placed second in the multi-occupant vehicle (MOV) category of the 2023 Electrek Formula Sun Grand Prix (FSGP), which took place from June 30 to July 2 at Heartland Motorsports Park in Topeka, Kansas.
During the competition, solar cars drove eight hours per day to complete as many laps as possible on the 2.5-mile road course. App State's solar vehicle, ROSE (Racing on Solar Energy), completed 275 laps for a total of 687.5 miles.
"The team's performance was phenomenal, and it was extremely evident how prepared they were going into the competition," said Dr. Lee Ball, App State's chief sustainability officer and Team Sunergy's lead administrator. "These solar racing events give our students a chance to educate their peers, the App State Community and the public about new technologies that can impact the transportation industry. I'm very proud of their accomplishments."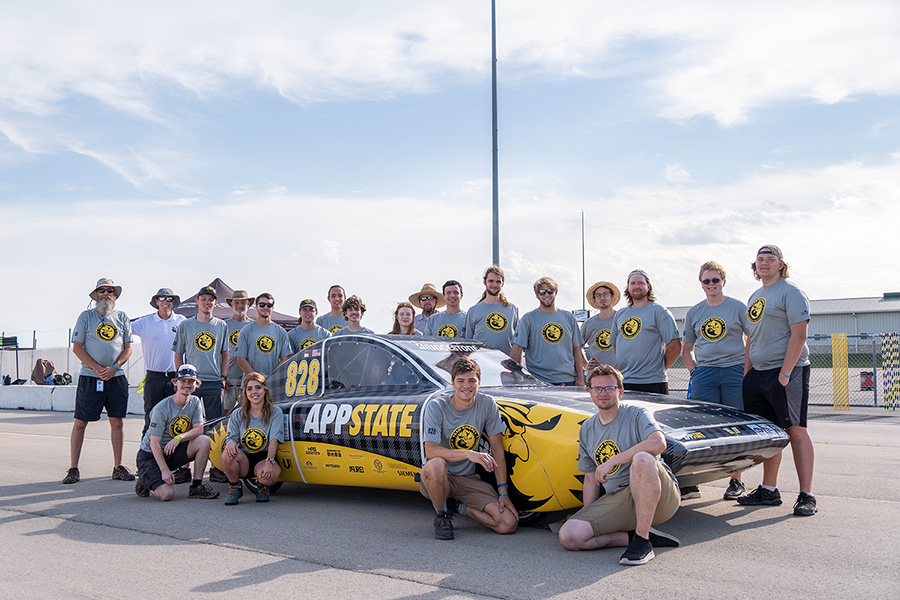 App State completed the most laps and had the highest average speed in the MOV category of the race, but the final result is based on a points system that also factors in the number of passengers in the vehicle, the amount of external energy usage and more.
Zach Howard, a junior sustainable technology major from Holly Springs and the lead mechanical engineer for Team Sunergy, was recognized for completing the fastest lap in the MOV category with a time of three minutes and 31 seconds. Team Sunergy also won the Abe Poot Teamwork Award for impressing race officials with its unmatched team chemistry.
"Even though we didn't win, I couldn't be more proud of the team," said Howard. "We were given the teamwork award because we were always smiling, laughing and doing whatever we could to help other teams succeed, whether that was offering our expertise, sharing spare parts or even donating our tools. Every team, no matter how hard the competition, wants to see everyone succeed. It truly felt like a family this year."
Kyla Willoughby, a senior commercial photography major from Chapel Hill and the media leader for Team Sunergy, echoed Howard's sentiment that FSGP is a competitive race, but also a friendly one.
"The best part of this competition is getting to make friends and getting closer to the other teams," she said. "Everyone is eager to learn and to spread knowledge about their cars. This community is like no other."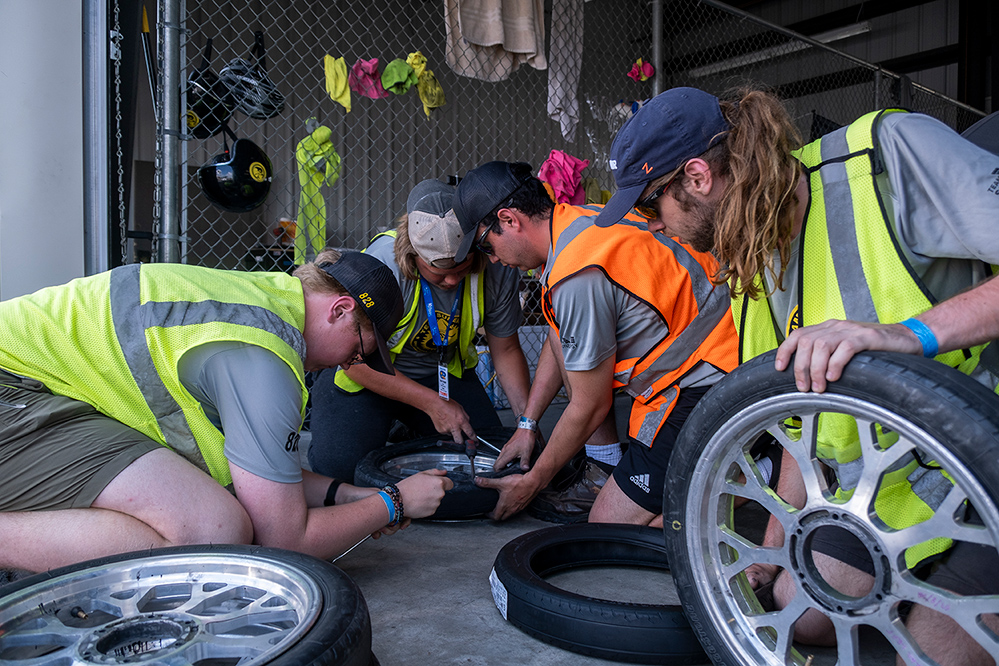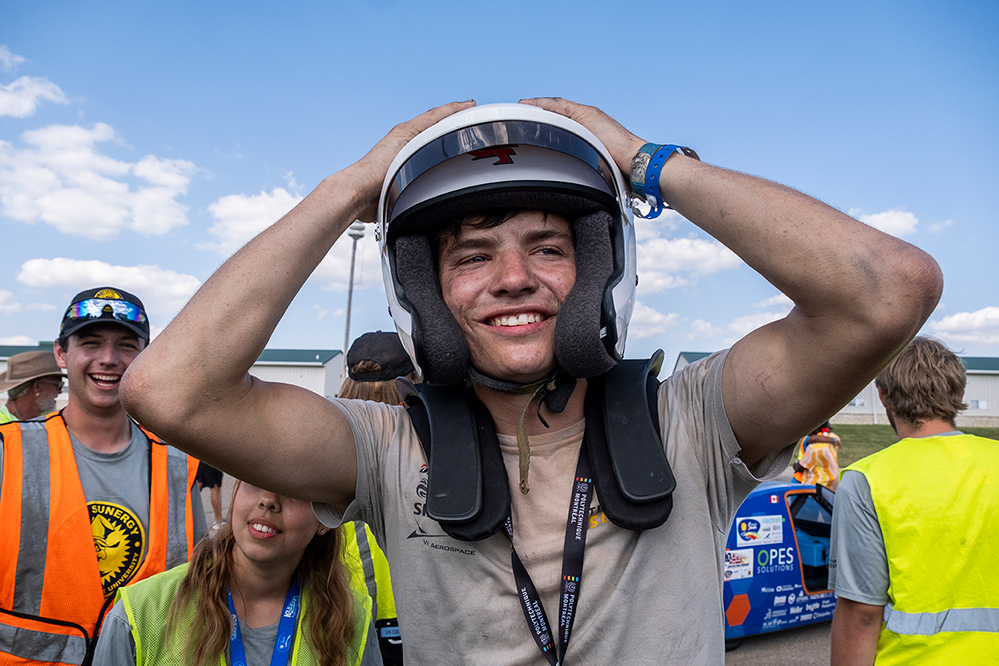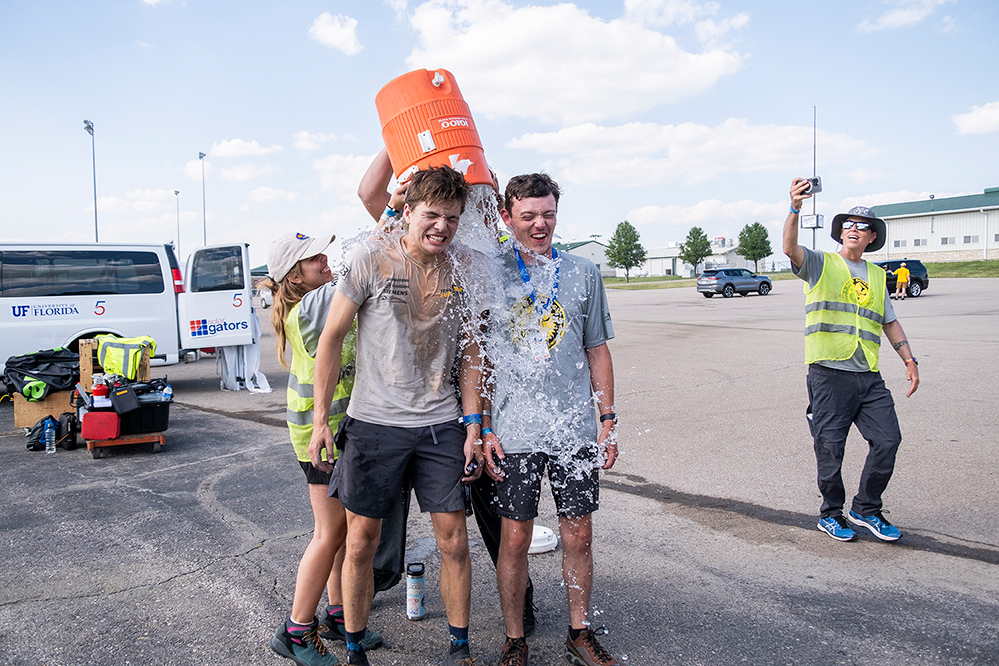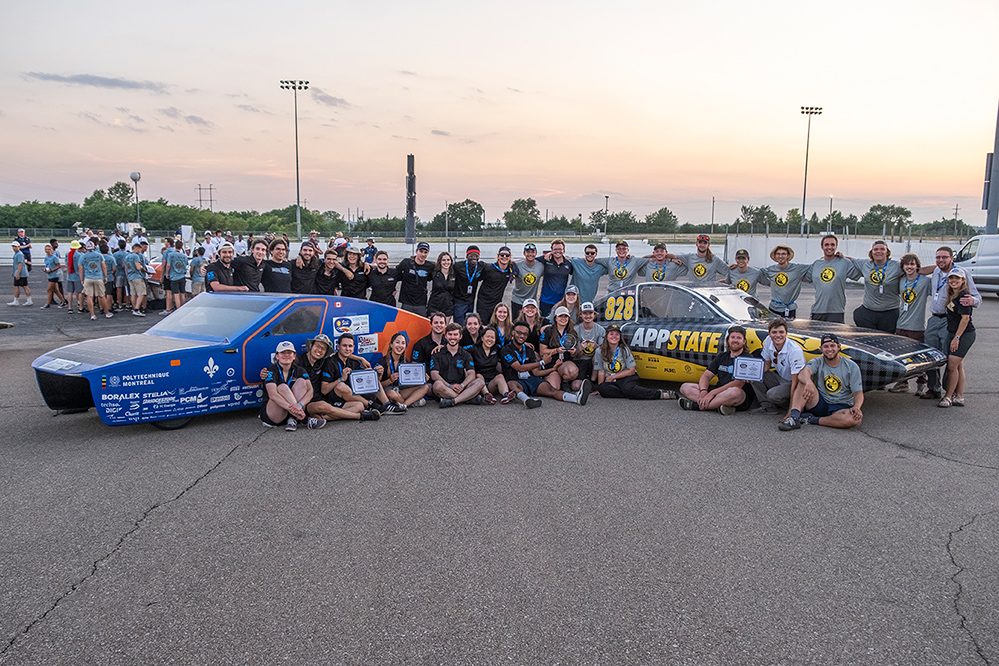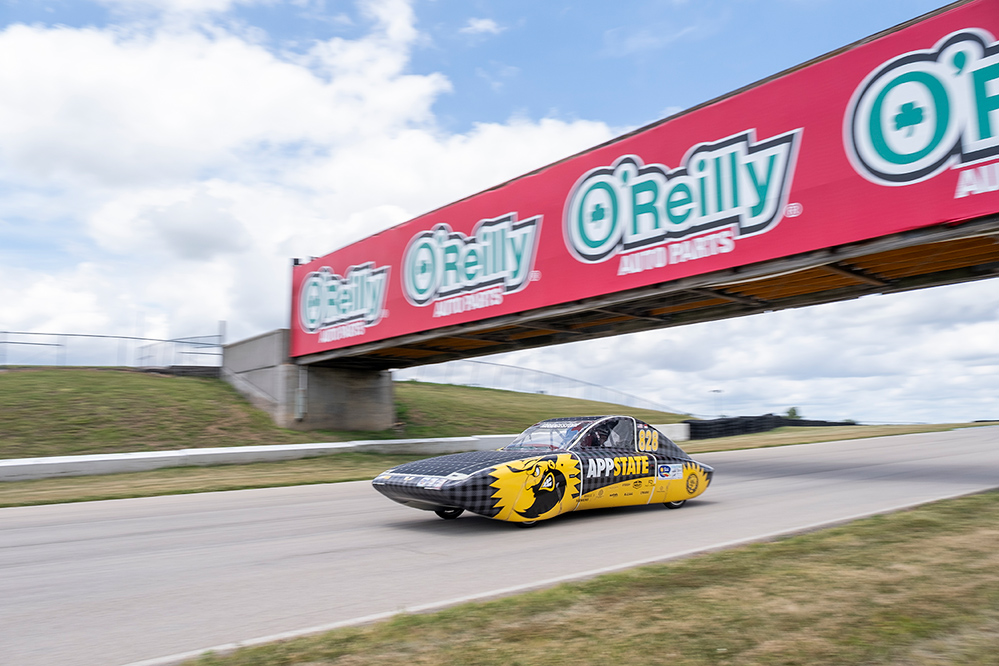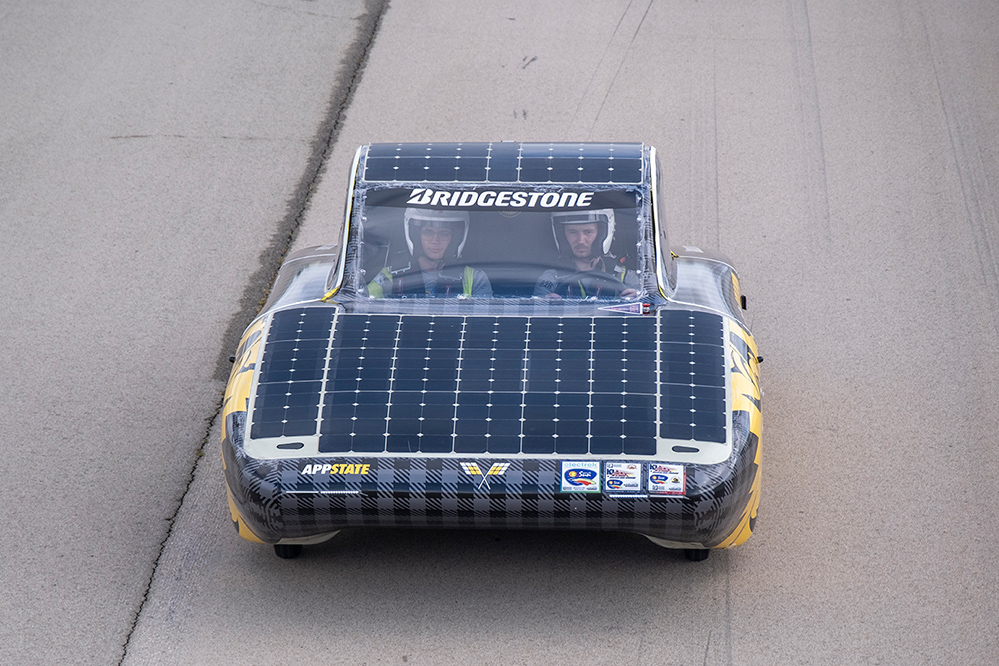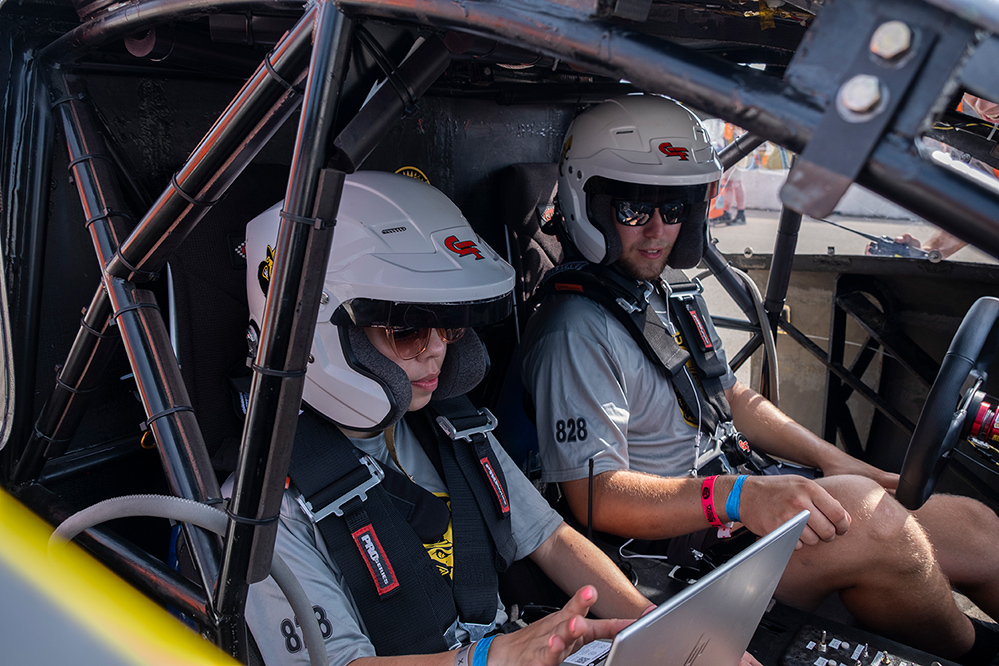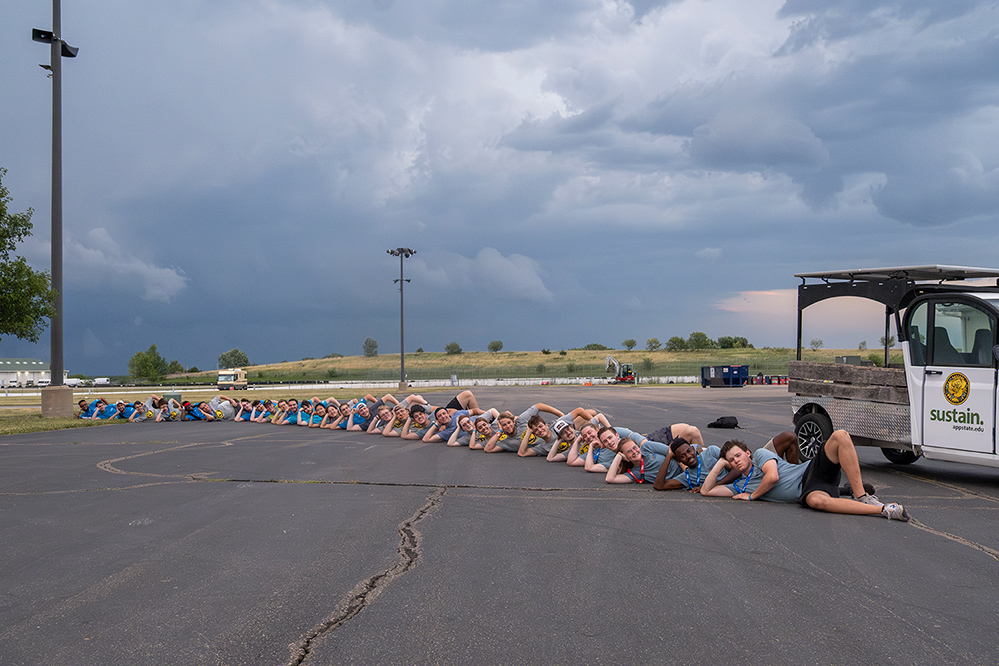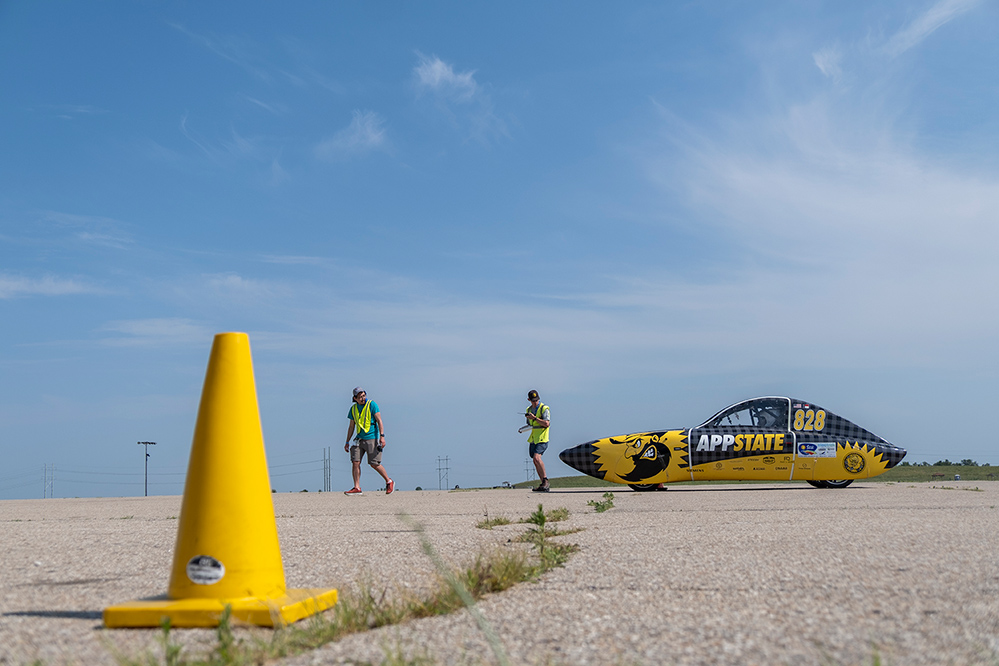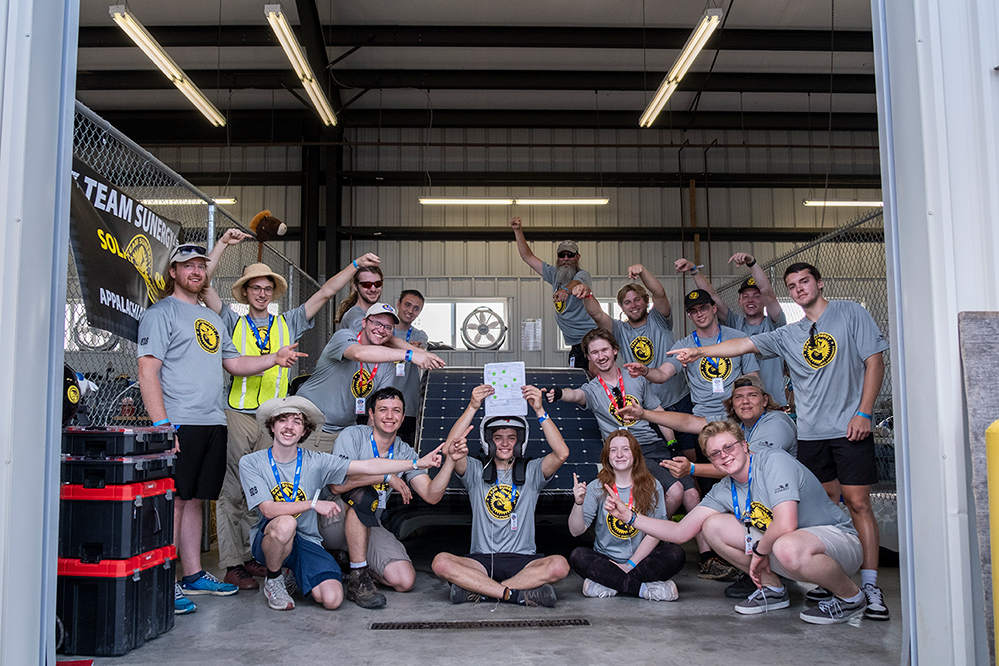 Before the race, teams must participate in three days of scrutineering — a rigorous inspection and review process of each solar vehicle's mechanical and electrical components, including lights and vision, body and sizing, battery protection, array testing and dynamics testing.
"This was my third time going to the FSGP, and this has got to be the most coordinated team I've worked with," said Willoughby. "This was the quickest we have ever passed scrutineering. Everyone understood their roles and really helped us pull through."
The FSGP race tests the limits of the vehicles — from handling curves to braking and acceleration, with quick pit stops being a crucial component of the competition. Pit crews have access to small electronic devices such as laptops, antennas and radios, and each team has an allotted amount of time for solar charging in the mornings and evenings.
"There are many nights with very little sleep as we try to frantically troubleshoot and solve problems," said Howard. "This, followed by early mornings and working all day in the Kansas sun, is not for the faint of heart. But it's worth it to race with schools from all over the country that truly care about the goal of the competition — to push these technologies to the limit and work toward a more sustainable future."
As for the next steps for Team Sunergy, Ball said some new plans are in the works.
"Going forward, our primary goal is to build our next-generation car," he said. "Current solar vehicle technologies are capable of lighter and more efficient designs. In addition, we are always recruiting new team members in order to maintain momentum."
On years when the cross-country American Solar Challenge (ASC) is held, FSGP serves as the qualifier event for the competition. Team Sunergy finished in second place at last year's ASC, and finished in first place in the 2021 ASC. The team plans to participate in the next ASC in 2024.
What do you think?
Share your feedback on this story.
The team also earned the competition's Electrical Design Award
Aug. 5, 2022
About Team Sunergy
Appalachian State University's internationally recognized Team Sunergy is an interdisciplinary team with a passion for sustainable transportation — and the ingenuity, innovation and drive to create it. Its premier solar car, Apperion, gained national attention with top-three finishes in the 2016 and 2017 Formula Sun Grand Prix (FSGP), an international collegiate endurance competition that sets the standards for and tests the limits of solar vehicle technology. In 2018, the team's second, Cruiser Class car, ROSE (Racing on Solar Energy), placed third in the FSGP competition and tied for second place in the American Solar Challenge — an international solar vehicle distance road race held biennially by the Innovators Educational Foundation. In FSGP 2021, Team Sunergy captured second place in its class, advancing to the ASC and winning first place for multiple-occupant vehicles. Learn more at https://sunergy.appstate.edu.
About Sustainability at Appalachian
Appalachian State University's leadership in sustainability is known nationally. The university's holistic, three-branched approach considers sustainability economically, environmentally and equitably in relationship to the planet's co-inhabitants. The university is an active steward of the state's interconnected financial, cultural and natural resources and challenges students and others think critically and creatively about sustainability and what it means from the smallest individual action to the most broad-based applications. The university offers both undergraduate and graduate academic degree programs that focus on sustainability. In addition, 100 percent of Appalachian's academic departments offer at least one sustainability course or course that includes sustainability, and all students graduate from programs that have adopted at least one sustainability learning outcome. Learn more at https://appstate.edu/sustainability.
About Appalachian State University
As the premier public undergraduate institution in the Southeast, Appalachian State University prepares students to lead purposeful lives. App State is one of 17 campuses in the University of North Carolina System, with a national reputation for innovative teaching and opening access to a high-quality, affordable education for all. The university enrolls more than 21,000 students, has a low student-to-faculty ratio and offers more than 150 undergraduate and 80 graduate majors at its Boone and Hickory campuses and through App State Online. Learn more at https://www.appstate.edu.