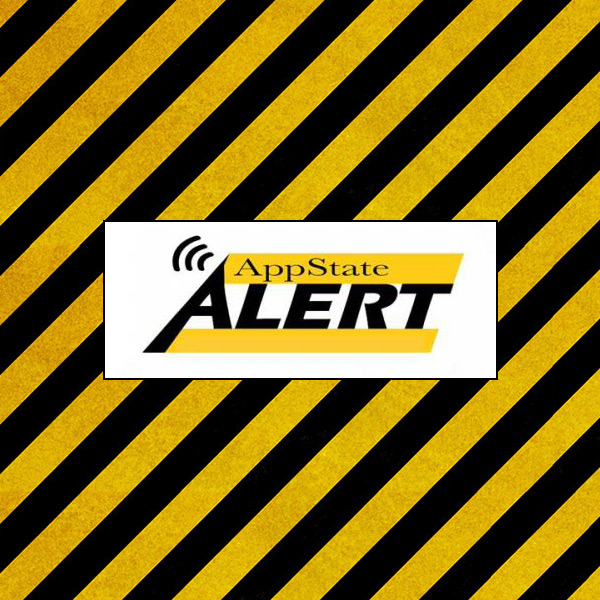 Posted Sep. 1, 2023 at 12:17 p.m.
BOONE, N.C. — September is National Campus Safety Awareness Month — an opportunity for Appalachian State University to share how it uses AppState-ALERT, its 24/7 emergency messaging system, to communicate important information to students, faculty, staff and the public during the event of a campus emergency, as well as the resources and support services that are available to Mountaineers affected by such events.
24/7 messaging through AppState-ALERT
Using a combination of text messaging, voice messaging, the siren warning system, desktop alerts, email and web technologies, AppState-ALERT is designed to provide all App State Community members with timely information in the event of an emergency at the Boone or Hickory campuses.
Students, faculty and staff should register for AppState-ALERTS through their AppalNET account to opt in to receive text messages and voice alerts. Alerts via desktop, email and web technologies are automatically sent to campus emails and campus controlled technology, such as computers and digital signage.
Students and employees already registered to receive voice and text alerts are automatically enrolled in Hickory campus messages, but may choose to update their messaging preferences through AppalNet Self-Service via the General Self-Service tab.
Texts and voice messages are only sent by the university when an emergency exists that is considered an imminent threat, which is defined as a significant emergency or dangerous situation involving an immediate threat to the life or safety of campus community members.
"We encourage students, faculty and staff to register for AppState-ALERTS so they can receive text and voice alerts in the event of any campus emergency in Boone or Hickory," said Jason Marshburn, App State's director of environmental health, safety and emergency management. "It is equally important to have your own communication safety plan with your family and friends too, including how and when you will reach out in the event of an emergency."
The AppState-ALERT system delivers emergency messages to students, faculty and staff, as they are the ones who immediately need the information, said Marshburn. However, parents and family members can also receive important updates and announcements by registering for the parent and family email listserv, through the Office of Parent and Family Services.
Up-to-date emergency information is publicly available at appstatealert.com. This website is App State's primary source of information and updates during an emergency and is kept up to date with the most current status of the university.
The levels of campus emergency conditions that App State could be operating under include:
Normal — App State is operating under normal conditions and there is no emergency information.
Emergency — There is information of an immediate threat on campus or directly involving App State.
Special — There is a nonemergency condition, such as adverse weather, that indicates that App State is not operating regularly.
These conditions will be posted on appstatealert.com.
During some high-risk conditions, such as an active shooter incident, a siren may be used on the Boone campus to broadcast an audible message. Examples of the tones that will be used in an emergency or during tests of the emergency notification system can be heard by visiting App State's Siren Warning System webpage. The siren is typically tested on the first Wednesday of each month with a discontinuous air horn.
For more information about AppState-ALERTS and to register for AppState-ALERT text and voice notifications, visit App State's emergency preparedness website.
Resources, support for the App State Community
"It is common and completely normal to experience a range of strong emotions — from fear to grief — after a traumatic event," explained Dr. Christopher Hogan, director of App State's Counseling and Psychological Services Center.
App State offers a robust network of resources and support for the entire App State Community year-round, including in times of emergency situations. These resources and support services include:
"App State counselors are fully prepared to support students in times of crises, such as a campus emergency, to help them understand the event, process their emotional responses and navigate forward in the healing process," said Hogan.
Hogan added that the Counseling Center offers after-hours emergency services for students and counselors can even provide services in residence halls, meeting students where they are.
Temporary alerts for large campus events
Temporary AppState-ALERTs are also available to the public during large campus events, such as football games held at Kidd Brewer Stadium, so that campus visitors can opt in to receive important safety-related information via text — such as in the event the stadium must be evacuated due to hazardous weather.
Those attending App State football games and events at the stadium can text "appstatealert" to 67283 to register for temporary alerts at the stadium. For example, for the Sept. 2 football game against Gardner-Webb, registration for temporary AppState-ALERTs opens Friday, Sept. 1, and will automatically expire on Sunday, Sept. 3.
Students, faculty and staff already registered for AppState-ALERTS should also register for temporary AppState-ALERTs to receive stadium-specific safety information.
What do you think?
Share your feedback on this story.
About the Department of Environmental Health, Safety and Emergency Management (EHS&EM)
The Department of Environmental Health, Safety and Emergency Management (EHS&EM) at Appalachian State University works in coordination with other university departments to support App State's commitment to campus safety. The department's primary responsibility is environmental health, safety and emergency management functions across App State's Boone and Hickory campuses. EHS&EM also coordinates App State's on-campus emergency medical service (EMS) program, Mountaineer Medics, which provides emergency medical care and support to the App State Community. Learn more at https://ehsem.appstate.edu.
About Appalachian's Counseling and Psychological Services Center
The Counseling and Psychological Services Center at Appalachian State University supports the mission of the university and its Division of Student Affairs in the academic, vocational, emotional, social and cultural development of students. The goal of the center is to assist the Appalachian Community in maximizing the personal growth and development of its members. Services, which are primarily offered to students, focus on education, prevention, remediation and crisis management. These services help students resolve personal difficulties and acquire the attitudes, abilities and knowledge that will enable them to be successful and take full advantage of their college experience. Learn more at https://counseling.appstate.edu.
About the App State Police Department
Appalachian State University's official policing agency — the App State Police Department — supports the university's academic mission by working in partnership with the campus community to prevent crime, solve problems and improve the quality of life on campus. The department's philosophy is one of proactive community engagement, collaboration and customer service, holding the safety and health of App State's community members as its top priorities. State-certified police officers, security officers and civilian employees compose the department, and this team of professionals helps to create and maintain an inclusive sense of belonging for all members of the App State Community — students, faculty, staff and visitors. Additionally, through its efforts, the department aims to be a leader in innovative public safety ideas and strategies. Learn more at https://police.appstate.edu.
About Appalachian State University
As the premier public undergraduate institution in the Southeast, Appalachian State University prepares students to lead purposeful lives. App State is one of 17 campuses in the University of North Carolina System, with a national reputation for innovative teaching and opening access to a high-quality, affordable education for all. The university enrolls more than 21,000 students, has a low student-to-faculty ratio and offers more than 150 undergraduate and 80 graduate majors at its Boone and Hickory campuses and through App State Online. Learn more at https://www.appstate.edu.