Posted Sep. 25, 2023 at 4:30 p.m.
BOONE, N.C. — Since its inception six years ago, Appalachian State University's Appalachian Police Academy has trained 120 sworn police officers, including 24 graduates who were celebrated on Aug. 26 at Rosen Concert Hall.
The ceremony — which is the culmination of App State's Appalachian Police Officer Development Program (APDP) — included awards of distinction, two class speakers and remarks from Director of Public Safety and Chief of Police Andy Stephenson. Following the presentation of certificates and awards, graduates were sworn in on stage as North Carolina police officers. Many were pinned with their badges by family members.
"Twenty-seven years ago, I was a cadet who was graduating from Indiana University's police academy," Stephenson said. "But what many people may not know is that I also participated in our first police academy at App State in 2018, after moving here from Indiana. I know firsthand how important this program is and the hard work it takes to earn the right to be sitting on this stage today as one of our graduates.
"I'd like to thank our chancellor, Dr. Sheri Everts, for allowing us to establish this incredible training program at App State, and with her continuing support, our Police Officer Development Program is now entering its seventh year," Stephenson added.
APDP is a two-year program available to all full-time App State students pursuing any academic major or course of study. The program includes the Appalachian Police Academy, a fully accredited training school in which recruits complete the training to become sworn police officers in the state of North Carolina.
When cadets enter the academy in their second year of the program, they become police recruits and will complete more than 700 training hours, exceeding the Basic Law Enforcement Training (BLET) standard of 670 hours of training. Their training includes:
First responder training, where recruits learn basic life support skills such as cardiopulmonary resuscitation (CPR), use of automated external defibrillators (AED) and critical first aid skills.
De-escalation training, in which recruits learn techniques and strategies to defuse potentially dangerous situations.
Communication skills training, in which recruits develop the skills they will use to help guide, organize, respond to and better understand the needs of others in the community.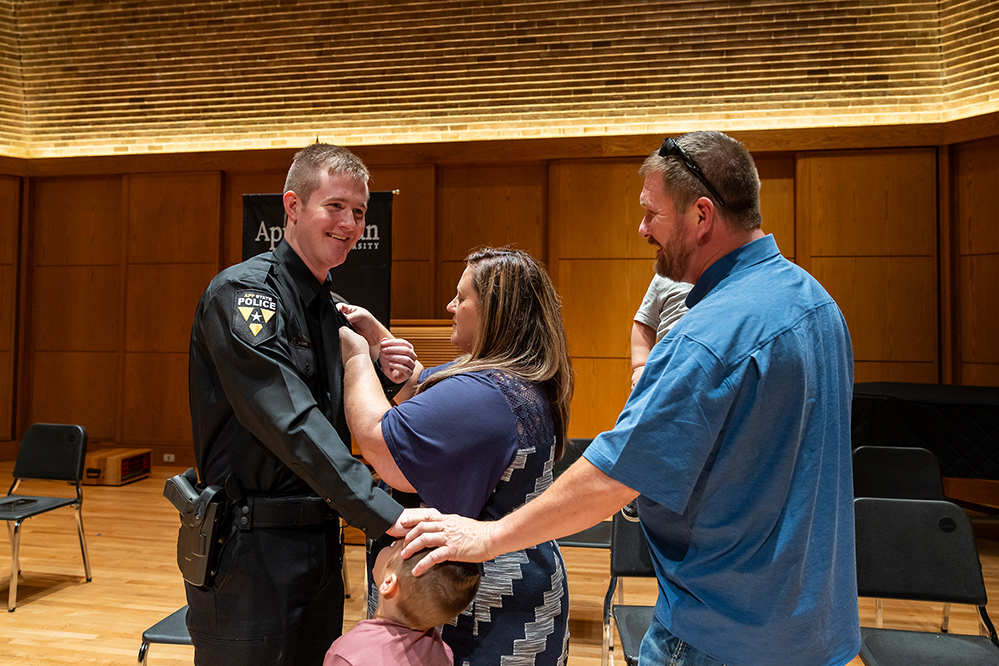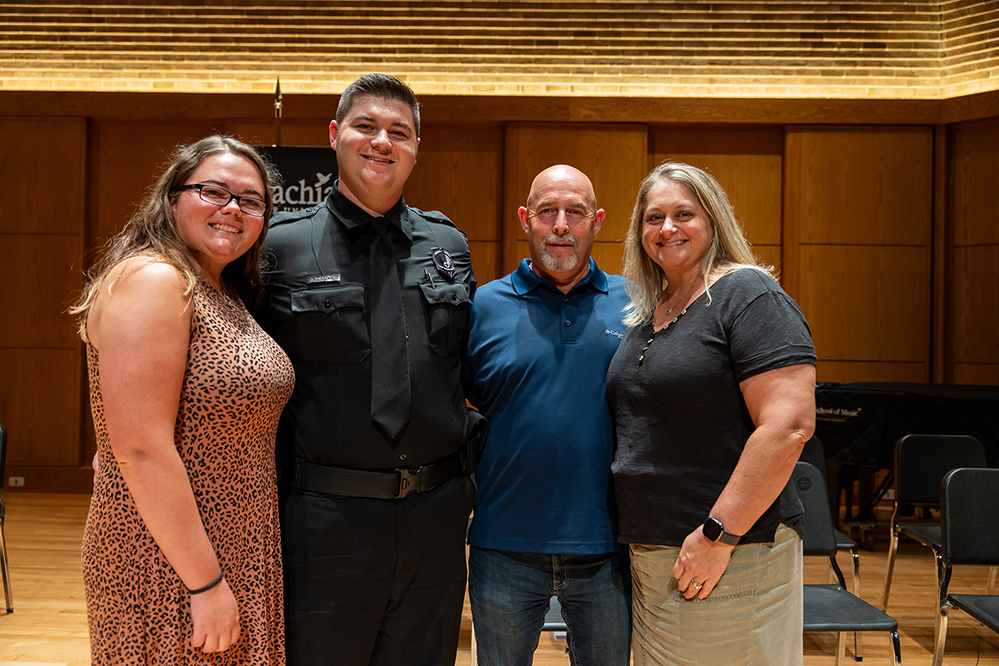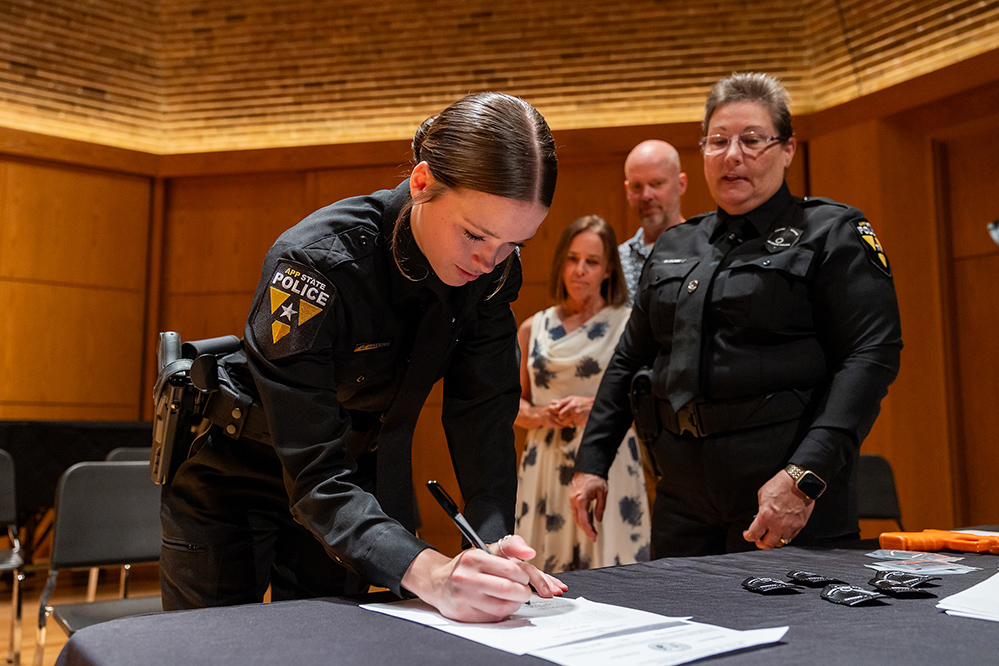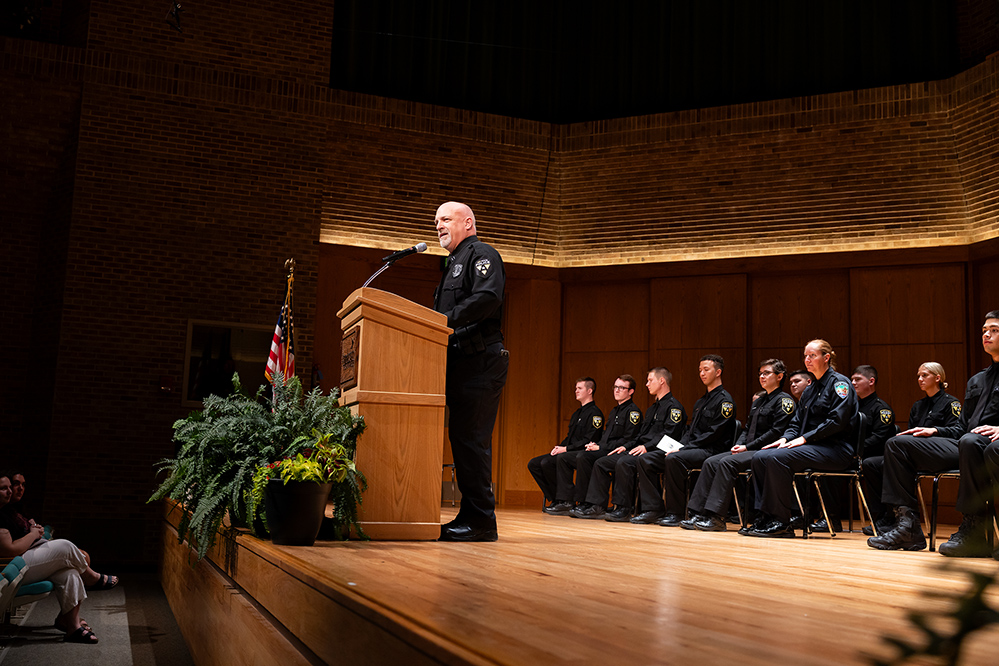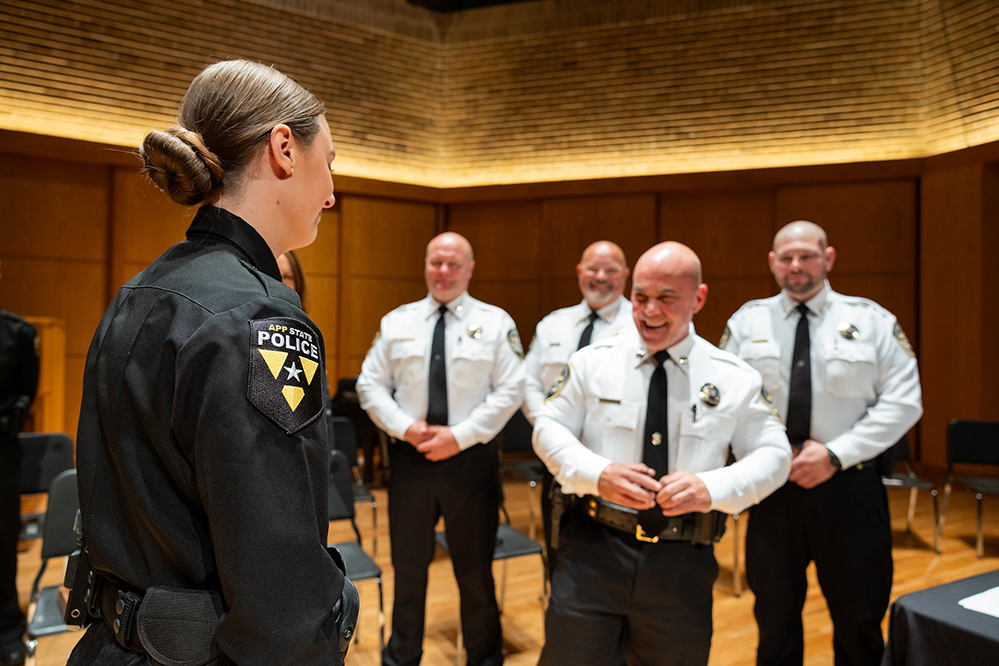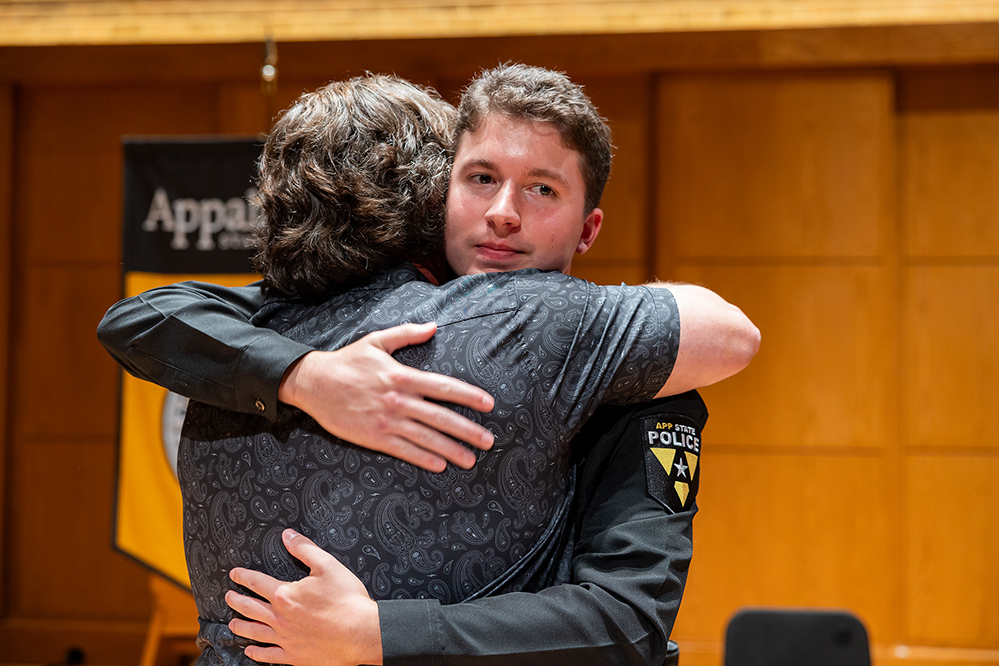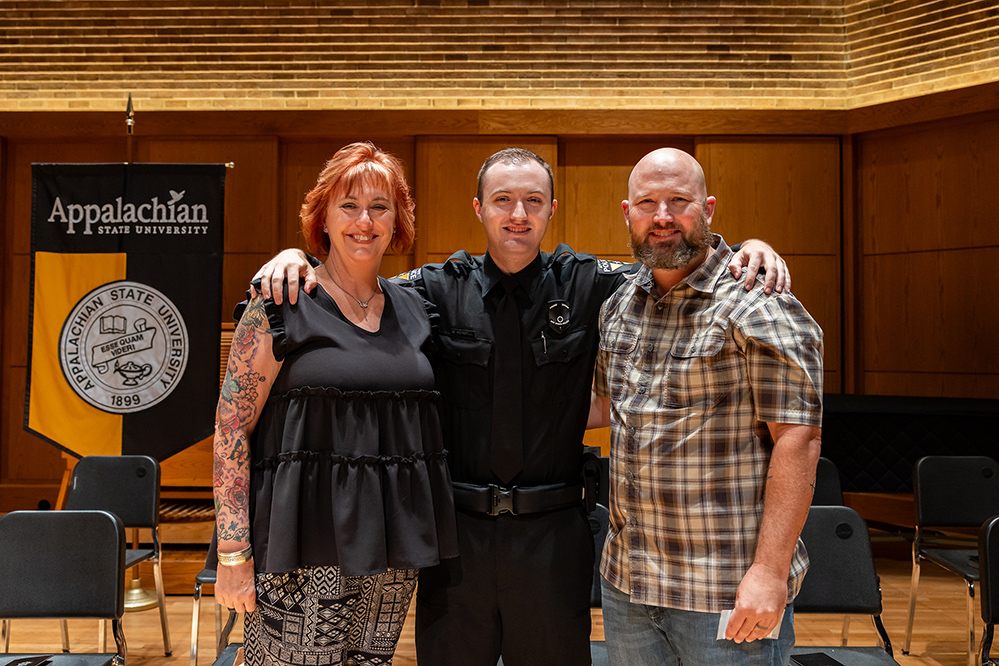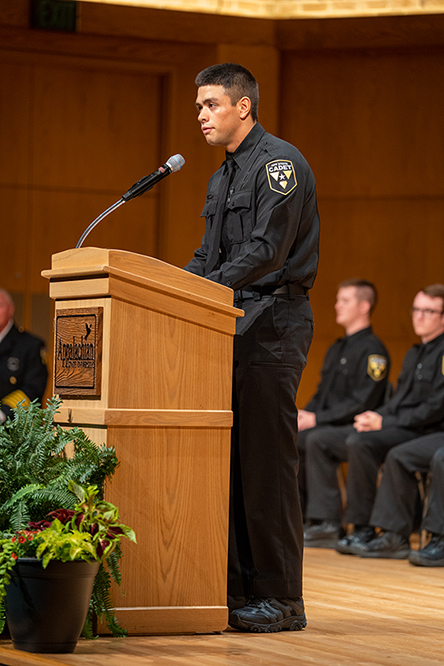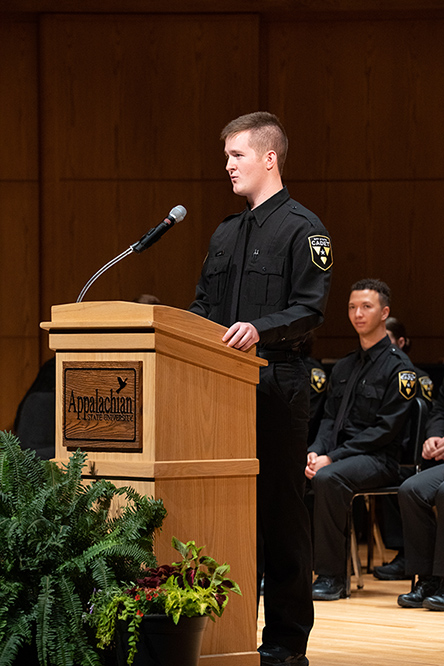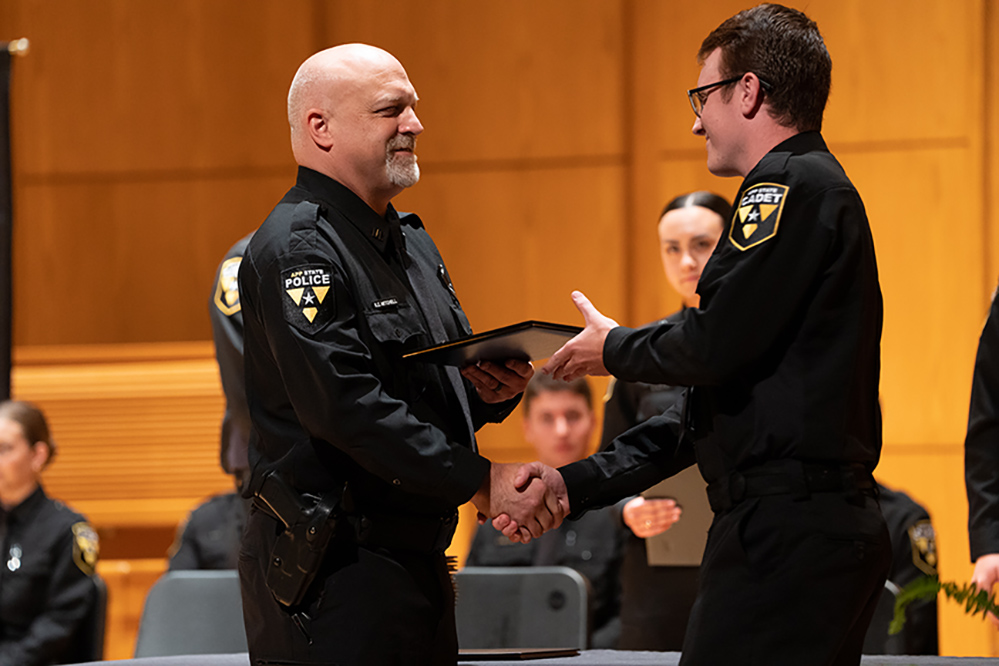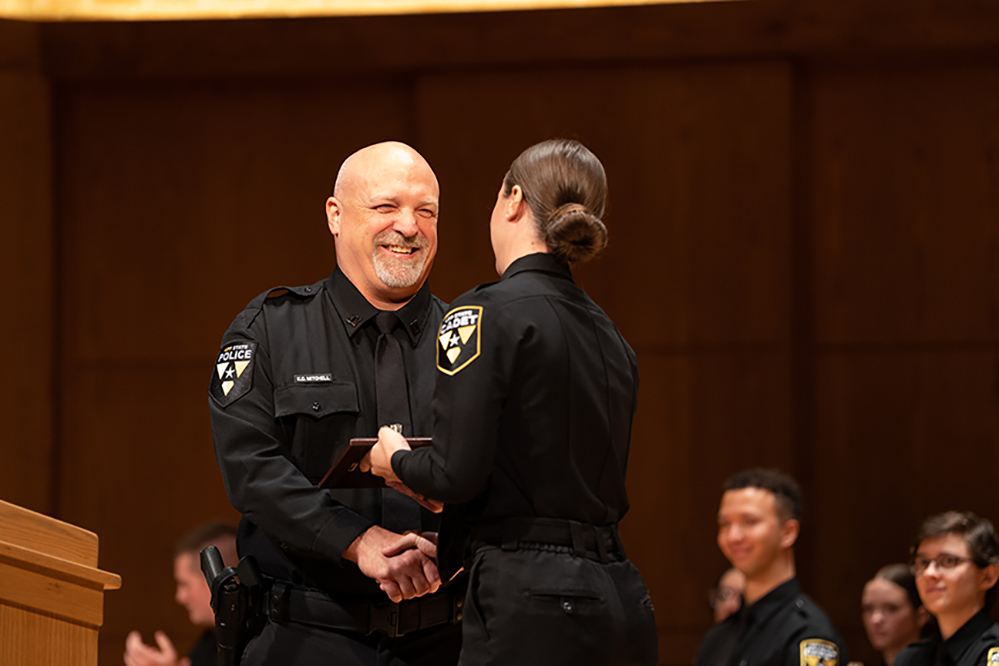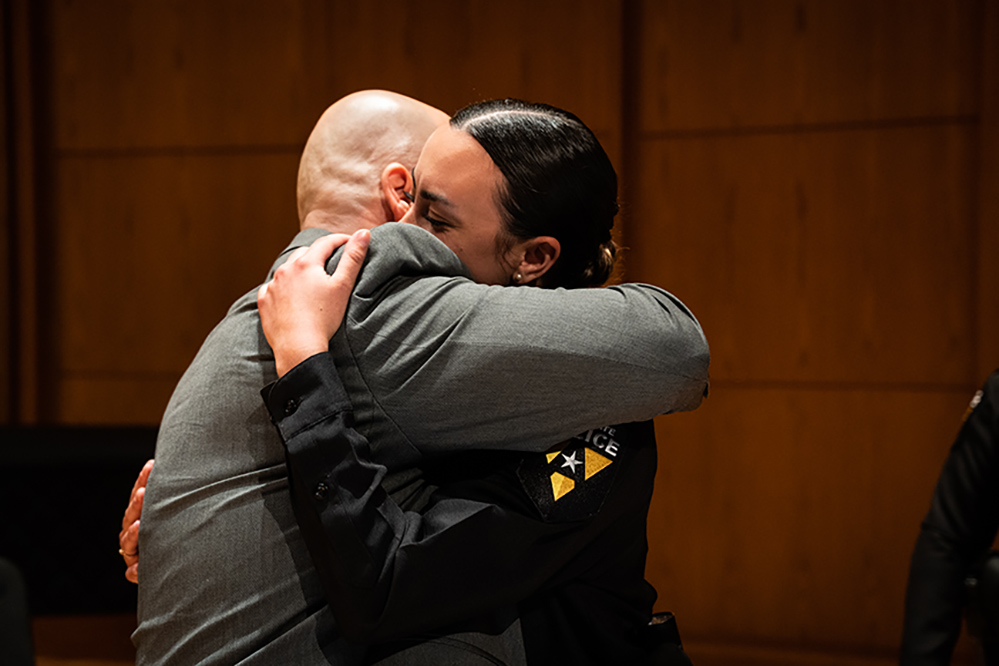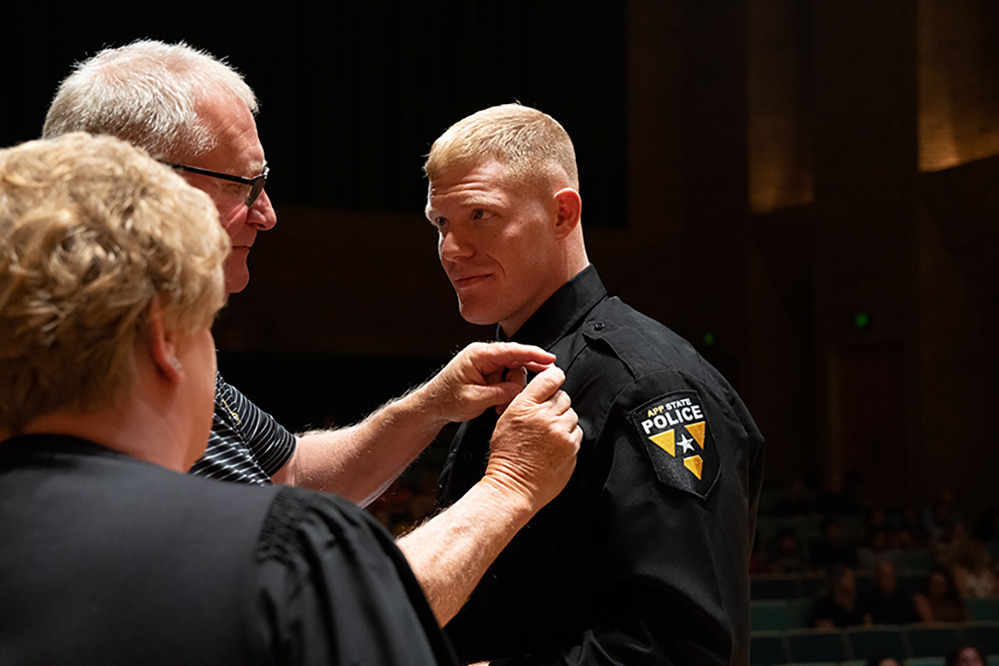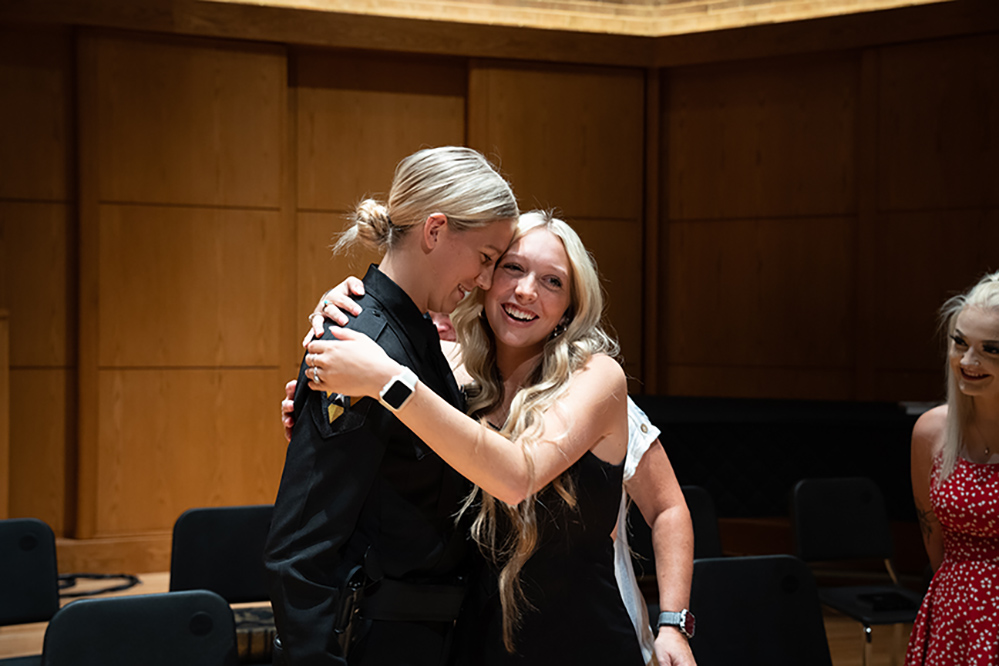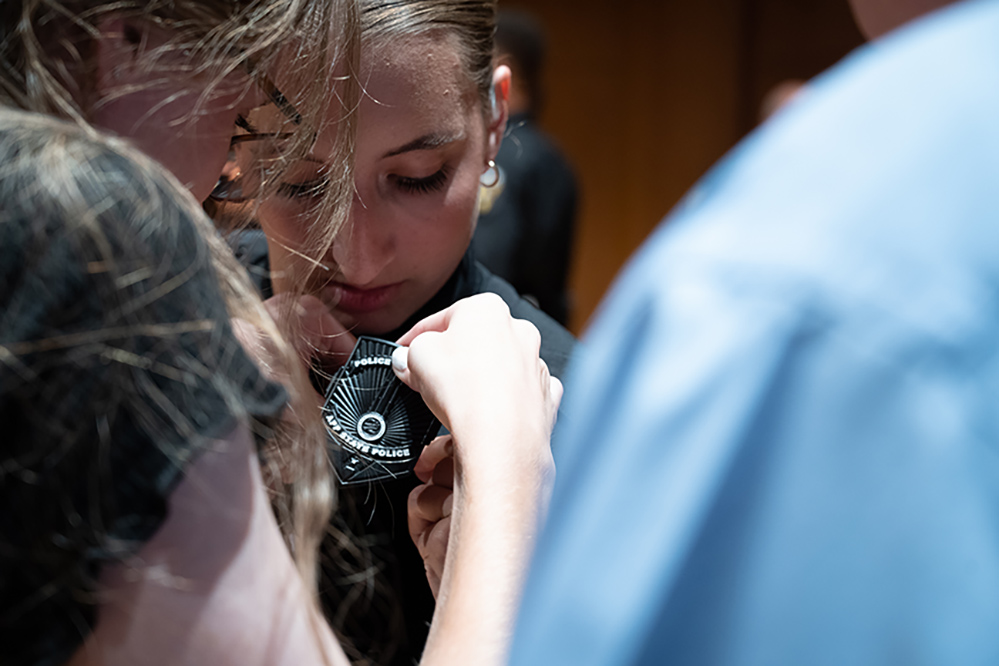 After completing the academy, graduates work part time with the Appalachian State University Police Department (APD) as sworn police officers until they graduate from App State with their degrees.
Recruits must also pass the 300-question state exam to become certified police officers in North Carolina before they begin working part time with App State Police. Graduates continue working part time in these positions as they complete their degrees.
Capt. K.C. Mitchell is the director of police development and professional standards for App State Police and also serves as director of APDP.
"From the onset, this class's members were especially connected to each other, and they wanted to do this work," Mitchell said. "This academy is very hard work, and we couldn't be more proud of what they have achieved this summer."
This year's graduation ceremony also included two class speakers — Jonathan Flores, a senior psychology major from Mount Airy, and Jacob Lowe, a junior criminal justice major from Lowgap.
Flores highlighted the program's growing reputation for excellence in training North Carolina police officers.
"We have all heard that the Appalachian Police Officer Development Program produces some of the finest police officers, and I can proudly say that this is no myth," Flores said. "Today, we join a family of brothers and sisters who have taken the oath not only to serve our community but to lay down their lives for the people within it."
Speaking next, Lowe shared more about how closely bonded the class remained throughout the summer.
"We persevered as a family. The longer the summer went on, it seemed that everyone continued to get closer," he said."When you are about to quit, remember why you started … I hope we all hold on to that for the rest of our lives."
This year's graduating class was made up of 11 female and 13 male recruits, with ages ranging from 20 to 44. Though most academy recruits are criminal justice majors, full-time students pursuing any academic major are eligible for the program. Occasionally, the academy also partners with local police to train new recruits for the Watauga County Sheriff's Office and Boone Police Department.
Some of the other majors and programs represented in the academy's Class of 2023 include psychology, sociology, political science, social work, communication, accounting, recreation management and public administration.
The graduates were sworn in and are already serving on App State's campus
Oct. 20, 2022
What do you think?
Share your feedback on this story.
2023 Appalachian Police Academy graduates
Recognizing top-performing recruits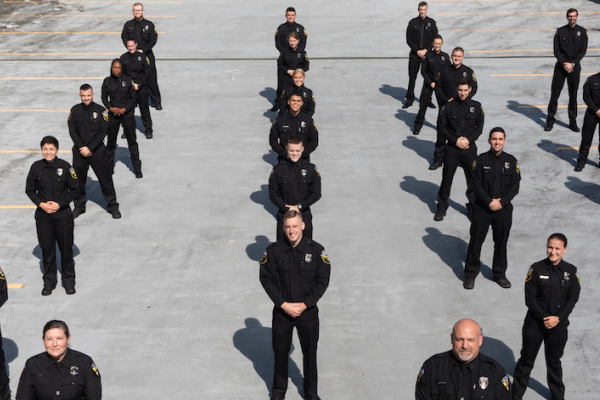 About the Appalachian Police Officer Development Program (APDP)
About the App State Police Department
Appalachian State University's official policing agency — the App State Police Department — supports the university's academic mission by working in partnership with the campus community to prevent crime, solve problems and improve the quality of life on campus. The department's philosophy is one of proactive community engagement, collaboration and customer service, holding the safety and health of App State's community members as its top priorities. State-certified police officers, security officers and civilian employees compose the department, and this team of professionals helps to create and maintain an inclusive sense of belonging for all members of the App State Community — students, faculty, staff and visitors. Additionally, through its efforts, the department aims to be a leader in innovative public safety ideas and strategies. Learn more at https://police.appstate.edu.
About the Appalachian Police Officer Development Program
The two-year Appalachian Police Officer Development Program (APDP) at Appalachian State University — the second of its kind in the nation and the only such program in North Carolina — equips students with the knowledge, skills and training to become certified law enforcement officers in North Carolina, while simultaneously earning their undergraduate or graduate degrees. Students become cadets in their first year of the program and have the opportunity to complete the Appalachian State University Police Academy during their second year to become sworn North Carolina police officers. The program is open to all full-time students, regardless of major, and students receive an hourly wage for the part-time work and training they complete with the Appalachian Police Department (APD). Learn more at https://police.appstate.edu/apdp.
About Appalachian State University
As the premier public undergraduate institution in the Southeast, Appalachian State University prepares students to lead purposeful lives. App State is one of 17 campuses in the University of North Carolina System, with a national reputation for innovative teaching and opening access to a high-quality, affordable education for all. The university enrolls more than 21,000 students, has a low student-to-faculty ratio and offers more than 150 undergraduate and 80 graduate majors at its Boone and Hickory campuses and through App State Online. Learn more at https://www.appstate.edu.