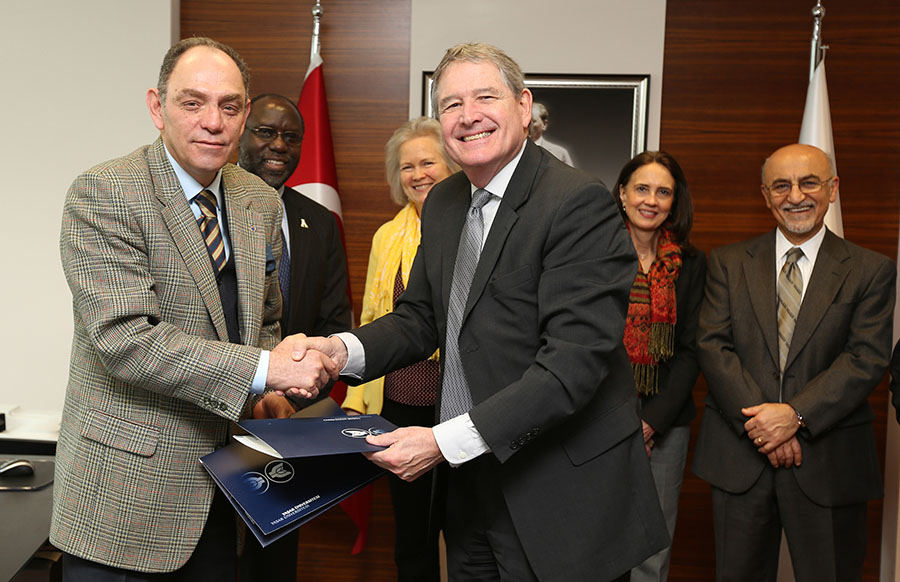 Posted March 4, 2015 at 5:03 p.m.
BOONE—Appalachian State University has added a second formal agreement with a private university in Turkey creating opportunities for student, faculty and staff exchanges from Appalachian State University and both Turkish institutions.
The newest agreement with Yaşar University in Izmir was signed in February Dr. Stan Aeschleman, interim provost and executive vice chancellor at Appalachian, and Dr. Murat Barkan, rector of Yaşar. The first partnership agreement with Bilkent University in Ankara was signed by university officials in September 2013.
"The relationship with Bilkent and Yaşar opens new opportunities for Appalachian students, faculty and students in a region where we had not had a formal relationship," said Dr. Jesse Lutabingwa, associate vice chancellor for international education and development.
In February, Provost Aeschleman led an Appalachian delegation to Turkey to visit the two institutions. Delegation members included Lutabingwa, Dr. Sandy Vannoy, assistant dean of graduate programs and research in the Walker College of Business, and Dr. Unal Boya, chair of the Department of Marketing in the Walker College of Business. Boya is a native of Turkey, and one of five faculty members at Appalachian from that country.
"I was very impressed by the quality of the faculty, the majority of whom have doctoral degrees from North American universities, and students; how closely the curricula, organizational structure, and academic calendar match ours; and the functional and attractive layout of the campus," Aeschleman said. "Additionally, the faculty and administrators with whom we met are anxious to form partnerships in several areas where we have common interests."
Although relationships with these universities are new, three Appalachian students are planning to study in Turkey – two at Bilkent and one at Yaşar in fall 2015. All courses at the two institutions are offered in English, which means that language will not be a barrier for students to study at the two institutions.
"Our visits to Yasar University in Izmir and Bilkent University in Ankara, were very productive," Boya said. "I was very impressed with the enthusiasm of both the leadership and the faculty we met at Yasar University for establishing a wide range of collaborative international programs with Appalachian."
Izmir is located on Turkey's Aegean coast and Ankara, which is the capital city of Turkey, is located in the center of the Anatolian peninsula and close to popular natural and cultural sites.
"The College of Business leadership at Bilkent University was very interested in hosting Appalachian students who would be interested in studying abroad and assisting them with internship opportunities in Turkey," Boya said. "I see great potential in collaborative cross-cultural research between the faculty at Bilkent and Appalachian as well."
Vannoy also commented on exchange opportunities for graduate students from the business college at the Turkish universities and opportunities for cross-cultural research projects between faculty, technology-enabled team-taught classes, short-term study broad programs and longer term student exchange programs. "I look forward to working with the administrators and faculty at Yasar to develop a long-term relationship between our respective graduate programs," she said.
Other opportunities between Appalachian and the Turkish institutes include guest lecturing from a distance using technology, course co-teaching from a distance, and collaborative comparative research.
About Yaşar and Bilkent universities
Established in 1999, Yaşar University enrolls more than 5,500 students. The university is comprised of seven schools and 27 academic departments. Yaşar also has the Institute for Mediterranean Studies, which provides a platform for exchange of ideas, academics, researchers, policy-makers, as well as students who are interested in exploring the political, economic and social dynamics in the Mediterranean. Yaşar's European Union (EU) Research Center stimulates and strengthens the participation of Yaşar University in the EU research and education programs.
More information about the university is online at http://www.yasar.edu.tr/en.
Established in 1984, Bilkent is the first private university established in Turkey. It has become one of the top universities in the world. It ranked 32nd in the inaugural Times Higher Education 100 Under 50 rankingsof the world's best young universities in 2012.
The university has nine colleges and 35 academic departments. More information is online at http://www.bilkent.edu.tr.
About Appalachian State University
As the premier public undergraduate institution in the Southeast, Appalachian State University prepares students to lead purposeful lives as global citizens who understand and engage their responsibilities in creating a sustainable future for all. The Appalachian Experience promotes a spirit of inclusion that brings people together in inspiring ways to acquire and create knowledge, to grow holistically, to act with passion and determination, and to embrace diversity and difference. Located in the Blue Ridge Mountains, Appalachian is one of 17 campuses in the University of North Carolina System. Appalachian enrolls nearly 21,000 students, has a low student-to-faculty ratio and offers more than 150 undergraduate and graduate majors.
What do you think?
Share your feedback on this story.