Posted May 9, 2017 at 1:14 p.m.
Rev. Dr. Chris May, adjunct professor at Appalachian State University and Dr. Linda Coutant, senior writer, editor and SEO specialist in University Communications, were front and center at the 2017 James Beard Awards gala in Chicago in early May. The elegant hors d'oeuvres and wine served offered stark contrast to the cause that brought them there – hunger in the High Country and beyond.
Coutant and May were on hand to see Denise Cerreta, creator of One World Cafe and One World Everybody Eats (OWEE), accept the 2017 James Beard Humanitarian of the Year Award.
OWEE is an international nonprofit supporting a network of pay-what-you-can community cafes that help alleviate hunger. F.A.R.M. Cafe in Boone is one of them.
The awards ceremony – often called the Oscars of the epicurean world – marked the trajectory of a story of inspired stakeholders, best non-profit practices, university involvement and serendipity that account for the sustainability of F.A.R.M. Cafe, now in its sixth year of operation. Cerreta was certainly a pivotal player in the creation of F.A.R.M. Cafe and, in a roundabout way, May is responsible for Cerreta's award nomination.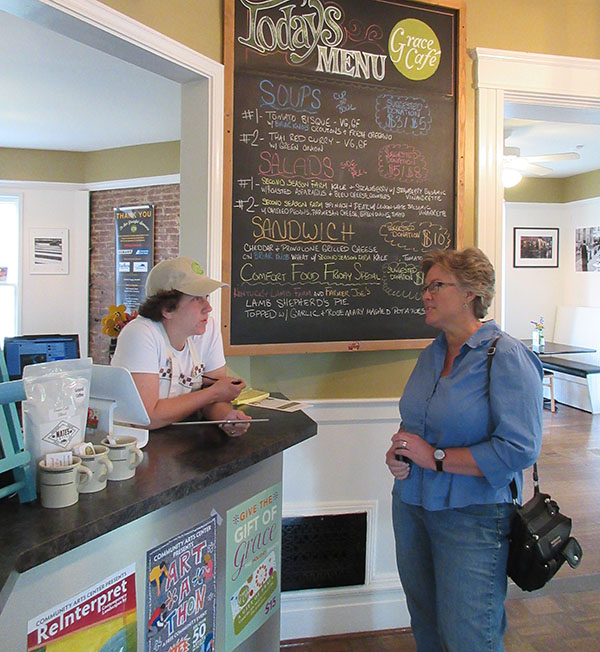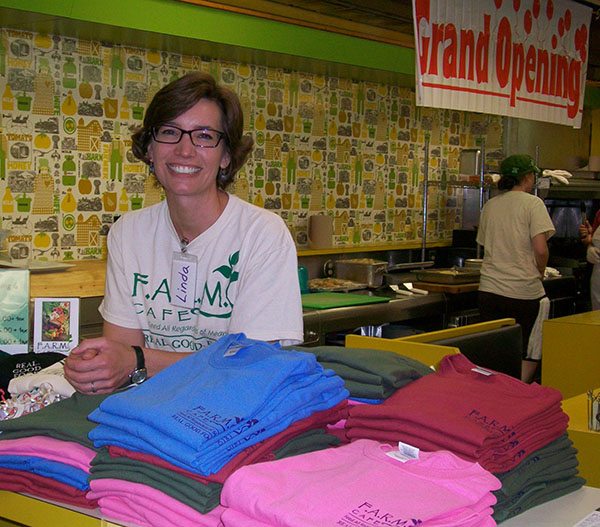 How it all came together
The connections run deep and wide. Leading up to its opening in 2012, when F.A.R.M. (Feed Everyone Regardless of Means) Cafe was little more than a concept, Cerreta was a regular visitor from her non-profit cafe's home base in Salt Lake City, Utah. She was a valued advisor to May, Coutant, F.A.R.M. Cafe's Executive Chef Renee Boughman '85 and other early cafe advocates.
May serves on the board of OWEE and wrote the 80-page manual "OWEE Guide to Starting a Community Cafe," a critical resource for the OWEE network. She is also writing a biography of Cerreta.
Both May and Coutant served on F.A.R.M. Cafe's founding board of directors; May as vice president. Coutant is a former board member of OWEE. Three years ago, North Carolina food editor Kathleen Purvis wrote an Our State magazine article about F.A.R.M. Cafe and learned about OWEE. This year she was a member of the James Beard Humanitarian of the Year award committee and wondered about nominating Cerreta for the award. Because May was on OWEE's board, Purvis asked her about the organization's fiscal stability, leadership and suitability for the award nomination.
May admitted to her OWEE lacks consistent financial support, but said the growth of cafes is strong. "In 2012 F.A.R.M. Cafe was the 15th to open under OWEE's umbrella," May told her. "Today more than 60 pay-what-you-can community cafes are operating in America and at least 50 more are being developed in eight countries." Purvis' committee submitted Cerreta's name for the nomination. On May 1, Cerreta accepted the award on behalf of all the cafes in the OWEE network.
What's the secret sauce?
Boughman came to Appalachian in 1982 to earn a master's degree in history. She went to culinary school in Asheville and returned to work in fine dining establishments in the area. The unlikely idea for a pay-what-you-can cafe in Boone came from an article about Denise Cerreta that someone shared with her and some friends at High Country United Church of Christ. "It seemed like the stupidest thing I ever heard," Boughman said. "Nobody has to pay for the food, you buy local which is more expensive, you rely on volunteers, you need to compost your trash and be sustainable… how many ways can you say failure?"
But, F.A.R.M. Cafe has overcome the odds. In the notoriously difficult restaurant world, May said, "we've learned community cafes succeed if they understand the community's strengths: the economy, the demographics, the resources; then capitalize on what they have and compensate for what they don't. Boone had a perfect storm," she noted.
"First, because of the university community, we had a young, energetic and well-informed population ready to jump on board and who were already into social justice. Economically, we had the mix of those in incredible poverty – 31 percent in this area, I believe – and the very wealthy – people who want to eat good food and will pay for it. Renee Boughman was chef at Rowland's at Westglow Spa, so F.A.R.M. Cafe is definitely serving good food." Finally, a connection to the resources: Boughman had a strong, established relationship with a network of restaurateurs, vendors and area non-profits.
But even under perfect storm conditions, it wasn't easy. May said she realized at one point the fundraising efforts for F.A.R.M. Cafe weren't going well and energy for starting the cafe was dying. She suggested they put into place one of the basic tactics of grassroots funding: a letter campaign to friends and family. "Lots of times people will support you because of your personal relationship," she said, "even if the idea isn't one they would ordinarily get behind."
A week after the mail campaign, she continued, "I received a check for $10,000. That one check made a tremendous difference, and everyone got excited and inspired to keep working on F.A.R.M. Cafe. [The donor] has passed away now, and I marvel at the legacy… how that one act of generosity changed the course of so many lives."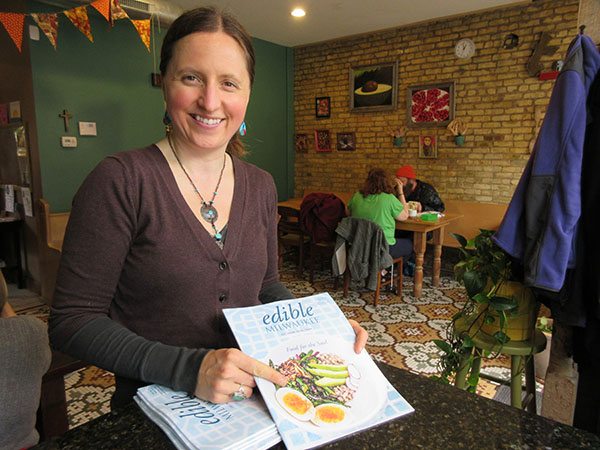 Appalachian – a sustaining resource
The Appalachian community plays a critical role. "We depend on the university," Boughman said. "Even when we don't have the students in town, we have the background people – maintenance, faculty, core staff … they eat here everyday. And we rely on our volunteers – faculty, students from ACT (Appalachian and the Community Together), students working off community service. We have 10 to 15 volunteers every day… you do the math."
Dr. Beth Davison, a professor of sociology at Appalachian, is currently board president and has supervised student interns from both the Department of Sociology and the interdisciplinary studies program. Students regularly volunteer as workers. A relatively new student club, The F.A.R.M. Cafe Club, works to build awareness about hunger issues and fund raise for the non-profit. Davison said she regularly sees a number of faculty and staff eating at F.A.R.M. Cafe, "an excellent form or support."
Another way faculty can help, she said, is to tell their students about it. "I'd ask faculty to tell their classes about the fine restaurant on King Street and encourage them to eat there and take their friends," she said.
Coutant offered an example of indirect university involvement: "Without Appalachian's community service leave, I would not have been able to do nearly as much of the critical communications work for OWEE when I was on its board of directors or in the early days of F.A.R.M. Cafe while on its founding board. Chris and I traveled to Denver on behalf of F.A.R.M. Cafe in 2010 to visit a cafe there and learn how the model works. We then brought back that knowledge to share with the F.A.R.M. Cafe founding board and help them know how to develop the business plan."
Ultimately, Boughman said, the thing that makes F.A.R.M. Cafe work "is that it is organic. It is intricately related to community. You can't cookie cut it. The principles [of pay-what-you-can] translate, but the model is different everywhere. There is a soul cafe in New Jersey, One Acre Cafe [in Johnson City, Tennessee] offers more formal, sit-down dining. Crescent City Cafe in New Orleans only does breakfast. The cafe needs to reflect what the community needs and be located where they can access it."
May said Philadelphia's Drexel University has launched its own university-sponsored, pay-what- you-can cafe, "with powerful and valuable support from the administration, local restaurateurs, hospitality and tourism industry and faculty expertise." Her hope is that Appalachian will not only be open to those types of partnerships but will consciously and deliberately look for them.
May believes the in-need volunteers, and likely the Appalachian community at large, "need community – what they are getting in their hearts and souls. You can't leave that part out. It's almost more significant than – or at least equal to – the hunger issue. It is so important to our happiness and well-being."
What do you think?
Share your feedback on this story.
2017 JBF Awards: Denise Cerreta, Humanitarian of the Year
Produced for the James Beard Foundation's 2017 Gala Awards by Linton Media in collaboration with Bowen and Company.
Related links
About Appalachian State University
As the premier public undergraduate institution in the Southeast, Appalachian State University prepares students to lead purposeful lives as global citizens who understand and engage their responsibilities in creating a sustainable future for all. The Appalachian Experience promotes a spirit of inclusion that brings people together in inspiring ways to acquire and create knowledge, to grow holistically, to act with passion and determination, and to embrace diversity and difference. Located in the Blue Ridge Mountains, Appalachian is one of 17 campuses in the University of North Carolina System. Appalachian enrolls nearly 21,000 students, has a low student-to-faculty ratio and offers more than 150 undergraduate and graduate majors.