Posted May 9, 2017 at 1:13 p.m.
There is respectful debate in the pay-what-you-can community about whether those who cannot afford to pay for a meal should be asked to volunteer time in return, an option F.A.R.M. Cafe in Boone offers to its non-paying guests. Some argue that those struggling financially are too busy juggling their precarious lives to be asked to donate precious time and that the work-for-food model is demeaning.
Appalachian State University's Rev. Dr. Chris May has a different opinion.
May wrote her dissertation on the pay-what-you-can model, as well as a how-to manual used by start-up cafes that was published by the international non-profit One World Everybody Eats (OWEE).
May said not only does volunteering seem to imbue a sense of community, of becoming a member of the cafe family, but it also conveys a sense of dignity. "I've heard many in-need volunteers say it is important to them to be able to 'pay' for the food they eat, rather than just taking a hand out and going about their way.
"In my research, I learned scholars are finding that this sense of equity and integrity seems to be why people pay in pay-what-you-can settings and why, given the opportunity, people want to volunteer to be fair to the cafe. As well, some folks who are experiencing short-term need, like the single mom with three kids trying to make ends meet, might be reluctant to take charity because it seems alien or degrading to them. So, the option to volunteer for a meal provides the self-respect of being fair to the community that provided their meal."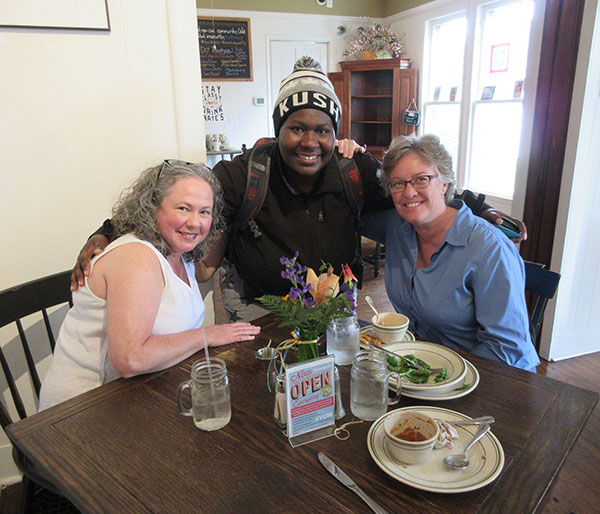 May said "allowing people to volunteer for their meal also bolsters a community cafe's appeal across the spectrum of political persuasions – while some view this as an alternative to a free 'hand out,' others perceive it as 'social justice.' This broad appeal allows the cafe to attract donations and support from a wider demographic."
OWEE is an international nonprofit supporting a network of pay-what-you-can community cafes that help alleviate hunger. There are more than 60 operating cafes with another 50-plus in the planning stages in eight countries. The organization's founder, Denise Cerreta, received the 2017 James Beard Humanitarian of the Year Award in early May.
What do you think?
Share your feedback on this story.
About Appalachian State University
As the premier public undergraduate institution in the Southeast, Appalachian State University prepares students to lead purposeful lives as global citizens who understand and engage their responsibilities in creating a sustainable future for all. The Appalachian Experience promotes a spirit of inclusion that brings people together in inspiring ways to acquire and create knowledge, to grow holistically, to act with passion and determination, and to embrace diversity and difference. Located in the Blue Ridge Mountains, Appalachian is one of 17 campuses in the University of North Carolina System. Appalachian enrolls nearly 21,000 students, has a low student-to-faculty ratio and offers more than 150 undergraduate and graduate majors.