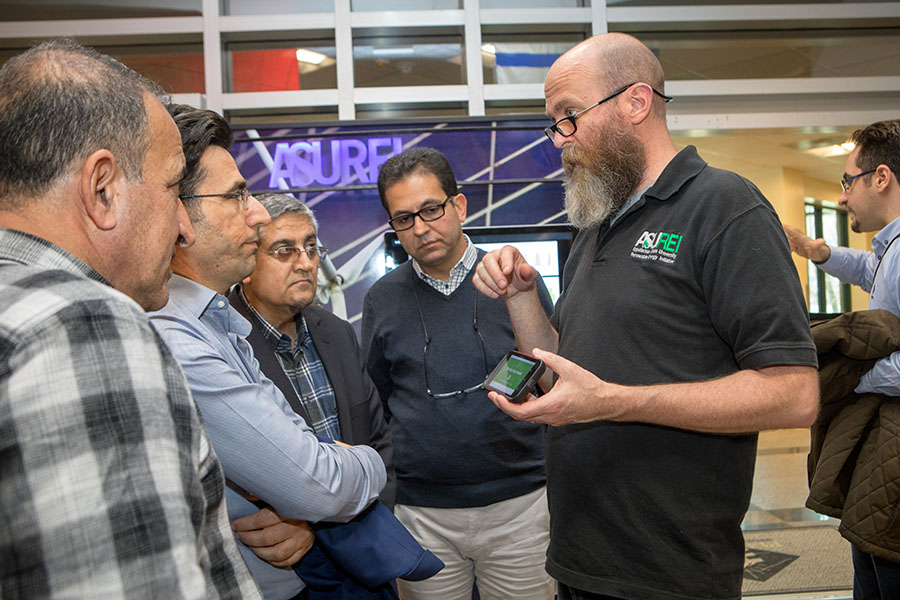 Transcript
Vachel Miller: My name is Vachel Miller. I'm the program director for our higher education program here in the Reich College of Education. This week, Patrick O'shea and I are co-hosting a group of faculty from Kurdistan, Iraq.
Susan A. Colby (presenter): How was your trip? So far so good?
Hoshyar Ahmed: Terrific.
Susan A. Colby: Very good.
Vachel Miller: We have a grant project with IREX, an international organization in Washington, to help rebuild higher education in Iraq through leadership training. We have a group of six faculty here from Kurdistan who are interested in learning about technology, leadership, organizational change, career development — all the ways they can enhance their universities as they rebuild from years of conflict. They've come to Appalachian to understand how we do things and figure out what they can bring home.
Awder Ahmed: My name is Awder Ahmed. I'm teaching at the College of Engineering in the Department of Communication. Today we visit Career Development center, and I have got a lot of good information. My plan, when I go back, I will try to apply the same structure as you have enabled in Appalachian's university in my university. We learned that the Career Development Center, they are not just dealing with the alumni, they are dealing with a current student. It's a very good point. We have to change our policy or process and the next thing is —
Vachel Miller: So, we did, actually, this is phase two. Phase one, we did online zoom sessions with them last year, and there was a larger group, like 20 of them, and this group here was sort of the ones who were the most engaged and they kind of won the chance to come here for a more intensive week with us. So, we're having them, you know, they went over and met Jeremy Ferrell who does alternative energy and biofuels. You know, we're doing all the sustainability stuff, career development and grants. We had Chris Grulke, the social media guy talking about the use of Facebook. They're into social media, but they don't use it to promote the university. So, they're interested in everything, and they said, let's, "show us how you guys do it" and "Oh, yeah, that's a good idea. That's a good idea. That's a good idea."
Mary Beth McKee: I'm Mary Beth McKee. I'm an IT consultant with the Center for Academic Excellence. We weren't sure what would be best to show them because, as administrators, sometimes it's very different than teacher needs, and so, we showed them some sample ASULearn sites, and they were familiar with Moodle. So, some of them had already known it, some of them did not. So, we had created sites for them on our server that they could create data and just talk through some teaching and learning issues. I actually thought they asked a lot of similar questions, like if I talked to someone in our math department or talked to one of these people from Iraq, they would say similar things: "OK. So, with online learning, I hear it's just not as good. What do you think? How could it be better? I worry about students feeling disconnected, not knowing their teachers, not knowing their classmates. How would you address that?" It's the very same questions our faculty ask.
Hoshyar Ahmed: Assistant professor Dr. Hoshyar Ahmed. At Appalachian State University, we have learned so much about leadership and management. The first of all, we have learned about those nice people, which we didn't expect that they are so much nice and so much helpful. Who helped us to be oriented to this well-ranked university. We have seen so many departments, so many great developed techniques in the university. We have learned so much in order to go back to our homes to make our universities well developed.
Awder Ahmed: I need to say, actually, I have participated in different courses in Europe, in the … during my stay in U.S., I realized two things: the first one, you know, the people in Boone, they are very friendly, which is a very good point. And actually, you have a very delicious food. (laughing) Pizza — it's very nice.
Posted April 26, 2018 at 12:41 p.m.
BOONE, N.C. — Six faculty and administrators from Kurdistan, Iraq, visited Appalachian State University for leadership training in April as part of the U.S.-Iraq Higher Education Partnerships (HEP) Program, funded by the nonprofit International Research & Exchanges Board (IREX).
The visit was the second phase of the grant-supported program, which began a year ago. Beginning in spring 2017, 23 Kurdish educators participated in online discussions with Appalachian faculty and staff on leadership and professional development. The initiative was led by the Department of Leadership and Educational Studies in Appalachian's Reich College of Education.
"It's an Appalachian connection that made the project happen," said Dr. Vachel Miller, associate professor and director of Appalachian's higher education program. Dr. Lori Mason, who earned her Doctor of Education from Appalachian in 2010, has worked on projects in Iraq with IREX for 10 years, and "she reached out to us and asked if Appalachian would like to help with this leadership development project," Miller said.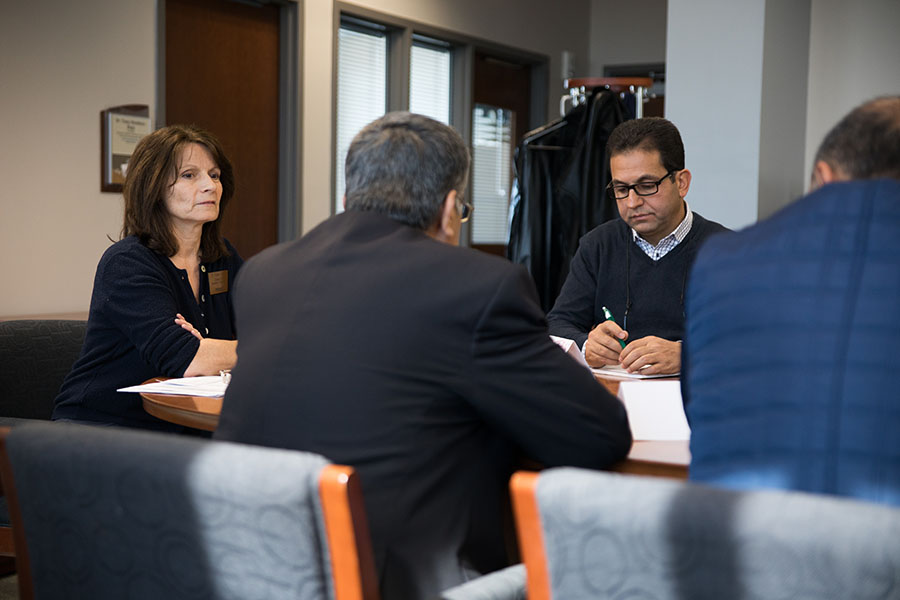 During the visit, the faculty and administrators from Erbil Technical Engineering College, Erbil Polytechnic University, Erbil Technology Institute and Sulaimani Polytechnic University learned from campus experts about the following topics:
Technology;
Curriculum;
Leadership;
Professional development;
Research development;
Career development; and
Institutional effectiveness.
The information will assist the educators in projects they have identified for organizational improvement at their respective home institutions.
For example, Erbil Polytechnic University's Dr. Hoshyar Ahmed, director of research, said he is working to establish an advisory council at his university between employers and academic disciplines to improve graduates' career preparation.
"We have seen many techniques in management and academic development and leadership," he said. "We have learned so much to go back to our homes and use these good things to make our universities well developed."
Miller said Appalachian faculty and staff benefitted from seeing higher education in the context of another culture. "It was a week for us to peek behind the media reports we hear about the trouble in Iraq and see real people, real lives, real universities who are working to make a difference and who are excited to hear what we're doing and learn with us," he said.
What do you think?
Share your feedback on this story.