Posted May 15, 2018 at 2:50 p.m.
Appalachian State University chose its inaugural Wilson Scholars in 2014 for their extensive leadership and service experience in high school, as well as their academic success.
Lily Shaw, Emma Labovitz, Sarah Aldridge and Juliet Irving said the scholarship program honed their skills in each area, while also allowing them to explore new possibilities and see how diverse academic interests could intersect with leadership and service.
Three of them graduated May 12, and the fourth is staying another year to finish her double major.
"The first Wilson Scholar graduates leave Appalachian with a distinguished and diverse record of leadership, academic excellence and service," said alumni Brad and Carole Wilson, Class of 1975, who created the scholarship in 2013. "These outstanding graduates exemplify the qualities we envisioned when we established the Wilson Scholars. Their Appalachian Experience has equipped them to achieve great success, and we know they will."
Discovered passions, expanding career paths
Shaw, from Saluda, arrived at Appalachian thinking she wanted to major in studio art. Using the scholarship's funds for study abroad, she took a chance one summer on assisting with a turtle conservation project in Costa Rica. She said she learned about environmental protection, strengthened her Spanish language skills and experienced a different cultural approach to education. She later switched majors to Spanish and sociology.
The freedom to have that overseas experience "helped help me grow as a person, it's helped shape my interests," she said. "Who would have known that in high school?"
While at Appalachian, she worked the past two years with the Young Eisner Scholars, part of Appalachian's College Access Partnerships that encourages college preparation at middle schools. She discovered a passion for college access and youth development programs and is now looking for jobs in that field.
"College is four years of transformative change. It should be," said Labovitz, who double majored in global studies and political science and traveled to 20 countries while at Appalachian.
"You shouldn't come in and leave the same person. Who someone is at their core may stay consistent, but how you satisfy and work to actualize what your passions are in your core will change," she said.
Labovitz just accepted a policy internship with Tevel, a service organization in Nepal. She said she believes in the power of relationships and interpersonal connections and how they can facilitate change — something she learned from her Appalachian professors.
"I am excited to use this opportunity to invest and learn from the community in Nepal. When it comes to service, particularly international service, it is important to be aware of how you seek to cultivate community and grow relations through working alongside others," she said. Her long-term goal is to enter a Ph.D. program in political science and become a college professor.
Originally thinking she'd be a classroom teacher, Aldridge, from Concord, said she developed an interest in education policy through her honors coursework and her undergraduate research assistantship in the Reich College of Education. She spent three years working with Dr. Brandy Bryson, researching the experiences of students of color at predominantly white colleges and universities.
"I got to learn a lot about inequality of higher education and ways to utilize that research … as a tool for social good," said Aldridge, who switched her major to political science with minors in global studies and sociology.
She is finishing up a semesterlong study abroad in Finland at the University of Helsinki, taking classes in education policy and education philosophy. She plans to pursue education research jobs in Washington, D.C., when she returns to the U.S. this summer.
"Education equity is what I'm most passionate about, especially K-12 education — how public schools are structured and how policy works to make sure students get an equitable education," she said.
Irving, of Batesburg, South Carolina, who is staying on another year at Appalachian to finish her double major in graphic design and dance studies, said she has become more confident in how she personally embodies the Wilson Scholars principles.
With a passion for dance, she has been a leader in campus dance productions and the Momentum Dance Club and spent a summer participating in the American Dance Festival in Durham. To support her second major in graphic design, she studied fine art for a semester in Australia.
Irving has been an engaged member of the Chancellor's Board for Diversity Recruitment and has explored how to use dance and art/design as methods for creating social change.
"Being in the program helped expand the ways that I define academic excellence, leadership and service and in the ways I can apply them," Irving said. "Being a part of the inaugural class was special," she added, "because as we grew in college, the program grew with us."
Next steps after Appalachian
A cultivation of leaders
Having started with just four students, the Wilson Scholars Program totaled 20 students in 2017-18 and six more have been named for the 2018-19 academic year. The encouragement the scholars provide one another, the graduating seniors said, has been just as influential as the program's faculty direction and support.
"There are so many opportunities I didn't know I'd be interested in until someone in my scholarship said 'Hey, you should try this' or 'Hey, come do this with me.' I appreciate how we're all celebrating each other — 'You're excellent, you can do this.' That's what this scholarship has helped us believe. It's encouraging to believe in ourselves," Shaw said.
"We all have diverse interests and backgrounds and identities and passions. The Wilson Scholarship is great because it's an aggregate of diverse people, who all lead in their own unique ways," Labovitz said. "The others have pushed my leadership style and made me reflect and rethink how I lead."
Shaw said, "Our scholarship does a great job of celebrating the fact that you don't have to be this type of person or have this major. By incorporating diverse interests and people, we can achieve even more than with a traditional academic scholarship."
Aldridge said the opportunity to travel to Paris as a group with the Wilson Scholars faculty director as first-year students opened up previously unimaginable options for her. "I thought, 'Wow, this is an amazing learning tool. I want to see and learn so much more about the world.' I never would have thought about a semester abroad in Finland had it not been for that program," she said.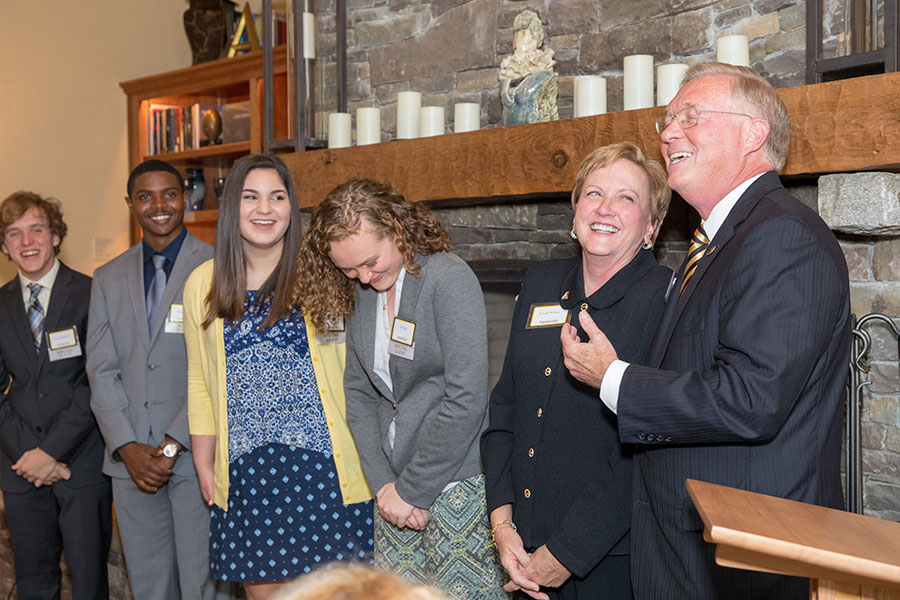 Support from Brad and Carole Wilson
The Wilsons created the scholars program with a $3 million contribution to the Campaign for Appalachian. At the time, it was the largest gift ever made by alumni.
"I absolutely love them," Aldridge said. "They are two wonderful people. One of the best things about them and their generosity is that they're invested in our education and making sure we're gaining from these experiences. They care about us as people, as students and as future leaders."
Shaw described the Wilsons as her cheerleaders. She said she's friends with Carole Wilson on social media and enjoys the donor's positive, encouraging remarks.
The Wilsons host dinners for the scholars and invite them to football tailgating. They make a point to connect with students when they visit the cities where the students might be interning.
"I'm very grateful for what they've done for me and for my family, and I'm also grateful for them in particular. They actively work to cultivate relationships. They really care about us and our journeys and ensuring we're successful. I can never thank them enough for what they've done and the experiences they've allowed me to have," Labovitz said.
From the first congratulatory phone call, the couple's involvement "has made the Wilson Scholars more of a community and really connected with each other," Irving said. "They don't just feel like donors who've granted me an amazing opportunity. They're people I can talk to and laugh with and share my college experience with."
In reflecting on her experience, Aldridge marveled that just one year after declaring her major as political science she was interning on Capitol Hill in Washington, D.C.
"I jumped in," she said. "The Wilson Scholarship helps you do that. You get the support to go higher, and you have these people cheering you on and helping you chase your dreams."
About the Wilson Scholars Program
About Appalachian State University
As the premier public undergraduate institution in the state of North Carolina, Appalachian State University prepares students to lead purposeful lives as global citizens who understand and engage their responsibilities in creating a sustainable future for all. The Appalachian Experience promotes a spirit of inclusion that brings people together in inspiring ways to acquire and create knowledge, to grow holistically, to act with passion and determination, and to embrace diversity and difference. Located in the Blue Ridge Mountains, Appalachian is one of 17 campuses in the University of North Carolina System. Appalachian enrolls more than 20,000 students, has a low student-to-faculty ratio and offers more than 150 undergraduate and graduate majors.
What do you think?
Share your feedback on this story.