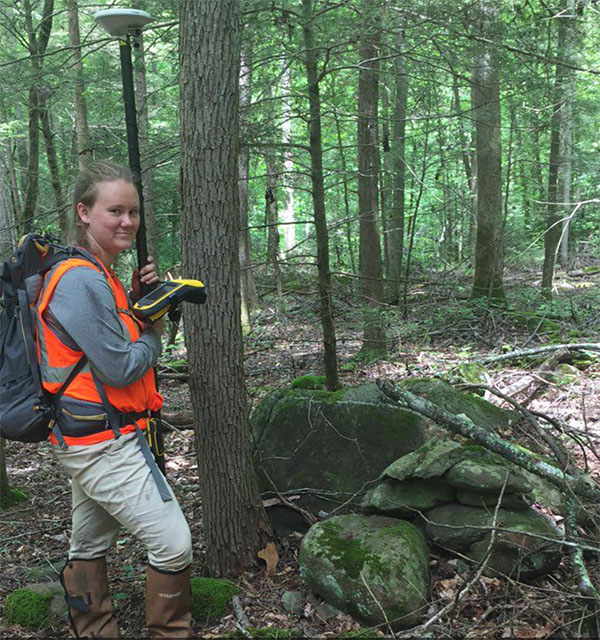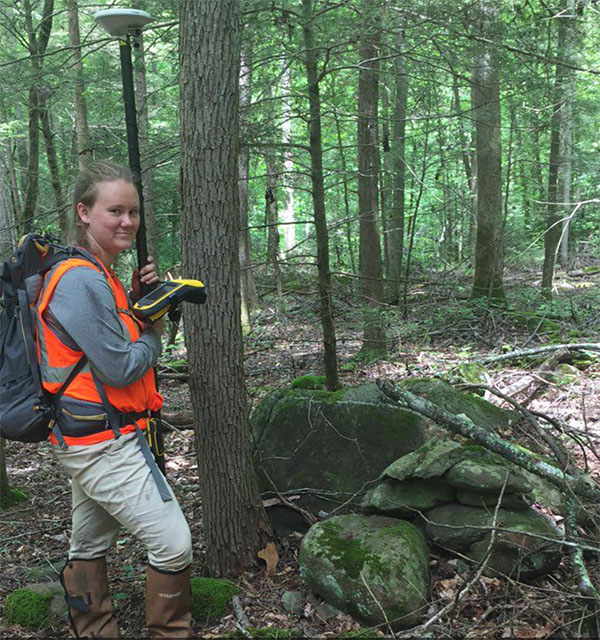 Posted June 13, 2018 at 4:13 p.m.
BOONE, N.C. — Anthropology majors Cala Castleberry '17, of Tallahassee, Florida, and Hayley Wynn '17, of Huntersville, aren't afraid to get their hands dirty helping protect and preserve National Park Service (NPS) sites in the Southeast.
After working alongside faculty on multiple research projects as undergraduates, the two alumnae of Appalachian State University's Anthropology (BS) – Archaeology degree program are conducting back-to-back NPS internships:
From May 2017 through March, they mitigated future wildfires and assessed archaeological sites in the Great Smoky Mountains National Park (GSMNP) following the Chimney Tops 2 wildfire that killed 14 people and burned 14,000 acres around Gatlinburg, Tennessee.
This summer, they're working as geographic information system (GIS) technicians at the Southeastern Archeological Center (SEAC), in Tallahassee, Florida, managing data for several NPS sites, including the Natchez Trace Parkway — a 444-mile, recreational road and scenic drive through Tennessee, Mississippi and Alabama — and the Vicksburg National Military Park in Warren County, Mississippi. The pair will remain at the SEAC until August, after which, Castleberry will pursue at master's degree at Northern Arizona University (NAU), and Wynn said she plans to gain further experience in the archaeology field before possibly pursuing a master's degree.
Appalachian's Office of the Liaison to the National Park Service was their conduit to the first opportunity through its partnership with the National Park Service Youth Programs Division. Anthropology alumnus Heath Bailey '09, a staff archaeologist at the GMSNP, helped with their placement. Additional networking led to the second.
Preservation efforts in the Great Smoky Mountains
More than a year and a half after the Chimney Tops 2 wildfire, recovery of the park is mixed in areas, the interns said.
"The vegetation has already started to grow back and the wildlife is returning to the area," Castleberry said. "Overall, the park is recovering; it is a slow and steady process that requires time and patience," Wynn said, adding there are areas that may require another five or more years to see full recovery.
Wynn said the 14,000 burned acres of the park surrounding Gatlinburg is minimal, however, when compared to the entire extent of the park, which covers 522,427 acres between western North Carolina and eastern Tennessee.
In the park, Wynn and Castleberry served as archaeological technicians and Burned Area Emergency Response (BAER) interns.
They assessed the damage of known archaeological sites within the park that may have been impacted by the wildfire, such as house structure remnants, including foundation walls and the remains of chimney stacks, and the Noah "Bud" Ogle Complex, which consists of a historic cabin and barn along the Cherokee Orchard Loop Road in Gatlinburg. They then determined the severity of impact the fire had on park features and mitigated further damage to the sites by removing fallen, burned trees and debris, as well as fuel sources present near the sites that could possibly cause future fires.
Wynn stressed the importance of such work, as it "supports long-term recovery."
The alumnae were also responsible for locating and mapping previously unrecorded archaeological sites within the park.
"All of the sites found were mapped with a Trimble GPS unit so that there was a visual representation of where archaeological resources were located in relation to each other," Castleberry said.
While interning at the GSMNP, Castleberry said she also had the opportunity to participate in cemetery rehabilitation with high school interns, in which she taught the students about archaeology and the importance of protecting cultural resources. According to the website NPS maintains for the GSMNP, over 100 separate cemeteries exist within the park's boundaries.
"This rehab includes assessing any damage that might have occurred (such as fallen headstones, fire damage, fallen trees, etc.), and to correct any of these damages if possible. The majority of the rehab included using a rake to provide shallow grooves in the soil and spreading grass seed to try and stabilize the top soil."
Digitization efforts at SEAC
After completing their GSMNP fieldwork, Wynn and Castleberry both applied for a second NPS internship through the joint National Park Service/National Council for Preservation Education internships offered in spring 2018. Through August, they are geographic information system (GIS) technicians at the Southeastern Archeological Center (SEAC) in Tallahassee, Florida.
According to Wynn, she and Castleberry have been working to digitize site reports from archaeological surveys that were completed anywhere from the 1940s through the early 2000s. Their efforts provide SEAC, individual national parks and contractors with as much data as possible to support future investigations within the national parks of the U.S.'s Southeast region.
Castleberry said she has digitized such reports for sites within the GSMNP, including the Oconaluftee Visitor Center and park trails that are intended for rehab and/or rerouting, and Wynn stated she is currently working on digitizing a report for the Gordon House — a historic brick house located along the Old Natchez Trace Parkway near Williamsport, Tennessee.
As part of these digitization efforts, Wynn said she and Castleberry have also streamlined GIS data that will later be incorporated into a mobile app for visitors to the Vicksburg National Military Park. The park preserves the site of the Battle of Vicksburg, a Civil War campaign in which Union general and former President Ulysses S. Grant captured the Confederate stronghold of Vicksburg.
"For the Vicksburg data, high-quality photographs of every marker, monument, regimental position marker, statue, etc., were taken," Wynn said. "We helped complete research that would fill in all pertinent information, so that when it (the site) is converted into a mobile app, someone could take a virtual tour — click on a statue, state monument, etc. — and information about the person, place, etc., would be available."
Additionally, Wynn said she has used some of the knowledge obtained at Appalachian to clean, sort and label for SEAC archeological artifacts collected from various sites — such as the Gulf Islands National Seashore and Natchez Trace Parkway — so they can be further analyzed and documented. These artifacts include prehistoric and historic ceramics, animal bones, nails and other metal artifacts, shell fragments and various types of glass.
"I enjoy this work because it is expanding upon some of the techniques that I already know and the skills that I have while also allowing for the opportunity to learn new skills," she said.
Hands-on archaeological training at Appalachian
In high school, Wynn said she was unsure as to what field she wanted to pursue in college, but her future path became clear after signing up for Appalachian's Forensic Anthropology Summer Camp offered through the Department of Anthropology. She said she became fascinated by what she was learning about how to determine an individual's stature, sex and cause of death.
"While I left knowing that forensics, specifically, wasn't my interest, I was enthralled with the stories that I was able to uncover about past peoples, thus leading to my love for archaeology," she said.
Castleberry said she chose Appalachian after completing a tour of the campus as a prospective student. "I didn't know much about the school or the anthropology department, but once I toured the campus, I immediately fell in love," she said. "I couldn't have chosen a better place to live and thrive for four years."
When reflecting on her undergraduate experience, Castleberry remarked, "When I started at Appalachian, my goal was to be an archaeologist, plain and simple. However, once I started taking anthropology classes, I learned the importance of being an anthropologist first — then an archaeologist.
"Not only did the professors help hone my methodological skills as an archaeologist, but they also helped me develop a better understanding of people and the world. I stopped looking at archaeological remains as just objects, but (as) the leftover components of people's lives and what they might mean."
Both Wynn and Castleberry credit the classes they took in Appalachian's Department of Anthropology — Archaeological Lab Methods, Archaeology of the Native South, North American Archaeology and Landscape Archaeology, plus a field school — with providing hands-on training that, as Wynn said, "helped when it came to artifact identification, site suitability and feature identification while working in the field."
Castleberry and Wynn highlighted the fact that Appalachian's anthropology program is an undergraduate-only program, which also factored into their desire to attend the university. "Our department is highly competitive for undergraduates, as we are one of few that does not accept graduate students, increasing the likelihood and opportunity for students to work one-on-one with professors and develop relationships most other universities do not allow," Wynn said.
"The moment that I stepped into the department, I felt at home," Castleberry said. "Between the other students, professors and staff, there is no shortage of people who are there to help you along the way. Every professor is understanding and helpful to any student that is willing to put in the effort to learn."
Castleberry and Wynn worked alongside Department of Anthropology faculty in multiple research projects, gaining hands-on training in the field.
They were lab assistants to Dr. Larry Kimball, director of the university's Laboratories of Archaeological Science. Castleberry said their responsibilities included organizing and cataloguing archaeological remains from the Biltmore Mound Site located on the Biltmore Estate in Asheville.
The alumnae also completed research assistantships with Dr. Alice Wright.
Castleberry said, in her independent study with Wright, her focus was on ceramic analysis of an off-mound pit feature near the Biltmore Mound Site to determine what type of activity generated the ceramic assemblage found at the feature. According to Castleberry, ceramic assemblages vary depending on the type of food-related activities in which they were used. She looked at macroscopic attributes related to temper, vessel size and shape, and possible function of 51 vessels, and assessed assemblage fragmentation at the site.
The project helped her to better understand the occupations that are associated with Middle Woodland mounds in southern Appalachia, Castleberry said. That research opportunity led her to present a professional poster at the Uplands Archaeology in the East, Symposium XII hosted by Appalachian's anthropology department in spring 2017.
During Wynn's assistantship with Wright, she said she examined an archaeological database — the Digital Index for North American Archaeology (DINAA) — and gathered information that Wright used in some of her own research.
Additionally, Wynn said she and Castleberry led a magnetic susceptibility survey across western Tennessee under the supervision of Wright as part of the Pinson Environment and Archaeology Regional Landscape (PEARL) project — a collaborative, interdisciplinary effort tackling the Middle Woodland (circa A.D. 1–500) archaeological record of western Tennessee. They presented a poster of their research at the 2017 Southeastern Archaeological Conference.
Wynn encourages students who are interested in the field of archaeology to consider Appalachian because the Department of Anthropology is, in many aspects, "unmatched by others in the state and region. The professors within the department are working on cutting-edge and new projects, ever continuing to learn as they work, and pass that knowledge onto their students," she said.
Faculty led her "to pursue my interests, to reach for goals I didn't think that I could achieve and to push me further than I thought that I could go," Wynn said. "Their dedication to the students is unmatched, and the chemistry throughout the department is one that I will never forget."
Castleberry agreed with Wynn's sentiments, stating, "I can say without any hesitation that all of my experiences within the department were exceptional, and I would recommend anyone who is even slightly interested in anthropology to take a class with one of our fantastic faculty members."
Digging into career goals
Once they have completed their SEAC internships, Castleberry and Wynn said their next steps include advanced degrees, as well as acquiring further experience in the field of archaeology.
Wynn said she is currently applying for other archaeological technician positions, including GIS technician positions and internships. For her long-term career goals, Wynn said she is contemplating a master's degree in geophysics and would eventually like to work with a cultural resource management firm.
In August, Castleberry will attend NAU, where she said she plans to study indigenous and landscape archaeology while pursuing a master's degree in archaeology. Castleberry said after completing her master's, she aspires to pursue a doctorate in the field. Additionally, she expressed the desire to work closely with Native Nations to support greater engagement of Native Americans at the forefront of archaeological investigation.
Although Wynn and Castleberry's paths will diverge following the completion of their second NPS internship, they retain a lifelong connection through the Appalachian Experience — one they said bonded them as friends, bringing them closer to one another over the years.
"Up until now, most of my field experiences have been with Hayley, and I am sad that in August we will be parting," Castleberry remarked. "However, I am happy to note we have been there for each other for many years, had the opportunity to watch each other grow as archaeologists and have only gotten closer through our experiences together."
"Working with Cala has been an amazing experience," Wynn said. "Our experiences together — both the challenges and memories — are those that I will cherish and keep with me wherever life may take us."
Appalachian tracks where its graduates go, notes high success rate
About the Appalachian State University Liaison to the National Park Service
The Appalachian State University Liaison to the National Park Service (NPS) is the central contact for initiatives that partner Appalachian with NPS units across the United States. The liaison promotes opportunities, such as service projects and task agreements, that mutually benefit NPS units and university students, faulty, staff and alumni. Past projects have partnered members of the Appalachian Community with NPS natural/cultural resource personnel, interpreters and educational initiatives. Learn more at https://npsliaison.appstate.edu.
About the Department of Anthropology
The Department of Anthropology offers a comparative and holistic approach to the study of the human experience. The anthropological perspective provides a broad understanding of the origins as well as the meaning of physical and cultural diversity in the world — past, present and future. Learn more at https://anthro.appstate.edu.
About the College of Arts and Sciences
The College of Arts and Sciences (CAS) at Appalachian State University is home to 17 academic departments, two centers and one residential college. These units span the humanities and the social, mathematical and natural sciences. CAS aims to develop a distinctive identity built upon our university's strengths, traditions and unique location. The college's values lie not only in service to the university and local community, but through inspiring, training, educating and sustaining the development of its students as global citizens. More than 6,400 student majors are enrolled in the college. As the college is also largely responsible for implementing App State's general education curriculum, it is heavily involved in the education of all students at the university, including those pursuing majors in other colleges. Learn more at https://cas.appstate.edu.
About Appalachian State University
As the premier public undergraduate institution in the Southeast, Appalachian State University prepares students to lead purposeful lives as global citizens who understand and engage their responsibilities in creating a sustainable future for all. The Appalachian Experience promotes a spirit of inclusion that brings people together in inspiring ways to acquire and create knowledge, to grow holistically, to act with passion and determination, and to embrace diversity and difference. Located in the Blue Ridge Mountains, Appalachian is one of 17 campuses in the University of North Carolina System. Appalachian enrolls nearly 21,000 students, has a low student-to-faculty ratio and offers more than 150 undergraduate and graduate majors.
What do you think?
Share your feedback on this story.