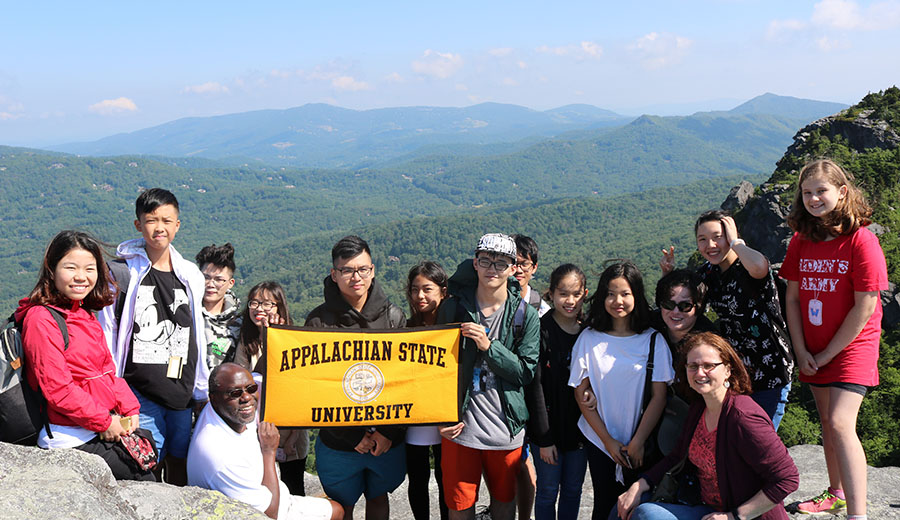 Posted July 12, 2018 at 10:25 a.m.
BOONE, N.C. — The second Vietnamese Summer Academy (VSA) at Appalachian State University — a four-week study abroad program for middle and high school Vietnamese students — has been funded by International Development for Educational Access (IDEA), an after-school English language acquisition program for students of Vietnam and Southeast Asia. IDEA was founded by Appalachian alumnus Brian Dockery '98 and his wife, Huong Nguyen, who also direct the program.
Dr. Maria Anastasiou, executive director in Appalachian's Office of International Education and Development (OIED), is the recipient of the $35,400 grant.
Other Appalachian faculty and staff members assisting with the VSA include Kevin Delgado-Valentin, OIED assistant; Appalachian alumna Jenny Carlos '18, who serves as resident hall supervisor for the students during their stay on campus; and Liz Kunkel, adjunct instructor of Spanish in Appalachian's Department of Languages, Literatures and Cultures, who provides the students with English language instruction. Additionally, Nga Nguyen, an IDEA staff member, is the students' escort during the academy.
"The Vietnam Summer Academy started as a program to help middle and high school students from Vietnam to improve their English language skills and learn about American culture," Anastasiou said. "This is the second year that this program is running, and so far, it has been a great success for the students and for our community at large."
During each morning of the academy, the VSA students take an English language class, and in the afternoons, engage in social and cultural activities — including several outdoor activities — to learn about Boone and the surrounding region. The students also interact with youth in Appalachian's Upward Bound program through various activities and spend time with their host families.
Some of these activities include Volunteering at the Appalachian's Teaching and Research Farm in Ashe County; engaging in dance, art, yoga with students in Appalachian's Upward Bound program; and participating in a soccer game with the 2018 Mandela Washington Fellows at Appalachian's Kidd Brewer Stadium.
Ten middle and high school students from Hanoi, the capital of Vietnam, are participating in the 2018 VSA at Appalachian from June 16–July 14.
About the Office of International Education and Development
The OIED is responsible for spearheading the internationalization efforts at Appalachian. The internationalization mission of Appalachian is to develop awareness, knowledge, appreciation and respect of cultural differences in both domestic and international contexts in its students, faculty, staff and the surrounding communities. The university is also dedicated to creating a campus environment that builds the theoretical and practical skills needed to interact effectively in a global society. Learn more at https://international.appstate.edu.
About Appalachian State University
As the premier public undergraduate institution in the state of North Carolina, Appalachian State University prepares students to lead purposeful lives as global citizens who understand and engage their responsibilities in creating a sustainable future for all. The Appalachian Experience promotes a spirit of inclusion that brings people together in inspiring ways to acquire and create knowledge, to grow holistically, to act with passion and determination, and to embrace diversity and difference. Located in the Blue Ridge Mountains, Appalachian is one of 17 campuses in the University of North Carolina System. Appalachian enrolls more than 19,000 students, has a low student-to-faculty ratio and offers more than 150 undergraduate and graduate majors.
What do you think?
Share your feedback on this story.