Posted July 12, 2018 at 11 a.m.
BOONE, N.C. — A group of 10 high and middle school students from Hanoi, the capital of Vietnam, reached new heights on a June morning as they walked across the Mile High Swinging Bridge — which sits 5,280 feet above sea level — at Grandfather Mountain. The students are studying at Appalachian State University from June 16–July 14 through the university's four-week Vietnamese Summer Academy (VSA).
Local host families joined the students at Grandfather Mountain, and later in the evening, the VSA students joined participants in Appalachian's Upward Bound program for a cookout at Duck Pond Field on campus. The students also visited nearby Linville Falls.
The program is a partnership between Appalachian's Office of International Education and Development (OIED) and International Development for Educational Access (IDEA), an after-school English language acquisition program for students of Vietnam and Southeast Asia. IDEA was founded by Appalachian alumnus Brian Dockery '98 and his wife, Huong Nguyen, who also direct the program. Appalachian received a $35,400 grant from IDEA to fund the academy.
"It is programs like the Vietnamese Summer Academy that allow everyone involved to practice their intercultural communication skills and help us become global citizens, which is one of Appalachian's core values," said Dr. Maria Anastasiou, director of the academy and executive director of Appalachian's OIED.
Students in Appalachian's 2018 Vietnamese Summer Academy
Other Appalachian faculty and staff members assisting with the VSA include Kevin Delgado-Valentin, OIED assistant; Appalachian alumna Jenny Carlos '18, who serves as resident hall supervisor for the students during their stay on campus; and Liz Kunkel, adjunct instructor of Spanish in Appalachian's Department of Languages, Literatures and Cultures, who provides the students with English language instruction. Additionally, Nga Nguyen, an IDEA staff member, is the students' escort during the academy.
Learning language, culture through new experiences
"We have a great group of students this year," Anastasiou said. "They are all committed to improving their English language skills and learning about American culture. They are excited to be exploring and learning about Boone, spending time with their peers through Upward Bound, and spending quality time with their local host families and learning about family life in the U.S."
During each morning of the academy, the VSA students take an English language class taught by Kunkel, and in the afternoons, engage in social and cultural activities — including several outdoor activities — to learn about Boone and the surrounding region. The students also interact with youth in Appalachian's Upward Bound program through various activities and spend time with their host families.
A sample of the VSA activity schedule:
Volunteering at the Appalachian's Teaching and Research Farm in Ashe County.
Partaking in academic sessions on physics, geology, as well as criminology and political science with Appalachian's Drs. Tonya Coffey, Lauren Waterworth and Phillip Ardoin, respectively.
Engaging in dance, art, yoga with Upward Bound students.
Movie nights with students in Appalachian's Upward Bound program.
Playing games at Greenway Park.
A soccer game with the 2018 Mandela Washington Fellows at Appalachian's Kidd Brewer Stadium.
Attending the Mandela Washington Fellows Arts and Cultural Festival at Appalachian to learn about the African countries represented by the fellows.
A game night with host families in the dorm lounge.
Kayaking and tubing with the RiverGirl Fishing Co. in Todd.
A picnic at Valle Crucis Park.
Shopping in downtown Boone.
"I think that the foreign (American) students — they open. They are pretty open with strangers. Every chance they have, they always introduce themselves and make more friends, even though they're strangers," said Duy Nhat Phan, a high school student in the VSA. "They talk a lot. They make more friends. I like that."
VSA high school student Minh Duc Le commented on how impressed he was with the U.S. education system and explained how this system differs from that in Vietnam.
"I'm impressed by USA education, most, because in the USA, children are allowed to play or to do arts, music, singing — whatever they want — and in Vietnam, we have to learn a lot. We don't have a lot of time to do something like that, like arts. In Vietnam we just learn, and learn and learn."
Another high school VSA student, Chi Quynh Nguyen, said she is excited to experience the cuisine and shopping available in Boone, especially those options that aren't offered in Vietnam.
"I watch a lot of YouTube, and mostly I subscribe to American YouTubers. That's why, when I watch their videos, I would hear these brand names like Wendy's or Taco Bell — they don't have those brands in Vietnam. So, when I came here, I wanted to try all of them out. I wanted to try Mexican food, especially, because they do not have Mexican food in Vietnam."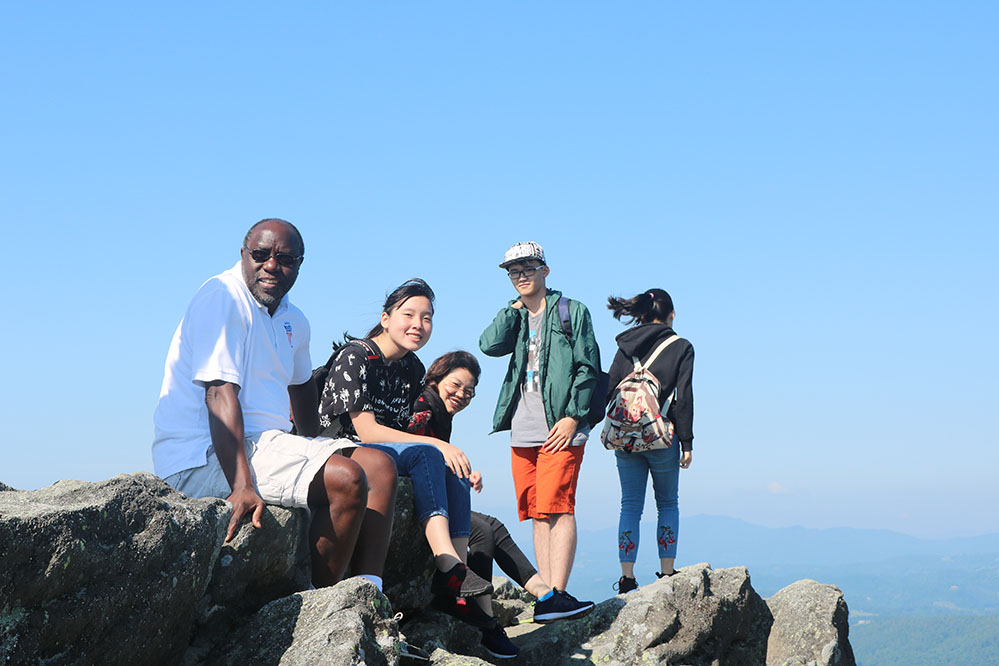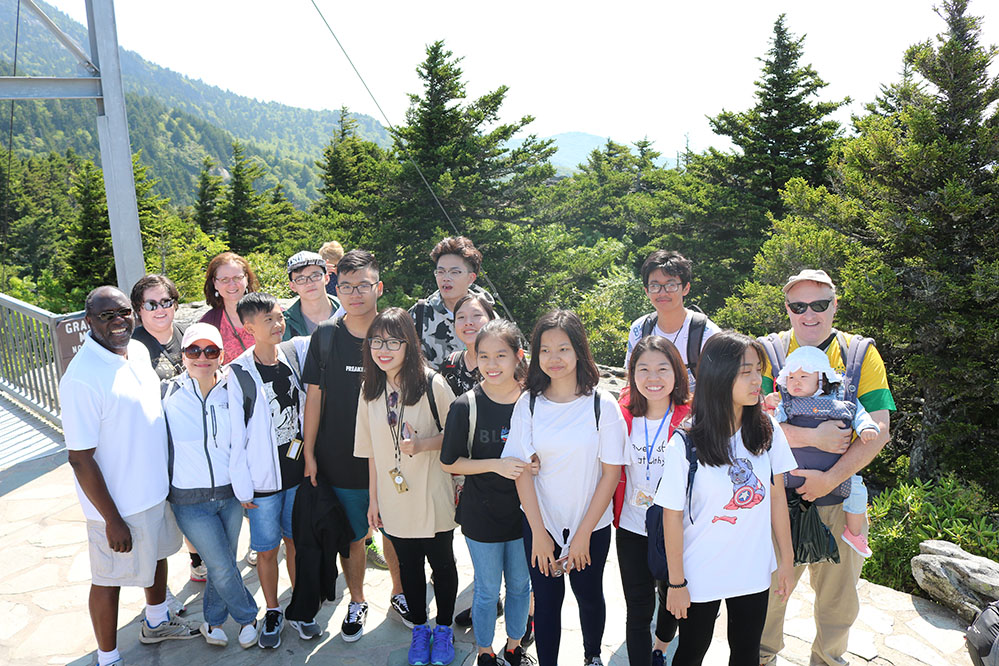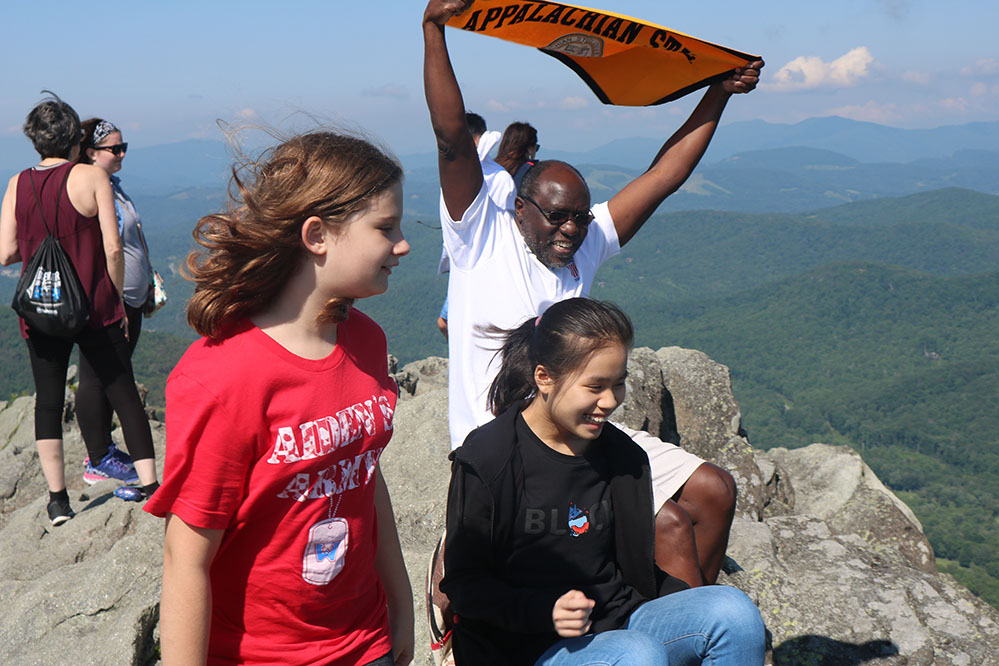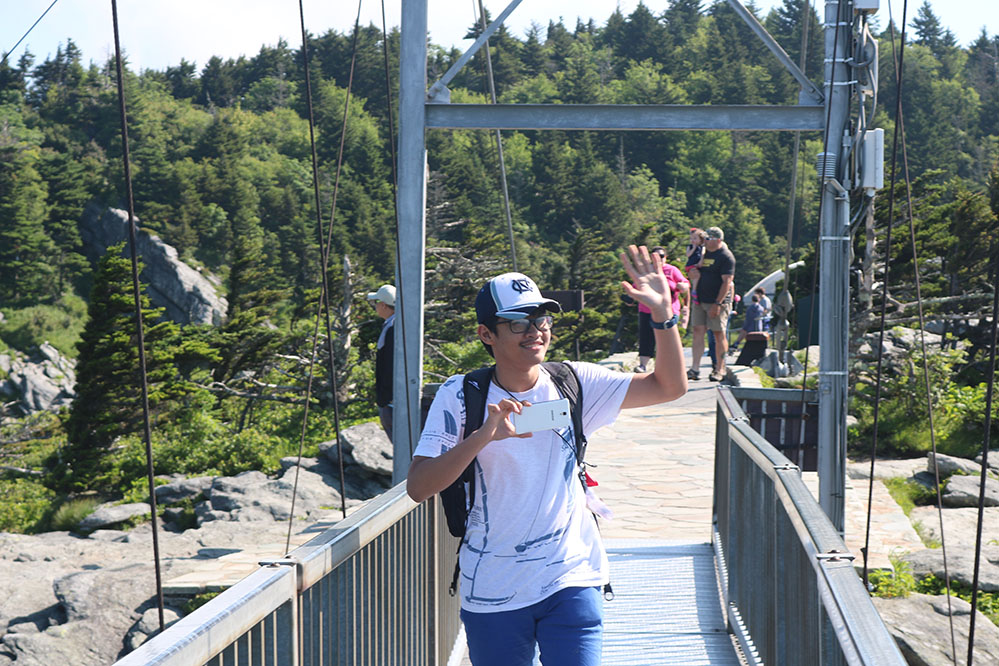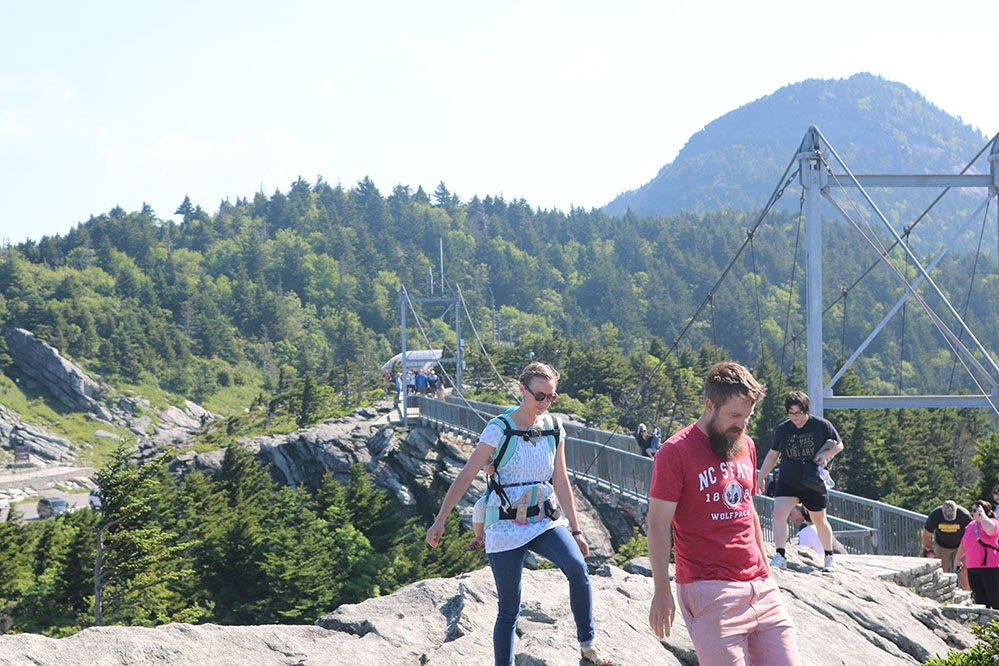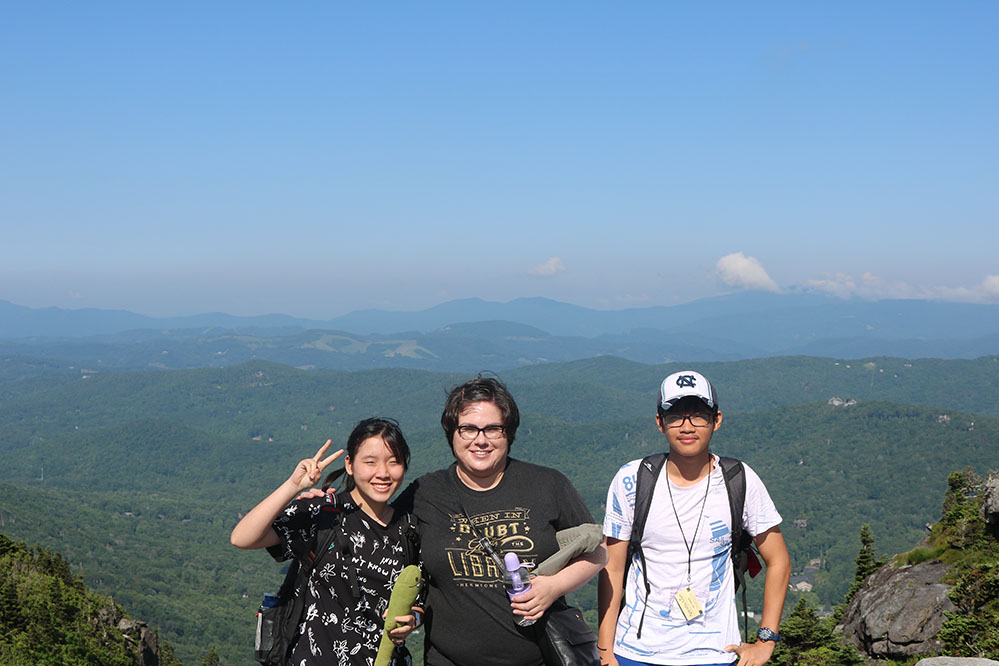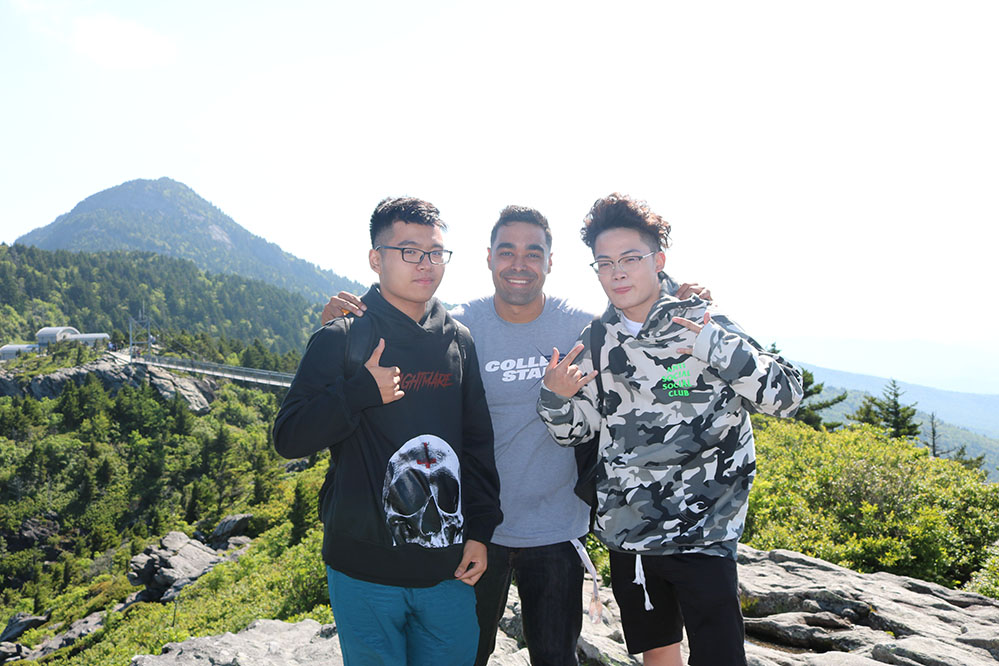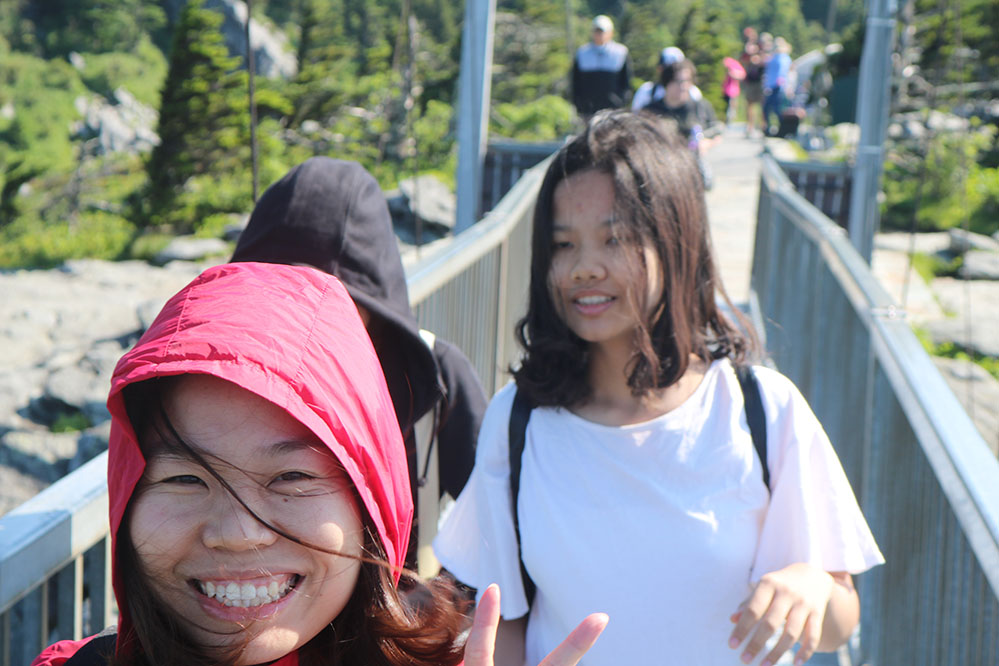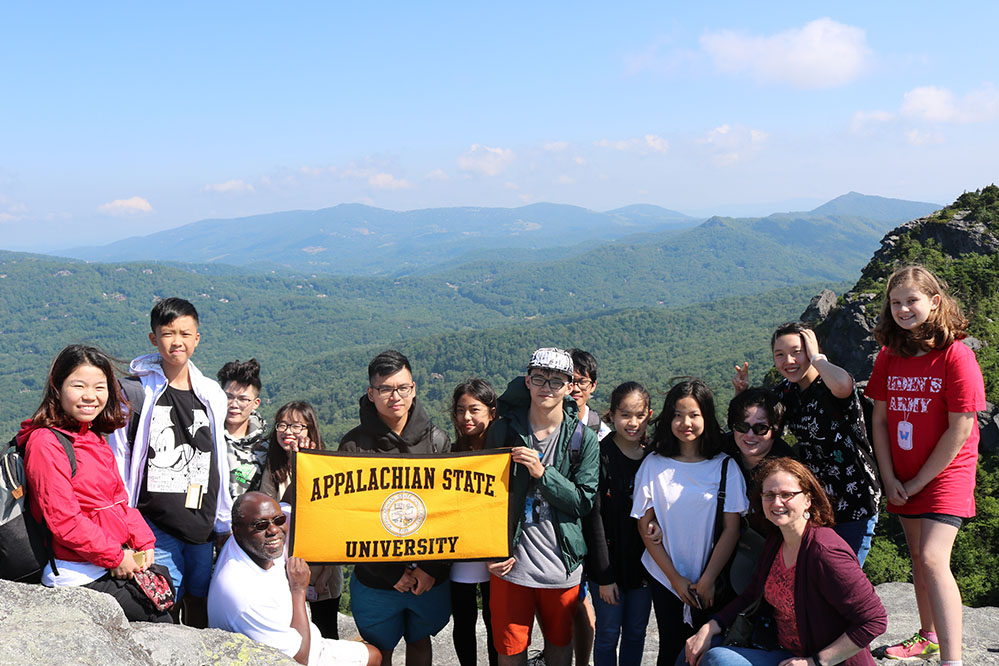 'We're living a dream'
In reflecting on his experience at Grandfather Mountain and the first few days of the academy, Phan said, "I think the program itself already feels like we're living a dream."
Anastasiou asked the students, "Is this what you had in mind about Boone? Is this what you expected of the U.S.?" and high school VSA student Minh Duc Mai Hoang answered for the group: "It's more than what we expected. The dorm, the food, the people — very impressive."
The students were unanimous in their answer when asked about homesickness: "No." And when questioned if any of them would consider pursuing higher education at Appalachian, one student said, "Absolutely," while another said, with an adventurous grin, "Why not?"
A closing dinner and ceremony for the academy will be held Friday, July 13, in the university's Plemmons Student Union. The next afternoon, the VSA students will depart Boone for the Charlotte Douglas International Airport to return to Vietnam.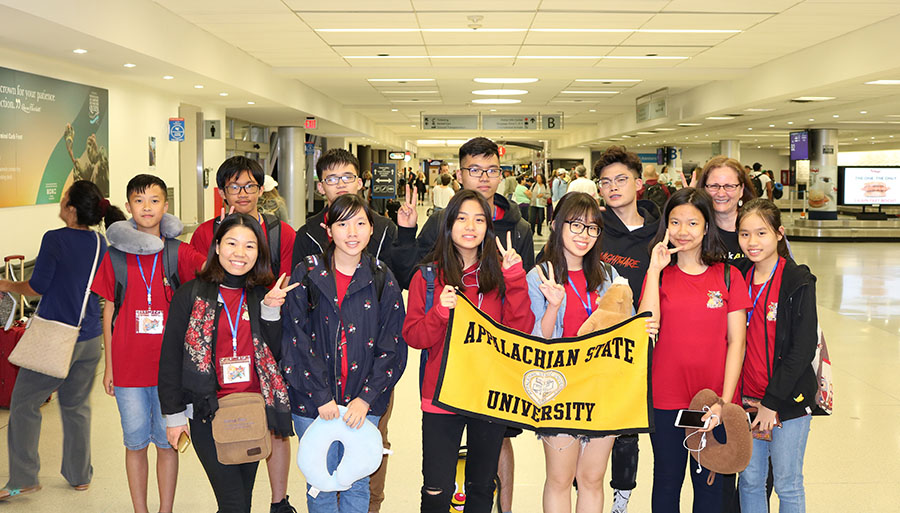 Students in Appalachian's 2018 Vietnamese Summer Academy
About the Office of International Education and Development
The OIED is responsible for spearheading the internationalization efforts at Appalachian. The internationalization mission of Appalachian is to develop awareness, knowledge, appreciation and respect of cultural differences in both domestic and international contexts in its students, faculty, staff and the surrounding communities. The university is also dedicated to creating a campus environment that builds the theoretical and practical skills needed to interact effectively in a global society. Learn more at https://international.appstate.edu.
About College Access Partnerships
Appalachian State University's College Access Partnerships supports students from the Appalachian region of North Carolina in finding their own distinct path to postsecondary education. This is accomplished by supporting the work of teachers, counselors and educators, along with providing direct services to students. College Access Partnerships offers the Upward Bound and GEAR UP programs, as well as additional resources for students, families and educators. Learn more at https://gocollege.appstate.edu.
About Appalachian State University
As the premier public undergraduate institution in the state of North Carolina, Appalachian State University prepares students to lead purposeful lives as global citizens who understand and engage their responsibilities in creating a sustainable future for all. The Appalachian Experience promotes a spirit of inclusion that brings people together in inspiring ways to acquire and create knowledge, to grow holistically, to act with passion and determination, and to embrace diversity and difference. Located in the Blue Ridge Mountains, Appalachian is one of 17 campuses in the University of North Carolina System. Appalachian enrolls more than 19,000 students, has a low student-to-faculty ratio and offers more than 150 undergraduate and graduate majors.
What do you think?
Share your feedback on this story.