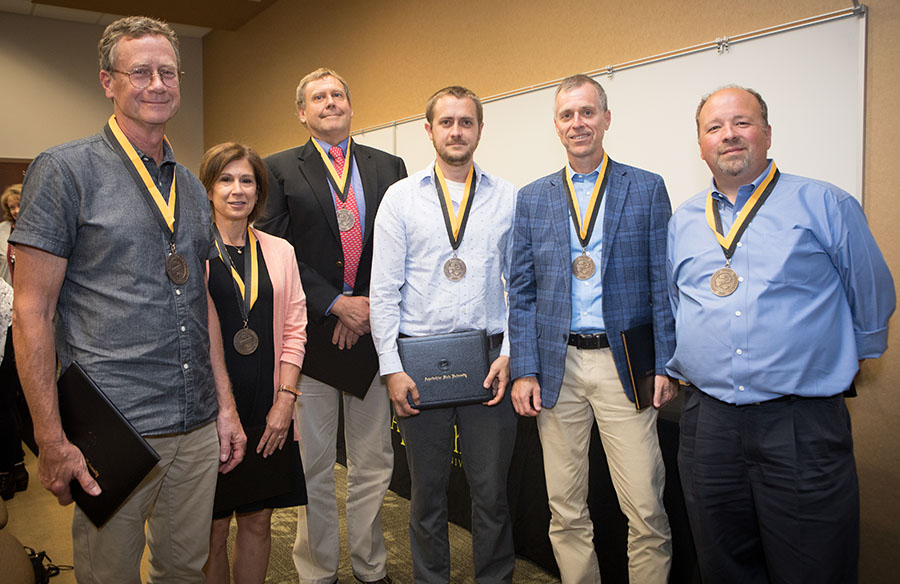 Posted Sep. 10, 2018 at 12:31 p.m.
BOONE, N.C. — Seven faculty and four staff members at Appalachian State University were honored for excellence at the Fall Semester Faculty and Staff Meeting Sept. 7 in the College of Education Building.
Dr. Darrell Kruger, provost and executive vice chancellor, recognized the recipients of the teaching awards, saying, "These persons have been singled out as representatives of the excellent professional work carried on by the faculty across our campus."
Faculty excellence
Dr. Joseph Gonzalez, associate professor in the Department of Cultural, Gender and Global Studies, received the Board of Governors Award for Excellence in Teaching. Gonzalez is one of 17 faculty members statewide chosen for the prestigious award and received a commemorative bronze medallion and a $12,500 cash prize.
The award was presented to him by UNC Board of Governors member C. Philip Byers '85 during Appalachian's spring graduation ceremony. Gonzalez was nominated by a special committee at Appalachian and selected as winner by the University of North Carolina Board of Governors' Committee on Personnel and Tenure.
"He is truly an outstanding instructor," said his nominator. "I have sat in on his classroom on more than one occasion, and it is always clear to me that his students feel empowered to present their ideas in the classroom — whether they were presenting at the front of the class or asking questions from their seats."
The first runner-up for the Board of Governors Award is Dr. William "Bill" Anderson, professor in and chair of the Department of Geological and Environment Sciences. An award of $1,500 is given to the first runner-up.
In addition to the Board of Governors awards, each University of North Carolina campus receives an additional annual allocation for teaching excellence awards of $1,000 each, chosen by a selection committee. The winners must teach at the baccalaureate lower division. This year's recipients of the campus teaching excellence awards:
Dr. Gabriele Casale, associate professor, Department of Geological and Environmental Sciences.
Dr. Katrina "Trina" Palmer, professor, Department of Mathematical Sciences.
Dr. Richard Pouder, professor, Department of Management.
Dr. Susan Staub, professor, Department of English.
Dr. Thomas Whyte, professor, Department of Anthropology.
In addition to the campus teaching excellence awards, Dr. Laura Ammon, associate professor in the Department of Philosophy and Religion and president of Appalachian's chapter of American Association of University Professors (AAUP), presented the AAUP Award for academic freedom and faculty governance. The recipient of the 2018 AAUP Award is Dr. Nickolas Jordan, associate professor in the Department of Human Development and Psychological Counseling.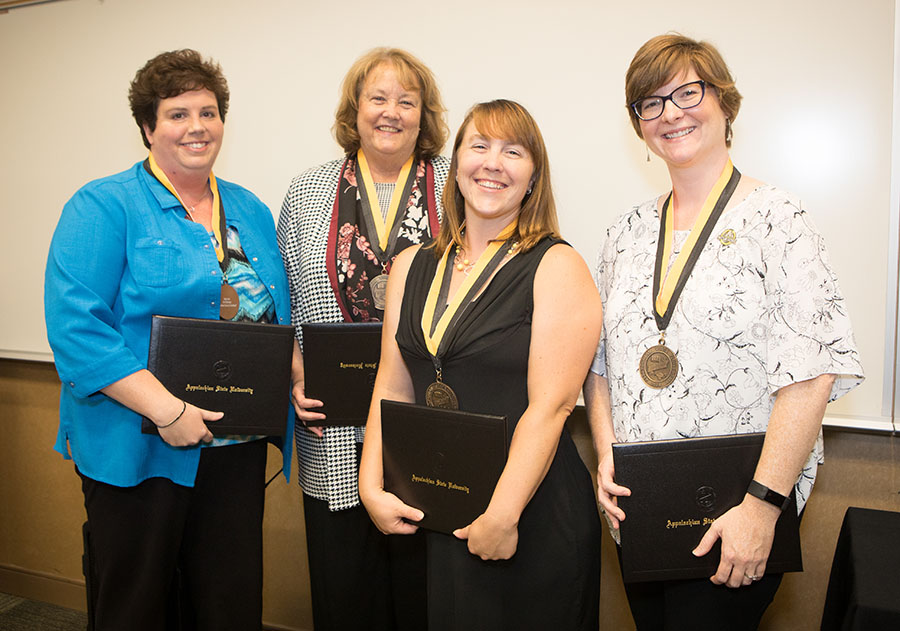 Staff excellence
The Office of Human Resources recognized four recipients of the 2018 Appalachian Staff Excellence Awards. The awards are given annually in recognition of exemplary service, commitment, collegiality and leadership to the university community. This year, there were 74 nominations for the awards.
Carole Greene, Jennifer Coffey, Beth Pouder and Angie Jones were recognized by Mark Bachmeier, director of human resources, at the meeting.
"Each year, this is a process that serves as just one of the many reminders that we have each year of how exceptional the people are who make up our campus community," Bachmeier said.
"People who, as we read nominations and read accounts, we read about how not only exceptional these individuals are at their jobs, but how exceptional they are as human beings. People who support one another and who, each in their own capacities, take pride in supporting the academic mission of our university."
Greene is assistant director for student support services in the Student Learning Center. She teaches a first-year college success seminar and advises first-generation and low-income students participating in the federally funded TRIO Student Support Services (SSS) program. Greene is the past chair of Staff Senate and has served on the senate since 2014. As chair, she worked to increase senator engagement and promote a positive staff experience on campus.
Citing a number of programs and events Greene has supported and encouraged — AppKids Superhero 5K, Staff Shout Out and Staff Senate Summer Shindig — a nominator said, "Carole's positive attitude and drive should be an example to us all."
Coffey '04 '16 is associate director in the Office of Student Financial Aid and has worked in the office since 2010. She has a passion for serving our student veteran and military-affiliated student population. Coffey is the school's certifying official for veteran's affairs education benefits and serves on the Military Affairs Committee and Student Success Team. She is also secretary for the North Carolina Association of Coordinators of Veterans Affairs and vice president for the Southeastern Council on Military Education.
"Jennifer is always willing to help anyone and shows respect to all," said one nominator. "She is dedicated, hardworking, kind and highly intelligent. She is willing to do whatever it takes to solve problems and find new and better ways for all of us to do our jobs."
Pouder is director of enterprise applications in Information Technology Services (ITS). She has worked at Appalachian for 18 years. Pouder leads a team of technologists working closely with campus stakeholders to develop process improvements, transform its Banner system and integrate applications. Her goal is to provide excellent customer service and technology solutions for students, faculty and staff.
One nominator called Pouder "incredible, not only as a technically minded person but also as a boss and as a strategic thinker."
"Beth cares deeply about her people and our campus and it makes me feel more confident in our institution knowing she is in a position of influence," the nominator continued.
Jones is administrative support specialist in the Department of Communication Sciences and Disorders. She manages the day-to-day operations of the department and has served in the role since 2014. Jones finds the relational opportunities with students, peers and faculty to be the most enjoyable and rewarding part of her role, she said.
"Angie Jones is exactly what Appalachian State University wants in all employees," said one of her nominators. "She shows up early, stays late, does whatever is needed to get the job done and all with a good attitude. Although she is great with faculty, her most valuable contribution is the relationships she establishes with our students. She goes out of her way to take care of our students. She is the person students rely on to help with any issue, to share good news and bad, and just to visit with when a kind word is needed."
About Appalachian State University
As the premier public undergraduate institution in the Southeast, Appalachian State University prepares students to lead purposeful lives. App State is one of 17 campuses in the University of North Carolina System, with a national reputation for innovative teaching and opening access to a high-quality, affordable education for all. The university enrolls more than 21,000 students, has a low student-to-faculty ratio and offers more than 150 undergraduate and 80 graduate majors at its Boone and Hickory campuses and through App State Online. Learn more at https://www.appstate.edu.
What do you think?
Share your feedback on this story.