Posted Dec. 12, 2018 at 8:31 p.m.
BOONE, N.C. — Junior Madison Cook — a part-time police officer with Appalachian State University Police — has a deep-seated desire to serve and help others, a feeling she said is influenced by having a father and stepfather who were in the Marines and a grandfather who was in the Army.
Cook, a criminal justice-international studies major from Apex, was originally a nursing major, but said she quickly found she wasn't "a big blood and guts kind of person." In switching to the criminal justice program, Cook found her path to help people and serve her community.
The first APDP class
She learned about the university's new Appalachian Police Officer Development Program (APDP) when an App State Police lieutenant came and spoke to her class. The APDP is a two-year program created to equip Appalachian students with the knowledge, skills and training to become law enforcement officers.
"This program is a fantastic opportunity to get an early start to the career I want and to gain experience before graduating college, which would give me an advantage when applying for other jobs," Cook said.
She applied to be part of the APDP class that would attend the Appalachian Police Academy in 2019 because she didn't think she was old enough to attend the inaugural academy held in 2018. When Cook was offered a spot in the earlier class, she enthusiastically accepted.
Cook said she had different instructors for most of her 36 blocks of instruction. "The instructors came from different agencies, both local and state, and were willing to share their stories and experiences, which was very beneficial," she said.
In August, Cook joined 20 other Appalachian students in becoming the first class to graduate from the academy. She said she was satisfied all of her hard work in the academy paid off.
Because she struggled most with the physical requirements of the Police Officer Physical Ability Test due to her size and stature — the test required Cook, who barely weighed more than 100 pounds throughout the academy, to drag a 175-pound dummy — she said "graduating and receiving my certificate and badge was a proud moment."
After passing the state certification exam, graduates of the academy are certified police officers in the state of North Carolina and continue working as part-time police officers for App State Police until they earn their academic degree.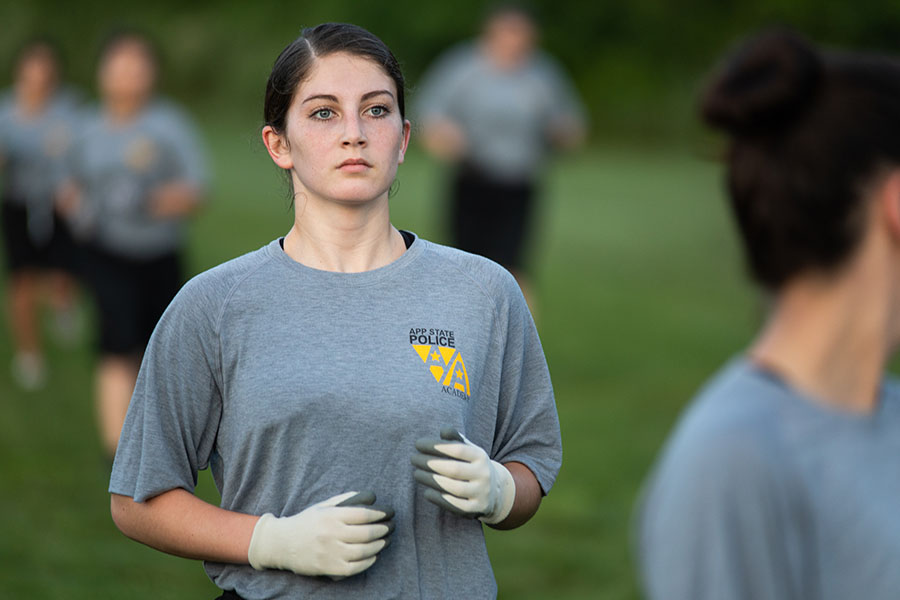 Learning on the job
As a part-time officer with App State Police, Cook is continuing to learn from co-workers, full-time officers and private security hired to work on-campus events. She said they have taught her tips ranging from how to write citations and reports, to how to talk effectively and clearly on the radio.
Cook said being a part-time officer has helped clarify this as the right path for her. "I've found that I wish I worked more," she said.
She said she believes her family is surprised by her interest in street-level police work. Cook enjoys being able to talk to students on campus during her patrol shifts, and said she hopes fellow students see her as just another student despite her being an officer.
What she might lack in size, Cook said, she makes up for in her ability to talk to people and defuse situations that way.
"Madison Cook is a hard worker," said Capt. K.C. Mitchell of App State Police. Mitchell serves as police development coordinator, leading the training and development of not only police academy cadets but also part- and full-time officers with App State Police.
"She is eager to learn the many aspects of policing, and she is always quick to lend a helping hand," he said.
Cook said she believes her first step upon graduating will be working for a local law enforcement agency. From there, she hopes to work her way up to a federal agency such as the Department of Homeland Security.
When Cook graduates, in addition to her degree and law enforcement certification, she will already have experience in policing on her resume — a bonus during a job search.
"She would be an asset to any law enforcement agency," Mitchell said.
About the Appalachian Police Department
Appalachian State University's official policing agency — the Appalachian Police Department — supports the university's academic mission by working in partnership with the campus community to prevent crime, solve problems and improve the quality of life on campus. The department's philosophy is one of proactive community engagement, collaboration and customer service, holding the safety and health of App State's community members as its top priorities. State-certified police officers, security officers and civilian employees compose the department, and this team of professionals helps to create and maintain an inclusive sense of belonging for all members of the Appalachian Community — students, faculty, staff and visitors. Additionally, through its efforts, the department aims to be a leader in innovative public safety ideas and strategies. Learn more at https://police.appstate.edu.
About the Department of Government and Justice Studies
Appalachian State University's Department of Government and Justice Studies offers undergraduate programs in political science and criminal justice, and graduate programs in political science and public administration. Housed in the College of Arts and Sciences, the department has over 600 undergraduate majors and more than 70 graduate students. Learn more at https://gjs.appstate.edu.
About the College of Arts and Sciences
The College of Arts and Sciences (CAS) at Appalachian State University is home to 17 academic departments, two centers and one residential college. These units span the humanities and the social, mathematical and natural sciences. CAS aims to develop a distinctive identity built upon our university's strengths, traditions and unique location. The college's values lie not only in service to the university and local community, but through inspiring, training, educating and sustaining the development of its students as global citizens. More than 6,400 student majors are enrolled in the college. As the college is also largely responsible for implementing App State's general education curriculum, it is heavily involved in the education of all students at the university, including those pursuing majors in other colleges. Learn more at https://cas.appstate.edu.
About Appalachian State University
As the premier public undergraduate institution in the Southeast, Appalachian State University prepares students to lead purposeful lives as global citizens who understand and engage their responsibilities in creating a sustainable future for all. The Appalachian Experience promotes a spirit of inclusion that brings people together in inspiring ways to acquire and create knowledge, to grow holistically, to act with passion and determination, and to embrace diversity and difference. Located in the Blue Ridge Mountains, Appalachian is one of 17 campuses in the University of North Carolina System. Appalachian enrolls nearly 21,000 students, has a low student-to-faculty ratio and offers more than 150 undergraduate and graduate majors.
What do you think?
Share your feedback on this story.