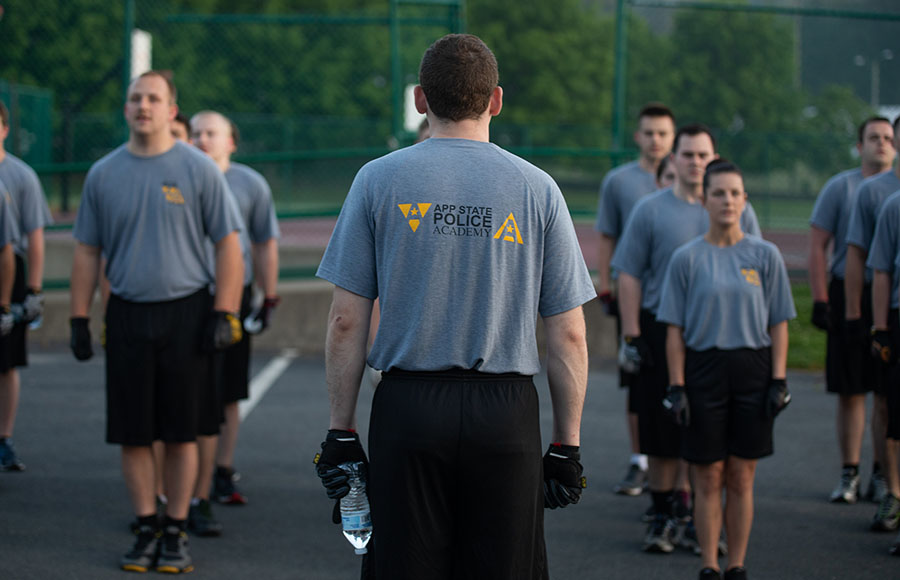 Posted July 19, 2018 at 11:55 a.m.
BOONE, N.C. — In May, 24 Appalachian State University students began the rigorous training and education at the Appalachian State University Police Academy to become certified police officers in North Carolina, becoming the first class in the Appalachian Police Officer Development Program (APDP).
In August, the Appalachian Police Academy will conclude with the issuing of the state certification exam, and a new group of 25 students will begin cadet training as part-time police cadets during the 2018–19 academic year. Those cadets will attend the academy in summer 2019.
The APDP was initiated by the Appalachian State University Police Department to equip students with the knowledge, skills and training to become law enforcement officers. According to Andy Stephenson, director of public safety and chief of police at Appalachian, the program is a natural fit for an institution that aims to instill critical thinking, effective communication and responsible citizenship in its students.
"Policing is a profession in need of leaders, thinkers and innovative ideas to facilitate positive reform," Stephenson said. "Institutions of higher education must get involved and play a role in shaping the future of the profession. The Appalachian Police Officer Development Program will have a significant, positive impact on policing and the criminal justice system in our region and throughout North Carolina.
"After graduating from our program, Appalachian students entering the criminal justice system job market will have two years of work experience in policing, bachelor's or graduate degrees, North Carolina law enforcement certification and training, and the exposure to different races, cultures, ideas and beliefs that enrollment at an institution of higher education provides," Stephenson said. He added, "Appalachian students will be the policing leaders of tomorrow."
Stephenson described four goals of the APDP:
Provide an unprecedented job market advantage to students who participate in the program.
Increase the number of personnel employed by the Appalachian Police Department to assist with police and security coverage of the campus and the many large events that occur on campus.
Train and develop diverse, educated, well-trained police officers.
Expand and improve the relationships between App State Police and the greater community.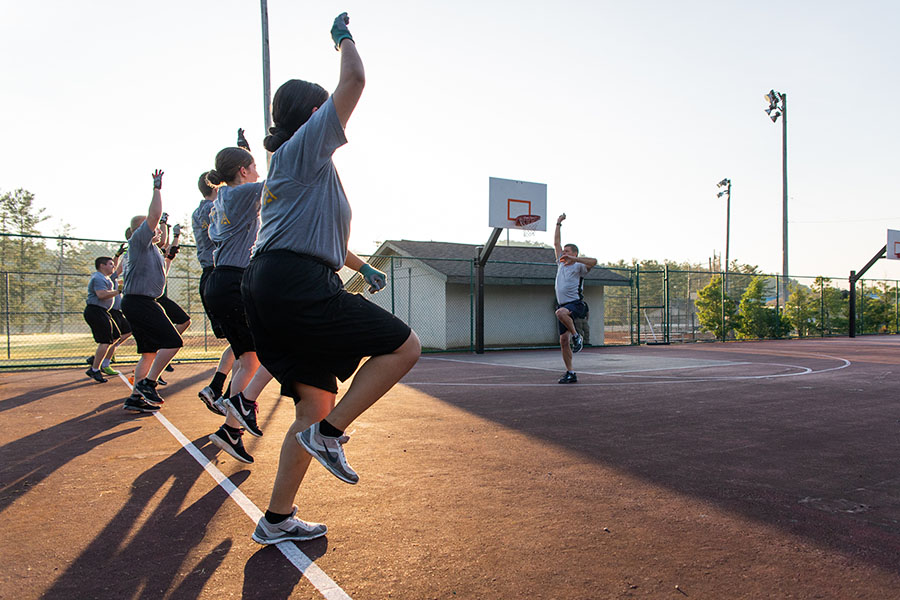 APDP's path to certification
The APDP is a two-year program open to all full-time Appalachian students, regardless of major, Stephenson said. There is no additional cost beyond tuition to participants, as equipment, uniforms and training are provided by Appalachian Police Department. Each spring semester, the department will conduct a hiring process for police cadets.
After an interview, a background investigation and a psychological evaluation, those students selected will be hired as part-time police cadets. Cadet training will include broad training objectives and best practices specific to App State Police, including:
first aid, automated external defibrillator (AED) and CPR certification;
communication skills training;
diversity training;
de-escalation training;
active shooter/aggressor training.
Following cadet training, police cadets will be given civilian security assignments on campus, which can range from building security to special events on campus.
Police cadets who perform satisfactorily and meet academy requirements will have the opportunity to attend the Appalachian Police Academy held each summer. To join the academy, cadets must be at least 20 years old — the required age to be a law enforcement officer in North Carolina.
After passing the state certification exam, graduates of the academy will be certified police officers in the state of North Carolina and will continue working as part-time police officers for App State Police until they earn their academic degree.
Appalachian's police academy is managed in partnership with the Caldwell Community College and Technical Institute's basic law enforcement training program. Capt. K.C. Mitchell of App State Police serves as police development coordinator, leading the training and development of not only police academy cadets during the summer but also part- and full-time officers with App State Police throughout the year.
"Police instructors from App State Police and other instructors from around the state will provide instruction during the police academy," Stephenson added. "We're very fortunate to have fantastic partners from around the state who are eager to assist in providing the finest instruction and training environment possible for our police academy students."
Police cadets and part-time police officers will work an average of 12–20 hours per week. Applications for the APDP will be available Sept. 1 at https://careers.appstate.edu/handshake.
The leader behind the program
Stephenson graduated first in his class from the Indiana University (IU) Police Academy, having trained through IU's Cadet Officer Program — the first program of its kind in the U.S.
Before joining Appalachian, Stephenson served as captain with oversight of all divisions in the IU Police Department. He has more than 20 years of experience in university policing and public safety and holds a Master of Science in criminal justice from Boston University.
The program and academy at IU were important to him, Stephenson said, and since graduating, he has held the idea about starting his own police development program in the back of his mind.
A few months into his new position at Appalachian, he read about a feasibility study regarding bringing a basic law enforcement training program to a school within the University of North Carolina System. While reading more about the program, Stephenson felt the timing was right to start a training program similar to the one he completed at IU.
To explore the potential for initiating such a program at Appalachian, Stephenson started talking to students, faculty and administrators. The idea quickly gained traction and support, and interest is still growing as more people hear about the program, he said.
Close to 70 students applied for the academy — some who composed this summer's class and some who will begin the full-year program this fall semester. Stephenson said he has heard some first-year students chose Appalachian because of the APDP.
"I came here to make a difference in policing, not only within our department but also within this state," he said. "We want to get involved in police development to really perfect what the profession should be."
About the Appalachian Police Department
Appalachian State University's official policing agency — the Appalachian Police Department — supports the university's academic mission by working in partnership with the campus community to prevent crime, solve problems and improve the quality of life on campus. The department's philosophy is one of proactive community engagement, collaboration and customer service, holding the safety and health of App State's community members as its top priorities. State-certified police officers, security officers and civilian employees compose the department, and this team of professionals helps to create and maintain an inclusive sense of belonging for all members of the Appalachian Community — students, faculty, staff and visitors. Additionally, through its efforts, the department aims to be a leader in innovative public safety ideas and strategies. Learn more at https://police.appstate.edu.
About Appalachian State University
As the premier public undergraduate institution in the Southeast, Appalachian State University prepares students to lead purposeful lives as global citizens who understand and engage their responsibilities in creating a sustainable future for all. The Appalachian Experience promotes a spirit of inclusion that brings people together in inspiring ways to acquire and create knowledge, to grow holistically, to act with passion and determination, and to embrace diversity and difference. Located in the Blue Ridge Mountains, Appalachian is one of 17 campuses in the University of North Carolina System. Appalachian enrolls nearly 21,000 students, has a low student-to-faculty ratio and offers more than 150 undergraduate and graduate majors.
What do you think?
Share your feedback on this story.